Online platforms help professionals gain a practical approach to law
Online platforms help professionals gain a practical approach to law
Online courses train lawyers in newer branches of law, help students gain practical experience and keep professionals updated on the regulations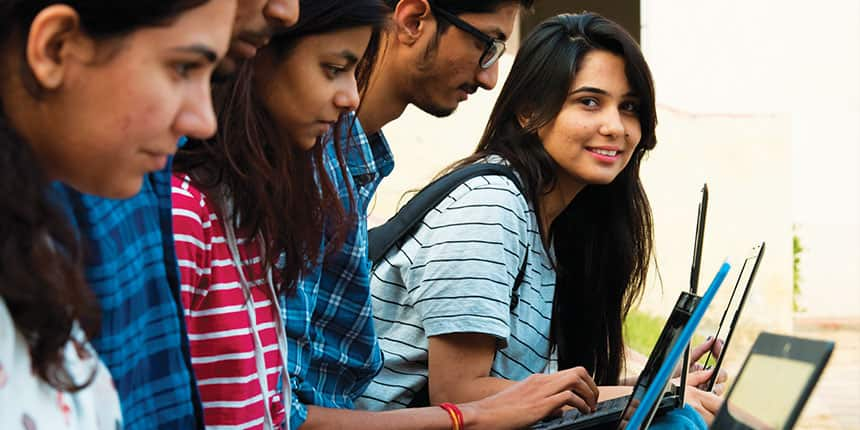 NEW DELHI: "I was always interested in the law on the prevention of sexual harassment. Such acts are among the small ones and not every college includes them in its five-year curriculum. In my college, this was one of the acts left out. I wanted to know more about it, so I joined the Indian Academy of Law and Management or IALM," said Shreya Gupta who is presently pursuing LLM at a private university in Bareilly, Uttar Pradesh.
The Indian Academy of Law and Management is an online platform that offers skills training in various branches of law. Gupta took the one month course on the 2013 law on the prevention of sexual harassment of women at the workplace.
Similarly, Jesse Jacob, a fifth-year student at the National University of Advanced Legal Studies in Kochi, Kerala, studied two short-term certificate courses online, on another platform, Lawctopus. "One was on 'legal research and writing' and the second was on 'courtroom one-on-one'. I wanted to prepare myself for a more practical approach," said Jacob.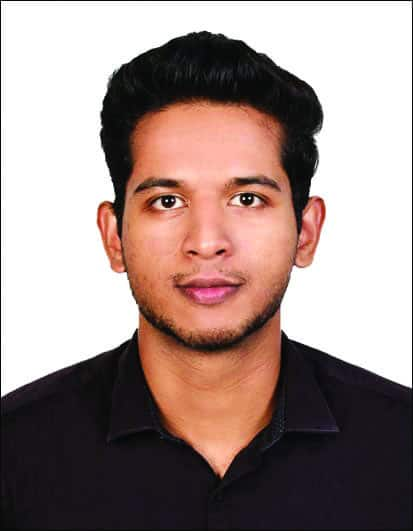 With the proliferation of online courses, several platforms have emerged that focus specifically on law. Some universities and top public institutions also offer courses. These include OP Jindal Global University, XLRI, Indian Law Institute and Indian Institute of Management Bangalore. In many cases, the course addresses branches of law that are relatively new and may not be taught in detail in the formal system. In others, the courses are not designed for lawyers alone but for employees in other professions who nevertheless need to be conversant with the specifics of certain laws – for example, human resources managers with workplace harassment laws.
Online platforms
The online legal education platforms came up in the past decade to help law students delve deeper into specific acts and regulations. There are acts that are not taught in much detail in a three or even a five-year law degree programme, said, students and experts. Some courses seek to close those gaps.
According to Jatin Garg, chief operating officer of Lawctopus, the platform was formed to help students gain a more practical approach to fighting various cases. The practical approach, he said, is missing in the regular degree courses.
Plus, five of the 10 months of internship required in a five-year degree programme can be spent on studying online courses and many law students opt for that. For the remaining five, they must be attached to a lawyer, corporation or non-profit and physically attend work. Usually, a student needs to complete ten months of internship, spread over five years of undergraduate studies. "We thought of developing a skill-oriented course which has a theoretical aspect and also teaches a practical approach. This way, students don't have to waste their time doing an internship and they can go on to drafting etc. with ease," explained Garg.
"Every student needs to complete a month of internship after a semester. The internship happens after the semester exams. A student needs to maintain a diary for records and in the final exam, we are allotted marks based on the diary. It carries 100 marks," added Gupta.
Students are taking the opportunity for short-term certification courses online to meet the requirement. "In college, what we are taught is more theoretical. In the online class, the approach was very practical, and that is what I loved," added Jacob.
IALM and Enhelion were formed with a similar objective, as were LawSikho, Fusion Law School and RostrumLegal. Apart from short-term certificate courses in legal studies, IALM also offers such certificate courses in management. Similarly, Enhelion focuses on law and management but also offers courses in data science and soft skills.
The Federation of Indian Chamber of Commerce and Industries (FICCI) offers short-term courses on intellectual property law, and the Indian Institute of Corporate Affairs offers courses on corporate law.
One of the largest online platforms for law, Enhelion offers over 350 courses in law alone. It has so far trained about 50,000 students across the country. "We have one of the largest course portfolios in law in South Asia. We offer more than 400 courses in law and management. We provide bite-sized education. By that, I mean short and sweet courses that are self-paced in nature. The number of certification courses in law will be approximately 350," said Ashwin Madhavan, CEO and co-founder of Enhelion.
The number of online edtech firms surged with an increase in internet penetration. According to Madhavan, a lot of law schools had also started mushrooming across the country around that time. "We could see a lot of opportunity in the field of practical training and that's where we took the plunge. That's how we started out," Madhavan said.
Enhelion initially tied up with National Law Schools which, they believe, helped them reach out to students. "As of today, we have tied up with one national law school and one institute of national importance that is, Rashtriya Raksha University in Gandhinagar, Gujarat," said Madhavan. "We also have a tie-up with an international publisher called Bloomsbury, and this is very, very unique."
Each student, on completing a course from Enhelion that has written material attached, is given a book published by Bloomsbury free of cost.
RostrumLegal is present in 80 countries. Apart from offering short-term certificate courses in law, the platform also offers live online coaching for various judiciary exams. It further offers coaching for the Common Law Admission Test (CLAT) for admission to law schools and the National Eligibility Test (NET), the gateway test for research fellowships and teaching jobs.
Eligibility requirements
The eligibility criteria for admission to short-term courses vary widely with course and platform. For gaining admission to any of the courses offered by Lawctopus, a candidate should either be an LLB student or should have completed it. Lawctopus has only one course, on drafting agreements, which is open to people from other streams and professions as well. But this group forms only 10 percent of the total number of learners on
the platform.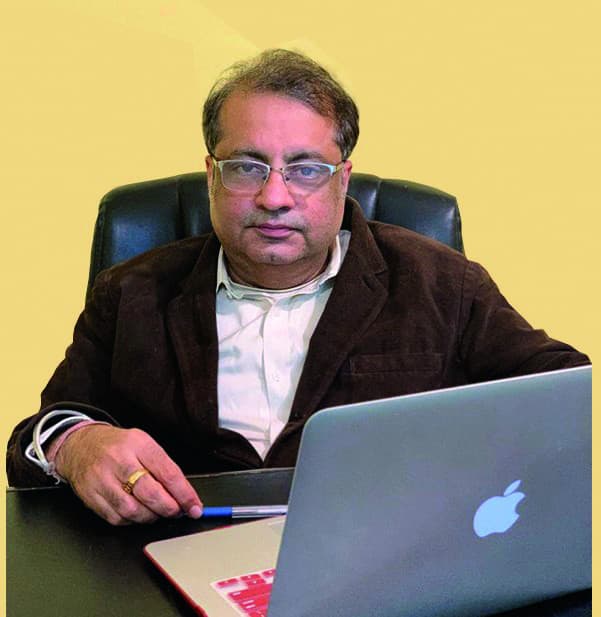 The Indian Academy of Law and Management offers courses to any student who is interested provided the aspirant has completed Class 12.
"Everybody should do a course on prevention of sexual harassment. A course on intellectual property rights – all engineers should do that. So, the courses offered here are related to law but the students need not come from a legal background," said Dinesh Jotwani, founder IALM. "They can be from any field – engineering, management, chartered accountancy. Law itself is such a vast terrain, it will impact all other subjects. So we have students from all subjects."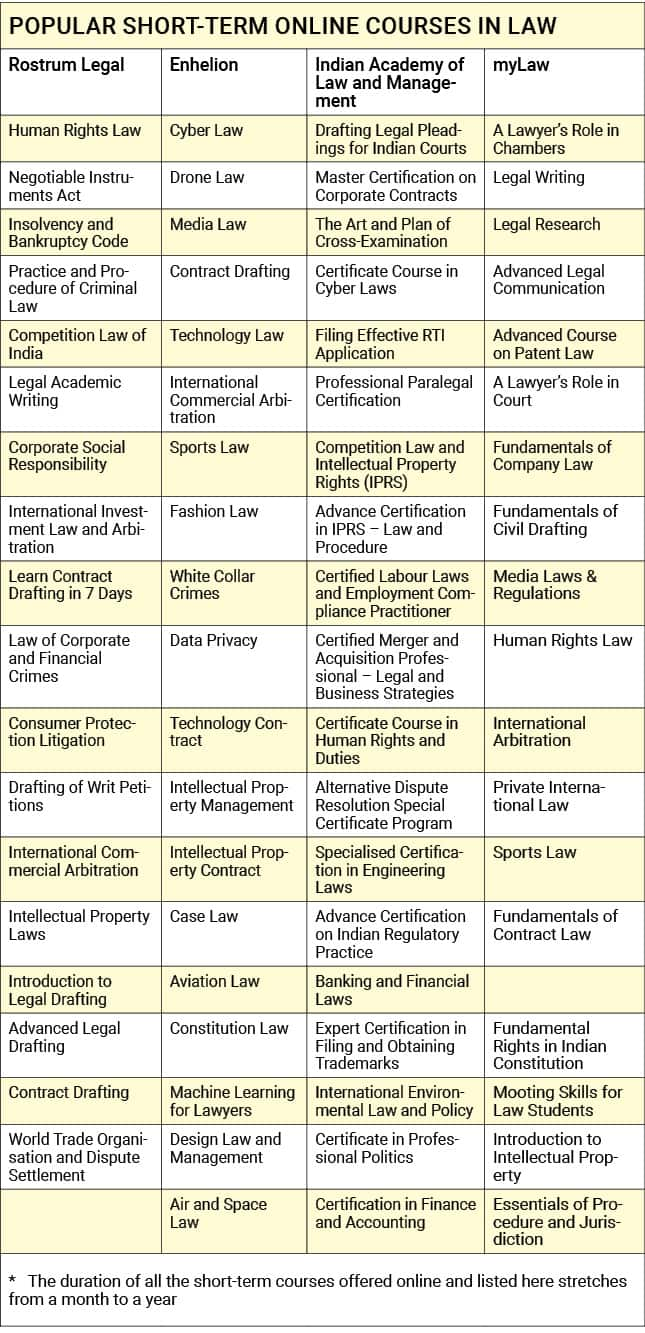 Write to us at news@careers360.
---
Follow us for the latest education news on colleges and universities, admission, courses, exams, schools, research, NEP and education policies and more..
To get in touch, write to us at news@careers360.com.
More From Pritha Roy Choudhury