'Our fees are student-friendly': Shiv Nadar University dean on MBA programme
Shiv Nadar University: Dean, School of Management and Entrepreneurship, spoke to Careers360 about MBA, placements and rankings.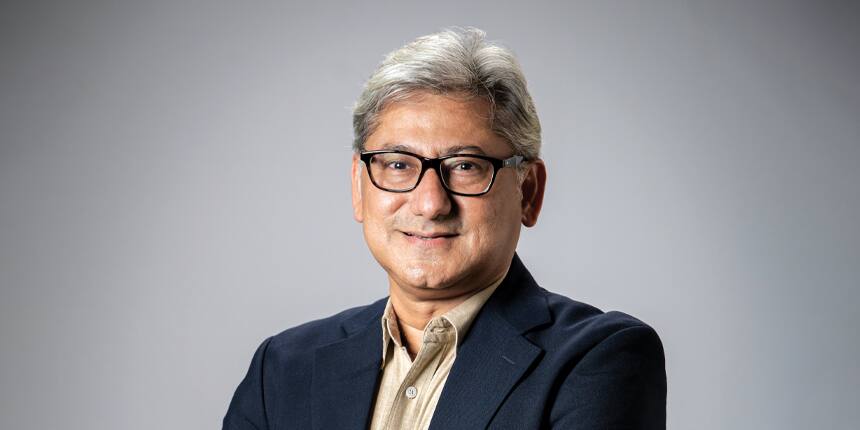 NEW DELHI: Shiv Nadar University's MBA programme was launched just before the pandemic and has grown much since said Dr. Bibek Banerjee, dean, School of Management and Entrepreneurship. He also discussed international accreditation, global rankings, Institution of eminence tag while speaking to Careers360. He also threw light about SNU's immersive curriculum that necessitates small batch sizes, industry immersion, fees and more.
Recommended :
Get important details about Shiv Nadar University, Greater Noida.
Download Brochure
Q. Why is SNU's MBA batch size so small?
A. Shiv Nadar's MBA has a batch size of 60, which is kept manageably small by design, because of the intense and immersive curriculum and pedagogy we deploy. This multifaceted approach somewhat limits the number of students we can accommodate. We choose to maintain a boutique-like setting, focusing on smaller batch sizes which enables high-intensity immersion in our programmes. This decision aligns with the fact that our university operates as a multidisciplinary, residential institution.
Q. How do you look at the quality of students and process of selection?
A. We look at our students' quality holistically. Specifically, for the MBA programme, we consider multiple national-level aptitude tests such as CAT, MAT, XAT, and even GMAT and GRE. Our approach is nuanced. It's important to clarify that our challenge isn't rejection – unlike some established institutions – it's about selecting the right students. The weightage assigned to aptitude tests is part of a multi-faceted selection process. We want to ensure that students meet a certain minimum threshold in these exams to continue with their applications.
Also Read|ISB Hyderabad's MoUs with states 'good example of academia–government partnership'
Q. How is SNU's 'global industry immersion' different from a traditional student exchange?
A. The 'global' aspect is vital in today's digital education landscape. We've incorporated a compulsory global immersion component in our MBA programme. Students spend two weeks in a foreign country, guided by a faculty member. However, our approach differs from traditional student exchange programmes. It's more of an industry- immersion programme. We collaborate with industry leaders in the host country, allowing our students to network and gain practical exposure. The emphasis is on building a professional network, and the goal is to provide students with a real-world perspective on how businesses operate.
We focus on practical, real-world exposure rather than exchanging with another university. This approach involves partnering with industry leaders across various sectors, such as retail, logistics, transportation, and banking, including Islamic Banking. When students return, they not only have international business knowledge but also a network of professionals they've connected with. These components form the core of our strategy to build a strong business school. We prioritise quality and the right fundamental elements rather than chasing an array of initiatives and trends.
Q. What impact has the Institute of Eminence-status had on Shiv Nadar University?
A. Acquiring the IoE status elevates your recognition and visibility. People start to notice you, which is a positive outcome. However, it's a mixed bag because, on paper, it gives us a lot of freedom to introduce new programmes. For instance, we can offer a one-year MBA and one-and-a-half-year master's programmes. But it also means we have to abide by the regulations. While it is a mark of recognition, it comes with its own set of complexities. The education landscape in India is evolving, and private institutions are gradually gaining recognition. It's only a matter of time before the dynamics in education change, just as they did in other sectors after liberalisation.
Q. What are SNU's efforts to make education affordable?
A. Shiv Nadar University has always been conscious of this aspect. Our fees are designed to be competitive and student-friendly. When you compare our fee structure to other private universities in India, you'll find that we offer a more affordable option. We understand the financial considerations that students and their families face, and we aim to provide quality education without creating a heavy financial burden.
Also Read| 'For a fresher to join an online MBA is a waste of money': JAGSoM Director
Q. Why don't Indian management schools rank among the top globally?
A. The global rankings and aspirations to study abroad are influenced by colonial algorithms. Many top rankings are Global North-centric, reflecting the metrics favoured by institutions in those regions. For instance, some accrediting bodies like EFMD put significant weight on internationalisation, which benefits institutions in Europe. Unfortunately, for Indian schools, these types of rankings don't align with our reality. We may have made significant progress, but it will take time to gain global recognition. The top schools have had a long history of high-quality education, whereas many Indian institutions are relatively newer.
Q. How do you see the common tendency to prioritise placements?
A. It's true that many students pursue MBA programmes with the goal of securing better job opportunities. However, it's important to acknowledge that not all MBA students are solely focused on placements. Many aspire to become entrepreneurs, contribute to their family businesses, or take on leadership roles in various sectors. While placements matter, they should not be the only consideration when choosing a business school.
In 2023, our top MBA salary stood at Rs. 24 lakh. The average salary of the top 25% of the MBA 2023 graduating class was Rs. 15 lakh, while the average salary of the class was around Rs. 12 lakh. Considering the reasonable fees of our programme, the return-on-investment of SNU MBA is comparable to the best B-schools in Delhi-NCR.
Q. How do you ensure faculty quality at SME?
A. We select faculty through a rigorous and holistic process. All our academic faculty must have PhD from reputable institutions (in India and abroad) and must have an active research agenda with a body of published work. Our faculty regularly publish in scholarly peer-reviewed journals of significant repute globally. Apart from scholarly faculty, we also engage with professors of practice who are very senior leaders from the industry and/or successful entrepreneurs with deep experiences in creating and nurturing business enterprises. Post-covid, we have doubled the number of faculty members.
Also Read| Why more B-schools are launching MBA Finance, Fintech programmes
Q. What are the challenges faced by the School of Management and Entrepreneurship?
A. We consider all challenges as potential opportunities as well. The fact that we are new (we started our open-MBA just before COVID) can be viewed as a challenge. Hence, there is a slight lack of awareness about the university, which is also exacerbated by the fact that we do not believe in super-normal spends on advertising. But being relatively new also provides us an opportunity to avoid old mistakes and to be free of legacy-related orthodoxy. Our innovative and experiential learning models, engaging industry experts and the ecosystem of entrepreneurs from across sectors drawn from the vibrant innovation hub of Delhi-NCR would be impossible for competitive institutions to copy. Second, the dynamism of SME's academic aspirations attracts faculty and industry leaders who believe in dynamism – consequently we have had the opportunity to create faculty depth, as well as breadth, that few institutions in the region can match.
---
Follow us for the latest education news on colleges and universities, admission, courses, exams, schools, research, NEP and education policies and more..
To get in touch, write to us at news@careers360.com.
Know More About
NIRF Rank
61
Rating
4.4/5
Download Brochure