'Plaksha University is 'reimagining' engineering education: VC
Plaksha University recently signed an MOU with Indian Institute of Science to utilise its cyber-physical systems centre.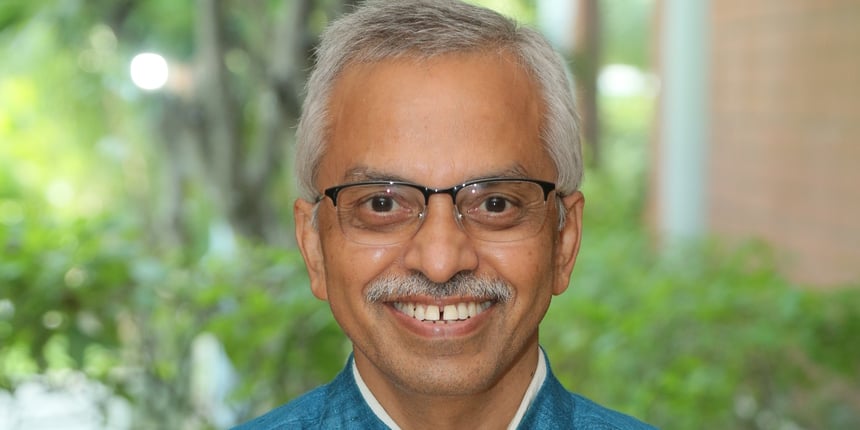 NEW DELHI: Plaksha University in Mohali, Punjab, seeks to "reimagine" engineering education. Its first Vice-Chancellor and former director of Indian Institute of Science Bangalore, Rudra Pratap, spoke to Careers360 about what that means, why Plaksha has no conventional departments, and what it is doing to avoid 'silos' and help Punjab. Edited excerpts below.
Recommended :
Get important details about Plaksha University, Mohali.
Download Brochure
Q. Recently, Plaksha partnered with the Indian Institute of Science (IISc) to foster faculty and student mobility. How is this partnership shaping up? What other partnerships are in the pipeline?
With the IISc we signed a memorandum of understanding (MOU) recently, although the work has been happening ever since we came into existence. Plaksha has an undergraduate major in robotics and cyber-physical systems and IISc has a cyber-physical systems centre, the oldest in the country. It is now 10 years old and has received a generous grant from Robert Bosch Foundation, Germany. I was connected to the centre during my tenure at the IISc. When I came to Plaksha, my immediate thought was to work with the centre.
IISc also has a Centre of Nanoscience and Engineering which has modern laboratory fabrication facilities and it's hard for any institution to build it. This is a world-class centre and you can't replicate it. Universities need to collaborate and use these facilities rather than replicating them. For instance, we have good maker's systems here. In robotics and cyber-physical systems, it's important to build what you dream of quickly. But for that, you need several machines and technologies. It's not prototyping that could be done with 3D printers. These machines are available at Plaksha's Makerspace easily. This is valuable to IISc students and faculty.
Also Read| How sports universities are changing the game in 'physical education'
Q. Plaksha states it intends to reimagine engineering education, entrepreneurship and innovation and solving India's grand challenges. What initiatives have you planned to achieve these goals?
We are working on all three. If you look at our courses, you'll get a glimpse of how we are reimagining engineering education. It's fresh curriculum is the result of 50+ faculty members from across the world brainstorming on what new engineering education should look like. We have advisors from top universities. Plaksha is a new university and so, we can think afresh.
Our curriculum is radically different. For instance, we have majors in computer science and artificial intelligence, robotics and cyber-physical systems, biosystems engineering, data science economics and business. As these are new-age specialisations, the academic rigour is far more radical. We aimed to remove the informational content of courses that exist in 90 percent of the engineering curriculum and substitute them with more foundational courses to make room for new learning.
We focus on entrepreneurship and innovation from the first semester.
Further, we focus on grand challenges through research. We encourage faculty members to work with each other to solve problems significant to society, for instance, access to health or water security in Punjab for the next 50 years or the problem of pollution in north India.
Also Read| Break Free: Liberal arts colleges let you design degrees, explore new careers
Q. Plaksha's site says it intends to foster an ecosystem of entrepreneurship and innovation in the region. How has your presence created an impact in the state?
I think it's a little too early to say anything. For now, the impact is that people know about Plaksha as a different kind of university which has different aspirations. For now, the Punjab Government is supporting us. Further, we constantly have a community connect to understand the ground problems. We are also working with the government on where Plaksha can infuse efficiency through technology, using data science techniques and artificial intelligence, like how do you use robotics for surveillance, drones for taking images of farms for crop yield prediction. These are all technical problems and directly impact the state.
Q. You have two specialised programmes: Technology Leaders Programme and Young Technology Scholars. How are these different from fellowships, courses in institutions like Indian Institutes of Technology (IIT) and what has the response been?
These courses are quite different from all the courses offered by these institutes. Our tech leadership programme is an 11-month professional master's level diploma course which runs in association with University of California Berkeley. It is focused on machine learning and artificial intelligence including self-leadership.
The young tech scholars programme is for high school students which is quite intensive. It is a residential course during summer vacations. It's about giving them hands-on experience.
We built modules in this programme where children do hands-on projects like building robots, probing the human body, and others. In that process, children are also taught to learn and accept failures.
Also Read| How BTechs in tier-2 towns landed IT jobs with crore-plus salaries
Q. There is a greater focus on interdisciplinary courses and subjects. What's your view on this and how much progress have you made?
Interdisciplinary work is our existential philosophy. We don't have departments at all at the university. We have undergraduate programmes and faculty members belong to different research centres belonging to areas of grand challenges like water, digital mobility, health, smart agriculture, future mobility, etc. Also, every 10 years these research centres have to change so that we don't have silos like other universities.
There is so much focus on teaching methodologies, pedagogy and courses. The basic idea is to move away from an information-centric education system. Since inception, we have had a focus on hands-on work in the engineering curriculum, then on basic sciences and others. However, within a few years, the industry realised that we are producing more theoretical engineers and we then went back to experiential learning. The basic problem is that we have way too much information in our courses and teaching, and this information is readily available now. So, this information part of our teaching must be removed. We have to make room for new solutions, ways and techniques so that students can learn better.
For instance, computer programming in India is learning coding languages like C, C++, and others. But computer programming is not about learning languages, it's about understanding the logic and turning a problem into bits which can be used by machines as automatic instructions. Learning languages has seen a paradigm shift in which students are taught to solve the big problems by writing pseudo code in English but logically. And we have machines that read the pseudo-codes and write programmes for you. So, students don't need to learn a language. Translation of this code to a particular language will be automated, and this is the future. And the teaching must be centred on this automation. This is how engineering education is changing.
Also Read| Ashoka University lets students reach across disciplines: VC Malabika Sarkar
Q. What's the future roadmap for you, as an upcoming private university?
In general, Plaksha's journey is very different from others. It is one of the few universities in the country which is based on collective philanthropy. Ashoka is one of our sister institutions. Collective philanthropy means that many people have donated their wealth for creating this university. But they are not interested in getting anything in return because these people want to believe in building institutions of the stature of Takshashila and Nalanda which had no parallels in the world.
---
Follow us for the latest education news on colleges and universities, admission, courses, exams, schools, research, NEP and education policies and more..
To get in touch, write to us at news@careers360.com.