Ashoka University lets students reach across disciplines: VC Malabika Sarkar
In line with NEP 2020, the university of the liberal arts is now planning to offer a degree in philosophy and computer science with IIT Delhi.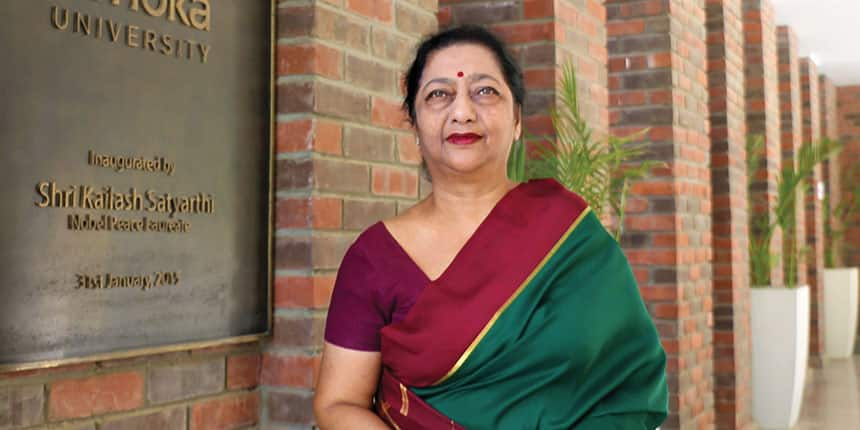 NEW DELHI: Used to doing things differently, Ashoka University will introduce an "unusual combination" of computer science and philosophy as a programme soon. It is also planning a new centre for health research. Malabika Sarkar, Vice Chancellor, spoke to Careers360 about interdisciplinary education, implementing the National Education Policy 2020 and new projects, including a research collaboration with the Indian Institute of Technology (IIT) Delhi.
Recommended :
Get important details about Ashoka University, Sonepat.
Download Brochure
Q. Ashoka is currently known for its liberal arts education. It's a new concept in India. In what ways is it different from the BA, BScs that have been on offer traditionally?
A. Liberal Arts also includes the sciences across the world. Ashoka offers humanities, social sciences, economics and mathematical sciences. The difference is two-fold. First of all, we offer a set of foundation courses which cut across disciplines and provide the basic foundation of knowledge in the liberal arts and sciences. It is a kind of an introduction to higher education not to be found in any other institution in India.
Secondly, Ashoka is unique in enabling students to reach across disciplines to do different things that are of interest to them. One recent example is of a philosophy student in our university who wanted physics theory courses. His basic discipline was philosophy but also studied physics theory and now this student has gone ahead to pursue higher education in philosophy of sciences. We were able to provide credit for this course in the transcript itself. This is the basic principle of liberal arts and sciences – that all disciplines fundamentally belong together.
At our university, students can take courses in different branches of knowledge and they get recognition for having done so. It catches the imagination of the younger generation and helps them develop new and innovative ways of thinking.
Also Read| How BTechs in tier-2 towns landed IT jobs with crore-plus salaries
Q. Ashoka University has among its faculty members even those who have not been in academia. What is Ashoka University's policy for recruiting teachers?
A. In the UG programme, there will be some practitioners who are teaching. We have an entrepreneurship centre that offers a minor. The people who teach at this centre are from industry. In performing arts, there are actual artists who come and teach dance and music, we have media studies where actual media personalities come and teach. These are teachers, of course, specific to such areas. The predominant part of the faculty is from academia but there are a few who might be from industry or corporation who can teach their skill set. Some of the courses are more practice-oriented and thus require that kind of relevant skills.
Q. How do you recruit internationally? What percentage of your teachers are foreigners? Also, do you have fixed eligibility criteria, processes and pay like the public universities?
A. We are looking out for the best faculty for our students. For this, we put out our recruitment advertisements on our website and leading channels. We receive applications from across the world and the focus is not on taking or not taking international faculty but the focus is on the best available teacher. In the process, we have been able to bring on board a large number of foreign faculty; all excellent in their individual field. There is no separate policy for foreign or Indian faculty, our focus is primarily on finding the best one available, and therefore there is a mix of Indian as well as international teachers. There are also departments where there is no single foreign faculty and that is because the available talent is in India. A large number of Indian faculty have also joined us from MIT [Massachusetts Institute of Technology] and Cambridge University. It is the teaching and research quality that hold primary importance in recruitment criteria and not nationality.
Also Read| Kerala University ran 9 departments without a single professor: CAG report
Q. The university grants commission has introduced initiatives like the academic bank of credits and dual degrees. Is Ashoka likely to participate in these schemes and projects?
A. Ashoka's education model is very similar to what is proposed in the National Education Policy 2020. The multidisciplinary education that the new policy talks about is already happening at Ashoka. The only changes we are working on are the accommodation of entry and exit points and participation in the academic bank of credits. These are new features and we, in fact, are keen on implementing these new changes. We are hopeful that we will very soon submit the Ashoka document of implementation and when it gets approved, we will start the new system this year itself.
Q. Ashoka University's fee structure can be prohibitive for many. How do you ensure diversity on campus?
A. We have a major part of funding set aside for financial aid. Depending on the family income, students can be eligible for 10 percent to 100 percent financial aid. Therefore, if the fee is high, it is not prohibitive. We get very generous financial aid from the industry. Recently, we have also received funding for a science scholarship.
Q. Does Ashoka University plan to add new focus areas in the coming year?
A. Quite a few courses have been planned. Some are masters, some are joint degree programmes with interdisciplinary majors. These are courses that are currently in the process of getting formalised. We already offer a BSc in physics, chemistry, biology, mathematics, computer science and psychology and now we are planning to offer a joint degree in philosophy and computer science. This is an unusual combination but works very well. With Indian Institute of Technology (IIT) Delhi we have research. Because IIT Delhi has a campus near us, we share some of our facilities. We have now extended it to research collaborations.
Also Read| GATE 2023 from February 4; IIT Kanpur to begin registration in September 2022
Q. What other kinds of projects are in the pipeline?
A. In the area of health research which brings together biology and computer science, Ashoka University is planning to start a project and centre. We have recently collaborated with Max Hospital, and for the tech part, we have computer science and biology internally. A lot of it as at the planning stage and the focus is to make Ashoka a hub for health research.
Q. There are very few women among leaders of higher educational institutions. What according to you must be done to achieve better representation of women at the top?
A. I have written about this a lot. If you look at India, you will find many women who are deans but not a single one is an IIT director, or IISER [Indian Institute of Science and Research] director and other prominent institution. It is not that people who hold positions of deans are not capable of holding director positions. I think India requires a change in mindset when it comes to higher education. Women are thriving as leaders in other sectors like banking and so many other places. Why not in the education sector? The recruitment committees should be cognizant of this disparity while hiring.
At our university, students can take courses in different branches of knowledge and they get recognition for having done so. It catches the imagination of the younger generation and helps them develop new and innovative ways of thinking.
---
Follow us for the latest education news on colleges and universities, admission, courses, exams, schools, research, NEP and education policies and more..
To get in touch, write to us at news@careers360.com.
Know More About
NIRF Rank
95
Rating
4.5/5
Download Brochure