PM Modi: Should have minimum government 'interference' in education
PM Modi: Should have minimum government 'interference' in education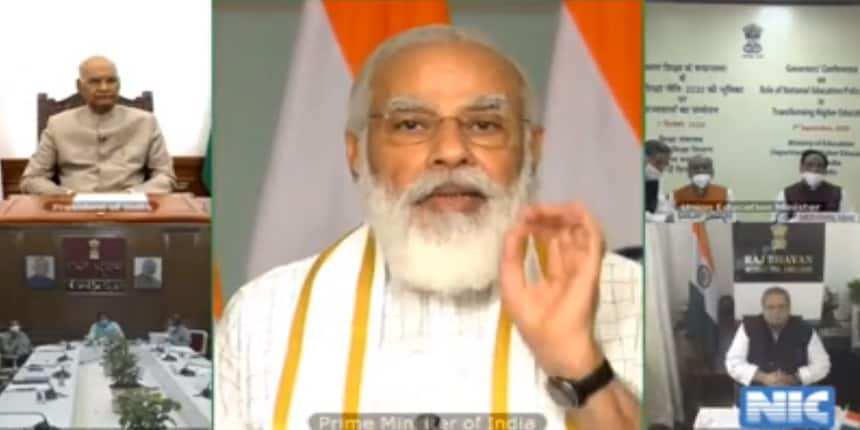 NEW DELHI: Prime Minister Narendra Modi said that the interference of government should be minimum in education and in education policy. PM Modi was addressing a governors' conference on the National Education Policy 2020, finalised in the end of July.
Inviting all the governors to implement the NEP in their states, Modi said: "Now it is our collective responsibility to implement this spirit of NEP-2020 in 'Letter and Spirit'." He also asked governors to organise as many virtual conferences as possible in their respective state universities before September 25.
PM Modi said that efforts are being made that every aspect of higher education, be it academic, technical, vocational, every type of education should be taken out of silos.
PM Modi said: "Administrative Layers should be kept to a minimum, there should be more coordination among them, this effort has also been made through this policy. Any system can be as effective and inclusive as its governance model."
Talking about graded autonomy being granted to institutions Modi said that the attempt behind the concept of 'Graded Autonomy' is also to encourage healthy competition among every college, every university and reward those institutions which perform better.
"Today the world is discussing fast-changing jobs, nature of work in the future. This policy will prepare the youth of the country on both fronts with knowledge and skills as per the requirements of the future," he said.
Concerns around NEP
There are concerns related to the New Education Policy among the general public and stakeholders. PM Modi said that when there are so many major changes in any system, some doubts and apprehensions are natural. He said: "Parents would think that if the children will get so much freedom if the streams end, then how will they get admission in the college, what will happen to their careers?"
He added that professors and teachers will have questions in their mind that how will they be able to prepare themselves for this change? How will such a course be managed?"All of you will also have many questions, which you are also discussing," PM Modi said.
All these questions are important, Everyone is working together to solve every question. There is a continuous dialogue from the Ministry of Education.
"The entire talk of every stakeholder in the states, every opinion is being heard with an open mind. After all, we all have to solve all the doubts and apprehensions together," he said.
He added, "There is also a focus on foundational learning and languages. There is also a focus on learning outcomes and teacher training. It has also undergone extensive reforms regarding access and assessment. In this, a way has been shown to empower every student."
Talking about the importance of stakeholders in education PM said that the more teachers and parents are connected with education policy, the more students will be connected, the more its relevance and comprehensiveness increases. He said: "Education policy and education system are important means of fulfilling the aspirations of the country. Central, state government, local bodies, all are attached to the responsibility of the education system."
Also read:
Write to us at news@careers360.com.