PM POSHAN cleared by Cabinet; To spend Rs 1.31 lakh crores in 5 years
PM POSHAN cleared by Cabinet; To spend Rs 1.31 lakh crores in 5 years
PM POSHAN scheme covers about 11.80 crore children studying in 11.20 lakh schools across the country.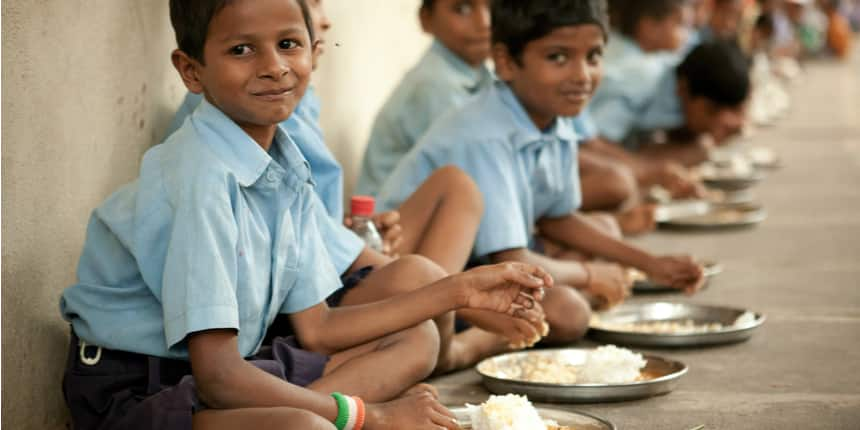 NEW DELHI: Union Cabinet today has approved the continuation of PM Poshan scheme and will provide mid-day meal to students of more than 11.2 lakh government and government-aided schools across the country. The scheme will run for 5 years and Rs 1.31 lakh crores will be spent, Union Minister Anurag Thakur announced in a press conference.
Also Read | NAS 2021: Schools brace for national test to gauge impact of COVID-related academic loss
The ministry said, "Prime Minister has approved 'National Scheme for PM POSHAN in Schools' for the five year period 2021-22 to 2025-26 with the financial outlay of Rs 54,061.73 crores from the central government and Rs 31,733.17 crore from state governments and UT administrations."
Central Government will also bear additional cost of about Rs 45,000 crore on foodgrains, taking the total budget of the scheme to Rs 1,30,794.90 crore.
National Scheme for mid-day meal in school, popularly known as mid-day meal scheme, has been renamed to National Scheme for PM POSHAN in Schools.
The scheme covers about 11.80 crore children studying in 11.20 lakh schools across the country.
Also Read | Maharashtra CET 2021: Re-exam for students who couldn't appear due to heavy rain in state
PM Poshan scheme: Highlights of Cabinet Decision
The concept of TithiBhojan will be encouraged extensively. TithiBhojan is a community participation programme in which people provide special food to children on special occasions/festivals.

The government will promot development of School Nutrition Gardens in schools to give children first-hand experience with nature and gardening. The harvest of these gardens is used in the scheme providing additional micro-nutrients. School Nutrition Gardens have already been developed in more than 3 lakh schools.

Special provision is made for providing supplementary nutrition items to children in aspirational districts and districts with high prevalence of Anemia.

Cooking competitions will be encouraged at all levels right from village level to national level to promote ethnic cuisine and innovative menus based on locally available ingredients and vegetables.

Vocal for Local for Atmanirbhar Bharat: Involvement of Farmers Producer Organizations (FPO) and Women Self Help Groups in implementation of the scheme will be encouraged. Use of locally grown traditional food items for a fillip to local economic growth will be encouraged.
Write to us at news@careers360.com.