NAS 2021: Schools brace for national test to gauge impact of COVID-related academic loss
NAS 2021: Schools brace for national test to gauge impact of COVID-related academic loss
NAS 2021: Centre will test 38 lakh students after school reopening. NCERT will conduct it, CBSE will prepare the report.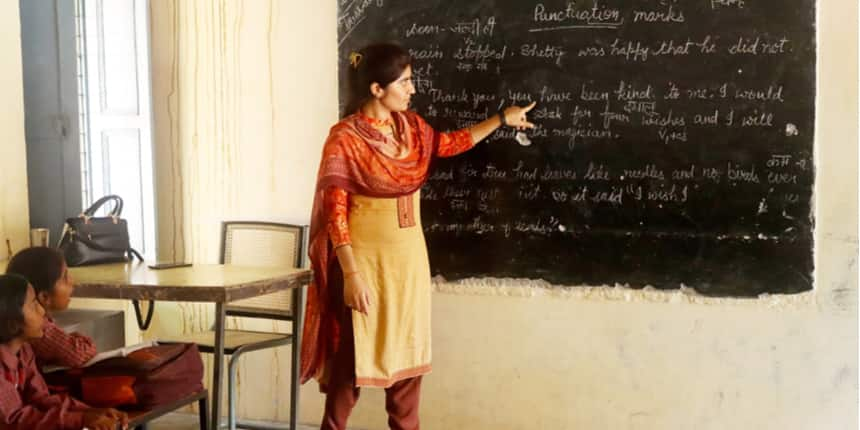 NEW DELHI: Soon after the reopening of schools in Punjab, students are spending time practising worksheets, questionnaires and weekly assessment activities.
On November 12, the Central Government will conduct one of the largest school assessment exercises in the world -- the National Achievement Survey (NAS 2021) -- in schools located in 377 districts across India. School teachers in Punjab are gearing up to improve their performance in it.
NAS 2021 will provide insights into what students know and can do at the end of Classes 3, 5, 8, and 10 by measuring students' attainment of learning outcomes in the respective classes. This year's sample framework estimates to test school children in 1.24 lakh "unique schools" which have 38,87,759 students enrolled, a NAS 2021 steering committee document says.
Also Read| 'All Equally Misinformed': Parent's online petition to retain NCERT's gender-neutral training manual
"Our state education secretary, Mr. Krishan Kumar has been motivating us to prepare children for a better outcome than before. We are regularly conducting tests, practising workbooks, etc to help improve learning outcomes. The teachers have also formed WhatsApp groups where they send practice tests regularly to be done at home," said Satinder Kaur, a government school teacher in Punjab's Rupnagar district. The schools, she said, will be selected randomly for the survey. She is supervising the preparation exercise of 18 government schools in her district.
After the pandemic prompted schools to shut down physical classrooms in 2020, the survey which was postponed last year will be crucial in measuring the academic loss caused by the closure. Education stakeholders and experts have indicated a gross learning loss, especially in younger students despite efforts to continue education in virtual mode. "NAS 2021 will help in the systematic understanding of the consequences that prolonged closure of schools have had on students' learning in terms of their socio-emotional and cognitive development," an official document said.
Changes in NAS 2021
The sample includes private and government-aided schools along with public schools in both rural and urban areas. Students will be assessed in key curricular areas of language, mathematics, EVS or science, and social sciences. The findings of the survey will help to guide education policy, planning, and implementation at national, state, district, and classroom levels for improving the learning levels of children and bringing about qualitative improvements.
While the National Council of Educational and Research Training (NCERT) is responsible for sampling and data collection, the Central Board of Secondary Education (CBSE) will be translating the collected data into the report "without much intervention from the states", said Maneesh Garg, joint secretary, department of school education and literacy.
| | | |
| --- | --- | --- |
| NAS 2021 Sample | Total Schools | Total Enrollment |
| National Level (Unique Schools) | 1,23,729 | 38,87,759 |
| Class 3 | 29,603 | 6,55,128 |
| Class 5 | 28,656 | 6,46,975 |
| Class 8 | 46,062 | 12,04,777 |
| Class 10 | 48,564 | 13,80,879 |
The NCERT has also introduced a few changes in the survey instruments as well. According to the NAS steering committee's document, there will be an increase in the number of items for Class 3 and 5. This is being done to increase the "content coverage" without increasing the "testing load on students".
"The NAS 2021 test booklet design tests broadly the same number of learning outcomes with more number of items increasing the validity of the study," an official document stated. These changes, however, remain minimal in order to keep the test "comparable" with the last survey that was conducted in 2017.
According to Garg, students will also fill up a general questionnaire which will help to gauge the possible learning loss among students. "The survey questions are comparable with the last survey that was conducted in 2017-18. A part of the questionnaire also includes background information of the students where we have incorporated items related to what has been learnt during the COVID-19 lockdown. It would provide input for comparison of improvement in performance from the baseline study of competencies in NAS 2017," said Garg. In the last survey in November 2017, the learning levels of 25 lakh students of 1.1 lakh schools across 701 districts in all states and UTs were assessed.
The questions will be focused on family background, facilities at home, involvement of parents, safety and facilities in school, learning during pandemic, and facilities for children with special needs.
NCERT Survey 2021: Government school teachers
While teachers in Punjab are monitoring weekly participation and learning outcomes for a test that students are not expected to prepare for, teachers in other states are still grappling with the disruptions caused by COVID-19 and struggling to get students back to class. Manoj Kumar, headmaster of a government school in Nuruddin Ganj, Patna said the teachers are still struggling to make up for the academic loss of the last 18 months.
Also Read| CBSE Board Exam 2022: Term 1 vs term 2; Know the difference
"The government has made a three-month alternative curriculum that summarises last year's academic material. We are still in the middle of that curriculum. Students are not studying the course that they are currently enrolled in. We are still in the process of catching up with the academic loss that happened due to the lockdown," he said. "These people sitting at the top are trying to check boxes only. They have not consulted with any teachers' association nor any teacher possesses information on this survey," Kumar complained. Kumar is also the president of the Bihar State Primary Teachers' Association.
Shiv Shankar Singh, another primary government school teacher in Uttar Pradesh said that they are buried under paperwork that they do not get enough time to work with their students. "Teachers have been assigned so many duties. For instance, there is DBT [direct benefit transfer] under which Rs 1,100 is sent to students' Aadhar linked bank account for school bag, uniform, socks etc. All forms related to this whole exercise is a teacher's duty. If we spend time filing paperwork, when will we teach our students?" he asked.
Also Read | NEET PG 2021: Know last year's cut-off for top 10 medical colleges; Scorecard soon
In view of decreasing COVID-19 cases across Bihar, students in the state returned to school on August 16 after a hiatus of a year-and-a-half. The schools in Bihar reopened for students of Class 1 to Class 8. However, an achievement survey at this point, according to Kumar, is not feasible.
"After August 16, students have finally returned to school. The attendance currently is over 75 percent which is very uplifting. We do not have adequate infrastructure but our teachers are putting in special efforts to teach these students. The achievement survey should be done at a later stage when we return to a normal routine," said Kumar.
Kaur agrees. "We obviously need to find out what needs to be done in terms of school education but I wish they had kept the assessment scheduled at least six to seven months after schools reopened. The buzz of an imminent third wave has made parents hesitant. If a student has even a mild cough they are sent back to their home. Things are yet to fall back in place," said Kaur. She claims the education during the pandemic continued for most if not all the students in Punjab. This has enabled them to catch up after school reopening in Punjab.
Also Read | Only 8% of children are studying online regularly in rural areas: Report
Kaur who is also chairperson of Punjab Government Primary Teachers' Association, a state division of All India Primary Teachers Federation (AIPTF) also said that teachers from other states are unaware of the survey.
Ratul Chandra Goswami, general secretary, Assam State Primary Teachers' Association told Careers360 that there has been no communication between teachers and government about NAS 2021.
NAS 2021: Number of schools
The sample of schools selected in NAS 2021 is based on Unified District Information System for Education (UDISE) 2019-20. The data will be collected at the national, state and district level. Moreover, within each district, student achievement will be estimated for each type of school management which includes government, government-aided, and private unaided recognised.
Also Read| Gross enrolment ratio rises overall but falls at primary level: UDISE+ Report
This year, the NCERT sample includes the highest number of "unique schools" in Karnataka, Assam, Gujarat and Bihar. In addition, the highest number of schools, a total of 15,302 will be surveyed in Uttar Pradesh followed by 9,499 schools in Madhya Pradesh and 7,330 schools in Maharashtra.
The government intends to cover over six lakh students studying in Class 3 and 5. Over 12 lakh students of Class 8 and 13.8 lakh Class 10 students are expected to participate in NAS this year.
| | |
| --- | --- |
| States/UT | Unique Schools |
| Andaman | 170 |
| AP | 2,912 |
| Assam | 6,156 |
| Bihar | 5,727 |
| Chandigarh | 106 |
| Chattisgarh | 4,481 |
| Dadra and Nagar Haveli | 105 |
| Daman and Diu | 111 |
| Delhi | 1,624 |
| Goa | 289 |
| Gujarat | 6,064 |
| Haryana | 3,230 |
| Himachal Pradesh | 1,979 |
| Jammu and Kashmir | 3,676 |
| Jharkhand | 3,509 |
| Karnataka | 7,288 |
| Kerala | 2,454 |
| | |
| --- | --- |
| States/UT | Number of Schools |
| Ladakh | 239 |
| Lakshadweep | 36 |
| Madhya Pradesh | 9,499 |
| Maharashtra | 7,330 |
| Manipur | 1,409 |
| Meghalaya | 2,320 |
| Mizoram | 1,361 |
| Nagaland | 932 |
| Odisha | 5,563 |
| Puducherry | 313 |
| Punjab | 3,722 |
| Rajasthan | 6,012 |
| Sikkim | 380 |
| Tamil Nadu | 6,467 |
| Telangana | 4,936 |
| Tripura | 898 |
| Uttarkhand | 2,630 |
| Uttar Pradesh | 15,302 |
| West Bengal | 3165 |
Write to us at news@careers360.com