Students and Sedition: As SC puts sedition law on hold, a look at cases against students
Students and Sedition: As SC puts sedition law on hold, a look at cases against students
Supreme Court directed the government to not register any fresh FIRs invoking sedition charges until the Centre re-examines Section 124 A.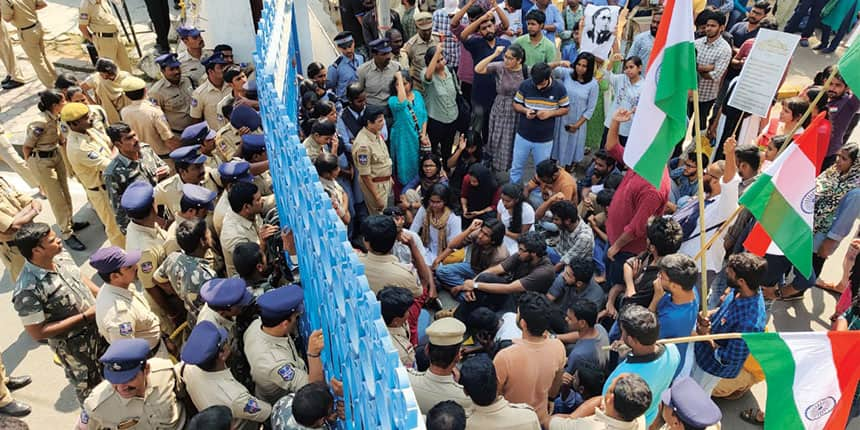 NEW DELHI: In a historic order, the Supreme Court on Wednesday has said the sedition charges should be kept in abeyance. The apex court has directed the Centre and the state governments to not register any fresh FIRs invoking sedition charges until the government re-examines the colonial-era penal law.
4 min read
Mar 05, 2022
A bench headed by Chief Justice NV Ramana stayed all pending cases, appeals and proceedings with respect to charges framed for sedition. The court also said that the reliefs granted to the accused by courts would continue, and fixed the third week of July for hearing pleas challenging the validity of the provision.
Also read | 'No Autonomy Possible': In NEP, CUET, teachers see erosion of academic freedom
What is sedition law?
The sedition law was drafted under British rule by Thomas Babington Macaulay in 1837. Section 124A of the Indian Penal Code was finally added in 1870 on the suggestion of James Fitzjames Stephen fearing dissent against the British government. This section was also used to suppress activists in favour of India's independence, including Lokmanya Tilak and Mahatma Gandhi, both of whom were found guilty and imprisoned.
What does Section 124A say
Section 124A. Sedition says, "Whoever, by words, either spoken or written, or by signs, or by visible representation, or otherwise, brings or attempts to bring into hatred or contempt, or excites or attempts to excite disaffection towards, the Government established by law in India, shall be punished with imprisonment for life, to which fine may be added, or with imprisonment which may extend to three years, to which fine may be added, or with fine."
Also Read| CUET is 'not fair', might force states to opt for centralised syllabi: Educationists
Though the data on sedition charges filed in India is surprisingly sparse, the number of cases have significantly increased in recent years. The National Crime Records Bureau (NCRB) official website has the data of cases filed under the sedition law from 2016, after the Modi-government came into power.
According to the data, Assam, Jharkhand, Bihar and Haryana account for more than half of the sedition cases filed between 2014-2018, as per reports.
Sedition charges against students
Let's take a look at the sedition charges slapped against students in the past years.
2021
On February 14, 2021, Disha Ravi, the founder of Fridays For Future's (FFF) India chapter, was arrested on charges of sedition for allegedly editing and distributing a Google document tweeted by Swedish environmental activist Greta Thunberg. The FFF India faced censorship by the Narendra Modi-led government for raising concerns about the draft Environment Impact Assessment notification 2020.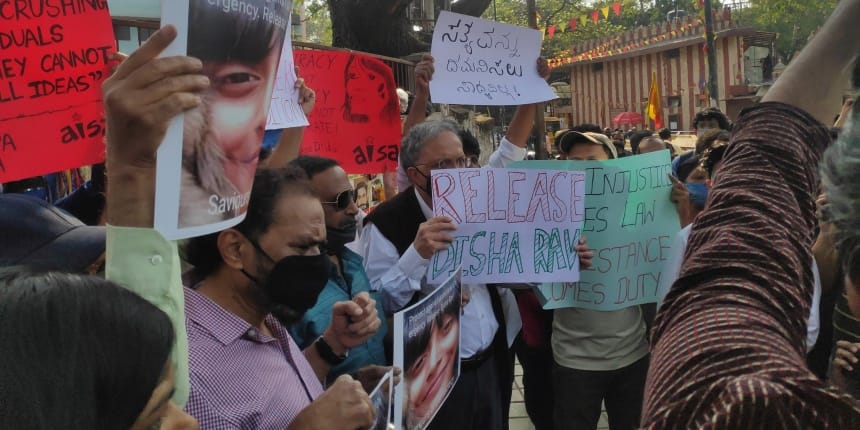 Protests organised for Disha Ravi (Source:AISA)
Several activists told Careers360 that their younger student counterparts, who typically participate in protests and demonstrations, are now anxious.
2020
After a student of University of Mysuru carrying a placard that read 'Free Kashmir' went viral on social media, the police booked a sedition case in 2020. They Mysuru police filed the case against the university's research student association president Maridevaiah who organised the protest as they could not identify the protester.
The Mysuru City police commissioner then told reporters that a case was filed against the protest organisers under Section 124-A (sedition) and Section 34. The placard was displayed by the protester during a protest against the attack on JNU students.
In another incident, two students of the Tata Institute of Social Sciences (TISS) were charged with sedition for allegedly shouting slogans in support of JNU student Sharjeel Imam at an LGBTQ event in February 2020. They were granted pre-arrest bail a year later by a Mumbai sessions court.
Also Read| 'Ambedkar himself would be stopped': New rules stifle NOS scholars' freedom to study own communities
It is noteworthy to mention that Imam, a PhD student at Jawaharlal Nehru University, was arrested on January 28, 2020, after he was booked in sedition cases for alleged "inflammatory" speeches made during the Citizenship Amendment Act (CAA) protests. A case of sedition was also filed against Shaheen School in Bidar, Karnataka for staging a play against the Citizenship (Amendment) Act 2019.
In a similar incident, three students from Kashmir studying at an institute in Karnataka were arrested in separate sedition cases. One among started her speech at an anti-CAA protest in Bengaluru with "Pakistan Zinadabad". Following this, the four students struggled to get a lawyer. Even as some volunteered to represent them, they were objected by other lawyer for being "anti-national".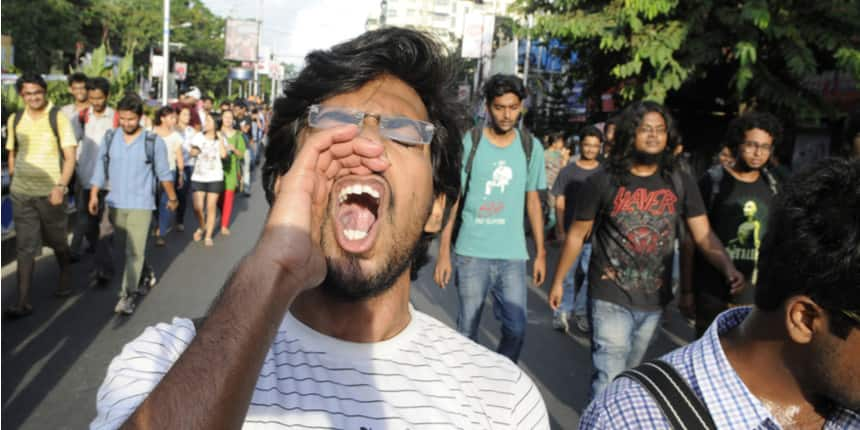 Kashmiri students who celebrated Pakistan's victory in T20 world cup released from jail after 6 months.
The police had booked the case under IPC sections of 124 (Sedition), 153(a), and 153(b) for disturbing communal harmony.
This was not the first time when a request for bail plea remained in a limbo. Three Kashmiri students of Agra's Raja Balwant Singh Engineering College who were arrested for cheering in favour of Pakistan's win against India in T20 world cup were in jail for over 5 months.
An FIR under Indian Penal Code sections 124A (sedition), 153A (promoting enmity between groups) and 505(1)(b) (cause fear or alarm to the public) and section 66F (cyber terrorism) of the Information Technology Act was registered by Agra police against the three students.
With no representation, the bail plea was pending for over months. After weeks of struggle, the Jammu and Kashmir Students Association (JKSA) found a lawyer to represent these students and they were granted bail by the Allahabad High Court on March 30, 2022.
2019
Four students studying at National Institute of Medical Sciences (NIMS) University Jaipur were booked under the sedition charges after they allegedly posted celebratory messages on social media in the wake of Pulwama attack, in which 40 CRPF jawans were killed on February 14. The private college suspended the students but several social organizations have urged the government to drop the charges against the Kashmiri students and demanded fair investigation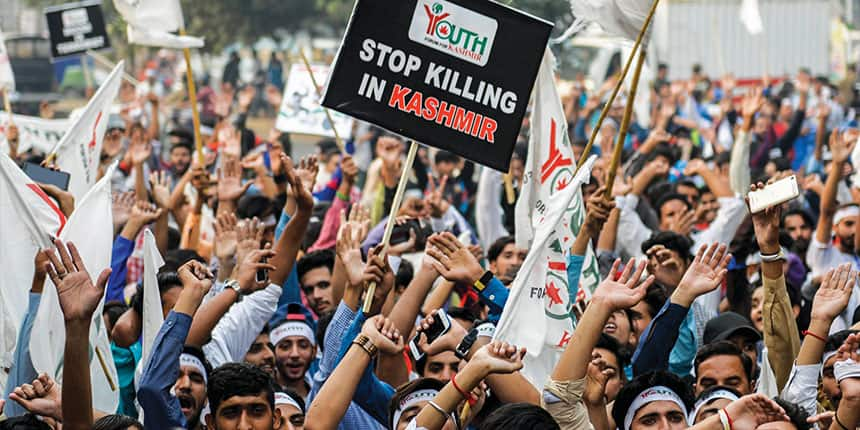 Jammu and Kashmir students faced multiple attacks post Pulwama (Source: Shutterstock) The same year, a second year PG student of Central University of Kerala (CUK) was charged with sedition over a Facebook post wherein he asked who was the real martyr in the Pulwama attack, the suicide bomber or the 42 CRPF soldiers who were killed. His post read, "Who is martyr. Is he the one or the 42," along with a hashtags #Pulwama42or1 #standwithpeople.
He was a native of Andhra Pradesh. Before deactivating his social media account, he wrote on Facebook that it was an academic question posed by a student, as per reports.
In December 2019, the students of Indian Institutes of Technology (IIT) faced harsh criticism after they protested in response to violence faced by the Muslim students of Jamia Millia Islamia (JMI) and Aligarh Muslim University (AMU) on December 15, 2019.
The students of JMI and AMU were protesting against the CAA. The students were also reportedly attacked by the police leaving many injured. Section 144 of the Code of Criminal Procedure, or CrPC, was also imposed, prohibiting any gathering of protesters.
2016
A Kashimiri student pursuing engineering at a private university in Udaipur was detained after he allegedly posted anti-national comments on Facebook after the Uri terror attack. He was booked on sedition charges.
---
Follow us for the latest education news on colleges and universities, admission, courses, exams, schools, research, NEP and education policies and more..
To get in touch, write to us at news@careers360.com.