Indian children with mental disorders remain undiagnosed: UNICEF Report
Indian children with mental disorders remain undiagnosed: UNICEF Report
UNICEF's report says 50 million children in India affected with mental health issues before the pandemic, 80-90% do not seek support.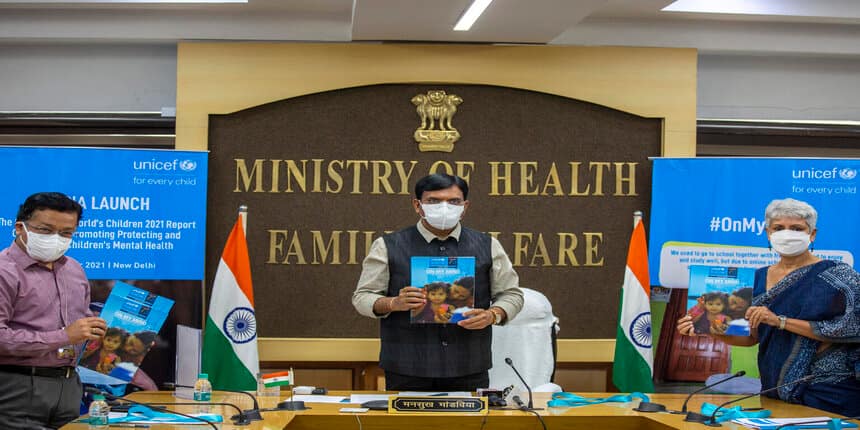 NEW DELHI: According to United Nations Children's Fund's, (UNICEF) flagship report, children and young people in India could feel the impact of COVID-19 on their mental health and well-being for many years to come. The report, The State of the World's Children 2021; On My Mind, was released today by union health minister, Mansukh Mandaviya.
Released @UNICEF's report on 'State of the world's children 2021' and spoke about enhancing the holistic well-being of the young generation.#ShiftYourMINDset pic.twitter.com/zuQKzyRsLz

— Mansukh Mandaviya (@mansukhmandviya) October 5, 2021
The report observed that In India, children with mental health disorders mostly remain undiagnosed and hesitant in seeking help or treatment. The study found that at least 50 million children in India were affected with mental health issues, even before the pandemic. Out of which 80 -90% have not sought any support.
In its flagship finding, UNICEF took a comprehensive look at the mental health of children, adolescents and caregivers in the 21st century. According to the report, the COVID-19 pandemic has had a significant impact on children's mental health.
Also Read|NEET 2021 Row: Manoj Sinha to seek deferment of All India medical quota amid protest
Mandaviya highlighted the importance of inclusion of understanding of mental health in the curriculum of teachers, as they form a pillar of support for children. "The role of parents, families and communities in listening to children and supporting them to talk about mental health issues helps to address them early", he stressed.
Highlighted the impact of mental health issues on children and recommended ways to support them, listen to them & care for them.

Together, we can break the stigma about mental health!#OnMyMind

— Mansukh Mandaviya (@mansukhmandviya) October 5, 2021
Indian children reluctant in seeking support
According to a survey conducted by UNICEF and Gallup in early 2021 with 20,000 children and adults in 21 countries, children in India seem reluctant to seek support for mental stress. The survey reported that only 41% of young people between 15 -24 years of age in India said that it is good to get support for mental health problems, compared to an average of 83 per cent for 21 countries. In fact, India was the only one of 21 countries where only a minority of young people felt that people experiencing mental health issues should reach out to others. In every other country, a majority of young people (ranging from 56 to 95 per cent) felt that reaching out was the best way to deal with mental health issues.
The report commented that as per the data from UNESCO, over 286 million children up to class 6 were out of school in India between 2020-2021. UNICEF's rapid assessment in 2021 found that only 60 per cent could access digital classrooms and many would not be able to continue their education.
#UNICEF report puts the spotlight on the mental health impact of #COVID19 on children and young people.#OnMyMind

— UNICEF India (@UNICEFIndia) October 5, 2021
Also Read| |CASB STAR exam 2021: Students campaign on Twitter, #AirForce_Result_Do trends
'Stigma around mental health needs to end'
"Children in India have been through a challenging time living through the risks and restrictions posed by the pandemic. Nothing could have prepared them for the onslaught of the second wave of the pandemic that hit India earlier this year. Children witnessed suffering and uncertainties that no child should have to see. Being away from family, friends, classrooms and play caused isolation and anxiety. Children have not only been living an emotional tragedy, many are also at a higher risk of neglect and abuse," said UNICEF India representative, Yasmin Ali Haque.
"In India, we need to break the stigma of talking about mental health and seeking support so that children can have better life outcomes. We must change the way we view mental health," added Yasmin .
The report called on governments, public and private sector partners, to promote mental health for all children, adolescents and caregivers, protect those in need of help, and care for the most vulnerable.
Write to us at news@career360.com
---
Follow us for the latest education news on colleges and universities, admission, courses, exams, schools, research, NEP and education policies and more..
To get in touch, write to us at news@careers360.com.