AP, Rajasthan, Gujarat improve governance to be among top-performing states in education
AP, Rajasthan, Gujarat improve governance to be among top-performing states in education
Education Ministry PGI Report: Top states, UTs are Kerala and Punjab, followed by Chandigarh, Maharashtra. Delhi missed Level 2 by two points.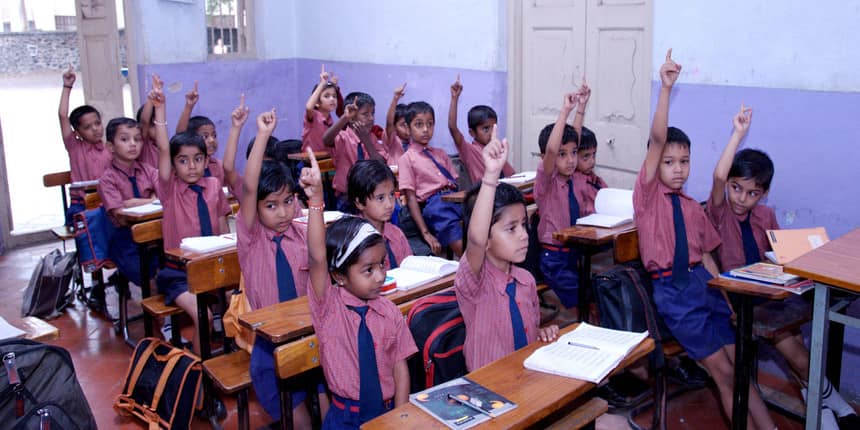 NEW DELHI: Andhra Pradesh, Gujarat and Rajasthan made huge improvements in their scores for governance processes to jump to the highest level in the Performance Grading Index (PGI) 2020-21 released by the education ministry. The PGI report is the result of an annual evaluation by the education ministry which rates the performances of states in school education.
"Governance processes" is one of the five domains of parameters on which the PGI report grades states. The other four are learning outcomes and quality; equity; access; and infrastructure and facilities. The states also made minor improvements in their scores in these categories.
With these improvements, the three states join Kerala, Punjab, Chandigarh and Maharashtra at Level 2 of the PGI report for which states have to have an overall score of 901-950. No state has made it to Level 1 of the PGI report. Delhi has missed Level-2 by two points.
PGI Report: Governance processes
The three new entrants to the level – Andhra Pradesh, Gujarat and Rajasthan – all showed significant improvements in the governing processes domain.
Andhra Pradesh improved its score from 271 in 2019-20 to 334 in 2020-21, an increase of over 60 points. Gujarat improved its score from 320 to 331 and Rajasthan, from 307 to 333. The highest possible score for the governance processes domain is 360.
Also Read| Atmanand Schools: Teachers in Chhattisgarh's top government schools feel they got a raw deal
This domain includes a set of separate parameters carrying marks, such as the pupil-to-teacher ratio (PTR), daily average attendance, the number of single-teacher schools, percentage of state budget spent on education, number of core subject teachers, number of principals, among others.
However, in the total score, Punjab, Maharashtra and Kerala are still far ahead of the three new states in Level 2. This is how they scored on the PGI, from highest to lowest:
PGI: Top states
| | |
| --- | --- |
| State | Total score |
| Kerala | 930 |
| Punjab | 929 |
| Chandigarh | 928 |
| Maharashtra | 928 |
| Gujarat | 903 |
| Rajasthan | 903 |
| Andhra Pradesh | 902 |
The total score is 1000 points. However, there's a discrepancy between the scores stated in the Performance Grading Index document uploaded on the education ministry website and the scores as they show on the PGI website, pgi.udiseplus.gov.in. In the report document, Kerala, Maharashtra and Punjab have all scored 928 and Chandigarh, 927. We have gone with the scores on the PGI's official website.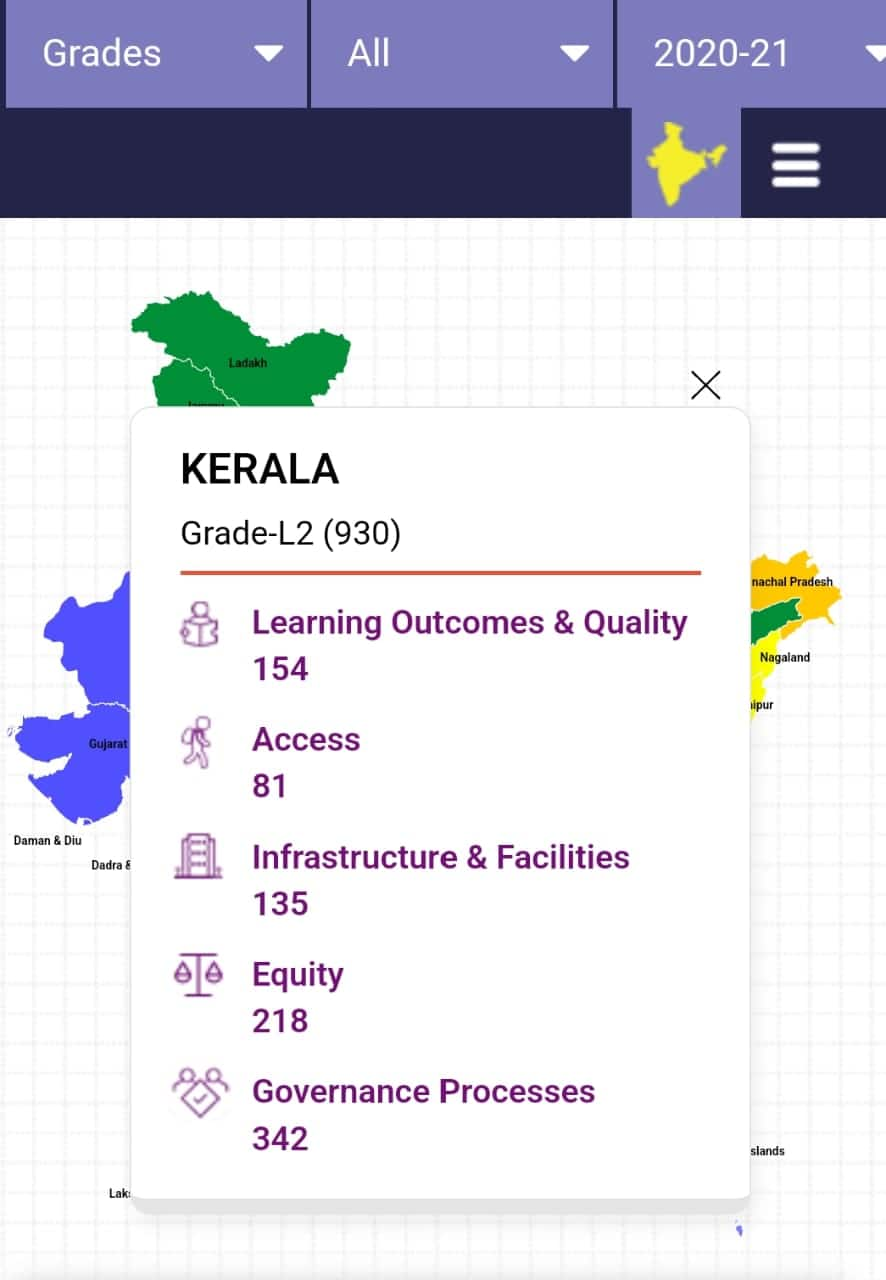 The PGI website shows Kerala's score as 930. In the document shared by education ministry, it is 928.
PGI: Learning outcomes, other domains
Although Andhra Pradesh (154), Gujarat (152) and Rajasthan (168) have not improved their scores in the learning outcomes or quality domain in the past four years, there were minor to significant improvements in other domains.
The table below shows how their scores changed from the 2019-20 to the 2020-21 session.
PGI Report: Scores in domains
State

Learning outcomes

Access

Infrastructure and facilities

Equity

Governance processes




2020

2021

2020

2021

2020

2021

2020

2021

2020

2021

Andhra Pradesh

154

154

65

77

117

127

204

210

271

334

Gujarat

152

152

69

71

123

135

220

214

320

331

Rajasthan

168

168

68

70

101

115

215

217

307

333
In access to education, Andhra Pradesh improved its score from 65 to 77; Gujarat, from 69 to 71; and Rajasthan, from 68 to 70 between 2019-20 to 2020-21. The highest possible score for this domain, which considers aspects such as net enrolment and retention rate, is 80.
In infrastructure and facilities, Andhra Pradesh improved its score from 117 to 127; Gujarat, from 123 to 135; and Rajasthan, from 101 to 115, over the same period. The highest possible score for infrastructure and facilities domain is 150.
In the domain for equity, Andhra Pradesh improved from 204 to 210, Rajasthan improved from 215 to 217. Gujarat, however, performed worse than in 2019-20. Its domain score, which is based on differences in students' performances among different social categories, went down from 220 in 2019-20 to 214 in 2020-21.
All the five domains are subdivided into multiple indicators which totals to 70 different indicators based on which the scoring is done.
---
Follow us for the latest education news on colleges and universities, admission, courses, exams, schools, research, NEP and education policies and more..
To get in touch, write to us at news@careers360.com.