For this Afghan student, all hopes pinned on an ICCR scholarship
For this Afghan student, all hopes pinned on an ICCR scholarship
Khyber Hayat had applied for an ICCR scholarship to study journalism in India. With the Taliban back, that scholarship is now a matter of survival.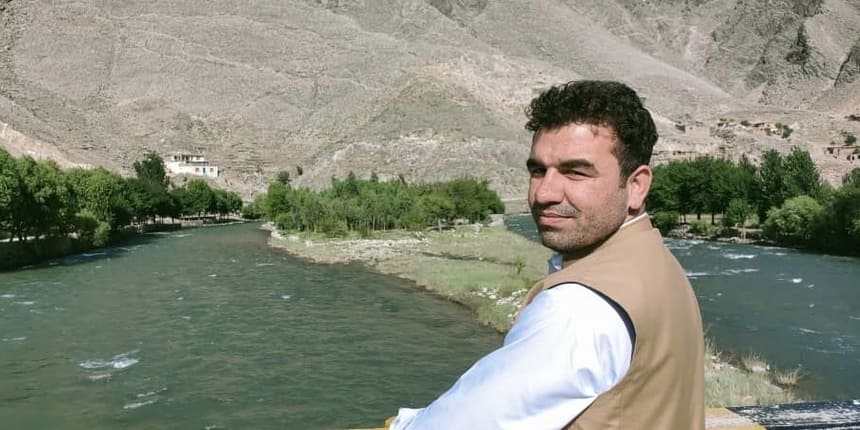 NEW DELHI: Khyber Hayat was just seven years-old when the US invaded Afghanistan in 2001, removing the ultra conservative Taliban from power. Now he is 27 and the Taliban have returned bringing with them fear and uncertainty for a generation that grew up in the intervening years.
Hayat is a mass communication graduate from Nangarhar University and currently the head of publications at Ariana University in Jalalabad, capital of the Nangarhar province in eastern Afghanistan, along the Pakistan border. He dreamt of pursuing a master's in journalism in India with the Indian government's Indian Council for Cultural Relations (ICCR) scholarship, Since 2017, Hayat applied for the ICCR scholarship thrice finally succeeding in 2021.
Also Read: 'For the Taliban, I'm the enemy': Afghan students of Indian universities worry about future
"Getting an ICCR scholarship is a dream for many Afghans. The scholarship requirements for ICCR is good for Afghans because it does not require TOEFL or IELTS which is hard for Afghans to clear. They also provide Rs 25,000 in Indian money which is a lot," said Hayat, speaking to Careers360 over the phone from Jalalabad. TOEFL and IELTS are international English-proficiency tests that are required for securing visas in English-speaking countries.
According to the website of the Consulate General of India at Mazar-e-Sharif, Afghanistan, the ICCR offers around 1,000 scholarships to Afghans.
Hayat said that the Jamia Millia Islamia, Panjab University and University of Madras are processing his application but the crisis in Afghanistan has dropped a question mark on his plans. With the withdrawal of the US troops that had propped up the country's fledgling democracy, the Taliban began advancing.
On August 15, as India was celebrating its 75th year of Independence, Nangarhar, Afghanistan's third largest province, quietly fell into the control of the Taliban. The next day, the Taliban would go on to take over Afghanistan's capital Kabul, re-establishing its Sharia-based rule.
For Hayat, the ICCR scholarship became less about his personal ambition and more about the survival and safety of himself and his family.
Hopes pinned on ICCR scholarship
"We're safe for now. Thankfully, they haven't touched the locals," said Hayat. "But now it is unclear what will happen tomorrow. There is no clarity whether they will allow Afghans to leave. We'll have to see."
The two-decades of Taliban's absence had ushered in some progress, according to Hayat.
"The Ashraf Ghani government has made some progress. There were some good things. We don't know if the Taliban will destroy that or let it be. I don't know what will happen," said Hayat.
Also Read: Sci-Hub's legal representation in India a first for the platform
Hayat has a wife and a two-year old son. He and his older brother, who is also married and has two children of his own, are the sole earning members of a family of 11.
"My brother runs a shop where he sells oils, soaps and other stuff. Between his sales and my salary from the university, it is just about enough for our family," said Hayat.
He was already looking for ways to improve his financial situation. Two months ago, before the Taliban advance, Hayat applied for a post in the larger Nangarhar University where he completed his undergraduate studies. However, the final written test could not happen as the city fell to the Taliban.
His hopes now revolve around the ICCR scholarship.
"Insha Allah! If they give me the chance to study in India it will be great. Rs 25,000 is a lot of money for one person. I can easily send Rs 10,000 to home," said Hayat.
Amnesty and asylum
Hayat said that even though there are rumours about other countries giving opportunities to Afghans, it is all unclear.
"Recently, I heard that Canada is accepting 20,000 women, social activists and some other people from Afghanistan. But the procedure is not clear. We don't know where to apply or what to do," said Hayat.
Also Read: NEET 2021: Why resident doctors, MBBS interns across the country are protesting

"We also heard similar news that the United States is giving asylum to Afghans without visa or passport. People flocked to the US airport and tried to go through the gates. But the crowd was very big. That is when the incident happened and the American security forces shot many people," said Hayat.
According to reports, two Afghan men, clinging to an American aircraft as it took off from the Hamid Karzai International Airport in Kabul plummeted to their deaths in a horrific illustration of the citizens' desperation to escape Taliban rule.
"It depends on the economic situation. Rs 25,000 is enough for one person but I don't know if it will support the whole family. If there is a provision which allows support for the family and a place to say I will be hoping to move with my family. But this is not in my control."
"Even if the ICCR scholarship is finalised, I don't know if the current Afghanistan government will allow me to go. I don't know what will happen tomorrow," said Hayat. According to reports in the international media, the Taliban has announced amnesty across the country on August 17.
Write to us at news@careers360.com.