AMU Protest: Net down, students told to leave campus can't get tickets
AMU Protest: Net down, students told to leave campus can't get tickets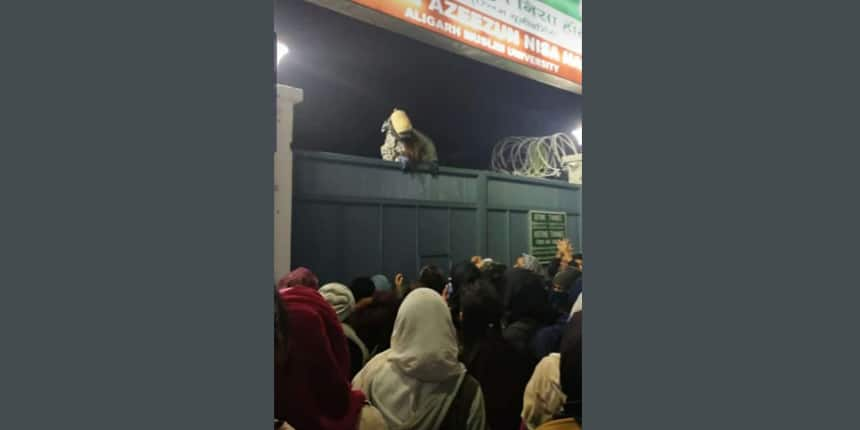 NEW DELHI: Residents of women's hostels in Aligarh Muslim University have been asked to vacate their rooms by the end of Monday, December 16. The university administration had announced the start of winter vacations on Sunday night.
On Sunday, students of AMU had staged a protest against the police action their counterparts at Jamia Millia Islamia University in Delhi had faced earlier that day. Both groups were protesting against the Citizenship (Amendment) Act, 2019, passed by the Narendra Modi government last week.
Like in Jamia, the police took swift and harsh action against the AMU students late on December 15. According to AMU's student leaders, over 100 students were injured in the melee and two were hospitalised.
The university declared the start of winter vacations and according to former AMU Students' Union member, Ghazala Ahmad, all students have been asked to vacate the campus and its hostels by December 16.
No internet, no train tickets
"We left to protest and the police entered the hostel premises and burned down two rooms of Morrison Court Hostel (one of the women's hostels)," said Ahmad. "Girls were being locked down inside their rooms and were not allowed to participate in the protest. Today they have put up a notice asking the hostelers to leave on the account of vacations from today till January 5, 2020."

The hostel residents have been told that all hostel facilities will be discontinued from Tuesday, December 17. Since the internet has been shut down by the district administration, students living in other states are finding it difficult to book train or flight tickets to go back home.
For students who live in places within 300 km from the campus, the AMU administration has organised a bus service. "Twenty-25 people from my hostel have already left as they were getting rides to places like Moradabad and Rampur," said Abjana Parbin, a PhD scholar.
'I am from Assam'
Parbin's own situation is worse. "I am from Assam, the situation is worse there," she told Careers360 over the phone. "There is curfew and no internet service. It is so difficult for us to book tickets as there is no internet service here either." She continued: "I spoke to the Provost madam, and she has asked me to write an application to DSW [the dean, students' welfare] so that we get to stay one more day and make necessary arrangements." Parbin has requested a friend in Banglore to book tickets for her.
Similarly, Kashmiri students are in a fix because there are no flights to Kashmir right now, said Ahmad. "We are trying to adjust these girls in paying guest accommodations," Ghazala added.
'Won't let them vacate'
"Normally, some students could stay back in the hostels even during the vacations but if the university is shut sine die, they will have to vacate," said Mashkoor Ahmad Usmani, former president of AMUSU. "We are opposing that. We have told students to just stay put in the hostels. We are not going to let the police or administration simply drive students out. There are thousands here from states like Assam, Bihar, Jharkhand, Kerala and elsewhere. Where will they go?"
Usmani added that over a hundred students were injured in melee on Sunday night. "Twenty to 25 students were picked up by the police and we still don't know who they are," he said. Faizul Hasan, another former AMUSU president, added that two students had to be hospitalized with serious injuries. "One of them had his hand blown off by a tear gas shell," he said. "The police were trying to enter the women's hostels. The provosts in charge managed to lock them down but some policemen even tried to jump over the gate."
Write to us at news@careers360.com