Coronavirus: How universities are enforcing lockdown with rules, fines
Coronavirus: How universities are enforcing lockdown with rules, fines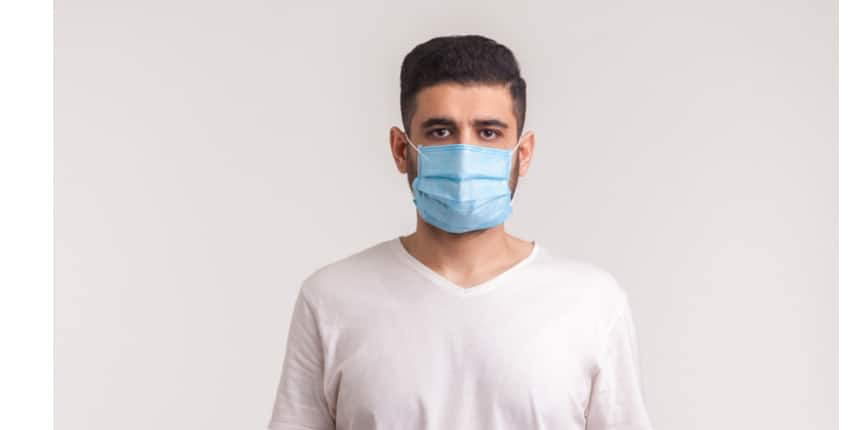 NEW DELHI: Over the weekend, still more universities suspended classes, exams and all other activities in a bid to contain the spread of the novel coronavirus and COVID-19, the disease it causes. And an increasing number of institutions, including ones that had earlier suspended classes without emptying the premises, are encouraging or compelling students to vacate the hostels and go home.
For those who are allowed or choose to remain on campus, there are rules in place to control their movements and limit their exposure. Common sports and entertainment facilities have been shut. Eateries outside the hostel mess halls are closed. Plus, there are restrictions on movement, meetings and gatherings on campus.
Several institutions that earlier stopped classes have now, on second thought, asked students to leave. Jamia Millia Islamia University in Delhi, which stopped classes last week, has issued a fresh advisory asking students "to understand the seriousness of the prevailing circumstances and for their own safety…consider to proceed to their homes for secured environment and care". Hyderabad Central University, or HCU, have "strongly advised them to do so.
On March 16, the Indian Institute of Technology (Indian School of Mines), or IIT-ISM Dhanbad, issued an office order directing all students to "vacate their respective hostels latest by midnight of 18.03.2020". The order, shared by sources, further says that "mess facility" will be suspended from March 19.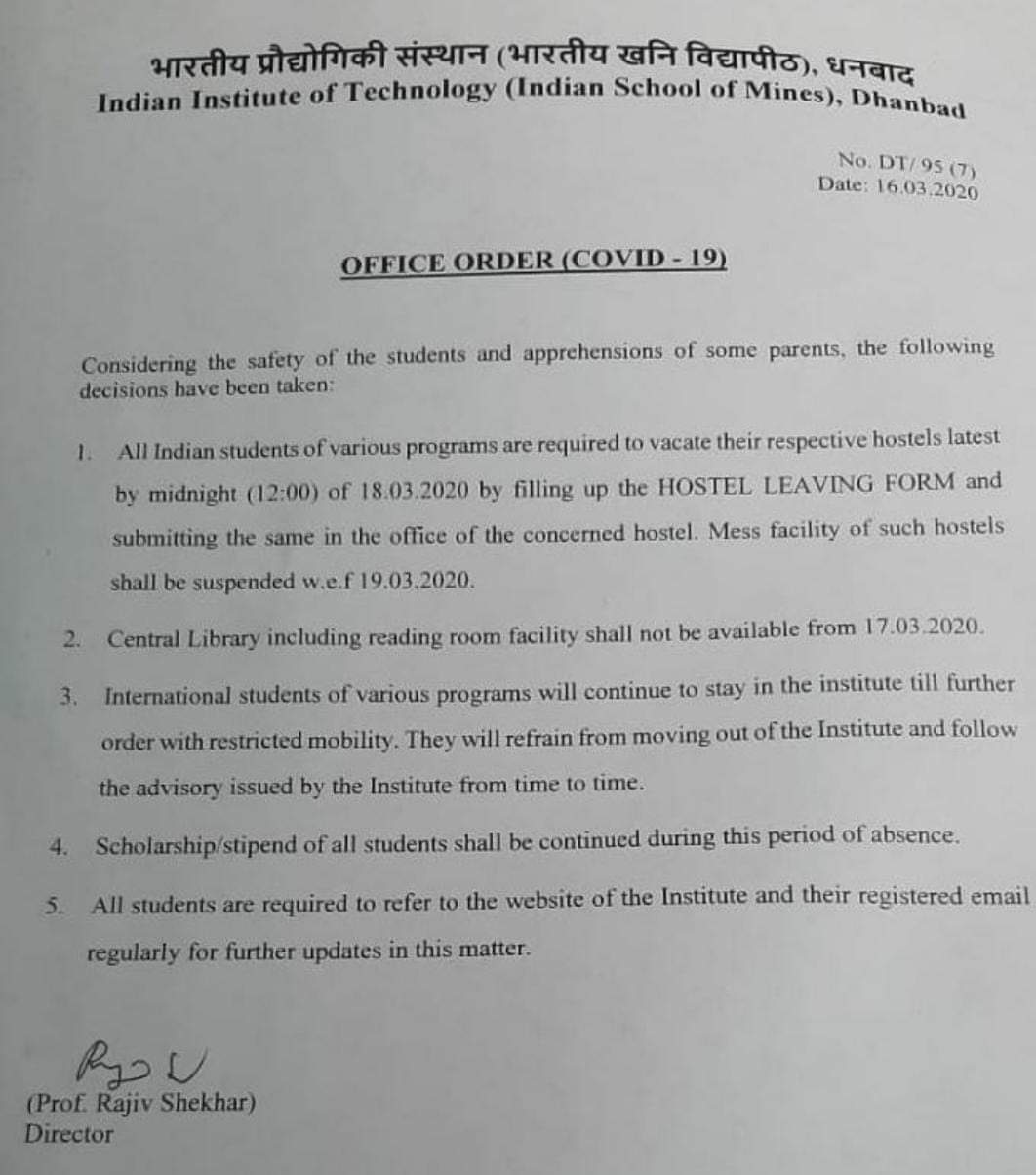 According to the Ministry of Health and Family Welfare, the number of confirmed coronavirus infections has risen to 110. The coronavirus pandemic has already claimed two lives in India.
In lockdown mode
Institutions are adopting stringent measures to enforce the lockdown.
In HCU, if students choose to stay back they must not allow any "outside guests" in the hostels, order food deliveries or gather inside. "Each hostel should form a volunteer committee to monitor compliance of the preventive measures being issued from time to time. All "common facilities" on campus have been shut to discourage gathering of students. At HCU, the gymnasium, library, yoga room and such "common facilities" are closed.
Ditto at IIT Delhi, also in lockdown mode. It has allowed only PhD student to join before 2018 and international students to remain on campus and for them there are strict rules. Visitors aren't allowed in the hostels without the warden's permission. All guests have to vacate the hostel. "No messing facilities will be allowed for off-campus students" The gymnasium, television room, table tennis room, music room, reading room have been shut. All-night canteens and juice centres are closed. "They came in hostels asking us if we have permission to stay back," an IIT Delhi student told Careers360 asking not to be named. "It's clear they do not want us here."
Some institutes are making students who stay back sign declarations and will impose steep fines if they don't. According a circular shared by students, National Institute of Technology Rourkela has told those who want to leave to do so by March 17 and that they will "not be allowed to leave the campus thereafter". Those who choose to remain on campus must sign a declaration form promising to abide by a set of rules. Not signing the form will invite a fine of Rs 25,000 and "other academic penalties, as may be decided later".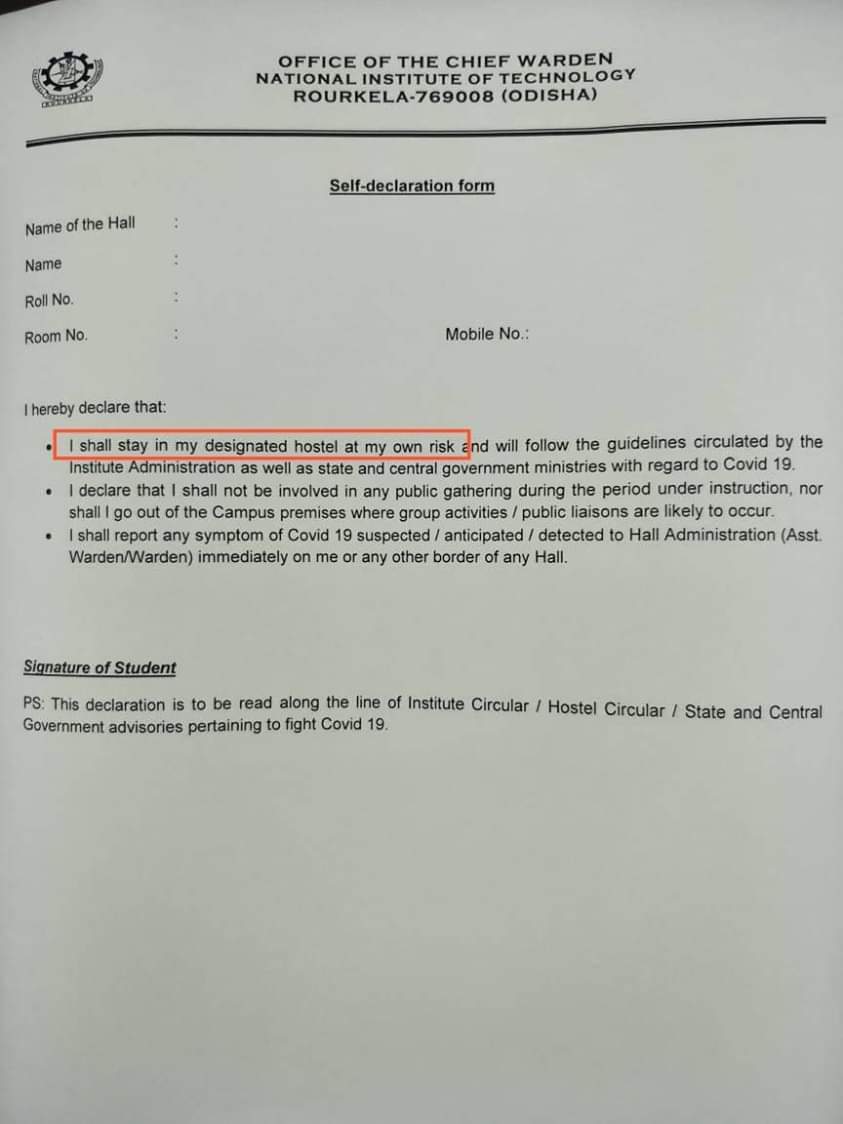 Plus, students have been "highly discouraged to move outside the campus if the boarders plan to stay back". The circular says "strict disciplinary action will be initiated if boarders are found in public-gathering areas such as outside restaurants, clubs, etc."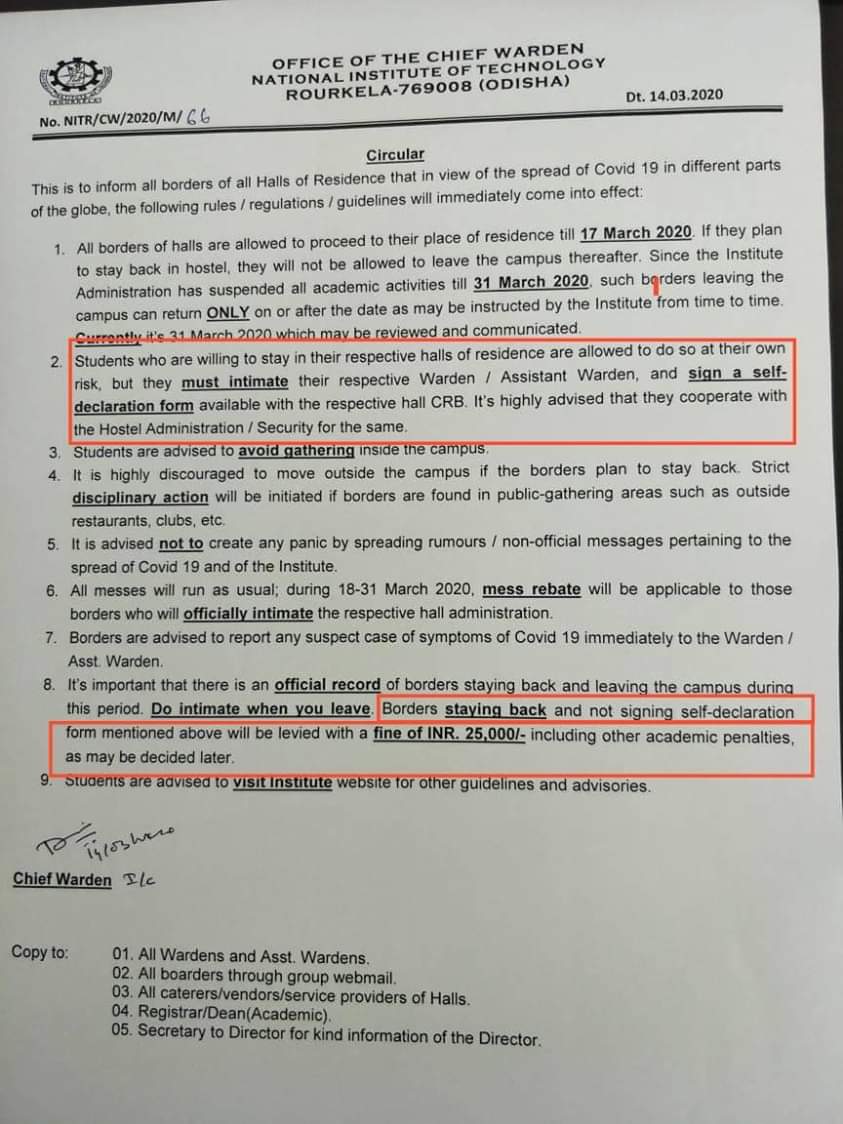 At IIT-ISM Dhanbad, international students are allowed to stay but "with restricted mobility". The order says: "They will refrain from moving out of the institute and follow the advisory issued by the institute from time to time".
Also read:
Write to us at news@careers360.com.
Stay updated with latest Education News
More From Team Careers360