Coronavirus: Telangana teachers fight for colleagues lost to COVID-19
Coronavirus: Telangana teachers fight for colleagues lost to COVID-19
OVID-19: A Telangana teachers' body says many died by getting infected on poll duty in Greater Warangal in May. They demand compensation, jobs.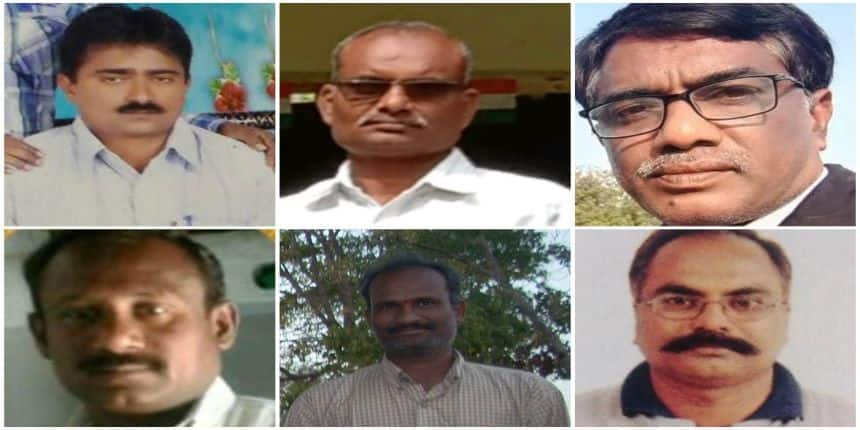 COVID-19 has claimed the lives of hundreds of educators across the country. In a new series, Careers360 tells the stories of some of them and the communities they left behind.
NEW DELHI: Jentangi Yashwanth lost his father, his emotional and financial support. And the zila parishad high school in Warangal, Telangana, where Jetangi Somaiah taught, has lost an "exceptionally good teacher", said Yashwanth.
"He strengthened the mid-day meal scheme at his school to provide nutritious food to the children," said Yashwanth, 27. "Without him, the school has lost a true benefactor of children's education and health."
Yashwanth's father is among the seven teachers who lost their lives to COVID-19 in May after returning from Greater Warangal municipal corporation polling duty. "My father reported for election duty on April 29 and 30 in Hasanparthy town. After his return, he complained about fatigue and weakness. His condition worsened after three days and we had to take him to the district hospital. His lung was 50 percent damaged by the time he was hospitalised," said Yashwanth. Even after spending Rs 5 lakh Somaiah, 56, passed away on May 11 in the district hospital.
Like him, other primary and higher secondary teachers Raja Ram Mohan Prasad, Pareedula Ella Goud, V. Radhakrishna, K.Sammaiah, Punnamchander, and Kolagani Ravi succumbed to COVID19 last month in Warangal.
Elections to Greater Warangal Municipal Corporation (GWMC) and Khammam municipal corporation and five other municipalities in Telangana were held on April 30. As many as 15 teachers who took part in poll duty in the recently-held assembly and corporation elections died due to COVID-19. According to Telangana State United Teachers Federation (TSTUF), four teachers in Nalgonda district and three in Khammam district passed away after returning from polling duty.
Before the municipal polls, Nagarjuna Sagar by-elections were conducted on April 17 which also claimed the lives of several teachers. Even the chief minister K Chandrashekar Rao tested positive after the polls. About 500 teachers, TSTUF claims, tested positive after reporting for election duty.
'Government is at fault'
Distraught, Yashwanth blames the K. Chandrashekar Rao Government and state election commission for the "gross negligence" and conducting an election amid the second wave of coronavirus.
"Due to the COVID situation, my father was reluctant to report for duty but he kept saying that there will be strict disciplinary action against him if he does not go. He did it for the sake of duty and it turned out to be fatal for him," he recalled. "This government caused this to me and my family. They let this [election] happen despite having prior knowledge of the pandemic," he added.
" In view of COVID pandemic, every employee had asked for the postponement of the elections. The government was least bothered and said that elections are important," said Kandukuri Devadas of Democratic Teachers' Federation, Warangal. " Teachers and other employees went to request the district collector that they couldn't discharge their duties. They were told that they would be suspended and face disciplinary action if they did not discharge their duties," Devadas added.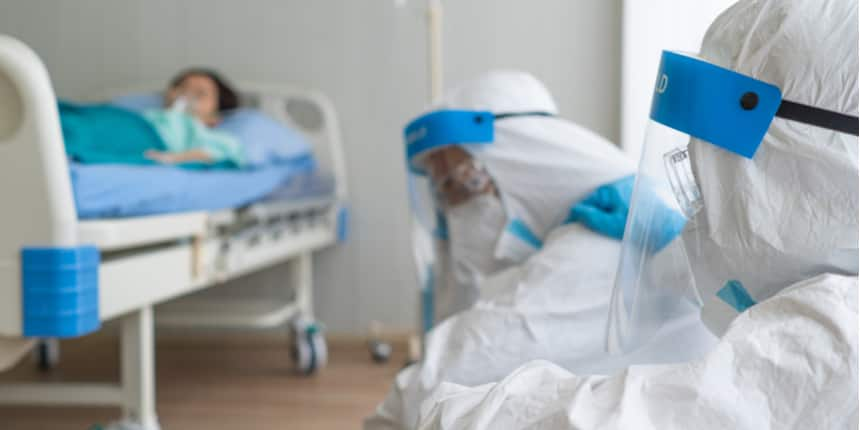 Rajaram Mohan Prasad, a headmaster, also went for election duty on April 29 in Warangal. Two days after his return, Prasad showed COVID-19 symptoms and was rushed to get the Rapid Antigen Test. Prasad along with his wife Aruna and daughter tested positive.
"The next morning [after his return] he discussed all the events with me. He told me that COVID patients were allowed [inside the polling booth] and had come in to vote. He said that he might have caught the virus," Aruna told Careers360.
Describing the polling booths, Chava Ravi, general secretary of TSTUF said: "All rooms were so small and congested, the staff members could not observe social distancing, forget the people coming to cast their votes. During the rush hour, it was impossible to check whether they are COVID patients or not."
The state election commission had allowed a one-hour time at the end of the polling day for COVID-19 patients. The patients, as suggested by the state election commission, were to cast their votes wearing PPE kits, the Times of India reported.
"No one came to the polling station wearing PPE kits. The polling stations only had thermal scanners at the entry," Ravi added.
After severe lung damage, Prasad was put on a ventilator on May 18. The family spent Rs 6 lakh to pay the hospital bill for him and the treatment for Aruna and her daughter cost Rs 1.5 lakhs each. The next afternoon, Prasad breathed his last. "Election duty took my husband's life. This is KCR's and the election commission's fault. They could have withheld the elections. We lost everything. Who will pay for what we lost? Can we get my husband's life back?" asked Aruna, fighting back tears.
COVID-19 compensation
The TSUTF has submitted a report of the teachers' death on May 14. The teachers union has demanded a compensation of Rs 50 lakh ex-gratia from the Telangana chief minister, state election commission and state secretary.
"We have appealed to the government to pay special attention to the COVID deaths of teachers and to take measures for prevention, to give priority to teachers in vaccination and to save the families of the deceased teachers. We have also demanded financial assistance and employment opportunities for families of deceased contract teachers," said Ravi.
Apart from the teachers who were drafted for election duty, as on May 14, 164 teachers in 33 districts of Telangana had passed away due to coronavirus. The number has crossed 200 since then. The TSUTF is demanding cheaper medical care and other benefits for the families of these teachers. "We have also demanded compassionate employment for one member from the bereaved families as per the state government rules. It usually takes five to six years to implement this so we have asked for immediate relief considering the situation," Ravi added.
"It is not about money," said Yashwanth. "Will their money bring back my father?"
Read more:
Write to us at news@careers360.com