COVID-19: IIMA aids 2,300 families and 800 migrant works
COVID-19: IIMA aids 2,300 families and 800 migrant works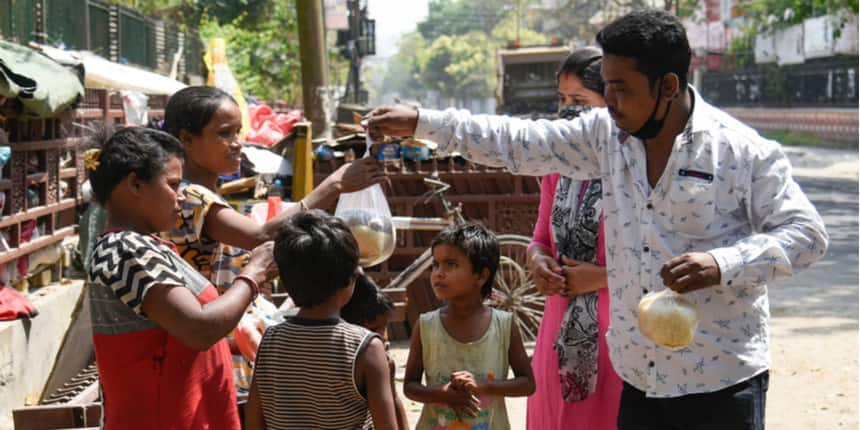 NEW DELHI: Students, teachers and staff of the Indian Institute of Management (IIM) Ahmedabad have provided relief to 2,300 families and 800 migrant workers amid the coronavirus pandemic.
A team of 80 volunteers have assisted those adversely affected by the lockdown by providing ration kits and financial aids. The institute has also supported community kitchens and assisted migrant workers to reach their hometown.
Taking into account the severity of the coronavirus outbreak, volunteers also followed COVID-19 safety protocols like using masks, gloves, sanitizers and maintained social distancing.
Approximately Rs 14 Lakh were collected from different sources to support the initiative. The alumni of IIMA raised about Rs. 1.2 Lakh by conducting online workshops. The PGP students also contributed Rs 20,000 for the initiative.
Systematic approach
First, three student societies – Prayaas, Student-Mediated Initiative for Learning to Excel and Right to Education Resource Centre (RTERC) – conducted a survey of the poor households.
The survey indicated that 85 percent households have not been able to earn a regular income. Meals for 54 percent households reduced their daily consumption during the lockdown.
Based on the findings households were divided into four groups depending on their urgency of needs. IIMA's initiative has managed to distribute over 550 ration kits in several slum areas located in Ahmedabad. The distribution was carried out in a duration of two months.
The team also conducted two other surveys to track the development of strategies adopted.
Helping migrant workers
Soon after the announcement of lockdown, the volunteers collaborated with community workers and local police to help over 252 migrant workers who were stranded without any food or income and raising funds to help support families.
In order to provide sustenance, the initiative also created a community kitchen which now supports around 400 workers. The team also helped in setting up a community kitchen in Narol, for 90 labourers from Jharkhand for a month.
Around 800 migrants were assisted in getting train tickets, bus tickets and in arranging private transport. A sum of Rs 5 lakh was raised to aid the travel of 112 migrant workers from Bihar and Jharkhand by the volunteers.
Incidentally, in May, migrant workers allegedly working for the institute had gathered outside the campus demanding to be allowed to go home. Apparently, the institute had not paid two months worth wages during the lockdown. IIMA, however, denied all the allegations.
Also read:
Write to us at news@careers360.com
More From Team Careers360