Delhi Government: 10 Sarvodaya schools, all SoSEs to teach IB curriculum
Delhi Government: 10 Sarvodaya schools, all SoSEs to teach IB curriculum
Delhi Education: AAP government plans IB curriculum for 10 Sarvodaya schools and Schools of Specialised Excellence. Teachers from the Sarvodaya schools are worried.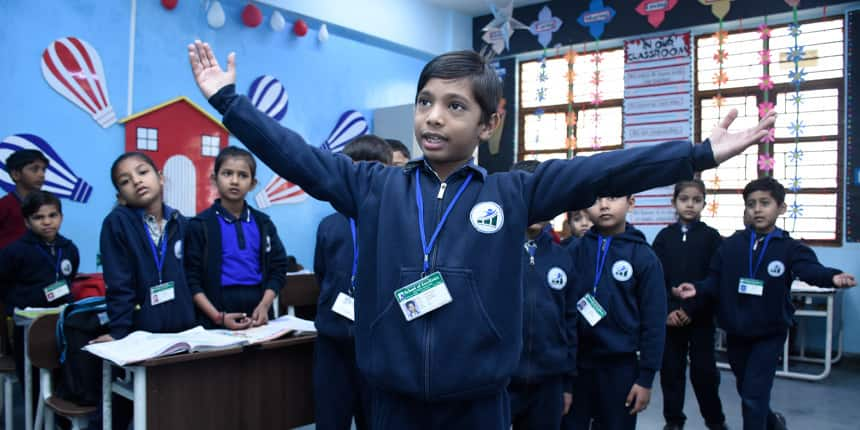 NEW DELHI: As part of the sweeping reforms in schooling being attempted in Delhi, the Delhi Government is preparing to introduce the International Baccalaureate (IB) curriculum in all Schools of Specialised Excellence (SoSE) and at junior levels in another section of schools in East Delhi.
IB is a private international board that has thus far been associated mainly with high-end private schools in India; the SoSEs were cleared by the Delhi Cabinet in March and will start admitting students from this year.
While the SoSE administrators have had meetings on this move before, teachers from 10 East Delhi's Sarvodaya schools were blindsided. Sarvodaya schools have classes from nursery to Class 12 and less than a month ago, leaders of the selected 10 (full list below) discovered they would have to teach IB from nursery to Class 8 from 2021. Last week, they were asked to draft their "applications for candidacy" or AFCs by Tuesday (today) although many haven't. "They [the department] should have oriented us from the start because I can't fully understand what's happening," said a teacher asking not to be named.
According to a report in the Times of India, the SoSE were to be the first schools to be affiliated to the newly-established Delhi Board of School Education. At present, all secondary (up to Class 10) and senior secondary (Class 12) Delhi Government schools are affiliated to the Central Board of Secondary Education (CBSE). They were to be weaned off and transferred to the DBSE. However, according to accounts from a series of meetings and documents shared with these schools, it appears that the bulk of the curriculum will be IB's.
For example, a presentation on the School of Specialised Excellence for Humanities, shared with teachers recently says: "The Humanities SoSE will be handled entirely by the IB." The 'High-End 21st Century Skills' programme and even the 'Performance and Visual Arts' will be based on the international board careers programme. The corresponding document on SoSE for science, technology, engineering and mathematics (STEM) suggests that private coaching firms will be roped in to heavily influence the curriculum or even run the schools. In March, deputy chief minister and education minister Manish Sisodia had said the DBSE will discourage rote-learning and ensure it's a "partner of learning and not an authority of testing".
It is not clear to teachers what the relationship between DBSE and IB is. Education director Udit Prakash Rai and his advisor Shailendra Sharma, both present at the meetings, did not respond to messages by the time of publication. If they do, this report will be updated with their comments.
Also Read | UGC history syllabus political, shoddy, unhistorical: JNU's Najaf Haider
The first 20 SoSEs are all Rajkiya Pratibha Vikas Vidyalayas (RPVVs) and Schools of Excellence - both 'special' categories of schools that get the most funds, the best resources and get to cherry-pick students.
Among the teachers of the far less privileged Sarvodaya schools, the IB plan has caused alarm. "We have close to 70 students per section and when all children come to school, they'll be knocking into each other for lack of space," said one teacher. For the IB experiment, they've been asked to carve out sections of just 30 students and select "seven-eight" teachers to train.
Government schools, private partners
The official website of the Directorate of Education GNCT of Delhi (edudel.nic.in) lists 20 SoSEs. Although none of them appear to have any teachers or administrators, a teacher told Careers360 that one of the meetings on IB was attended by principals of these schools.
Also Read | Less than 50% students in government schools – a first since 2012-13: Govt Data
The SoSEs are divided into four categories, each addressing a "specialisation" -- STEM, humanities, performing and visual arts and what documents describe as "high-end 21st century skills".
A presentation on the STEM SoSE says: "A renowned and experienced knowledge partner, having experience in the training students for JEE and NEET, will be helping in curriculum development and providing academic and non-academic support to running STEM-SoSE." Conducted by the National Testing Agency, the Joint Entrance Examination (JEE) Main is for admission to undergraduate engineering (BTech, BE) programmes and the National Eligibility cum Entrance Test (NEET), for medicine. The Arvind Kejriwal-led Aam Aadmi Party (AAP) government had already introduced a coaching programme for students.
According to the same document, these will be the first SoSEs for STEM:
Khichripur School of Excellence
School of Excellence Sec-23 Rohini
Kalkaji School of Excellence
RPVV Civil Lines
RPVV L R, Karol Bagh
RPVV Hari Nagar
RPVV Sec-10 Dwarka
RPVV Shalimar Bagh
Several are RPVVs. Admission will open in Classes 9 and 11 and there will be a maximum intake of 120 students per class, divided into four sections. Each section will have a maximum of 30 students, whether from private schools or government, the documents do not say. At present, RPVVs admit only from government schools.
Also Read | Why a neurosurgeon is now studying engineering at IIIT
A teacher said that school authorities were assured by education officials that the cost of the IB tag and training will be borne by the government.
The humanities schools will be "handled entirely by IB". The following schools will be converted in SoSEs Humanities:
School of Excellence Sec-17 Rohini
School of Excellence Madanpur Khadar
RPVV Gandhi Nagar
School of Excellence Dwarka Sec-22
RPVV Nand Nagri
SoSE for Performing and Visual Arts will start in these two schools:
RPVV Rohini Sector-21
RPVV Dwarka Sector-19
As per the presentation, a "flexible arts-integrated curriculum transacted through the IB Careers Programme (IBCP)" is what is on offer and a host of "external partnerships to facilitate high-quality instruction in the arts, masterclasses, artists-in-residence programmes, seminars, webinars etc."
The last category comprises the SoSEs dedicated to "high-end 21st century skills" which, according to the presentation, will include "data analytics, machine learning, mechatronics etc." and involve, among other things, "hands-on learning through external collaborations and strong industry linkages". Once again, implementation will involve private hands, in this case Lend-A-Hand India (LAHI), a non-profit headquartered in Pune, Maharashtra, and started by Indians based abroad. It will "function as implementing partner" and be "responsible for designing curriculum, assessments and fostering local industry partnerships". GEMS, or Girls Educational and Mentoring Services, will be "potentially onboarded as international advisor on curriculum, assessments and international industry linkages".
New age school system should prepare students to excel in areas of their interest. Simple, formative & continuous assessment is a must
_Hon. @uditprakash at an orientation of HoS on Delhi Board of School Edn. & School of Specialised Excellence, Delhi government's flagship program pic.twitter.com/wrrVtKKjCr

— DIRECTORATE OF EDUCATION Delhi (@Dir_Education) July 24, 2021
Also Read | Caste and the IITs: What 'quota students' experience on campus
All the presentations contain sections on "future pathways" or where a student who emerges from one of these programmes might go for higher education. In the case of the "high-end 21st century skills" programme, most roads seem to lead to the newly-established Delhi Skills and Entrepreneurship University.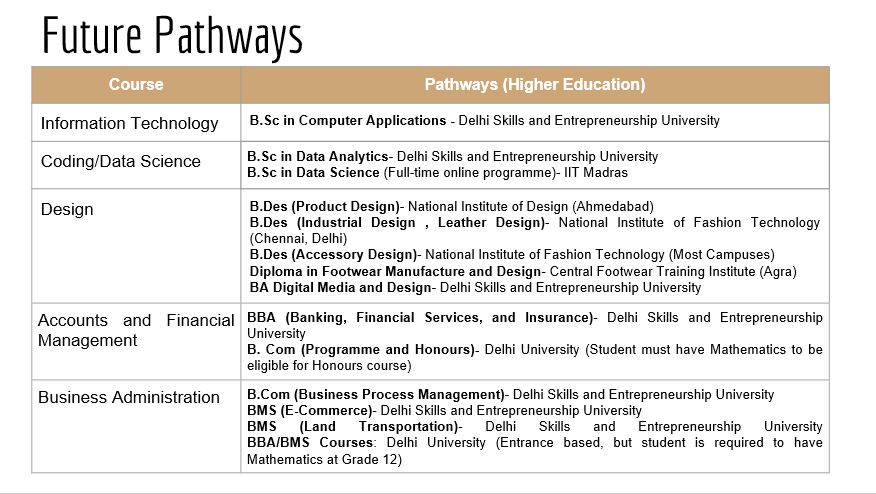 Delhi Government Education Reform: First part of 'future pathways' for 21st century skills SoSE (Source: Presentation)


Part 2 of future pathways
IB: Nursery to Class 8
The IB curriculum will be piloted in nursery to Class 8 in 10 Sarvodaya Vidyalayas of the East Delhi school district. The first meeting on this took place "20-25 days ago", according to one teacher, and another followed last week. On Monday morning, a set of documents on the IB curriculum and procedures was shared. Meanwhile, schools were asked to identify teachers who could be trained in the new curriculum and a nodal person.
The 10 schools selected for this pilot project are all Sarvodaya Kanya Vidyalayas (SKV for girls) or Sarvodaya Bal Vidyalaya (SBV for boys).
SKV Anand Vihar
SBV Vivek Vihar
SKV Vivek Vihar
SKV Suraj Mal Vihar
SBV Suraj Mal Vihar
SKV Laxmi Nagar
SBV Laxmi Nagar
SKV West Vinod Nagar
SKV Mayur Vihar Phase 1 Pocket 4
SKV East Vinod Nagar
These 10 schools operate in two shifts from five premises -- typically, girls in the morning, boys in the evening.
One senior teacher said their school has a shortage of permanent staff and has, therefore, including guest teachers on the IB list. "We do not have enough teachers," said another. "At the meeting schools were told they'll get whatever they need and that we can also look."
Also Read | Reform in NCERT history textbooks is 'political propaganda': History Congress
Carving out sections of 30 for IB and English-medium is also difficult for crowded government schools. Another teacher said there are about 200-220 students per class in their school, typically divided into four sections. "If we create one section of 30, what happens to the rest? What about teachers?" they asked. "We are very stretched already but the department isn't listening to anything."
At first, the missives and meetings caused confusion. Delhi Government schools are reeling from the effects of the COVID-19 pandemic. As one teacher said, their colleagues struggle to teach on mobile phones, follow-up with students on phones and via WhatsApp and then report back to the directorate of education (DOE) Delhi on how much they managed in a day.
"Teachers are constantly filling Google forms, many are not tech-savvy, or don't have the devices required. Forty out of 60 teachers will be engaged in administrative or data work on a daily basis," they said. "In the midst of all this, they are bringing IB. If it fails, it will be the teachers' fault."
Write to us at news@careers360.com.
More From Shreya Roy Chowdhury