Education and Inclusion: How Deepak came to the rescue
Education and Inclusion: How Deepak came to the rescue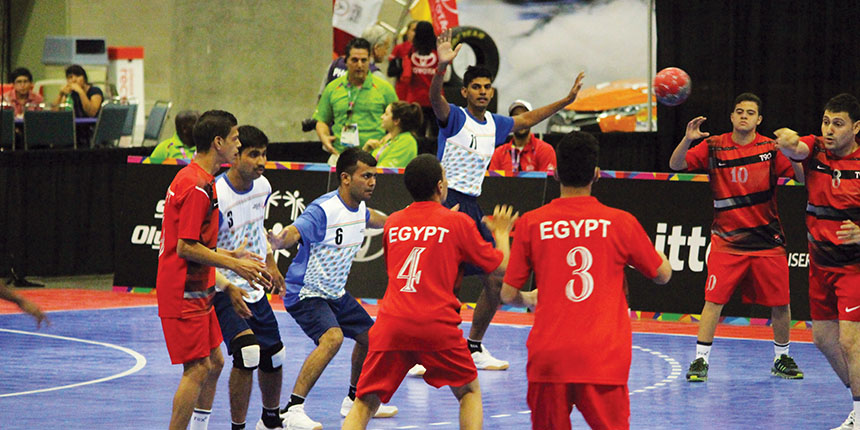 NEW DELHI: Deepak's speech is slurred. He understands the world differently too. But when he haltingly said, "Maine unka upchar karaya [or, I got him treated]", his joy and pride shone clear.
Intellectually challenged, Deepak is a gifted athlete trained in handball. He has competed in sports events for the differently-abled in India and abroad. He used the prize money he won in international handball tournaments for treating his father whose kidneys had failed.
Sudha Rani, his mother, noticed he was differently-abled when he was just two years old. But lack of awareness and education meant he spent his first dozen years in isolation causing him further damage. Growing up in a village in Faridabad district of Haryana, Deepak did not go to school or interact with other boys his age.
Going to school
A chance meeting with workers of Tender Heart, a Faridabad non-profit, changed his fortunes dramatically. At 14 or 15, Deepak was brought to a special school run by the NGO at the district headquarters where he finally emerged from his cocoon. He started with bocce, a ball game with origins in Italy. "He played well, and we decided to send him to Australia for the Special Olympics Asia Pacific Regional Games 2013," said Renu Bali, founder and director, Tender Heart.
The non-profit trained him in athletics before recommending him to volunteers from Special Olympics Bharat, Haryana. In 2013, he represented India in Australia.
Now 25, Deepak continues to be associated with the school and the sports training programme. It is not just for winning competitions either. Bali explained that long-term engagement in sports keeps them physically fit, boosts their confidence to handle their daily activities and provides them with opportunities to socialise.
Special Olympics Bharat
A programme of the Special Olympics International, Special Olympics Bharat and the National Sports Federation help children and persons with intellectual disability transform their lives through sports. They team up with educational institutions attended by such students.
Tender Heart, Vasant Valley School and Upasana Special School are some institutions that have joined hands with Special Olympics Bharat. Apart from training them in sports, the programme aims to also make them self-reliant, help them gain confidence and lead a dignified life.
"We saw that these children are usually good in sports. When trained, and given an opportunity, they excel otherwise too," said Bali. "They were coming back much better than how they were when we were sending them. Their vocabulary was improving, and I also found that Special Olympics were changing their personality."
In 2015, Deepak again got selected for Los Angeles World Games. He played handball and came back with a medal. This time, the Government of India felicitated him with a cash reward of Rs. five lakh.
Prizes and rewards
The reward money was unexpected but very welcome. By that time, the doctor treating Deepak's father had recommended dialysis for him – a
costly proposition.
"We did not have money. It was always a huge problem for me to run the family," said Sudha Rani, tearing up. "Deepak came to the rescue when he said that we could use the money for dialysis."
Deepak's prize money bought his father another four-and-a-half years. He finally passed away in January 2020. Deepak is waiting for the state government to disburse the Rs.10 lakh that Haryana awards intellectually-challenged persons who win laurels for it. Haryana is supportive of sports in general and many of India's best-known athletes hail from the state.
Training for life
There are many like Deepak who benefited from sports and participating in international events and then moved on to be active and productive in
other ways.
Ragini, 27, and a very slow learner, had joined Special Olympics Bharat in 2005. She learnt badminton. She participated in the Global Youth Summit held during the 2007 World Summer Games in Shanghai. She is herself a special educator now and works with Upasana Special School.
"I work on educating people to change their mind-set toward intellectually challenged persons," said Ragini, who struggled during her school days, finally dropping out in Class 9 because of the constant bullying by both teachers and fellow students. She also devotes time to Special Olympics Bharat – a standard practice for many of the programmes' beneficiaries.
Another one, Siddhant Nath, 25, has been working with Special Olympics Bharat for five years and loves what he does. "I am also teaching slum children," he said. Siddhant participated in the Asia Pacific Games in Sydney, Australia, and is now learning badminton, hoping to be a coach one day. He said: "I will continue to work here for people like me and also be a badminton trainer very soon."
Upon returning from Los Angeles in 2015, Deepak got married. Today he is the father of a 10-month-old boy. His mentors at Tender Heart also taught him how to weave. A year after completing his course, Deepak is more productive than his mother had ever expected him to be. "I earn 9,000 rupees per month weaving mats and cloth materials," said Deepak. He also takes time to milk two cows and deliver the milk to his customers every morning. With his 10-month-old in his lap, he explained: "I have to send him to school."
Also Read:
Write to us at news@careers360.com.
Stay updated with latest Education News
More From Pritha Roy Choudhury