Hyderabad police books 22 HCU students for organising Republic Day rally
Hyderabad police books 22 HCU students for organising Republic Day rally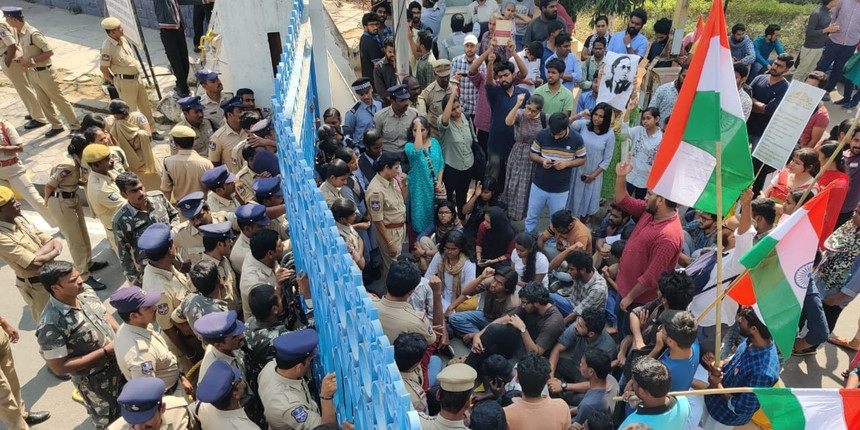 NEW DELHI: The Hyderabad Police on Monday, January 27, registered a First Information Report (FIR) against a batch of students of Hyderabad Central University (HCU) for conducting a "save the constitution" rally on Republic Day. The FIR named 22 students as well.
Around 200 students were marching from North Shopcom inside HCU to the Ambedkar statue at Masjid Banda as part of the "save the constitution" rally when they were stopped at the main gate by the police.
They were marching to the Ambedkar statue at Masjid Banda as is the custom for the past few years. Students then continued to shout slogans in front of the gate till 4 pm in the evening when they finally dispersed. FIRs were filed against them the very next day.
The police in its report state that the students had "no permission for the rally". The report stated that students "obstructed in and out flow of traffic" and "created nuisance and inconvenience".
'Intolerant government'
HCU Students Union President Abishek Nandan, who led the rally, said: " There were 25-30 police men and women who entered the campus and started checking our IDs. They told us: If you have come to study, focus on your studies."
"The situation has become such that the government cannot tolerate if someone is raising a question. This is not good for Indian politics. Those who raise their voices are branded as Urban Naxals and 'tukde tukde gang'," Nandan added.
The students have been booked under multiple sections of the Indian Penal Code, including 341 (wrongful restraint), 143, 149 (unlawful assembly), 504 (breach of peace), and 290 (public nuisance).
A few HCU students were also detained on Sunday by the Hyderabad police as they were protesting against the detention of Bhim Army chief Chandrashekar Azad. They were released later on the same day.
Write to us at news@careers360.com.
Stay updated with latest Education News