IIT Delhi Abu Dhabi admission for India students likely through JEE: Director
IIT Delhi Abu Dhabi campus is set to open in 2024. In an interview, director Rangan Banerjee said the JEE Board is yet to approve the proposal.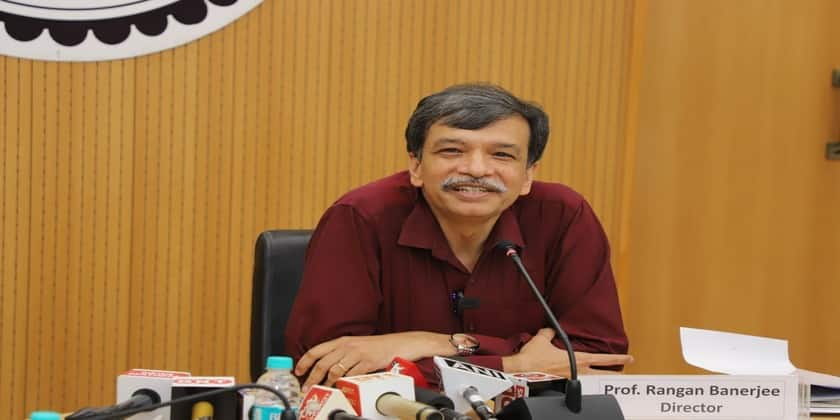 NEW DELHI: Both new campuses of Indian Institute of Technology (IIT) Delhi, Abu Dhabi and Jhajjar, Haryana, are set to open in 2024. Director Rangan Banerjee spoke to Careers360 about admissions; how each IIT Delhi department has been tasked with making its curriculum more flexible; its mentorship programme to help students handle stress; the focus on cancer and sports technology at the Jhajjar campus; new hostel; funding and more. Edited excerpts below.
Q. How is IIT Delhi's branch at Abu Dhabi panning out?
A. We are quite excited about it. It's our first venture outside the country. The IIT Delhi Abu Dhabi campus is scheduled to start in the 2024 academic cycle. The United Arab Emirates (UAE) government has identified a temporary campus in Zayed University, a public university in Dubai. For the first two to three years, the institute will function from the university retrofitted for us. Meanwhile, we will identify a new campus of our own. We will be offering undergraduate and master's programmes. While things are still at the planning stage, we have been doing extensive outreach in the UAE. We have had a large number of events for school children. We have had a School Immersion Programme in Mathematics where a group of students came to IIT Delhi. We also had a 10-day bootcamp for them. We also participated in the International Oil and Gas Exhibition at UAE because we will be offering a programme on energy.
We are trying to ensure the ecosystem knows about us and accordingly, students can make an informed decision to join the IIT Delhi Abu Dhabi campus.
Also Read | IIT Delhi to set up campus in Abu Dhabi; master programmes launch in January 2024
Q. Why was Abu Dhabi chosen? How will this collaboration work in terms of admissions, courses and placements?
A. The UAE government and India signed a memorandum of understanding (MoU) and one of the areas of collaboration was the setting up of an IIT. Because of this, it was a strategic decision. Further, we were asked by the ministry to set-up a campus in the UAE and later, we then narrowed down to Abu Dhabi.
On the admission front, we are not in a position to give you a correct answer because we have not finalised these things. However, it is very clear that there will be two separate channels: one channel for Indian students and other channel for non-Indian students. For Indian students, it is likely that there will be something related to the Joint Entrance Examination (JEE). We have to receive approval from the JEE Board before we confirm.
Also Read | IIT Delhi Abu Dhabi campus will be ready by January 2024; to have blend of Indian, UAE admission process
Q. When will Jhajjar campus be inaugurated? What will make the new campus different from the existing one?
A. IIT Delhi Jhajjar is planned as a healthcare hub. Today, in our institute, out of 600 faculty, around 100 are working on various aspects of healthcare. So, we decided that let's make the Jhajjar campus, whose land was given by the Haryana government, dedicated to healthcare. We are doing this in collaboration with All India Institute of Medical Sciences (AIIMS) Jhajjar, which also has the National Cancer Institute.
Cancer will be one of the focus areas. However, we are also looking at personalised medicine and digital healthcare. Additionally, we are also looking at sports technology and performance enhancement and injury prevention to provide an extra edge to our sportsmen and women. The Jhajjar campus is a greenfield project for us and looking at investments. Haryana government, the alumni and industry will chip-in with the funds and resources required. But we believe that healthcare is a domain where engineering, science and medicine can get together, and we are sure that we can make some significant breakthroughs at an affordable price.
Q. In the light of recent incidents during the IIT Delhi fest, how are you ensuring security?
A. We are reviewing the entire protocols at IIT Delhi. Further, we have created a committee with student members and women faculty and staff. We are looking at all washrooms and other facilities. We are trying to think through what other measures we should take to ensure safety and security.
We have taken stock of the incident and we will take stock of future festivals and see that all the protocols are implemented. We do have women security guards and webcams, but there is more we can do to stop such shameful incidents happening on our campus.
Q. What new subjects and courses are being added? What is changing in the curriculum?
A. A committee with many professors chaired by Professor Atul Narang of the chemical engineering department did an overall review and gave insights. The committee has given its report. Further, we have given guidelines to each department and academic entity. Each academic entity should look at its curriculum in bringing more flexibility, more learning-by-doing, and sustainability . These were also the few recommendations by the committee. We foresee implementing the new curriculum by June 2024.
The new curriculum will also look at how to change the pedagogy and make courses more interesting. However, the onus is on departments to come-up with curriculum. We have also asked departments to seek feedback from industry and alumni before we launch the curriculum. We are seeing how to include artificial intelligence and machine learning that can be integrated in every course curriculum.
Q. What new initiatives is IIT Delhi taking to generate funds? Are you able to repay the Higher Education Finance Agency (HEFA) loan amounts?
A. We have been able to repay some of the HEFA loan amount through our corpus and internal resources. We took a Rs 645 crore loan and we are able to pay that. But the issue is not the repayment of the HEFA loan. The institute needs significant resources for its growth. We are over 60 years old. Most of our hostels need to be demolished and rebuilt. This needs a significant corpus. Further, we have taken additional land in RK Puram, Delhi and want to create an international students' and visitors' hostel. It's 0.75 acres on which we plan to make a multi-storey hostel.
We have the ability to pay HEFA right now but we do not have the ability to take additional loans for the amount required for our aspirations. That's a challenge. We are reaching out to alumni, government and other areas. Also, if people and government in Delhi-NCR region have an intent to support IIT Delhi, we shall be happy to discuss.
Q. What initiatives are being taken to ensure students from all backgrounds are treated equally?
A. For us, all students are absolutely equal. All our systems and facilities are intended in a way where we do not acknowledge or recognise what is a student's background. We are in the business of education and we are trying to give the best education to students and what they deserve. We have now created mechanisms including ST/SC cell and an office for diversity and inclusion. We have an initiative on caste equality. We are taking every complaint seriously.
Further, we would like to support all our students and we understand that different students have different abilities, irrespective of caste. Essentially, some people may have trouble with academics. On this front, we are trying to find more ways in which we can support students. For us, caste, gender, orientation, none of these matter. Our focus is on faculty, students, research and education. Unfortunately, whenever something happens, the whole ecosystem gets disrupted. We want to have an inclusive ecosystem and we are committed towards it.
Also Read | IIT alumni from SC-ST communities to help students with placements, mental health
Q. What efforts are being made to reduce stress on students?
A. Similar to IIT Bombay, we are planning to make some changes in the undergraduate curriculum. We are trying to have dialogues with students. We have also created an Academic Progress Group. We are also planning to help students with backlogs through multiple-exits of different types. We are trying to do something for the first year, which is usually a problematic year for students. We have discussed this with all the heads of departments. Further, we want departments to reach out to students and ensure students can come and talk to faculty. We also plan to slow-pace certain programmes. For instance, we are trying to remove the compulsion of finishing the course in four years. While currently we don't have concrete solutions, we have the right intent.
Also Read | 45% IIT Delhi respondents agreed students use casteist slurs, says report of 2020 survey
Q. With rise in student suicides in Kota, how do you look at the rising competition?
A. We have to focus on cooperation instead of competition. Getting into IITs is not the only goal in life. There are so many good students but we don't have enough seats in IITs to accommodate every student. I don't know the solution but clearly, this is a problem we need to address. We need to provide confidence in every individual and student so that his or her inner capabilities can come through.
To cope with this, we are planning for a mentorship programme where faculty and student mentors support a small number of students, to ensure a connection and that we can understand students individually. We believe that each of our students has very good capabilities. Some may clear some courses quickly, some are better in some other things. It is a societal problem and we need to find a solution.
Also Read | Kota Suicides: 'Students who come for JEE, NEET preparation become extremely unempathetic'
Q. What are the focus areas of IIT Delhi's research and innovation park?
A. The research and innovation park will focus on healthcare, artificial intelligence, smart manufacturing, defence, technology, sustainability, energy and climate. This is done through IIT Delhi's Foundation for Innovation and Technology Transfer (FIIT). In the research park, we have a combination of start-ups and incubation systems and established companies. Tata Consultancy Services (TCS) is one of our anchor partners. We are planning to get onboard some larger companies and start-ups. The idea is that companies from different industries co-locate with us.
For both start-ups and companies, we have a high and low engagement model based on the kind of engagement these organisations have with our ecosystem. Further, organisations have to pay an amount of the cost involved.
Q. What new courses and departments have been introduced or are in the pipeline?
A. In the 2023-24 academic year, we started MTech in robotics. Before this, we started MTech in cyber security and bachelor of design in last academic year. However, we are planning to combine new programmes from different departments.
Q. What is in the IIT 2047 vision document? IIT Delhi is leading that effort.
A. We haven't moved on that. IITs were set-up by the Sarkar Committee headed by Nalini Sarkar way back in 1950s. We proposed that it would be worthwhile for IITs to re-look at the vision and how we can provide the leadership and thought required by the institutes. In intent, it was agreed by the council. However, we have yet to see what can be done on this.
Q. With this year's placements around the corner and companies still struggling, how do you foresee the placements for this year?
A. I hope they will be good. IITs have been sheltered from the rest of the system in terms of placements. Although, we had good placements last year. We are still gearing up for placements this year.
On high packages, we have a problem with these numbers and hype that is created. Because reasonable technical jobs are considered to be sub-par. Further, reporting of media on a few packages creates an imbalance. We need to have a balance.
---
Follow us for the latest education news on colleges and universities, admission, courses, exams, schools, research, NEP and education policies and more..
To get in touch, write to us at news@careers360.com.
Know More About
NIRF Rank
2
Rating
4.7/5
Download Brochure