Kashmir: Government issues guidelines for community schools
Kashmir: Government issues guidelines for community schools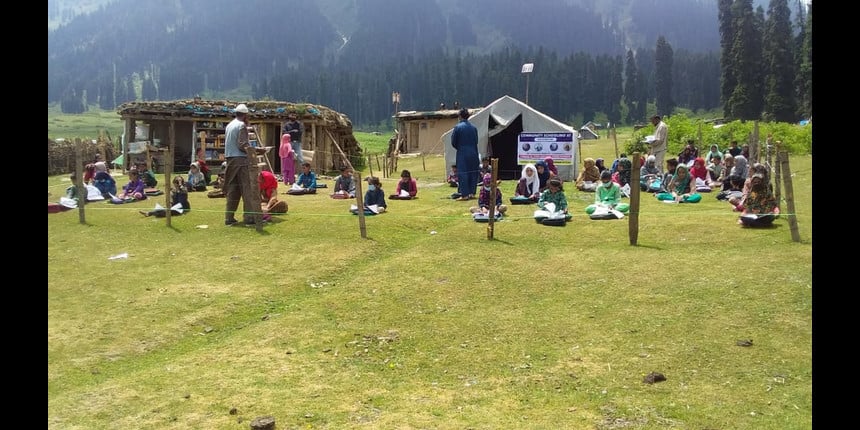 NEW DELHI: The directorate of school education, Kashmir, has devised a Standard Operating Procedure, or SOP, for the novel community schools in Union Territory of Jammu and Kashmir.
Acknowledging the community schools as the "only option" for students "not connected through online classes", the SOPs have recommended guidelines to comply with the anti-COVID-19 protocols issued by the government.
As per the SOP, the community classes will be held in "open areas and grounds" maintaining a two-metre distance between students. In case a place is not big enough for the prescribed social distancing, classes should be held in rotational shifts.
Students attending the classes will be required to wear masks. Hand-wash facilities will also be provided at the community schools for maintaining hygiene.
Coronavirus and classes
To remind the students of all the precautionary measures, the SOPs recommend organising special "COVID-19 precaution" quiz, debates, essay writing and drawing competitions.
"Staff, teacher and students who are at high risk due to age or underlying medical conditions should continue with online education from home and should not be associated with community schooling," the official statement said.
To ensure the mental health of students, the teachers have been directed to focus on remedial teaching and learning outcomes and conduct psychological counselling as well.
If any student or a staff member falls sick, the community volunteers will be responsible to monitor their health and contact the local health authorities for an emergency.
Community school composition
The community schools, according to the SOPs, will be run under the ownership of "local committees" which include teachers, parents, Village Education committee members. The school management committees member and other representatives from the community will also be part of the committee for the mentoring of students.
Teachers volunteering community schools will be required to register themselves with the Zonal Education Office, the headmaster or the principal of the school.
Teachers will also be responsible for drawing a time-table in consultation with the community with classes no longer than 40 minutes.
Since all schools have been shut down due to the COVID-19 outbreak, community schools have turned out to be the most viable option for students without access to necessary equipment for virtual classes.
Around 30,000 children have been benefiting from the community schools conducted in various parts of Baramulla district. Asgar Hassan Samoon, principal secretary, School Education and Skill Department issued the guidelines.
July 27, 2020
Also read:
Write to us at news@careers360.com
More From Team Careers360