PM Poshan is an old scheme with a new name: Activists
PM Poshan is an old scheme with a new name: Activists
The mid-day meal scheme is now PM Poshan but little else has changed. There are concerns that need more urgent attention, said activists.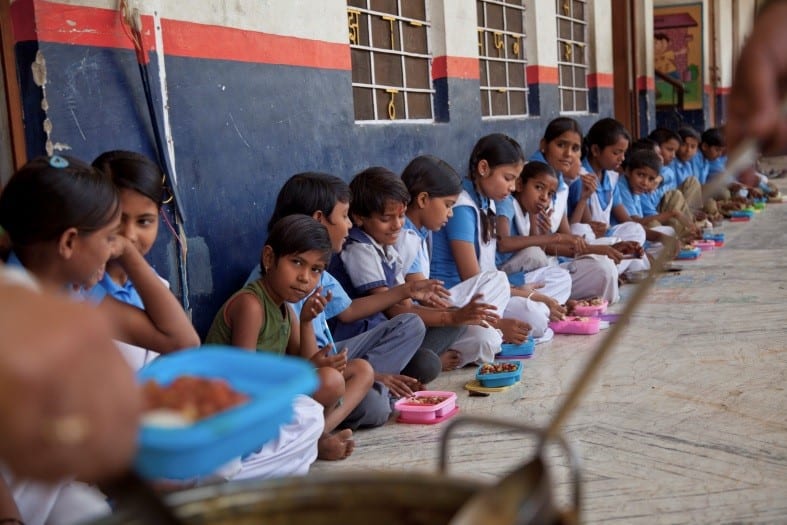 NEW DELHI: The education ministry last week announced that the mid-day meal scheme has been renamed PM Poshan Shakti Nirman Scheme. It also announced a budget outlay of more than Rs 1,31,000 crore over five years and said that pre-school students will also be included in the scheme.
However, food rights activists are not sure if there is an actual increase in allocation or PM Poshan simply subsumes other, existing schemes and their budgets. Plus, there are more pressing issues in the mid-day meal system that needed more urgent attention, they said. These include providing protein-rich foods such as eggs, introducing locally-grown foods for a balanced diet and decentralizing the food delivery system.
The central allocation for the scheme, Rs 54,000 crore over five years, comes to an average of about Rs 11,000 crore per year. In the Union Budget 2021, the central allocation to the mid-day meal scheme in 2021 was Rs 11,500 crore.
The Centre also announced that an additional Rs 45,000 crore over five years will be provided for procuring food grains.
PM Poshan: Old scheme, new name?
"It looks to me like packaging old wine in a new bottle. It is difficult to say based on just a press release whether it is just a name change or something more substantial. That is another frustrating part. Such a huge scheme is announced and I haven't seen a detailed document on it," said Sameet Panda, co-convenor of Odisha Right to Food Campaign.
"The press release for the PM Poshan scheme says that the mid-day meal scheme is subsumed under it. Now we don't know what other programmes are also combined into this. It is not very clear," said Panda.
Activists also pointed out that many aspects highlighted in PM Poshan scheme including the provision for social auditing, were already mandated by the National Food Security Act (NFSA), 2013.
"Social audit, food and nutrition norms have already been mandated under the NFSA which was passed in 2013. Most state governments had already run pilots but it has not yet been institutionalized everywhere. The government should have been doing this since the NFSA was passed," said Panda.
Activists also saw the move to cover preschool students under the PM Poshan Scheme as one which is necessitated by the National Education Policy, 2020. The Integrated Child Development Scheme (ICDS) of the ministry of women and child development was already providing mid-day meals to students under the age of six years.
"In the National Education Policy they have recognised that Anganwadis should be taken from the women and child development to the education department. We don't know how that will happen yet," said Dr Antony KR, independent monitor for the National Health Mission and former nutrition specialist at UNICEF, India.
Mid-day meals and eggs
A long-standing demand of right to food activists has been the mandatory provision of eggs, a major source of protein, in the mid-day meals.
"Children in India are growing in a malnutrition crisis. Except for the southern and eastern states, no state in the north or west provides eggs with mid day meals. The right to food campaigns have been demanding this for ages. There is a vegetarian hegemony created by a tiny minority," said Panda.
India was ranked last among 107 countries in child wasting, defined as "low weight for their height, reflecting acute undernutrition", in the Global Hunger Index 2020. It was 94th in the overall rankings for the worst performing countries.
Activists alleged that even in states where eggs were included, the practice stopped with the state embracing more centralized systems of food delivery in which a single agency is appointed to supply mid-day meals statewide or across large areas.
"There were many states which had eggs in the mid-day meals but that got stopped because of enforced vegetarianism. In Karnataka, milk was part of the mid-day meal supplied through Akshaya Patra Foundation which they stopped, along with the closure of schools. Both are not correct nutritional policy," said Antony. A part of the International Society of Krishna Consciousness (ISKCON), Akshaya Patra does not serve non-vegetarian items (including eggs) as a matter of policy.
Before the introduction of such centralized systems, food was prepared locally in most places by community members which meant students were served the type of food they were accustomed to. With public education catering mostly to the poor and historically marginalised, many students would be used to eating meat.
"In many states, school management committees are writing to state governments to provide eggs with mid-day meals," said Panda.
Mid-day meal with eggs in a school in Nagaland (source: Wikimedia Commons)
Balanced diet
Activists also said that the centralized system offers less variety of food and thus veers away from the objective of providing balanced diets for the children.
"To have a balanced diet, not more than 50% of the food should be rice or staple food. Now what is happening is 50% to 70% is rice and 30% is dal or loose gravy. That should be modified to have dietary diversity by including pulses, millets, vegetables, Green Leafy Vegetables, meat, eggs, dairy, fats, and oils," said Antony, a paediatrician by training.
"Many regional varieties of paddy with better iron content, in West Bengal and Odisha, never got propagated in the green revolution and other hybrid varieties were promoted," said Antony. In this push, iron, calcium-rich varieties of millets were also shunned.
"The biggest casualty was millets. Large areas of Jharkhand, Chattisgarh, parts of Odisha, Madhya Pradesh, northern Karnataka, major tribal areas, all had their own varieties of millets. The predominant and most nutritious among the millers were ragi but it was never encouraged," said Antony.
Activists have been pushing for inclusion of millets in mid day meals. In May 2021, Odisha announced that it will be including millets, pulses, and locally grown fruits and vegetables into the mid day meals and ICDS.
"This solves two problems. Millets are considered better sources of nutrition as compared to rice and wheat. It is also much more suited to our geographical conditions and soil patterns. These crops also use less water," said Panda.
Decentralization of procurement, cooking
Activists said that it is essential to decentralize the system of mid-day meals to prevent corruption and ensure adequate nutrition for the children.
"No bulk contract should be given because the contract lobby will invariably try to please the officials and that leads to corruption," said Antony.
The education minister, Dharmendra Pradhan, told ANI that "nutritious food grains cultivated locally can be sourced for the mid-day meal in schools". But activists said many states have been moving away from this by outsourcing food delivery to centralised systems such as Akshaya Patra Foundation.
"School committees should be given administrative responsibility and there must be community involvement. Then training should be given to them about how to cook nutritional meals," said Antony. "You give the budget and see that local produce is procured. Other varieties of pulses and nuts can be utilized. Leave it to local communities and let them manage. It's their children, let them feed," said Antony.
"A better solution is for women's self-help groups to cook. Since the food is cooked in the school itself, it will be hot. Villagers can also monitor the food quality and services," explained Panda. "When these are run by central organizations, villagers don't have much say."
Write to us at news@careers360.com.