'No fruit or milk': Food inflation making mid-day meals lighter, less nutritious
'No fruit or milk': Food inflation making mid-day meals lighter, less nutritious
Mid-Day Meal Scheme: With rising cost of fruits, vegetables, oil and no increase in cooking cost, schools are struggling to provide meals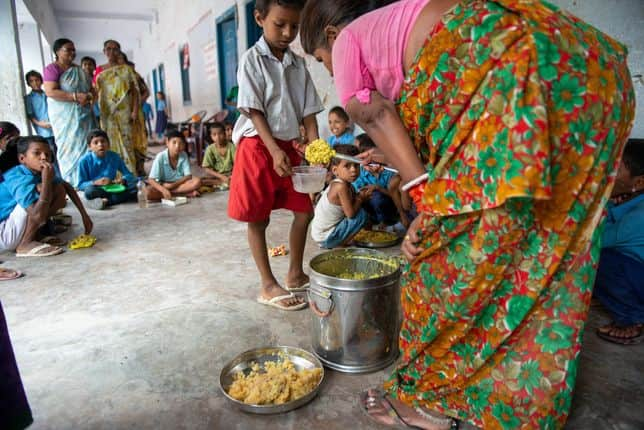 Sanjay
|
May 26, 2022 - 11:12 a.m. IST
NEW DELHI: The fixed rate allowed for a litre of mustard oil for cooking school lunches is Rs 135. But in Bhagalpur, Bihar, mustard oil now costs Rs 195 per litre and a government school principal has had to cut funds elsewhere to keep the cooking cost of mid-day meals within budget. "This is forcing us to reduce the quality of food and the quantity of fruits. The government needs to revise the rates of procurement," he said.
Cost of all food has increased – vegetables, milk, fruit – due to inflation but there has been no revision in the amount per meal allocated by the government. " The rates of fruits often vary from one district to the other but the schools get a fixed amount only. "We are not able to provide milk and fruits to the students on a regular basis due to inflation," he continued. "Sometimes, we have to pay the money from our own pockets. Often, we are forced to provide only one banana instead of the mandatory three with milk."
Government schools in Bihar, Uttar Pradesh, Odisha and West Bengal are struggling to provide quality food to children under the mid-day meal scheme. The record inflation has left schools struggling to procure ingredients for cooking mid-day meals, impacting a scheme already impacted by prolonged school closure due to covid. Though food grains are made available, schools lack funds to buy fruit, vegetables and other ingredients.
Also read | 'Under-utilisation of PM-Poshan, SSA funds unacceptable': Parliamentary Panel
The mid-day meal scheme, recently renamed and subsumed within the Pradhan Mantri Poshan Shakti Nirman (PM POSHAN), is one of the world's largest school meal programme, covering 11.8 crore children in elementary school (Classes 1 to 8) in government schools. The "cooking cost" of mid-day meals, which includes the cost of raw materials and their preparation, is fixed centrally by the union government. It was last revised in the midst of the first wave of the covid pandemic to Rs 4.97 per student at the primary level (Classes 1-5) and Rs 7.45 for upper primary (Classes 6-8). Despite record inflation, there has been no revision in cooking cost. However, according to reports, the government will set a new per-child cooking cost soon.
Until then, school authorities are left compromising on quantity and quality and some teachers, spending from their own pockets.
Mid-day meal scheme and inflation
Most students enrolled in the school Brijesh Yadav (name changed) heads in Uttar Pradesh's Mau district, come to school just for the mid day meal programme. "However, we are facing problems in providing quality meals to them. The quality of the food is suffering as helpers are forced to cook the food with minimum basic ingredients. We are also forced to reduce the distribution of fruits among students," said Yadav.
Parents have seen the difference as well. Alka Kumari, who sends her children to a government school in Uttar Pradesh's Sultanpur district, said: "These days the school authorities are providing khichdi to kids. They are not providing fruits or milk now. Earlier, they were excited to go to school but nowadays, they are often reluctant."
Sameet Panda, co-convenor of Odisha Right to Food Campaign, has seen the same situation in Odisha. "Inflation has been a big concern in the proper functioning of the mid day meal scheme. In many instances in Odisha, school authorities purchase cheaper quality edible oil, fruits and vegetables to save money," he said.
Also Read | West Bengal schools face difficulty to serve midday meals due to price hike
MDM budget
The unavailability of funds on time and reduced budgetary allocation for the scheme have worsened the situation, said activists.
Under the scheme, funding is shared by the centre and state in a 60:40 ratio. Food grains are procured from the Food Corporation of India (FCI), and local vendors provide fruits and vegetables.
In the 2022-23 Union Budget, the allocation to PM POSHAN dropped from Rs 11,500 crore in 2021-22 to Rs 10,233 crore.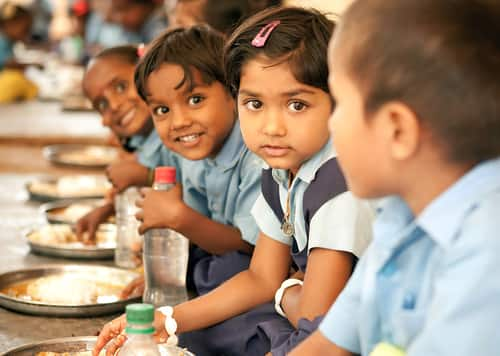 Midday Meal Scheme: Despite record inflation, there has been no revision in cooking cost since May 2020.
"Cooks are not getting their payments on a regular basis. Currently they are being given a voluntary payment which is basically not a salary and even that is not being paid to them on a regular basis," said Rajsekhar, a food rights activist. "The other concern which needs immediate attention is that the freshly cooked meals are being replaced by take-home ration. The schools in West Bengal have been told to provide mid day meal supplies directly to the parents."
District magistrates in West Bengal were instructed on May 17 to arrange for the distribution of mid-day supplies to parents.
"If we don't provide proper quality meals to children, they will suffer as their nutritional needs will not be fulfilled. The nation will suffer eventually. Most students who attend government schools hail from poor families and hence their health needs to be prioritised. We have to provide good nutritional food to students, if we want to become a developed nation," said Dr Antony KR, independent monitor for the National Health Mission and former nutrition specialist at UNICEF, India.
Also Read | IIT Patna CSE team working on curbing hate speech online. First stop: Twitter
Nearly Rs 250 crore of the budget for PM POSHAN went underutilised in 2019-20. In 2020-21, the amount was just over Rs 20 crore. In March 2022, University Grant Commission (UGC) asked college students to monitor the implementation of the mid-day meal scheme.
---
Follow us for the latest education news on colleges and universities, admission, courses, exams, schools, research, NEP and education policies and more..
To get in touch, write to us at news@careers360.com.