"My vision is to make ICT one of the top 100 institutes in the world in 10 years"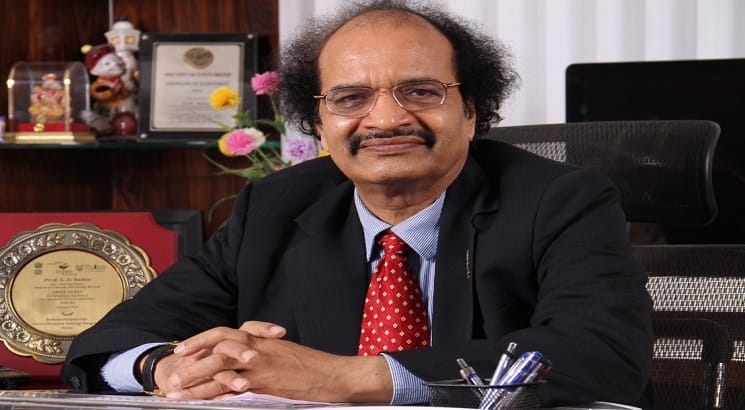 Prof. GD Yadav, Vice Chancellor, Institute of Chemical Technology (ICT) Mumbai, aims to develop the institution towards getting it among the top 100 in the world over next 10 years. In this interview with Careers360, Prof Yadav talks about the role of teaching standards in improving the quality and ranking of an institution, the scope of industry collaboration and benefits that can come along engagement with international faculties and global universities... 
Q. As a head of one of the top institutions in the country, what is your vision for ICT, Mumbai?
A. My vision is to make ICT one of the top 100 institutes in the world in the next ten years. So, I plan to have faculty strength of 500 members for about 5000 students that we can recruit. With industry-centric approach, I wish to divide the academic session in two parts - classroom courses and industry exposure. I would make my students work with industry every four months, learn there and come back to see how theories convert into practical work processes. So, we are giving them a lot of instrumental work like Artificial Intelligence, Machine Learning. I also encourage the professors to be an industrial consultant for four months to learn and improve upon their knowledge. 
I am strengthening my faculty pool with best people like the DST Inspire fellows and so on. They have international postdoctoral experience, are working somewhere and are looking for opportunity. They will, however, be evaluated on their teaching skills before we bring them onboard. 
Q. After the first NIRF ranking in 2016, ICT Mumbai has been consistently losing its rank. What could be the reason?
A. We are strong on different parameters. According to the Scopus and Web of Science data, ICT is among the top institutions in the country. As compared to big IIT's, our faculty strength is about 15-20 per cent only. Instead of cumulative data that is used for ranking, if you compare the per capita per person papers and the publications, and number of PhDs as well as projects, we are well ahead of the IITs. 
The HRD Minister recently commented in the Lok Sabha that IIT Bombay has earned around INR 18 crore in revenue from its different projects. As compared to this, we have already received INR 39.9, 28.64 and 62.90 crore for the years 2015-16, 2016-17 and 2017-18, respectively from different projects.
Q. Do you think UGC will be replaced by Higher Education Commission of India? Is this the right step taken by the MHRD?
A. If the functions are going to remain the same, then it is not. But, if they are going to enlarge the scope of UGC, bring in some innovations, streamline funding, increase the quality of education, bring accountability at every stage, then yes, of course. So first of all, you have to identify the weaknesses in the UGC system and it's only then you can strengthen them. Otherwise, you have to do a SWOT analysis.
Q. So, what according to you are the weaknesses in the education system?
A. The standard of education is not uniform throughout the country. That is a biggest weakness. As you can see here (MHRD conference on Vice Chancellors' and Directors), the presentation is not uniform. The reason is that the state is not taking part. Suppose, UGC recommends something, for example, a particular qualification for the Vice Chancellor, but the State does not accept it. So, if they make a higher education commission, they should take under their umbrella all top universities from the state in the new UGC system. Only then, it will have a role, otherwise it will be just replacing one name by another. 
Q. Your views on IoE tag. Will it improve the quality of education in the India?
A. Actually, IoE should not be restricted to only ten public institutions. It should go beyond that. Government should identify some 30 to 40 universities including some state-funded institutions and central universities.
The quality of education will improve only if they first improve the quality of faculty and research environment. Attracting talent and retaining it will improve the quality of education. 
Q. What is your opinion on research and industry collaboration?
A. The international faculties co-guide students here and write joint applications and projects. There are many bilateral, multilateral, international programmes that they can apply to. But, here we need to approach industries as it will not collaborate unless you give them something in return. The larger issue here is IPR and its ownership. In America, the IPR is entirely owned by the university. In India, we share our IPR fifty-fifty with the industry. So, if anything is developed by an industry supported project, then we share it here. We need corrective measures in favour of academia. 
Q. What are your views and suggestions on attracting more International faculties to join the Indians institutions?
A. I believe that Institutions should recruit faculty who can visit India for three to four months during their off season. For example, in the USA institutions, faculty members get three to -month off period which can be utilised by Indian institutions. These faculties should be the faculty on Institution's payroll. They should become a part of research and innovation culture and the ecosystem. They can teach the courses during those four months. This way they can maintain their current position in their respective countries and be visiting faculties with a handsome reward. The faculty can visit one institution permanently with a commitment of next ten to fifteen years. On the other hand, Global Initiative of Academic Networks (GIAN), which offers global networking opportunities to institutions towards exploring academic collaborations, does not give a lasting solution. 
Q. Some universities already have the autonomy to hire faculties. What is your take on this?
A. Until now we could not hire foreign faculties. Now, we can do that. But, remuneration for the international faculty is yet another issue. The institutions have to pay differential salary to retain a foreign faculty. It creates two levels of pay packages because of the currency differences for foreign faculties and local faculty members. 
Q. How many international faculties are there at ICT, how do you plan to improve upon the quality?
A. We have a number of faculties and as many as 12 of them come on regular basis every year. They teach and collaborate. We also run dual degree PG and Ph.D programmes in collaboration with Michigan State University where the students are awarded two PhD degrees. Further, the participants have to divide their time between the two institutions and they receive work opportunities at both the places for a period of two years each. While they do not need to spend on their own during their study abroad, they are given sustenance allowances. This is reciprocated when the students from Michigan State University complete their course here. This generates international collaboration. The students are under two guides one from each place. 
Q. What are your suggestions for improving research in all institutions?
A.I suggest that there should be resolutions that universities should not accept a PhD thesis unless the student has published two peer reviewed papers in good journals. Paying for publishing articles is of no use. PhD students who have published two papers in the first two years can go to industry for training and in the third year, go to another place to practice teaching and comes back to core research. Thus, a researcher will get two degrees- PHD and teachers' diploma. This should be done to create good quality teachers. For researchers, it is also important to be a good teacher as they cannot teach the ideas of their research properly if they don't have good communication skills. 
---
Follow us for the latest education news on colleges and universities, admission, courses, exams, schools, research, NEP and education policies and more..
To get in touch, write to us at news@careers360.com.
More From Aeshwarya Tiwari