In Charts: Number of Indian universities grew 30% over five years
University numbers boomed between 2015 and 2020 but private institutions grew at a much faster pace, in number and enrollment.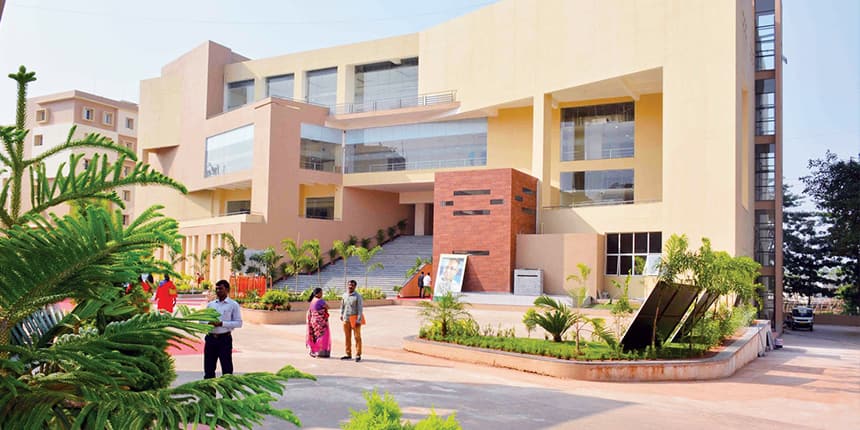 NEW DELHI: The National Institutional Ranking Framework (NIRF), released in 2021, had 11 young universities featuring in the top 100. Ten of these, selected in the country's official ranking of higher educational institutions, were all private universities set up in the last 15 years.
Recommended :
Get important details about Shiv Nadar University, Greater Noida.
Download Brochure
Not only do the private universities feature more than newly-established public universities, the data also shows that these universities have continued to maintain their strong performance in the NIRF metrics.
A look at the latest All India Survey of Higher Education (AISHE) report shows that these performances are backed up by numbers. According to AISHE, 30 new private universities were created during 2015 to 2020 alone. Over the same period, enrollment in private universities more than doubled across education levels.
Over 200 new universities
As per the latest AISHE report, the number of universities and similar institutions listed on AISHE portal increased from 799 in 2015-16 to 1,043 in 2019-20, a growth of almost 30.5%
This period saw the addition of 57 new state public universities and 30 new private universities. However, the growth, especially in the case of private universities, was not uniform.
While state universities increased by single digits in most states, private universities came up in clusters and only in certain states.
According to AISHE 2019-20, most of the new private universities came up in Andhra Pradesh during 2015 to 2020 – 22 of the total. In 2015, Andhra Pradesh did not have any private university.
Madhya Pradesh and Rajasthan, with 19 and 16, respectively, also saw a high number of new private universities.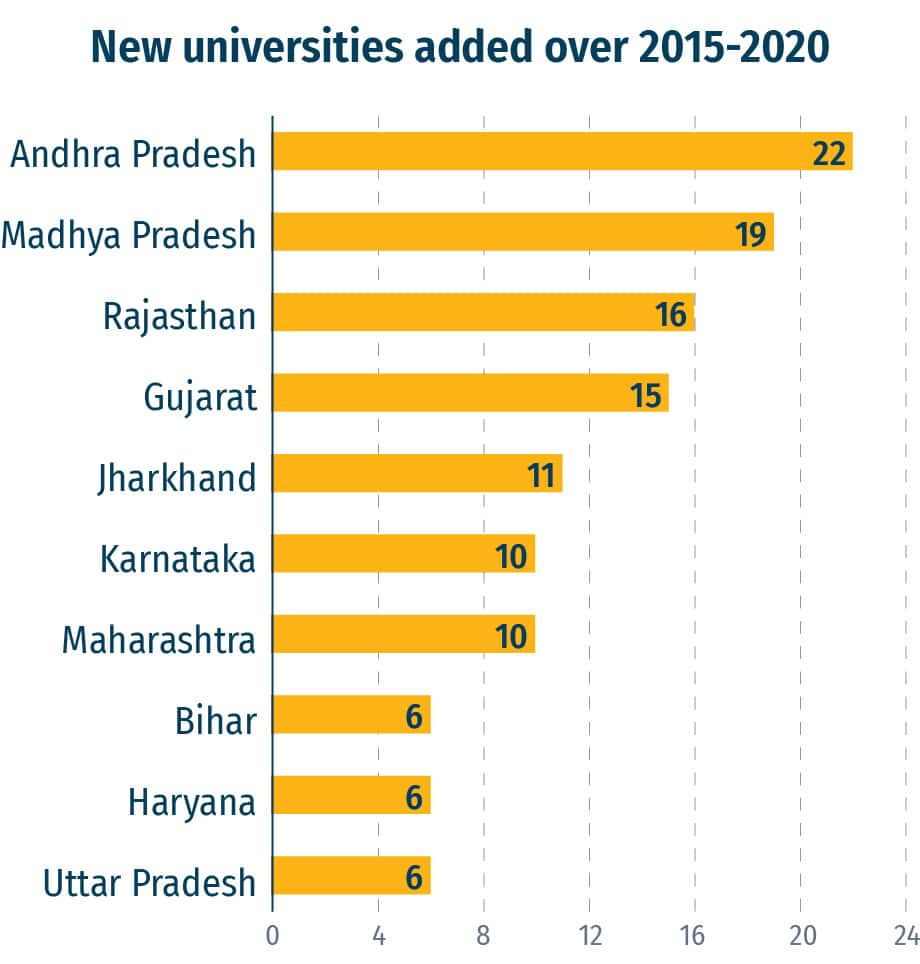 Overall, Rajasthan has the maximum number of private universities, followed by Gujarat and Madhya Pradesh. Most states also saw a considerable number of new universities springing up during 2015-2020.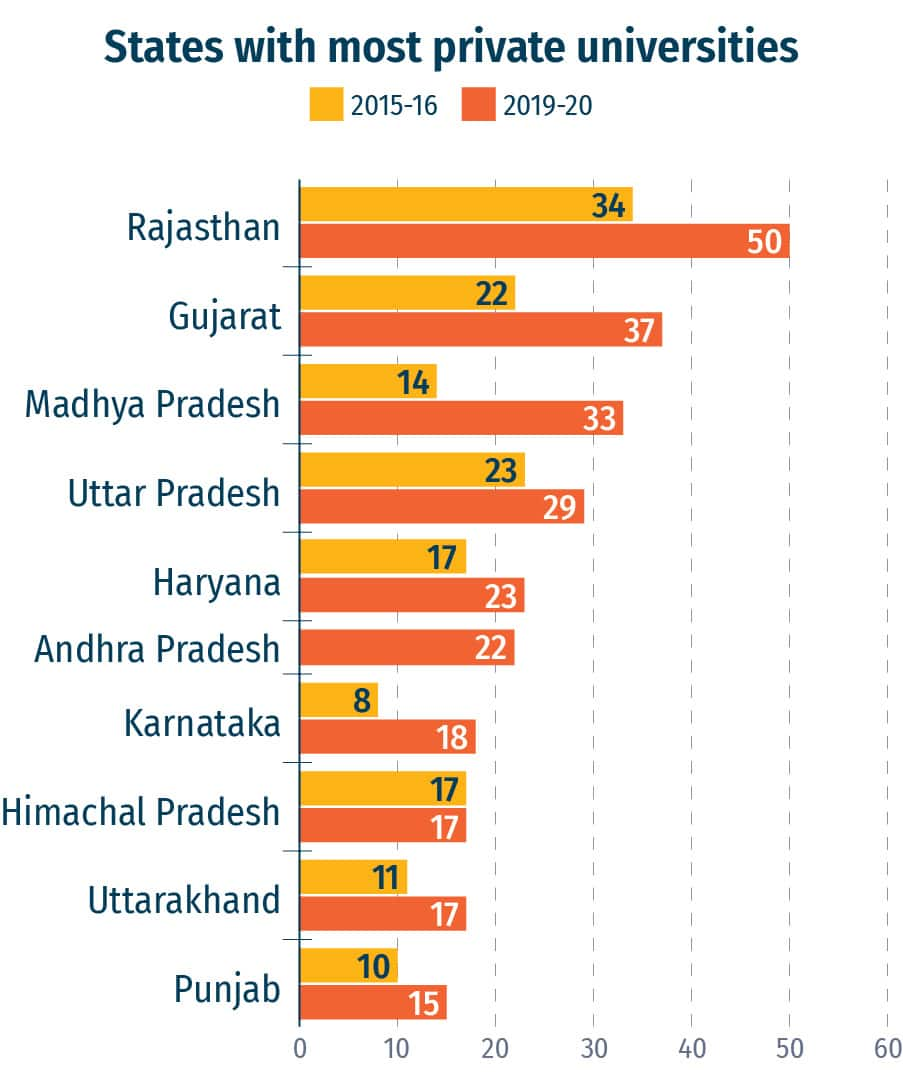 Compared to private universities, the addition of new state universities was at a far slower pace. States that founded new universities each recorded single digit growths in their number.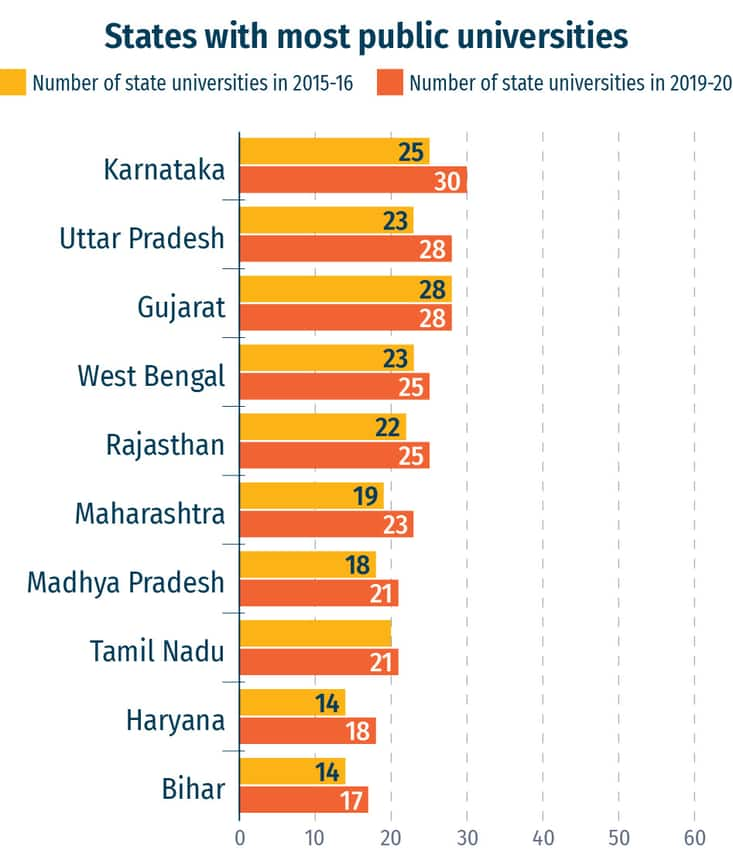 Enrolment doubled
The increase in the number of new universities has come along with rising enrolment in private universities. While the overall enrolment in central and state universities increased from 2012 to 2016 – and state public universities continue to teach the largest section of students by a very wide margin – the numbers appear to have stagnated. State private universities, on the other hand, more than doubled the enrollment over the same period.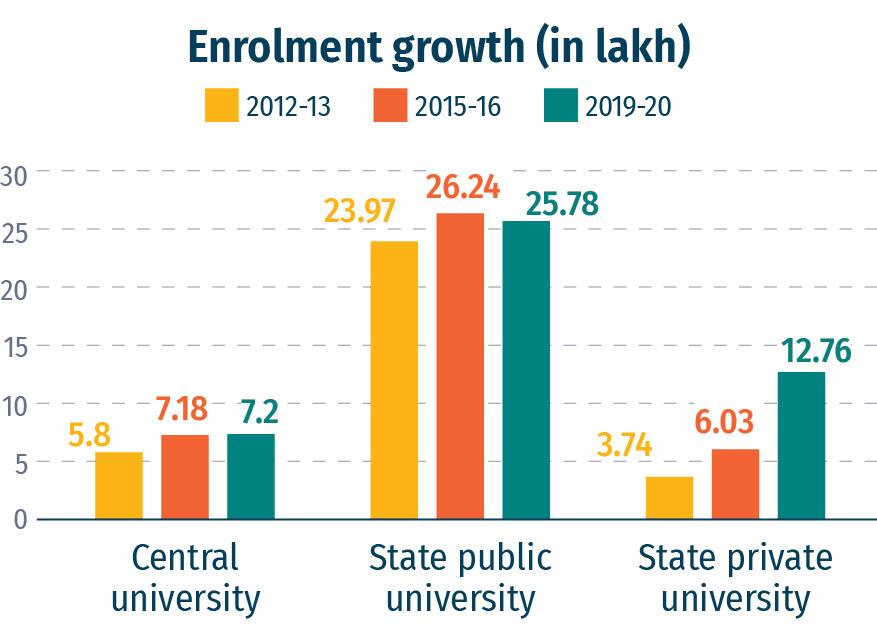 The trend was similar in the total enrolment numbers for both men and women. In central universities, over the 2015-2020 period, enrolment of women rose slightly from 3.3 lakh to 3.4 lakh, and dropped for men, from 3.8 lakh to 3.7 lakh. In state universities, women's enrolment went up marginally from 1.27 lakh to 1.29 lakh while men's enrolment declined from 1.35 lakh to 1.27 lakh.
During the same period, the number of women enrolling in private universities more than doubled, rising from 1.7 lakh in 2015-16 to 4.4 lakh in 2019-20. Men's enrolment in private universities nearly doubled as well, from 4.2 lakh to 8.3 lakh.
The trend held for all levels of higher education – undergraduate, postgraduate and research.
Undergraduate, postgraduate, PhD
Central universities saw a marginal decrease in enrolment in undergraduate courses and state universities saw a marginal increase. Private universities, during the same period, increased the number of students by more than double.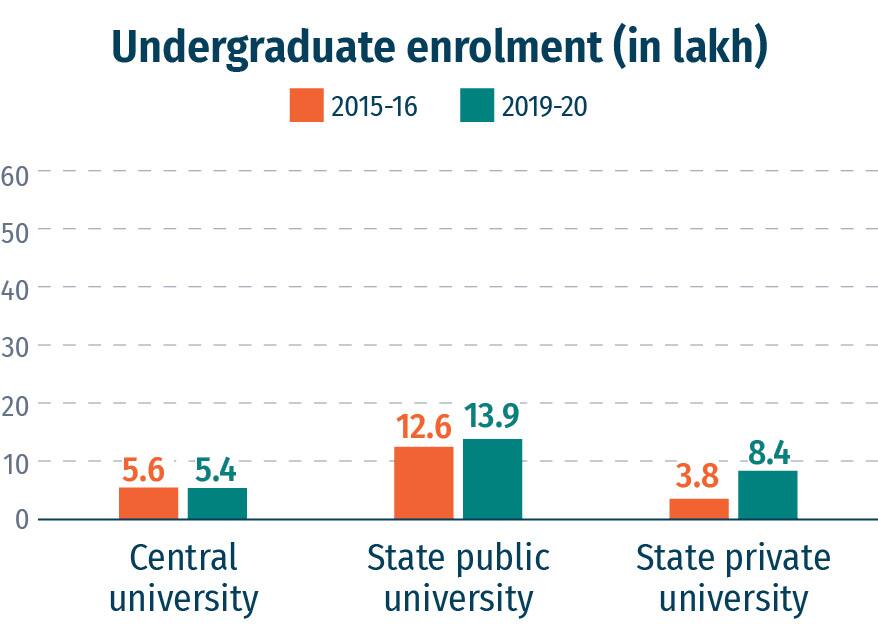 For postgraduate courses, enrolment rose marginally for central universities and dropped marginally for state universities. Private universities, again, doubled the number of admissions.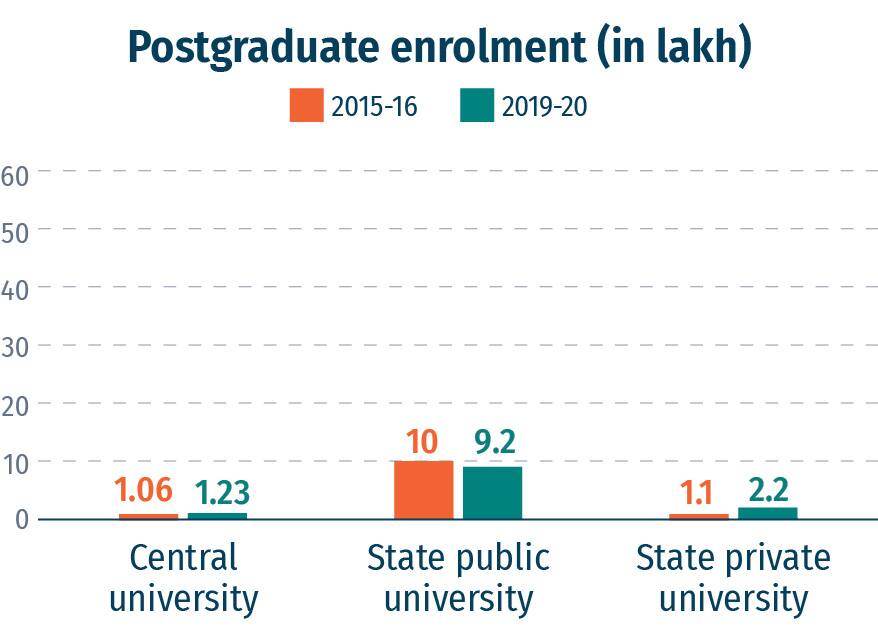 For PhD, all types of universities saw an increase in enrolment. However, for private universities the enrolment figures grew three-fold.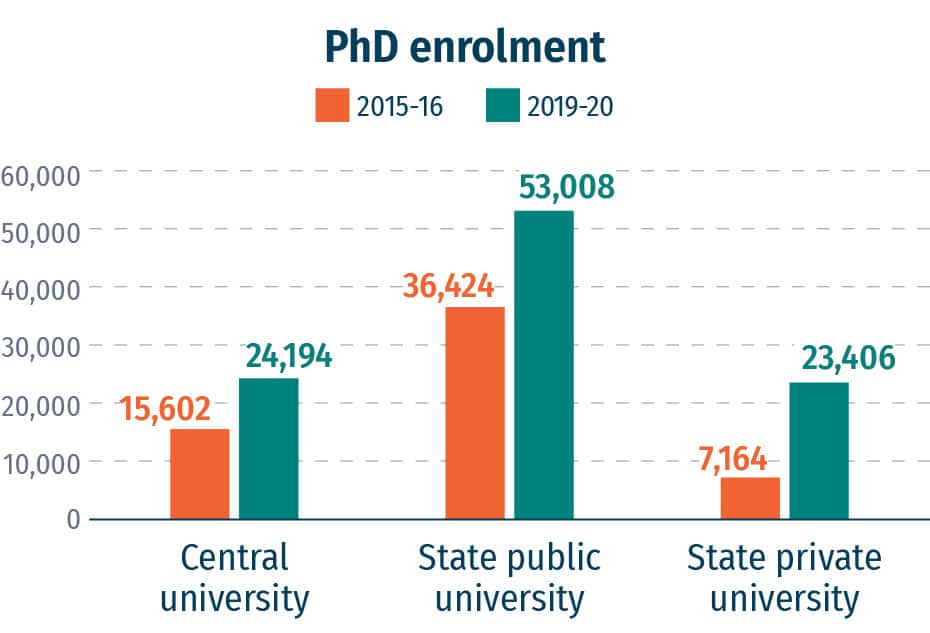 NIRF rankings
The NIRF rankings suggest that the improvement of new private universities was not just in terms of increased enrolment but also quality. The latest NIRF rankings listed 11 new universities among the country's top 100. In that, 10 were private universities set up after 2007. These universities also showed consistently strong performance on NIRF metrics and largely improved or solidified their rankings over the years.
New universities had their best representation in the NIRF when the rankings were launched back in 2016. That year, 18 new universities found themselves in the top 100 ranks in the NIRF. Of these, eight were public universities and 10 private. However, the newer universities, especially new public universities, did not feature as prominently in subsequent NIRF rankings.
In 2017, only seven new universities featured in the top 100 NIRF rankings with Rajasthan University of Veterinary and Animal Sciences the only public institution.
The trend continued as more and more new private universities started featuring in the NIRF rankings.
In 2018, Professor Jayashankar Telangana State Agricultural University was the only public university among the new institutions featured in the NIRF top 100. The other six were all private. In 2019, Professor Jayashankar Telangana State Agricultural University was joined by Central University of Punjab.
In 2020, eight new universities showed up in the top 100 NIRF rankings, Central University of Punjab the only public one. In 2021, three new private universities joined the list to take the total to 11 but Central University of Punjab remained the only public institution. In NIRF ranking 2022, the number of new universities fell to 10.
As for private universities, they showed an increase in representation in the top 100 NIRF rankings since 2017.
Private universities in NIRF

Institution

NIRF Rank

2016

2017

2018

2019

2020

2021

Siksha `O`
Anusandhan

16

20

24

24

20

20

JSS Academy of Higher Education and Research

35

45

37

34

33

34

Narsee Monjee Institute of
Management Studies

72

98

55

57

57

55

Shiv Nadar
University

-

60

48

52

56

56

NITTE

-

83

77

70

74

77
Siksha `O` Anusandhan in Odisha was the private university with the strongest performance in NIRF rankings since it was established. It was ranked as high as rank 16 in the NIRF 2016 rankings and 20 in the NIRF 2021 rankings. In the NIRF ranking 2022, it is back in the 16th rank.
Siksha `O` Anusandhan was also the only new university, along with JSS Academy of Higher Education and Research, Mysuru, and SVKM's Narsee Monjee Institute of Management Studies, to feature in all the NIRF rankings from 2016.
JSS Academy of Higher Education and Research, which has consistently been the second best-performing new university in NIRF, was ranked 34 in NIRF 2022.
Shiv Nadar University has also had a very good performance in the NIRF rankings throughout the years. The university, which first featured in the top 100 in 2017, had been the third best performing new university in NIRF till 2020. In NIRF 2021, Chandigarh University at 52 and SVKM's Narsee Monjee Institute of Management Studies at 55 performed better than Shiv Nadar University which was ranked 56th. In NIRF 2022, Shiv nadar University fell to 61.
---
Follow us for the latest education news on colleges and universities, admission, courses, exams, schools, research, NEP and education policies and more..
To get in touch, write to us at news@careers360.com.
Know More About
NIRF Rank
56
Rating
4.4/5
Download Brochure