Punjab Election 2022: Higher education hobbled by funds crunch, vacancies, privatization
Punjab Election 2022: Higher education hobbled by funds crunch, vacancies, privatization
Punjab: As the state withdrew funds, teacher appointments froze and private universities mushroomed, higher education grew more expensive in Punjab.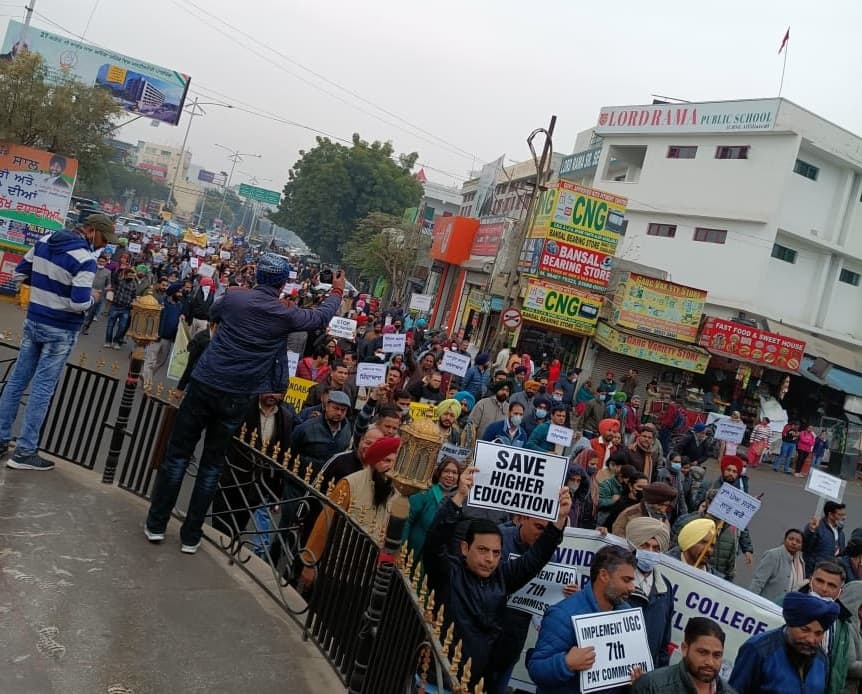 NEW DELHI: In a last-ditch effort to force changes just before the Election Commission of India (EC) announced the Punjab election date, thousands of college and university teachers in the state went on strike. Their immediate demand was that the recommendations of the Seventh Pay Commission, which raised the salaries of government employees, be implemented.
11 min read
Mar 05, 2022
14 min read
Mar 05, 2022
The teachers strike began on December 1 and continued till the ECI announced the election date on January 8 bringing the model code of conduct into force. The model code of conduct is a set of guidelines that aims to govern the behaviour of political parties and incumbent governments before elections to ensure a level playing field. While it is in force, the incumbent government cannot make any policy decisions or announcements. The teachers called off their protest on January 8, without achieving their goal.
8 min read
Mar 05, 2022
But the problems with Punjab's higher education stretch way beyond the implementation of the latest Pay Commission recommendations and successive governments – whether the Shiromani Akali Dal-BJP coalition that ruled till 2017 or the Congress that came after – have failed to address them. State universities, catering to about 75% of Punjab's student population, have faced funds crunch for years. Large sections of teachers are temporary appointments and, according to Vinay Sofat, president, Punjab and Chandigarh College Teachers' Union (PCCTU), the state has been allocating less than 5% of the education budget to higher education, even when other states have increased funds. According to the Punjab Federation of University and College Teachers' Organisation (PFUCTO) which led the protest, estimated that the state should be allocating about Rs 600 crore to salaries in higher education. Instead, it spends about Rs 285 crore on salaries.
Sofat said the situation in public institutions has worsened over the past 15 years and over the same period, private institutions have grown in large numbers. According to the All India Survey of Higher Education, in 2016-17, Punjab had 12 private universities; by 2019-20, the latest AISHE data available, the state had added three more.
Punjab goes to the polls on February 20, 2022.
Also Read: 'RTI should be taught as certificate course to all students': Sridhar Acharyulu
Punjab: Expensive education
For several years, Guru Nanak Dev University in Amritsar, Punjab, has sought around Rs 580 crore from the state government. It has received just a fraction of that – around Rs 60 crore. As per its annual report, the university has 165 affiliated and constituent colleges across about eight districts.
"If the universities don't get the adequate amount of funds, the education gets more expensive," explained Jaspal Singh Sandhu, vice-chancellor, Guru Nanak Dev University. "A state public university should be adequately funded to bear the expenses which include salaries for the human resources, infrastructure, administration, etc, which are not covered. This has been a condition of all the state-funded universities."
Punjabi University in Patiala found itself in such dire straits, it made a Rs 150 crore overdraft to pay salaries and had to be bailed out by the government.
Also Read | Budget 2022: Activists demand more scholarship funds for girl students
"If universities are functioning hand-to-mouth, how will any research happen? Funding should be given to universities for socially-relevant research which is important for any state to grow. The state must not open new universities like sports, agriculture, medical, etc. if they cannot afford to give them grants," said Sandhu.
However, shortage of neither funds nor teachers stopped Punjab institutions from launching more courses. While teachers' appointments remained stalled, government-aided colleges continued to introduce new courses without addition of teaching posts, said Sofat. This led to teachers being burdened with the work of more students but at lower salaries – the Seventh Pay Commission recommendations had been accepted in 2016 – and still more ad hoc teachers being placed in the system. With no government support, these teachers are being paid from the fees collected from students which, in turn, is making public education expensive.
Also Read | Education not a business, cannot allow edtech to offer unregulated courses: AICTE
Teacher appointments, salary
Like many other public institutions, both central and state, the state universities of Punjab are full of temporary appointments. It is a problem that grows in seriousness but no government has been able to address. Since 2013, several high court cases have been filed on the issue of appointing permanent teachers as per the University Grants Commission's guidelines. The UGC is the top higher education regulatory body in the country. But temporary appointments have continued.
"In Punjab, teachers have been appointed on contractual basis similar to several other states like Delhi. These contractual teachers are not hired in the way suggested by the University Grants Commission. Such teachers are in the system for 10-12 years and cannot be regularised legally," said Sandhu.
The recruitment of government college and university teachers has been an issue for the past 15 years.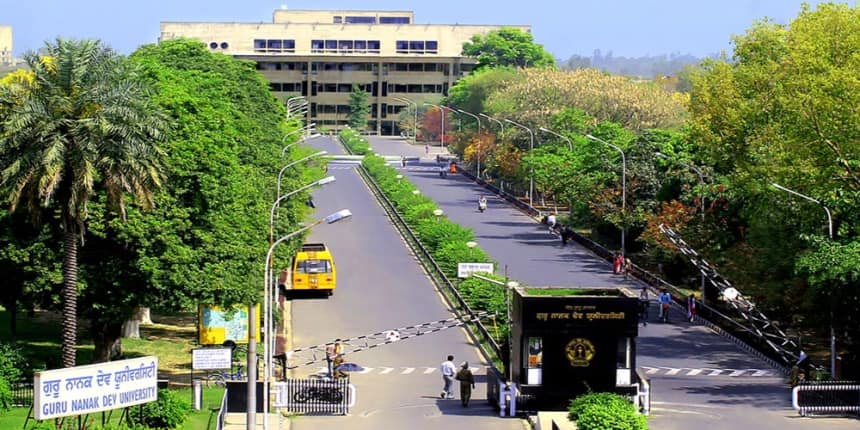 Guru Nanak Dev University, Amritsar, Punjab. Image Source: Official Website
Sofat said that in 2005, with Congress' Amrinder Singh as chief minister, the state government had put a hold on the recruitment of teachers in Punjab. After a prolonged battle with the state government, teachers associations filed a public interest litigation (PIL) in 2013 seeking recruitment of 1,925 government-aided college teachers. In 2014, the court allowed recruitment to the posts in three phases, till 2017. By 2021, as many as 1,158 teaching posts were still lying vacant.
In October 2021, in response to teachers' demands, vacancies were advertised in the Punjab's state universities. But in the process, Punjab faced the problem that plagues states that have relied on contractual appointments for long. Those who have already been teaching as contractual staff demanded that their experience be counted in the selection process. This was resisted by relatively new teachers. The Punjab and Haryana High Court halted the process ruling that granting more weightage to guest faculty, part-timers or contractual teachers already working in Punjab colleges was "discriminatory in nature".
"There is a deficit of teachers in government colleges of Punjab which shows that higher education is not the government's focus area," said Mrityunjay Kumar, president, Panjab University Teachers Association (PUTA).
Also Read | Why Punjab teachers are unhappy in India's 'best' school education system
Punjab teachers' strike
Punjab's teachers decided to strike work as the pay hike was implemented everywhere except in higher educational institutions. Barring Himachal Pradesh and the union territory of Chandigarh, Punjab will be the last state to implement it in higher education, said teachers.
"We were hopeful that as the state has implemented the seventh pay commission all across the state, they will surely implement it in higher educational institutes as well. But they didn't," said Jagwant Singh, general secretary, PFUCTO. "This indicates that the state government doesn't want to spend. If the state implements this, they will have to give UGC allotted regularized salaries to professors and teachers, and currently, they are paying hardly 60% of that."
The chief minister, Congress' Charanjit Singh Channi, had postponed the issue multiple times, alleged Singh. "Even in his last meeting, he said that he was under pressure from other ministers to wait for a day or two. But he was just waiting for the code of conduct to be implemented," he said.
This is impacting teachers' pay scales tremendously all across the states of Punjab, Chandigarh and Himachal Pradesh, said teachers.
Also Read | 'We aim to groom next generation of air and space lawyers': RGNUL Punjab VC
Leaving Punjab
Teachers and administrators argue that the shambolic condition of higher education is one reason for youth abandoning Punjab for Australia, Canada and other western countries in droves. "This will also impact the overall economy of the state where there will be no skilled or qualified workforce and manpower left," said Kumar.
The decline has happened over years and through the tenures of several governments. "Unfortunately, the gradual degradation of higher education has happened over time. Due to this, the youth prefers to leave for foreign lands rather than study in their state," explained Sandhu.
Also Read | Union Budget 2022: Every part of child protection needs funds, say activists
Privatisation of higher education
As public education slipped into crisis, private higher education burgeoned leading to allegations of corruption.
"The state government wants to privatize higher education fully," argued Singh. "Several private universities have come up and existing ones are expanding their domains. Further, several other quasi, semi-universities which don't come under the state government are established as the government gives several favors to them in return for a huge amount of money."
For public universities, the government has to support full-fledged universities, which they don't want to, he said, adding that central funds have also dried up. For example, the Rashtriya Uchchatar Shiksha Abhiyan (RUSA), a central scheme that supported state universities, has seen severe fund cuts over the past few years.
Singh alleged that the government has been friendly toward private universities and pointed out that Channi, the current chief minister of Punjab, was earlier technical education minister.
Also Read | Union Budget 2022: Need to raise budget for girls' education, says women's group
Punjab election 2022 demands
"Human resources in both higher and school education must be the main priority of any government that comes into power," said Sandhu. "Also, in a welfare state, the state universities must provide quality education at a reasonable price. But in the current scenario in Punjab, higher education is quite expensive."
Singh agreed, saying that infrastructure cannot be the sole focus. "Even if the infrastructure is made, if the human resources are poor, that infrastructure has no value. Besides, the state government has done well in school education, they have upgraded the system, they lack tremendously in higher education," said Singh. "The common man is getting poor-quality education that is halting their socioeconomic mobility. We have seen these institutions delivering in the past, and they can deliver provided any state government comes up with real support".
Also Read | 'Nation building': IITs, IIMs, NLUs have started public policy programmes
Sofat hopes that whichever party comes to power in Punjab will focus on higher education. "When higher education is saved, then the foundation of Punjab will be saved."
---
Follow us for the latest education news on colleges and universities, admission, courses, exams, schools, research, NEP and education policies and more..
To get in touch, write to us at news@careers360.com.
More From Sheena Sachdeva