Union Budget 2022: Every part of child protection needs funds, say activists
Union Budget 2022: Every part of child protection needs funds, say activists
Allocation for children in the Union Budget has declined and child protection is the "most resource-starved area".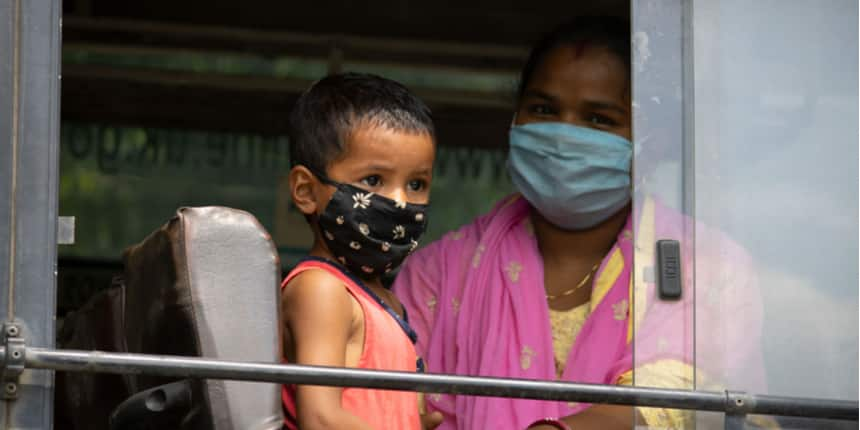 NEW DELHI: With the COVID-19 pandemic leaving children extremely vulnerable, every part of the government's child protection mechanism needs more resources. A group of activists working in the field of child rights gathered online on Thursday to discuss the impact of the pandemic on children — the rising numbers of child marriage and child labour and the thousands of covid orphans.
In the government's apparatus for dealing with such a crisis, there are gaps on every front. First, the main scheme for protecting children, the women and child development ministry's Integrated Child Protection Scheme (ICPS) was already underfunded. "Child protection saw the highest cut — 43%," said Bharti Ali Haq from the Haq Centre for Child Rights said at the webinar organised by the non-profit, Child Rights and You (CRY) and the Centre for Budget and Governance Accountability (CBGA).
Child protection is the "most resource-starved area" among all government interventions targeting children, agreed Protiva Kundu, an economist with CBGA. This has led to serious operational challenges on the ground, both in the delivery of services and their monitoring. Large swathes of posts are vacant in all relevant bodies, right from the ministry and central watchdog bodies such as the National Commission for the Protection of Child Rights (NCPCR) to posts of child protection officers (CPOs).
Also Read | Three states have the most children in distress due to COVID-19: NCPCR
Union Budget: Child protection
Kundu pointed out that the budget for children — outlays for all schemes and programmes targeting children, their education and welfare — has declined over the past five years but most sharply in the case of ICPS.
In the Union Budget 2020-21 budget, ICPS was allocated Rs 1,500 crore; in 2021, it was subsumed within the WCD ministry's umbrella scheme Mission Vatsalya which had a total allocation of just Rs 900 crore. The grant finally released in 2020-21 was just Rs 523 crore.
Kundu's analysis shows that in 2021-22, just 2.46% of the total budget was earmarked for children. Out of this very thin sliver, just 1.27% was for child protection despite non-profits and activists sounding the alarm about the impact the pandemic would indirectly have on children.
Sonal Kapoor of the non-profit, Protsahan, said that her organisation's survey of 65 slums in Delhi didn't just find children pushed into begging and sex work but also found children who, after losing their mothers, were simply abandoned by their fathers.
It is much the same story with the National Child Labour Project which was allocated Rs 250 crore in 2015-16, saw expenditure of Rs 93 crore and has since seen both allocation and expenditure drop steadily till 2021-22 when the outlay was Rs 120 crore.
Budget and vacancies
The resource strain is felt right from the ministries to district units and individual child care institutions such as homes and orphanages.
At the central level, 36.2% posts are vacant in the ministry of women and child development itself; 45.9% are vacant in the Central Adoption Resource Agency (CARA); and 48.1% in the National Institute of Public Cooperation and Child Development.
However, the actual job of identifying children at risk and finding them assistance falls to district-level bodies such as District Child Protection Units (DCPUs) which are similarly starved.
There are 732 District Child Protection Units across the states. In 2020-21, said Kundu, the total allocation for these was Rs 710 crore which "implies a budget of less than Rs 1 crore for child protection per district".
Worse still, the NCLP for prevention of child labour covers just 323 districts from 21 states.
Where the bodies do exist, they are acutely short-staffed. DCPUs are staffed with child protection officers (CPO). Of the total of 3,921 sanctioned CPO posts, 40% are vacant. Only 2,370 Class 1 to IV CPOs are working in DCPUs; there are 262 child probation officers and 50 counsellors, says data obtained by Kundu as reply to a Right to Information application.
Children at risk are placed in child care institutions (CCI) which are similarly strained. There are around 9,000 CCIs in India of which 90% are run by non-profits with or without government support and 9%, or 845 CCIs or homes, are managed by the government. 95 districts have no CCIs and about 15% are crowded. The minimum staff strength for a CCI should be 14 according to the Juvenile Justice Act but "most CCIs are running with acute staff shortage", said Kundu.
There is little progress on encouraging care outside institutions or home. Adoption rates have declined, from 5,694 in-country adoptions in 2011-12 to 3,142 in 2020-21; half the Specialised Adoption Agencies do not meet the minimum required caregiver-to-children ratio; and most districts lack Sponsorship and Foster Care Approval Committees or have ones that are "largely nonfunctional", the CBGA-CRY analysis shows.
Union Budget: Lax monitoring
Staff shortage and funds crunch have led to laxity in monitoring. Due to staff shortage, the NCPCR could dispose off only 23,861 of the 50,857 complaints it received of the last five years, the ministry told Rajya Sabha in 2021.
Then, of the 1,010 complaints received on the Platform for Effective Enforcement for No Child Labour (PENCIL) Portal, only 361cases, or 36%, were solved.
The activists sought greater public provision for child protection in addition to recruitment drives. The government should consider "special recruitment drives...to fill up the large-scale vacancies, regularisation of CPO posts or at least long-term contracts to make the system sustainable", said Kundu.
---
Follow us for the latest education news on colleges and universities, admission, courses, exams, schools, research, NEP and education policies and more..
To get in touch, write to us at news@careers360.com.
More From Sheena Sachdeva