What is National Credit Framework? UGC chairman explains credit-system
What is National Credit Framework? UGC chairman explains credit-system
NCrF would lend credibility, authenticity to the credits being assigned making these it more acceptable and transferable internationally, Jagadesh Kumar said.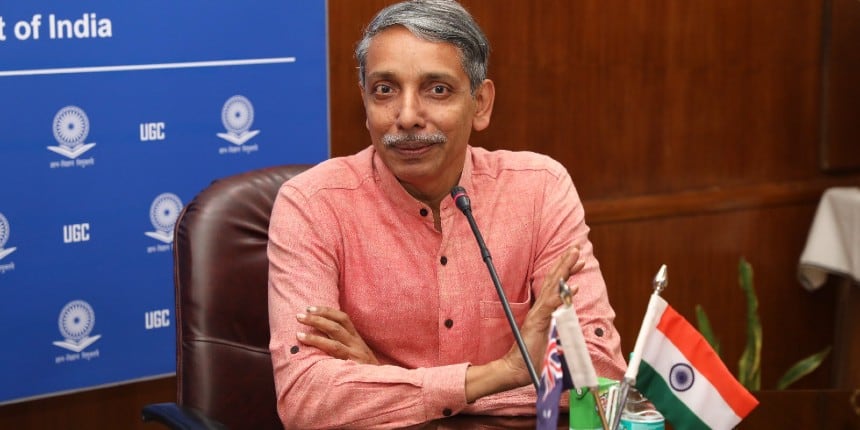 NEW DELHI: The University Grants Commission (UGC) on Monday released the final draft of the National Credit Framework (NCrF) for school education and higher education. In this regard, the UGC chairman Mamidala Jagadesh Kumar today explained the new framework and how the credit-system is earned and transferred.
The NCrF is a broad enabling framework for all regulatory organizations and all universities, including institutions of national importance. It is drafted in line with the National Education Policy (NEP 2020). The framework will "seamlessly integrate the credits earned through school education, higher education, and vocational and skill education," the chairman said in a statement.
"The NEP 2020 emphasizes the integration of general academic education and vocational and skill education, providing seamless horizontal and vertical mobility between the two streams for lifelong learning. NCrF provides this mechanism while ensuring equivalence within and between these two education streams," the UGC chief said.
Also read | Expertise in Vedas, Puranas to fetch credits under National Credit Framework
How do students earn credit
Explaining the credit-system, Jagadesh Kumar said: "Credit is the recognition that a learner has completed a prior course of learning, corresponding to a qualification at a given level. Simply put, one credit corresponds to 30 notional learning hours in a year of two semesters. Every semester a student is required to earn a minimum of 20 credits. A student earns 40 credits in one year corresponding to 1200 notional learning hours. But students can also earn more than 40 credits in a year."
The National Credit Framework has divided education into eight levels. The school education is assigned Level 0 to 4. And when a student completes Class 5, they are placed at level 1. Clearing Class 8 and Class 10 corresponds to level 2 and 3 respectively. Once the student completes Class 12, he/she will reach level 4. The entire credit earned by a student during the entire schooling will be 160 credits, Jagadesh Kumar said.
Higher education levels start from Level 4.5 and end at Level 8. A three-year bachelor's degree will have levels 4.5, 5, and 5.5 corresponding to the first year, second year, and third year. Every year, a student has to earn 40 credits to move to the next level, and by the end of a three-year bachelor's degree, the student will have earned 120 credits.
"Level 6 corresponds to 4-year bachelor's degree, Level 6.5 corresponds to a two-year master's degree for those with a three years bachelor's degree, and Level 7 corresponds to a two-year master's degree for those with a four-year undergraduate engineering degree and PhD degree is at level 8. When a student completes a PhD, the earned credits would be 8x40 = 320," he added.
Also Read | National Credit Framework (NCrF) Decoded: How India's students will be marked
Levels for vocational, skill education
Vocational and skill education is spread from level 4.5 to level 8. The UGC chairman explained that there is equivalence between general and vocational and skill education regarding credits earned at each level. "This helps the students to quickly move from one education stream to the other by having the equivalent levels and total credits corresponding to these levels," he said.
How to redeem credits earned
There are three kinds of credits a student can earn.
Credits earned by virtue of completed academic education
Credits earned by virtue of undergoing vocational education, training/ skill program
Credit points earned by virtue of relevant Experiential learning, including relevant experience and proficiency/ professional levels acquired
One credit corresponds to 30 notional learning hours in a year of two semesters. The UGC chairman said that the learning hours, irrespective of mode of learning - offline, online or blended - will continue to follow the guidelines specified in the NCrF. The decision was taken to enhance the extensive use of technology in education. .
Credits accumulated by each student will be stored in the Academic Bank of Credits (ABC) technology platform. "ABC enables every student and educational institution to digitally keep a record of all the credits earned and accumulated throughout life in a standard account. ABC can be used to store irrespective of the type of learning, i.e., academic, vocational, or experiential learning," he said.
Also read | Explainer: How the academic bank of credit will work
Additionally, "NCrF provides the opportunity for creditization and progression pathways for other learnings not credited earlier for awarding a certificate, diploma, and degree for encouraging lifelong learning".
How credits are transferred
For example, an ITI pass out (2 years after Class 10) along with an additional language course from NIOS attains equivalence of Class 12th certificate along with ITI-National Trade Certificate, which will enable the students to join in a University like any other Class 12 pass out student.
Similarly, A 5th-grade student with total accumulated credit points of 200 over the years and undertaking a particular bridge course is eligible to appear for the 8th-class examination. Once the student clears it, he will be in grade 8th pass and can continue with 9th grade onwards through mainstream education.
The other forms of learning that can be credited includes mastering a special training, skill, or knowledge outside a formal learning environment. Or any other forms of learning, such as online and distance learning, in a formal, informal, or non-formal way. NCrF also supports educational acceleration for students with gifted learning abilities.
Also read | Class 12 board exams twice; 8 'curricular areas' replace streams; 20% local content: Draft NCF
Transfer of credits internationally
Jagadesh Kumar said: "The International equivalence and transfer of credits shall be enabled through various multilateral/ bilateral agreements between respective regulators of the countries concerned,"
"NCrF would lend credibility and authenticity to the credits being assigned and earned under various programmes in India, making these credits more acceptable and transferable internationally," he added.
---
Follow us for the latest education news on colleges and universities, admission, courses, exams, schools, research, NEP and education policies and more..
To get in touch, write to us at news@careers360.com.