Schools closed, children forced into child marriage, labour, begging
Schools closed, children forced into child marriage, labour, begging
School Reopening: Activists say school closure during COVID-19 has reversed gains made in education, child rights over years.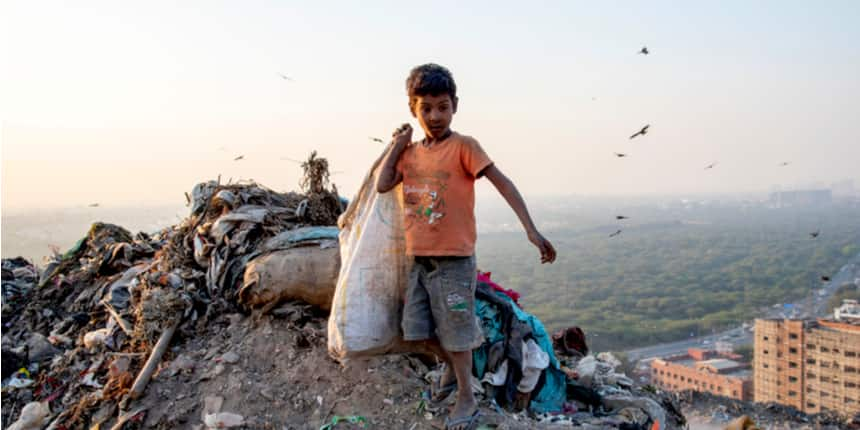 NEW DELHI: Nandini*, 12, was studying in Class 7 at Kasturba Gandhi Balika Vidyalaya in Yacharam, Telangana before the lockdown was announced. Confined at home away from school, Nandini was forced to marry a man almost 10 years older than her.
Young girls like Nandini in the rural parts of Telangana fear any visit from their relatives now. Amid lockdown, out of ordinary family get-togethers mean that they will soon be married against their wishes. R Venkat Reddy, a child rights activist and national convener of M Venkatarangaiya Foundation, has been meeting young girls across the state to know their situation on the ground after the pandemic disrupted education in 2020.
According to Reddy, since the outbreak of COVID-19, younger girls are being forced into child marriages and engaged in household work in the absence of school education. This was not the case before the pandemic, he says.
"In areas of Suryapet and Gadwal near Hyderabad, many instances of younger girls between the ages of 13 to 14 years are coming forward. In this society, daughters are usually married after passing the Class 10 exam. The pandemic has brought even younger girls into this trap. There are fewer government schools for girls here and parents prefer to send their daughters away to the safety of in-laws," Reddy told Careers360. Reddy is also an advisory member of the National Commission for Protection of Children's Rights.
Also Read: School Reopening 2021: When will schools reopen in India?
Between financial distress caused due to lockdown and ineffectual online classes, scores of students across India have been pushed into child marriages and child labour. The pandemic, as per child rights activists across states, has reversed their dedicated effort of decades to bring marginalized children into the fold of formal education.
Twisting the law
A recent report by the United Nations Children's Fund (UNICEF), warns that by the end of the decade, an additional 10 million girls globally would be at risk of becoming child brides. School closures, rising poverty, parental deaths and other factors resulting from Covid-19 "ha0s made an already difficult situation for millions of girls even worse," the report indicated.
Divya Brar, a child rights activist in Fatehabad, Haryana believes that the community has become aware of the laws but they often find a way around it. "Last year, we rescued a girl studying in Class 11 in our district. Her parents knew that we are actively working against child marriages so they decided to take her to Madhya Pradesh. She was not informed about the marriage. Right before the marriage, she somehow managed to send us a message. As we do not have volunteers in MP, we called on the national helpline and the police stopped the marriage," said Brar.
Buland Udaan, the non-profit Brar runs, has witnessed many such cases happening every other day. Not just girls, boys are being married off at an early age along with their older siblings so that parents do not have to spend money on another wedding.
Suraj Kumar, another activist in Mewat, Haryana has also witnessed similar cases where a younger girl is married along with an older sibling to hide underage marriage and save on marriage expenses. "The parents want to avoid large spending through this arrangement. The girls, however, are not sent to cohabit with the groom till she comes of age," said Kumar.
Also Read: School Reopening News 2021 Live Updates: Know when schools will reopen in Maharashtra, Kerala and other states
Often, government policies meant to safeguard children also fail to achieve that goal. Telangana Government spends crores of rupees on schemes like 'Kalyana Laxmi' and 'Shadi Mubarak' to support marriage expenses for financially distressed families. The scheme, originally aimed at preventing child marriages, gives assistance of Rs 1,00,116. However, the effort has proved counterproductive.
"The groom's party now demands dowry on top of the amount the bride's family gets through the scheme. Many parents are forging documents like Adhaar Card and birth certificates to show their daughter is 18 years old. I have met girls who are furious at the government for facilitating money for their marriages instead of providing quality education," said Reddy.
Haryana Government also runs similar schemes like 'Kanyadaan Yojana' and 'Mukhya Mantri Vivah Shagun Yojana' that provides financial assistance of Rs 51,000 to support marriage expenses of women from a marginal section of society.
Online education a 'myth'
Without smartphones or even mobile towers to attend online classes, children are dropping out of school to join farm labour.
Bhupesh Vaishnav, a child rights activist in Bilaspur, Chhattisgarh lamented the deplorable condition of small children in tribal areas rampantly engaged in farm labour at this time of the year. "All our efforts of three years that involved motivating children to study, allaying their fears, hundreds of school enrollment have been reversed by this pandemic. Online education is a myth here. The systems have collapsed making it difficult for us to track children," said Vaishnav.
With mid-day meals out of the picture, many, during the ongoing season of paddy cultivation, prefer to spend time on fields and earn money to fill their belly, Vaishnav added. However, several parents in tribal areas are hoping to send their children back to school when it reopens.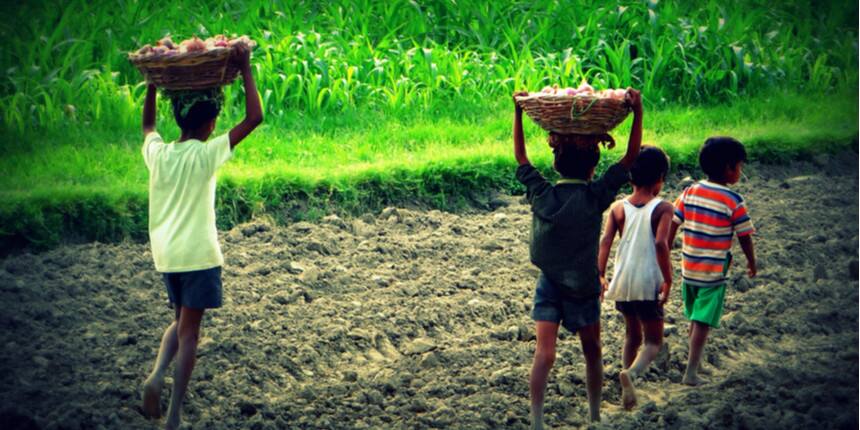 "Unless the government reopens the schools we will massively fail to do justice to our children. These children deserve nutrition and education and we are doing our bit but the government's support is crucial," Vaishnav added. On August 2, the Chhattisgarh Government reopened schools for Class 10 and 12. For Classes 1 to 5 and Class 8 in rural areas, the concerned panchayats will take a final call over the resumption of classes.
Last year, the Kailash Satyarthi Children's Foundation had also cautioned that one in every five children will "potentially" be withdrawn from school, if the economic crisis brought on by the COVID-19 lockdown persists.
Begging for alms
In urban areas, the number of children begging for alms on busy roads of Delhi NCR has significantly increased since the schools have shut down, said Ritu Mehra, an activist based in Delhi.
"I asked some of the children I met on the streets why they are not studying. The response is always the same. These are children of migrant labourers who have lost their income amid the pandemic and related restrictions. They don't have money to eat, how can we expect them to struggle with a farce like online classes," said Mehra.
In 2020-21, the Delhi Commission for Protection of Child Rights rescued 331 children from child labour, an increase of 490 percent from the last three preceding years. This year, within the first three months alone, DCPCR conducted rescue operations for 202 children. For the rehabilitation, the commission has also initiated the process of payment of back wages to these children so that their financial integration can begin immediately.
Also Read: COVID-19: Dropout risk rose 365% during remote learning, finds study
Jobs that involve physical labour like taxi drivers, street vendors, housemaids, factory work have become elusive with the fear of contracting COVID-19. "A kid begging at the signal told me his father lost the job after factories were shut down and mother was a housemaid and could not resume work since nobody wants physical contact with outsiders," Mehra recalled. Such children are also vulnerable to crime and addictions, she added.
According to the NCPCR's official document, Save the Children "mapped" two lakh children are spread across 10 cities of four states in India, namely, Delhi, Maharashtra, Uttar Pradesh and West Bengal, whose rights to protection, education, health, water, sanitation, and urban development and welfare were compromised.
Although the government has announced dry ration kits for those who have lost their income, the quantity is never sufficient enough to feed a family. "One kid told me that they cannot spend their entire day standing in queues to get only two-three kgs of ration for a family of five," said Mehra.
The pandemic may have compounded the effects of unequal education systems but activists intend to resume door-to-door surveys and field activities to bring back students to the formal education system.
Also Read: NCPCR warns of increasing child trafficking post-COVID-19 lockdown
Since 2017, Brar and her team of volunteers had managed to enrol more than 700 students in various parts of the Fatehpur districts. As the lockdown eases, they plan to go back on the field to check on each student. "We maintain contact with each student, however, after continuous lockdown, some family members changed their phone number, some switched off their phone so we were unable to keep track. We intend to start another door-to-door survey of children in the community as soon as things are better on the ground," said Brar.
Even though Haryana has started physical classes for some classes, many states are yet to reopen or even announce the reopening of schools. "Girls I met in villages ask me why the government has opened bars and not our schools. It pains me to see their fear and anxiety," said Reddy. "I don't know how to answer them."
*Name changed on request.
---
Follow us for the latest education news on colleges and universities, admission, courses, exams, schools, research, NEP and education policies and more..
To get in touch, write to us at news@careers360.com.