Children as young as 12 in UP's Sultanpur addicted to tobacco products
Children as young as 12 in UP's Sultanpur addicted to tobacco products
Uttar Pradesh: In many cases, tobacco use is seen among children who started working early, often as child labour, and have dropped out of school.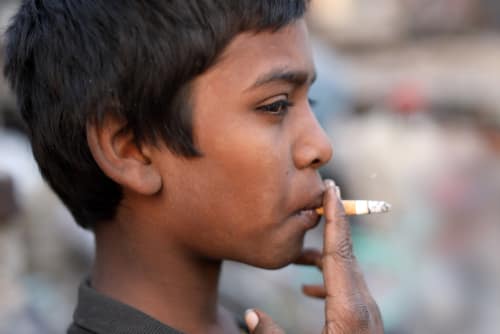 Sanjay
|
Jun 29, 2022 - 4:25 p.m. IST
SULTANPUR: Shlok Kumar (12) has little interest in studies and struggles to understand most lessons in the classroom. The Class 7 student of a government school in Lambhua block of Uttar Pradesh's Sultanpur district, Kumar also consumes tobacco products. Although aware of the harmful effects of smoking, he could not resist while "chilling" with friends. He is determined to quit school after Class 8.
"I don't smoke on a daily basis. When I'm with friends, we buy bidi, cigarettes from a nearby shop and smoke them. We also consume gutka sometimes," Kumar said. "I do not feel like going to school daily. I will go to a big city like Mumbai to earn money after Class 8. I will not study further."
In Uttar Pradesh, children as young as nine-and-a-half years start smoking cigarettes, according to the findings of the recent Global Youth Tobacco Survey-4 (GYTS) for the state; it was conducted in 2019 and the report released in 2022. In Uttar Pradesh, six years and eight months is the median age of initiation for children into bidi smoking; at the all-India level, it is 10.5 years. For cigarette smoking the median age of initiation nationally is 11.5 years and for smokeless tobacco use – such as chewing tobacco – it is 9.9 years.
The National Family Health Survey (NFHS) 5 found that in Uttar Pradesh's Sultanpur, 44.1 percent of men and 8.4 percent of women aged 15 years and above use tobacco products. Sultanpur is among the top 20 districts in the state with high use of tobacco products. The highest percentage of tobacco users among men is in Banda – 63.33 percent – and among women, it is 26.6 percent in Bahraich. Nationally, it is 38 percent men and nine percent women above 15 years.
Many school-going boys in the villages of Sultanpur regularly consume tobacco products. Most belong to some of the most marginalised families and attend government schools. Slightly older youths in the 16-20 age-bracket and working in shops, construction sites and other jobs, spend their meagre income on alcohol. Most of them have dropped out after Class 8 or Class 10 or didn't study beyond Class 12. A large number of them also work in their free time to supplement the family income.
Also Read | NAS 2021: Class 3 to Class 8, SC, ST, OBC students steadily fall behind peers
"Children learn smoking from their fathers and elders in the family and neighbourhood," said Arvind Kumar Verma, senior doctor at a Primary Health Centre in Garapur, Lambhua. "Elders of the society have to become examples of goodness by quitting smoking."
Work and smoking addiction
Most boys Careers360 spoke to said they first tried cigarettes, bidis or gutka with friends or at work. Many also said that village elders offered them tobacco products.
Tarun,15, a student of Class 8 at a government secondary school in Sultanpur's Bhadaiyan block said that he smoked his first bidi with friends when he was in Class 3. "I found the taste very addictive. I used to spend all my piggy bank savings on tobacco. But now I have reduced smoking and hardly smoke a cigarette in a week. But I still consume gutka whenever I get a chance," he said.
Also Read | 48% students commute to school on foot, 25% schools lack parental support in learning: NAS 2021
The GYTS-4 found that a total of 16 percent of students were exposed to tobacco smoke at home and 22 percent inside enclosed public spaces. Over 13 percent children in UP smoke in school while 38 percent smoke at home. Around 20 percent of children smoke at a friend's house, says the survey.
The underage substance abuse is also linked to children and youths starting work early, sometimes as child-labour.
Vikas, 12 and in Class 5, works as a helper for the local tent company in Lambhua . "My co-workers usually offer alcohol and cigarettes to me. However, I consume a limited amount as I have to come home early," said Vikas.
Samar, now 19, dropped out after Class 8 in 2019 and started working at a local hair-dresser, training to be a barber. It was here he started smoking with his co-workers. Now he has opened his own shop.
Shreyas, 14 and a student of Class 7 at a government secondary school in Sultanpur's Lambhua block, "started smoking cigarettes two-three years back" after he was offered bidi and cigarettes by friends "earning money in Mumbai and Delhi". When his friends visit, he smokes with them – an expensive habit he cannot maintain on his own. "I can't afford to smoke daily but I consume gutka regularly," he said.
Children in primary schools first try tobacco at a very young age, influenced by teenagers around them. Many teens in the last years of elementary or early secondary school start working in their free time to supplement the family income and at their workplaces, with other co-workers, the occasional smoking or chewing tobacco grows into a habit.
Also Read | 'Drug addicts in schools': DCW chief shares images of MCD schools, says 'unsafe for kids'
"Most of the teenagers and youngsters in Sultanpur villages work in big cities like Mumbai and Delhi," explained Dilip Maurya, a teacher of a private secondary school in Lambhua. "They come here in the village after spending four-five months in cities and influence school going kids to smoke and drink alcohol."
Dropping out of school
Nearly all students addicted to tobacco shared a common disdain for education. Many have dropped out after completing class 10 Many of them have quit their studies after completing secondary education. Over the years, Uttar Pradesh has been witnessing a drop in enrollment of students in schools.
Suraj, 17 and resident of Kurebhar block, dropped out of Class 10. "I did not sit for the Class 10 examination as I was fearing that I wouldn't pass. I don't want to study further," he said. His family does not approve of his smoking and it is also a financial burden but whenever he steps out to visit his relatives, he'll smoke at shops on the way.
According to a report sent by the Uttar Pradesh education department to the union education ministry last year, there were 53,80,220 students enrolled in government and government-aided schools in the 2018-19 academic year; the enrollments dropped to 52,33,819 in 2019-20. These findings were discussed during the meeting of the Project Approval Board (PAB) for Samgara Shiksha Abhiyan in June 2020. However, the COVID-19 pandemic and the economic hardship it caused significantly changed the situation for public schools. According to more recent reports, UP saw one of the sharpest rises in public school enrollment in the pandemic period.
In 2019-20, the overall transition rate in the state was 87 percent at secondary level, which means that only 87 percent of children enrolled in Class 8 finally joined Class 9. The annual average dropout rate at the elementary level was 2.46 percent and at secondary level, 14.4 percent, in 2019-20. In its budget, the Uttar Pradesh government set a target of enrolling two crore students in public schools in 2022-2023.
Sultanpur's tobacco consumption
According to NFHS-5, tobacco and alcohol consumption among women in UP stand at 8.4 percent and 0.3 percent. Among men, 44.1 percent use tobacco products and 14.6 percent, consume alcohol.
In Sultanpur, tobacco consumption among men and women is significantly higher than the state average – 47.5 percent among men, 14.2 percent among women. However, alcohol consumption is lower – 0.1 percent among women, 10.1 percent among men. NFHS-5 fieldwork for Uttar Pradesh was conducted from January 2020 to April 2021 and information was gathered from 70,710 households, 93,124 women, and 12,043 men. In Sultanpur, 922 households, 1,282 women, and 133 men were surveyed.
Also Read | Mizoram, Arunachal Pradesh has highest tobacco use among students in 13-15 years age group
The district authorities and schools are using anti-smoking campaigns and "moral lessons" to counter the habit among students.
Dr Radha Vallabh, additional chief medical officer (ACMO), Sultanpur said, "We regularly hold awareness campaigns to make students aware about the ill-effects of smoking and tobacco products. We will intensify our awareness campaign in the coming months."
"We are promoting campaigns against smoking in our schools and teaching our students not to consume tobacco products," added Ram Bahadur Varma, block education officer (BEO), Dostpur. "During school prayer meetings, we teach them good manners. Many students do not come to school regularly due to some situations at their homes."
Also Read | NCERT drops Gujarat riots, The Dalit Movement poem from Class 12 textbooks
Ram Jatan Yadav, principal of the government primary school Dadari, Lambhua, said that it is mostly secondary school students who smoke and consume gutka. "We teach good moral lessons to our students in morning prayers. We educate them about the ill-effects of bad habits like smoking. We are trying our best to create awareness among students about the health hazards of smoking and alcohol addiction."
* Names of students have been changed to protect their identity.
---
Follow us for the latest education news on colleges and universities, admission, courses, exams, schools, research, NEP and education policies and more..
To get in touch, write to us at news@careers360.com.