AILET 2020 exam postponed; NLUD asks students to keep visiting its website for new dates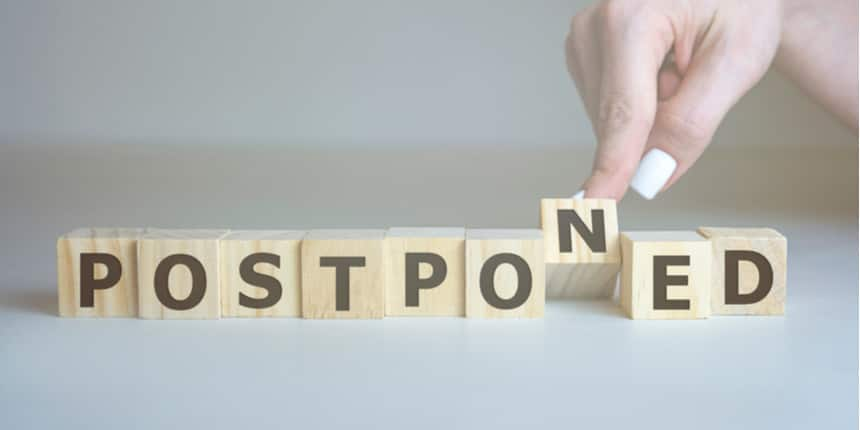 New Delhi: NLU Delhi has indefinitely postponed the AILET 2020 entrance exam, which was slated to be conducted in online, remote proctored testing (RPT) mode on August 18. The institute had already hinted, as reported by us, at such a development in its earlier notification published on July 27, which said the institute is rescheduling all upcoming activities.
As per the latest notification, new dates for the entrance test will be notified soon and students will be given 10 days prior notice before the conduct of the exam.
Along with postponing the exam, officials have also re-opened the AILET 2020 application form; any candidate who hasn't already applied can do so until August 10.
The exam-postponement saga continues
The AILET 2020 exam was originally scheduled to be conducted on May 3, but has since then been postponed multiple times owing to COVID-19 pandemic. The mode of the exam has also been changed from pen-and-paper mode, and will now be conducted in online, remote-proctored mode.
But of all the postponements, the latest one is a bit surprising, as the remote-proctored testing, in NLUDs own words, is the safest bet. What is more, two other entrance exams, LSAT India and SLAT have completed their respective remote-proctored exams recently.
LSAT India claims to have had a smooth passage. Even in the case of SLAT, barring a few minor glitches, the administration of the exam was otherwise uneventful.
So, the decision by NLUD to postpone the AILET exam has raised some eyebrows.
Reasons given for the postponement
The prevailing COVID-19 pandemic situation

In response to requests received from candidates
How valid are the reasons?
There is no doubt the concerns of students should override other reasons. But the 1st reason cited is a bit confusing, as AILET officials have themselves claimed that the remote-proctored testing is the safest option.
Also, NLUD hasn't specified as to what kinds of demands students have? Are they specific to exam timings, or they are financial. Please note that taking the RPT exam would require a financial investment for many families, like purchasing laptops (or computers) and making arrangements for internet activity.
If the concerns students have is more financial-oriented, will they go way by simply postponing the exam.
So, there are many unanswered questions. But more importantly, how longer can officials keep on postponing the exam. Is there any deadline beyond which the exam will not be postponed?
Also Read:
AILET 2020 exam could be postponed; admit card delayed
CLAT mock test format revised for better test experience
Home-based online remote-proctored AILET 2020 vs Centre-based online CLAT 2020: A Comparison
Write to us at news@careers360.com
Stay updated with latest Education News