Green Campuses: Central universities becoming beacons of sustainability
Pondicherry University, Tezpur University, and BHU are making a push for sustainability by setting up solar power projects, and water management systems.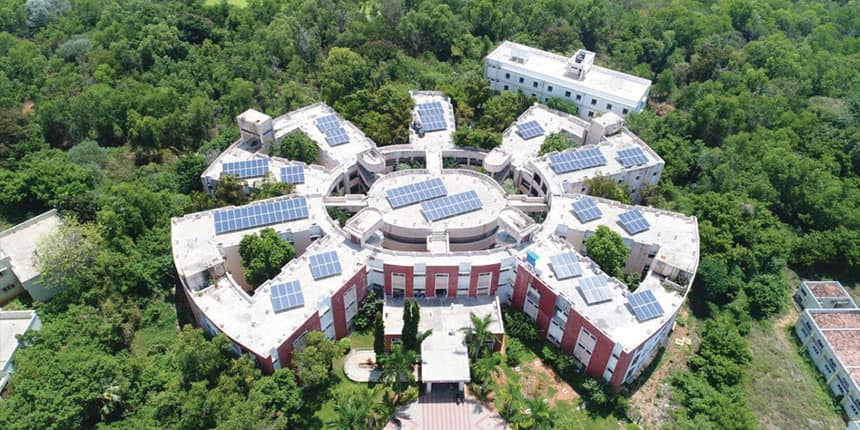 NEW DELHI: As India pushes for a host of green measures to inch closer to its nationally-determined commitments to the Paris Agreement, central universities in India are doing their bit with major renewable energy projects on campuses.
While Assam's Tezpur University and Pondicherry University have tapped solar energy to save on energy bills, Banaras Hindu University has equipped its water-scarce south campus with a water management and supply system.
As part of building a sustainable campus, universities have prioritised the use of renewable energy and environment-friendly options in buildings and classrooms. Tezpur University's turning 11 buildings and student hostels energy-neutral saved it Rs 1.53 crore. Electricity-neutral or net zero-electricity buildings are ones in which the electricity consumption is nil.
Pondicherry University saved Rs 1 crore on a year's energy bill by installing solar panels on 15 buildings on campus. Meanwhile, BHU has made its 2,700-acre campus self-reliant on the water – possibly the first and only campus to do so in the country.
This major shift to attain sustainability goals is also reflected at the policy level. The National Assessment and Accreditation Council (NAAC) has included environmental sustainability in its criteria for evaluating educational institutions. The All-India Council for Technical Education (AICTE) has instituted a 'Clean and Smart Campus' award. These incentives are coaxing universities to make way for renewable energy infrastructure and phase out the use of traditional methods.
Also Read| 'Where in the world can you see such a course?': IIT Madras director on MTech degrees, new courses
'Sustainable and financially efficient'
In the Solar Energy Corporation of India scheme for Government Buildings, the universities have found a financially efficient model.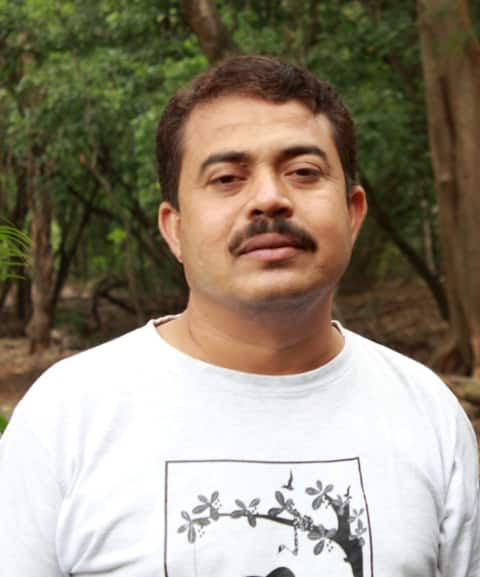 Sadhan Mahapatra, teacher, department of energy, Tezpur University
"The solar power plant has been set up based on the Renewable Energy Service Company (RESCO) model which saves us from the burden of maintenance and capital installation charges. Under this model, the project is financed, owned and developed by a third party, in our case, Arunachal Pradesh Power Corporation. They operate and maintain the plant. We are only obligated to pay for the energy consumption at a fixed rate for 25 years," said Shadhan Mahapatra, teacher, Department of Energy, Tezpur University. The university purchased electricity from private players at the rate of Rs 6.45 per kWh whereas the cost of electricity generation by solar plant is Rs 2.42 per kWh.
Tezpur University installed a 1000 kWp rooftop grid-connected solar power plant that is operated on a RESCO model. On average, solar power has replaced 25 percent of the electricity requirements of the campus. Even though solar panels have been used before in many buildings, Mahapatra said, it had not helped because they were costly to maintain.
"When I was researching for this project in 2018, I found that there are two big challenges that affect solar power projects, especially in the North-East. First is that the radiation here is low compared to states like Gujarat etc. Another is the lack of maintenance. It is one thing to get it installed under a subsidy but another to keep up the costly maintenance. The RESCO model releases us from that burden. The responsibility of maintenance lies on the developer and if the solar panel doesn't work properly, their billing amount will also come down," he explained.

Solar panel installation at Tezpur University
Pondicherry University's administration waited seven years for the right opportunity to arrive. "We have been planning to set up such a project for the past seven years but it only materialised with the help of our Vice-Chancellor and the government of India scheme. The field is so new that it requires external assistance for us to reap benefits," said P Murugavel, in charge of the project at Pondicherry University.
Under the direction of the Vice-Chancellor, Gurmeet Singh, a 2.4 Mega Watt Solar Power Project was implemented in March 2021 with no financial commitment on the part of the university and with the RESCO model recommended by the ministry of renewable energy and ministry of education.
Also Read| Kerala higher education reforms to ease regulations, fix exam process
Green infrastructure
At Tezpur University, solar power panels have been installed on the rooves of 15 buildings – men's and women's hostels, student activity area, library, and auditorium. Academic buildings of the department of chemical science, department of energy, and department of environmental sciences are also energy efficient. The monthly average electricity generation from the plant is close to 90,000kWh.
At Pondicherry University, solar panels have been installed on 15 academic buildings and also car parks. "Electrical energy is one of the basic requirements for the campus and it costs around Rs 75 lakh per month. This has to be managed for sustainability as the demand for electrical energy is ever increasing. The project has resulted in the conservation of one-third of the energy cost using world-class electrical infrastructure with the least power disruption and less maintenance cost. Above all, every year, the university will cut down carbon emissions to the extent of 2,900 tonnes on this green campus," said Murugavel.
Apart from being an efficient model of energy, the plants are also used for teaching and learning renewable energy and its application on campus.
"Not just as a part of the sustainable campus initiative, it is also a site for learning for my students. M.Tech students who specialise in the solar energy area are encouraged to visit the plant and understand its functioning. Students have also helped in the installation project. Learning, in theory, is okay but when you go on rooftops in summer and understand the module, your understanding will be different. Students will gain a skill. Now we are working on the performance analysis of the solar panels," Mahapatra explained.
Students of the Department of Green Energy and Technology at Puducherry University are also given hands-on learning experiences on their campus solar rooftop grid.
Also Read|Rage On Campus: Why ragging persists in medical and dental colleges in India
Water self-reliance
Meanwhile, BHU's been innovating methods to make the campus self-reliant for its water needs. Rajiv Gandhi South Campus of BHU is located near Mirzapur, one of the seven most drought-prone areas of Uttar Pradesh. Operating a full-fledged university campus with thousands of resident students and staff, agricultural farms, veterinary education, and research set up, at such a location presents its own unique challenges.
In response, BHU's south campus developed its own water management and supply system. It consists of nine check dams, two runoff water collection ponds, and three wells on the campus to store rainwater. Each of the check dams can hold water up to two lakh litres. It also constructed rainwater harvesting structures to meet the water needs of agriculture and cattle.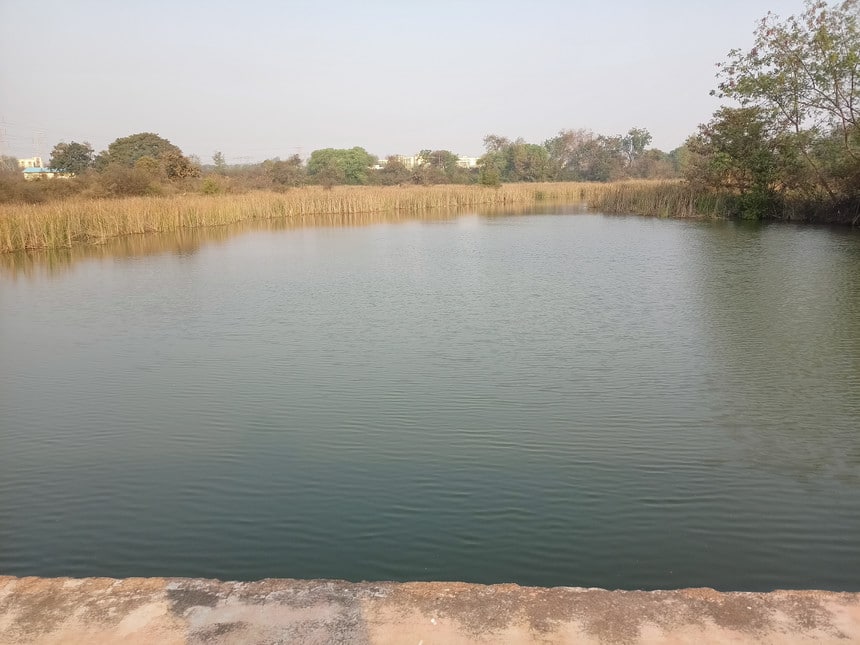 Check dam at the south campus of Banaras Hindu University
To meet the daily needs of drinking water for South Campus, surface water is pumped from the Lower Khajuri dam in Barkachha. The dam is around 2.5 km from the campus for which the university has laid a pipeline. At the dam, the university has constructed a pumping station. The water is pumped into the campus filtration unit. About 12 to 13 lakh litres of water is pumped, filtered and treated for drinking. It is stored in two collection tanks of five lakh litre capacity each.
Also Read| Explainer: How UGC's dual-degree programme will work – admissions, exams, credits
Setting an example
Tezpur University will continue to augment the capacity of its solar power plants if government policy remains favourable, said Mahapatra. They plan to generate 40 percent of the university's electricity needs from renewable energy-based systems by 2030. They also plan to ensure that 70 percent of movement within the campus is on electric vehicles or bicycles.
The successful installation and electricity generation of this power plant created interest among other academic institutions and the general public in the region.
"The society looks up to universities to set an example. We have always strived to take risks when no one does and lead the way to sustainable methods of running the campus. Inspired by the success of our solar panel project, other universities and colleges are beginning to install their own. I have been directly consulting with Assam Agricultural University for setting up the solar energy plant at their campus," said Mahapatra.
"Since universities like us have a large infrastructure, we can be the best agents of change when it comes to environmental awareness. We are setting up an example for others to be able to emulate at a smaller level. Traditional energy sources are not only costly but will be exhausted sooner than one imagines," explained Murugavel. "It is time we realise the potential of renewable energy and utilise it is not just all educational institutions but even residential areas."
---
Follow us for the latest education news on colleges and universities, admission, courses, exams, schools, research, NEP and education policies and more..
To get in touch, write to us at news@careers360.com.
Know More About
NIRF Rank
104
Rating
4.0/5
Download Brochure