Delhi Govt School Admission: Concerns about access, reservation in SoSEs
Delhi Govt School Admission: Concerns about access, reservation in SoSEs
In documents shared with teachers, there is no mention of reservation for SC, ST and OBCs.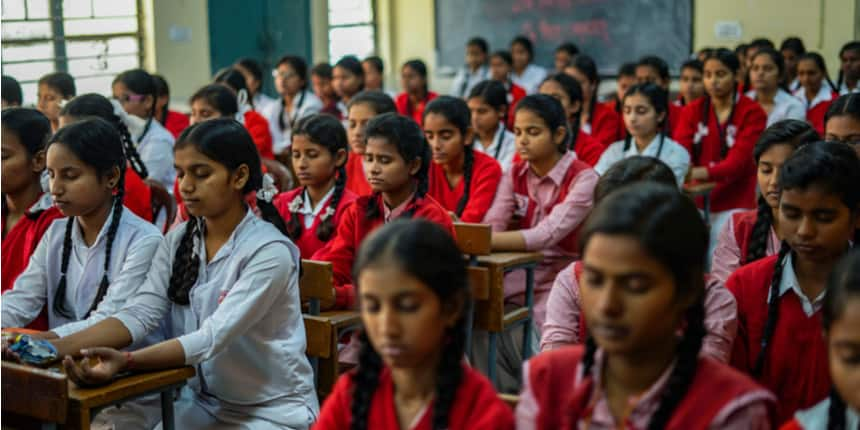 NEW DELHI: A document shared with teachers shows that Delhi Government's 20 Schools of Specialised Excellence will admit students from private schools as well and will not be restricted to just government school students the way the Rashtriya Pratibha Vikas Vidyalayas were. The RPVVs are getting converted into SoSEs.
At least one section of teachers is concerned that this initiative of the Aam Aadmi Party-led Delhi Government will see taxpayers funding the education of children from well-to-do families. The SoSE's will be affiliated to the Delhi Board of School Education which, according to documents not shared with the public, will teach the International Baccalaureate curriculum in at least three of its four types of schools -- the SoSEs for Humanities, Arts, High End 21st Century Skills.
While all public schools are required to have reservations, the SoSEs may not. In a list of answers to frequently-asked questions (FAQs), the document says "admission is open only for students who will join class 9th (and class 11th for STEM SoSE) in academic year 2021-2022" and that "the admissions process will be open to private school students".
There is no mention of reservation for any of the historically-marginalised communities -- Scheduled Castes, Scheduled Tribes or the Other Backward Classes -- in any of the documents Careers360 reviewed. The only thing the documents have to say about reservation is that there won't be any for teachers' wards.
Also Read | UGC history syllabus political, shoddy, unhistorical: JNU's Najaf Haider
The FAQs list also suggests that Delhi Government will not just convert existing government schools but also set up a separate society for them, the Delhi School of Specialised Excellence Society. Teachers will be moved from existing government schools except where there are no corresponding posts "within the system".
"Teachers from within the system may choose to apply for a teaching position at Schools of Specialised Excellence," says the FAQs list. "For certain specialised subjects such as Hindustani/Carnatic music and dance forms for which positions are not available within the system, new teachers will be recruited through the Delhi Schools of Specialised Excellence Society."
SoSE: Admission, reservation, fees
The Delhi Government has said that its new Schools of Specialised Excellence (SoSE) will be open for all students including private school students.
The FAQs list says the SoSEs will begin admission in August for 2,790 seats in total. Of these 1,920 seats will be in STEM, 450 in humanities, 300 in high-end 21st century skills and 120 in performing arts. These schools have "no need to align" with CBSE Class 10th curriculum since the schools will be under the DBSE.
Also Read | Will Odisha's 15% quota for government students in BTech, MBBS help?

Admission to SoSE will happen through an "assessment of aptitude and interest through a test and an interface where necessary". The government has said that "there will be no separate fee charged for students enrolled in the SoSE". The SoSEs will be English-medium only. As one teacher pointed out: "If the admission test is in English, we all know who will get into these schools".
As the latest data from the Unified District Information System for Education (UDISE+) shows, the vast majority of students in Delhi Government and local body (in the case of Delhi, the municipalities and the Delhi Cantonment Board) schools are studying in Hindi-medium whereas private schools offer English. This is how students are distributed by medium-of-instruction across the two largest categories of schools that teach most children in Delhi.
| | | | |
| --- | --- | --- | --- |
| School Management | Medium of Instruction | Number of Schools | Number of Students |
| Department of Education | Hindi | 995 | 10,10,747 |
| Local Body | Hindi | 1,611 | 5,76,523 |
| Department of Education | English | 888 | 4,71,865 |
| Local Body | English | 621 | 1,07,097 |
| Private Unaided (Recognised) | English | 2,558 | 16,85,664 |
Since the admissions are open to all, and the reservation policy is yet to be made clear, teachers have raised concerns that tax-payers' money will go into subsidizing education for private-school students. "The middle classes will get into these schools and their education will be paid for by the government while the poorest children in the ordinary government schools will lose teachers," said a teacher asking not to be named. "It will be interesting to see who finally gets admitted to SoSEs, especially for STEM courses. How many from government and government-aided schools and how many from private?"
In the ordinary government schools, there is already a shortage of teachers who can teach in English. "In my school, not even a single teacher is available to teach social science in English-medium. Department says one section should be fully English-medium but I don't want to sacrifice subject knowledge for the sake of medium," said a senior teacher in a government school in Delhi.
DBSE, IB: Costs involved
According to a document circulated by the Directorate of Education among teachers of the SoSEs and the 10 Sarvodaya Vidyalayas that are meant to introduce the IB curriculum, the DBSE will partner with the IB Board, "renowned for progressive assessments strategy, for enhancement of systemic capacity for assessment reform", for a holistic framework of assessment.
The IB curriculum, associated mainly with high-end private schools in India, will be provided at a discounted price to the Delhi Government. The Delhi Government has selected 20 schools for the pilot project of introducing IB curriculum.
To get an IB board certification, an SoSE school has to pay Rs 10.05 lakh for introducing its Diploma Programme, Rs 13.62 lakh will be spent on mandatory workshops for meeting authorisation requirements and an additional Rs 7.41 lakh of annual fees, after discounts. This amounts to more than Rs 31 lakh per school.
Delhi Government has proposed 20 such schools, bringing the initial cost of investment to more than Rs 6.2 crores. It is unclear whether the schools will provide multiple IB programmes which require additional payments. In March, Delhi's chief minister Arvind Kejriwal had said all public and private schools in Delhi will eventually be brought under the Delhi Board over the next few years. Delhi has around 1,050 public schools, all currently affiliated to the Central Board of Secondary Education (CBSE).
Update: Several days after the publication of this story, the Delhi Government issued its admission notification for the SoSEs. The notification mentions reservations for SC, ST, OBCs and also that 50% of the seats in the SoSEs would be for students from existing government schools.

Write to us at news@careers360.com.