An equal treatment: A transgender doctor wants MBBS syllabus reformed
An equal treatment: A transgender doctor wants MBBS syllabus reformed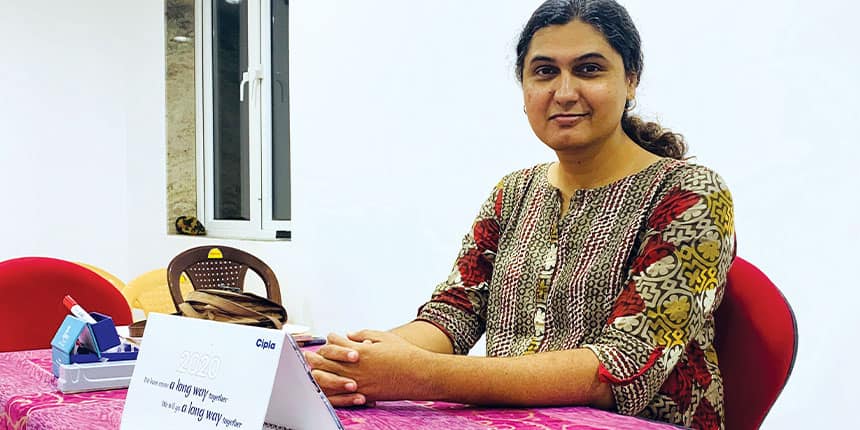 Sameera M Jahagirdar, the transgender activist fighting for the rights and inclusion of LGBTQI community, had brought about a change in the curriculum of undergraduate medical studies. In a few months, she will find an international platform for her advocacy as well. An assistant professor in the department of critical care medicine at Mahatma Gandhi Medical College and Research Institute, she is going to London, UK, for a fellowship in intensive care medicine. Speaking to Careers360, Jahagirdar lamented that any subject related to sexuality and gender variations are never taught by the teachers in medical schools, but "selectively omitted". She spoke about why that needs
to change.
Q. Please tell us about yourself and your childhood.
A. I was born in a middle-class Muslim family in Maharashtra. I grew up in Pune. I completed my schooling, secondary education and higher secondary education in Pune. From childhood, I was attracted to biology.
I had conflicts about my body, mind, sexuality and gender. I was very keen to know about it and that's why I was attracted to biology. I was around seven or eight years old when I realised that I was different. So, all that time that anger was there and all the time in my childhood, I was happy being with girls and enjoyed indoor activities more than outdoor activities. So, I used to think about myself as "okay I am like a girl only". But then, when I started growing up, I realised that no, I am a boy and that I was being culturally conditioned as a boy, I had to do this, have to be like that. I always felt that it was a kind of imposition on me.
Q. What was your experience at school?
A. Schooling was okay, but initially, it was very difficult for me in the sense that I was enrolled in a boys' school. The kids there used to bully me. They used to pinch me in my buttock and call me 'Chimni' in Marathi which means sparrow and the sparrow is usually associated with the female gender. I was also very feminine, very soft and small-built.
During adolescence, you start developing facial hair and the voice breaks. That period was quite disturbing for me. I was attracted to boys but I did not understand why.
My parents never understood why I cried so much. They would think I was tense about the exams. But they never really understood me.
I just dragged myself, telling myself I need to focus on my studies. I finally completed MBBS in 2001.
Q. What is wrong with the way the LGBTQI community is represented in the MBBS curriculum?
A. I got involved in a project started by the Solidarity and Action Against the HIV Infection in India, or SAATHII, called VISTAARA. It works in three domains - education, law and medicine. I started working as a medical expert for the medicine domain. Under this project, we took a few steps – reviewing medical textbooks which stigmatise or portrays wrong information about LGBTQI community and highlighting all such books; writing suggestions about the correct or appropriate information as per evidence-based medicine; and developing curricula that is LGBTQI-inclusive.
At present, we are in the third phase – building and disseminating the LGBTQI curricula in different streams of medicine. The first success story is from my own home university where I work, where collaborative work was done with the nursing college to have a BSc and MSc nursing curriculum on transgender health. On November 20, 2019, we had a national level training-of-trainers program on delivering the curriculum.
To bring a change in undergraduate medical curriculum, we need to deal with the big fish in the sea – the MCI (Medical Council of India). A top-down approach was the only successful way to bring a change in the medical curriculum nationally.
Q. What are the changes you tried to bring about in the curriculum? Has the MCI accepted those demands? What is the status now?
A. I started working on curriculum change at the level of my university first. I first met the nursing college principal and brainstormed about how the current nursing curriculum in the university could be made LGBTQI-inclusive.
Changing the MBBS curriculum is not that easy a task. It needs a top-down approach. So, as a first step, I discussed it with my colleagues from the Gender Care Committee, the institute's deans (both faculty and administration), two Supreme Court lawyers, a colleague from SAATHII, Dr. L Ramkrishnan, and we drafted a letter which will be submitted to the MCI Board of Directors for consideration.
The draft mentions the wrong information about the LGBTQI community in the medical curriculum, with a special mention of the changed legal scenario favouring the LGBTQI community and a request to take necessary action. Texts for forensic medicine and psychiatry, for example, contained serious errors that were against the LGBTQI community and promoted discrimination. Some of these sections could even land the MCI in legal trouble. A chapter on sexual offences mentions sodomy, lesbianism, oral sex and transvestism.
I have also started collaborative work with the allied health sciences team in my university to build a 64-hour dedicated LGBTQI inclusive curriculum. Recently, I had a talk with a team from Pallium India regarding including palliative care for LGBTQI community.
Q. What are your long-term plans, both as a doctor and an activist?
A. The medical profession and activism in LGBTQI health is a balancing act for me. I think critical care medicine is my passion and transgender health is all about my life. I think I would have a passionate life hereafter.
This decade, I dedicated my time and energy on aligning my body with my gender identity. It was a wonderful journey and at the end of this journey of gender affirmation, I'm at peace. I feel I lost quite a lot of grasp on my academics and career in critical care medicine during this period. I am fortunate that my prospective workplace in London is going to support me to fulfil my goals and I am quite excited about it.
I also aim to take the efforts I have made in building teams of multidisciplinary healthcare professionals at teaching institutions to help transgender people in their gender affirmative procedures to other South Asian countries. This can be done through the United Nations Sustainable Development Goals initiative.
I aim to take the efforts made in building a team of multidisciplinary healthcare professionals at teaching institutions helping transgender people in their gender affirmative procedures to other South Asian countries
The first success story is from my own home university where I work, where collaborative work was done with the nursing college to have a BSc and MSc nursing curriculum on transgender health.
Also Read:
Write to us at news@careers360.com
More From Pritha Roy Choudhury