Caste has 'built invisible walls' on campuses, says University of Hyderabad Students Union president
Prajwal Gaikwad, the new president of University of Hyderabad's (UoH) students' union shares his views on casteism in educational campuses and its impact on students.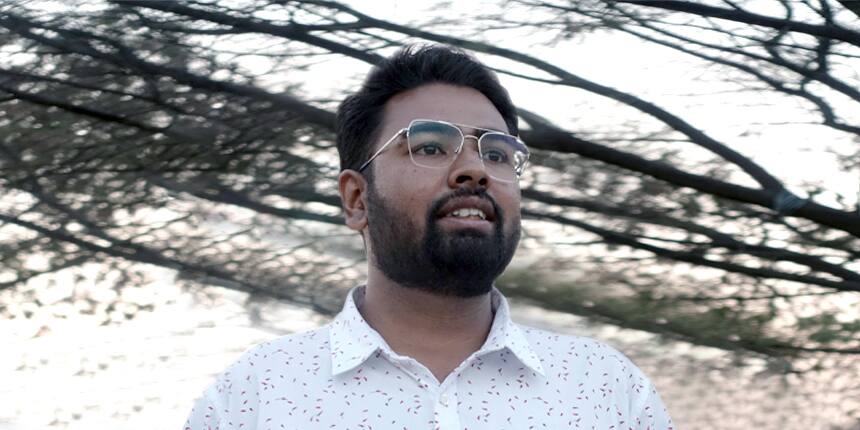 Sanjay
|
Mar 21, 2023 - 6:49 p.m. IST
NEW DELHI: Prajwal Gaikwad, a Dalit student, is the new president of University of Hyderabad's (UoH) students' union. An alliance of the Ambedkar Students' Association (ASA), Dalit Students Union (DSU), and Students Federation of India (SFI) swept the election, winning all central-panel posts. A graduate of Pune's Fergusson College, Gaikwad joined UoH in 2019 and earned an MA in history in 2021. He is now pursuing a PhD in gender studies. He spoke to Careers360 about the legacy of Rohith Vemula movement – the 2016 suicide of Vemula, a Dalit PhD student, led to massive protests against the BJP-led union government – student activism, casteism and more. Edited excerpts below.
Q. How does it feel to lead the UoH students union as a Dalit person ?
A. It is a historic moment for me as a Dalit person to lead the students union of UoH. Most of the credit goes to ASA members who have been working tirelessly to ensure that issues of people like me who hail from Dalit-bahujan community, get addressed and provide platforms to us for developing our potential.
With ASA entering its 30th year of existence, I find myself in a responsible position at a time when there is constant polarisation on caste in all the universities and colleges. I find myself burdened with carrying the legacy of ASA of empowering marginalised communities.
Q. What difficulties did you face while contesting the polls and what would be your priority areas ?
A. Of nine people in our panel of contestants, six were Dalits; one from the Other Backward Classes (OBC); one a Christian woman; and one Scheduled Tribe (ST) woman. The panel led by Dalits reflects the conviction towards social justice. ASA does not limit us to our identities and has ensured representation to build strong leaderships.
I have been working among the students since 2019. Students have seen my commitment to engage and solve issues. It was not difficult to convince students to vote for our panel.
Students belonging to SC, ST communities who have to avail fellowships face many hurdles and have to keep engaging with officials which causes harassment and trauma. My first priority will be to ensure that there is no kind of bureaucratic hurdle. We will push for a single window to solve such problems and ensure timely distribution of fellowships. We will regularly interact with university administration to resolve students' problems.
Universities are creating class-divides within the campuses by bringing private players to run canteens and charge hefty prices. So, we will not allow our university to allow private vendors to run the eateries and canteens and ensure students get food at affordable prices.
Also Read | 'Caste is a problem among South Asian students everywhere'; US universities are recognising it

Q. What inspired you to enroll in PhD in UoH and participate in politics?
A. During the Rohith Vemula movement in 2016, I was studying at a coaching institute in my hometown Nasik, Maharashtra. The coaching center was training students to crack the medical entrance exam. Due to caste-based discrimination there, I found myself lacking confidence. The movement made me realise that what I was going through was not my individual inefficiency but how the academic system is designed to ensure that Dalit-bahujan students do not enter higher academic spaces. After this realisation, I grew into a confident person with the determination to enter higher education.
I always had the ambition of joining academia and most of the credit for fulfillment of this ambition, and joining Ambedkarites students organisation, goes to that movement.
Q. Do you think casteism is rampant in academic spaces? How does it affect the academic performance of students ?
A. The basic job of academia is to contribute something new to the existing world of knowledge. It will happen through interaction and dialogue with peers and academic circles after which you develop your own perspectives and opinions. But, caste has never facilitated such dialogues. It has alway built invisible walls where our dialogue is restricted to ourselves and we don't have access to any peer and academic circles.
Often, when Dalit-bahujan students raise questions in class, professors tell them to read more and discourage them by saying "it is not a reasonable argument". This kills our confidence and we hardly get access to professors' cabins and when we do enter, we come out after facing humiliation or undermining of our capabilities.
Q. What needs to be done to eradicate casteism from academia?
A. First of all, the authorities should strengthen the redress mechanisms like Internal Complaints Committee (ICC), anti-ragging, anti-discrimination, SC-ST cells. Such bodies should have student representatives and work with full efficiency. Sensitisation on caste, gender and other issues should be conducted.
The hierarchy of merit should be eradicated on the lines of UoH which does not disclose the marks scored by candidates to clear entrance exams. It is a confidential process. Reservation policies should be strictly followed to ensure Dalit-bahujan students are not excluded.
But I do not have a lot of hope that universities will come up with any concrete mechanism to tackle discrimination. Rather, I will call upon dalit bahujan students to organise within campuses and help each other.
Also Read | 'Was it expecting casteist slurs?' Suicide report exposes IIT Bombay's 'apathy': Activists
Q. What are your views on the Common University Entrance Test (CUET) as a way of entering higher education ?
A. Our main agenda is to resist the implementation of CUET and National Education Policy (NEP) 2020 in our university. We could not restrict the university from taking bachelors, masters course admissions through CUET but we have ensured that PhD entrances are not given to central agencies.
CUET has doubled the burden on students as they have to pay fees for CUET and for counselling at individual universities. Many students are still unaware of guidelines. Many seats of several courses are vacant.
The CUET is designed on the basis of north-Indian curriculum and students from South India are finding it difficult. If there is no central curriculum for primary and secondary education, it is completely baseless to have a centralised test.
Q. What are your views on students suicide in educational campuses and Chief Justice of India (CJI) DY Chandrachud's appeal to educational institutions to put an end to "discrimination and nurture empathy" on campus?
A. The Rohith Vemula movement showed how discrimination is institutionalised in academic spaces. I don't have any hope from institutions when it comes to student suicides. Even though the University of Hyderabad has moved a little bit in terms of its interaction with the Dalit-bahujan students, it is not because of empathy but due to the student movements under ASA and other progressive organisations.
Building institutions of empathy is far away while the top positions in academia are still assigned to upper caste persons. Empathy can be developed only when Dalit-bahujan people get top positions like vice chancellor, deans etc.
Also Read | New framework to address mental health, discrimination in universities; Education minister holds meeting
Q. If voted to power in 2024, Congress party has promised to bring in a special legislation called the "Rohith Vemula Act" to redress the discrimination faced by students from SC, ST, OBC and minority communities in educational institutions. How do you see this ?
A. One of the prime demands of the Rohith Vemula movement is implementation of Rohith Vemula Act. ASA and other Ambedkarite students unions across the country have been demanding it. If Congress comes to power in 2024 and implements it, we will be more than happy to see that. Each and every word of the Act should be implemented in the way we drafted it and not with the convenience of appease the majority caste masses. We will celebrate that.
---
Follow us for the latest education news on colleges and universities, admission, courses, exams, schools, research, NEP and education policies and more..
To get in touch, write to us at news@careers360.com.
Know More About
NIRF Rank
10
Rating
4.4/5
Download Brochure