'We are living as tenants': Fee hike at IITs impact students
IIT Bombay administration has rolled back the fee hike partially but the problem stretches beyond the campus.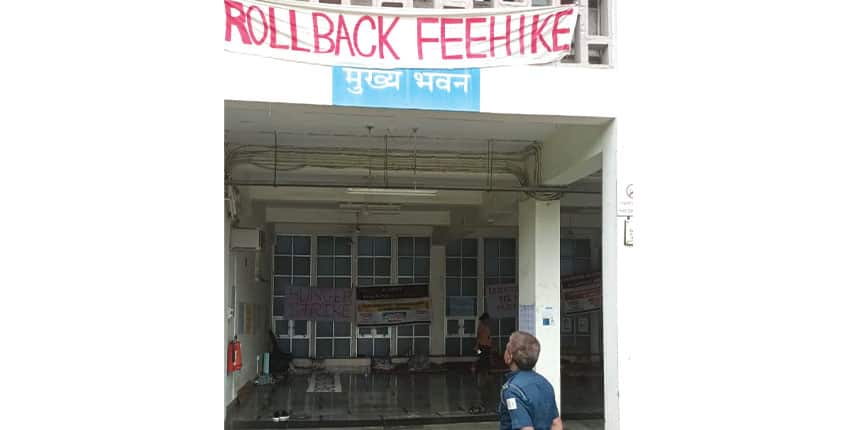 NEW DELHI: On July 19, a group of PhD students gathered near the main administrative block of Indian Institute of Technology (IIT) Bombay to protest against fee hike. For postgraduate and research programmes, the per semester fee for 2022-23 had risen sharply – anywhere from 53% to 170%, depending on the category.
"All we are asking is why the institution is pressuring students to bear the burden of the withdrawal of subsidy, leading to round 50% fee hike for masters and PhD scholars," said a PhD scholar and a member of the students' collective, Ambedkar Periyar Phule Study Circle (APPSC) IITB, asking not to be named. During the open house, it was informed that IIT Bombay was granted a loan of Rs. 1,000 crore by the Higher Education Finance Agency (HEFA). Students had sought details on how much IIT Bombay is yet to repay.
In 2017, the education ministry and Canara Bank set up HEFA, a non-banking finance company to radically change how higher education institutions finance their expansion. Capital grants from the budget were replaced by infrastructure loans from HEFA; unlike grants, the principal amounts have to be repaid from the institution's own income. Since public educational institutions are not profit-making companies, the HEFA loans have stretched their finances, even those of the IITs.
While IIT Bombay saw the maximum turmoil over fee-hike, including a hunger-strike, the issue isn't limited to a single institution. Students from across the old and new IITs – Delhi, Guwahati, Mandi, Gandhinagar – have reported fee hikes in the 20%-50% range for new entrants and enrolled students from this year.
A PhD student from IIT Delhi wondered how he is expected to manage with the hike. "We receive Rs. 35,000 as the fellowship which has not been hiked for four years. It was last increased in 2018. But the hostel, mess and all other fees are continuously increasing," he added. The fee-hike has been especially harsh on students from the historically marginalised Scheduled Castes and Tribes (SC, ST).
Also Read | Medicine In IITs: A future in MedTech
Fee-hike across IITs
At IIT Bombay, the semester fee has risen by 170.79% in 2022-23 for newly-admitted postgraduate students in unreserved seats and those from Other Backward Classes (OBC). The tuition fee alone has been increased by 500%. For SC, ST students the increase is of 53.21%. General and OBC PhD scholars see an increase of 60.30%; ST and SC scholars, 53.21%, data shared by APPSC IIT Bombay shows. The fees include different components like tuition, examination, gymkhana, medical, hostel rent, electricity, hostel establishment charges, hostel amenities fund, and others.
For general and OBC students already enrolled in master's programmes, the hike is of 39.21%; 53.21% for SC, ST. For PhD scholars, the increases are 45.15% (general, OBC) and 53.21% (SC, ST).
Similarly, in IIT Delhi, students entering M.Tech or MRes programmes after qualifying the national-level Graduate Aptitude Test in Engineering (GATE) in August 2022 had to pay Rs. 45,850, an increase of 86%; and students not holding any teaching assistantship or GATE have to pay Rs.1,06,600, an increase of 98%. Full-time and part-time PhD scholars are seeing increases of 56% and 131% respectively.
"The fees for new hostels have been hiked by 300% giving extra facilities like air conditioners. Now they are charging extra Rs. 20,000 in the name of convenience fees for AC maintenance, electricity, and the mess charges for these new hostels have also increased by 18%, per semester," said a third-year PhD student at IIT Delhi.
On the other hand, at IIT Mandi, the fee hike is around 15%-20% for on-roll students and 50%, for new admissions, said a PhD scholar from IIT Mandi. IIT Gandhinagar and IIT Guwahati, also have been witnessing a constant increase in fees practically annually for all postgraduate programmes.
None of the IIT directors –IIT Delhi, IIT Guwahati, IIT Mandi, IIT Gandhinagar – responded to questions on the fee-hikes sent on email.
Also Read | Education ministry sets up committee to form NAC, replacing NAAC, NBA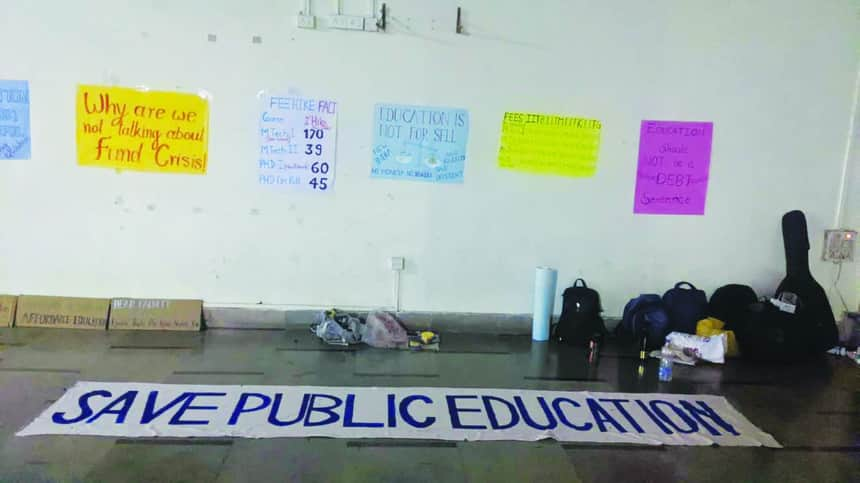 IIT Fee Hike: Students made posters at protest site at IIT Bombay
HEFA loans, subsidy
IIT Bombay held an open house to discuss the hikes with students. A presentation made there by the administration said the last fee revision was implemented from autumn 2017-18, that the institute's board of governors had suggested a yearly increase based on the increase in costs and that IITB "needs to increase its capital funding capacity and funding to academic units". Plus, IIT Bombay had to repay its HEFA loan – the Rs. 1,000 crore it has borrowed will go into building hostels, student activity and academic buildings – from its own revenues. This amounts to paying Rs. 100 crore every year.
An official statement from IIT Bombay on August 7 stated: "The bulk of IIT Bombay's funding comes from the government, with fees being only 8 percent of our revenue. While tuition fees can never cover our overall costs, it is the expectation that the hostel related fees will at least be comparable to the hostel related expenses incurred." It also added that the loan has to be repaid in 10 instalments with interest paid by the ministry of education.
The PhD student from IIT Delhi said that they were informed about hostel and mess costs going up in January. "The administration informed us it can only give 10% subsidy, not 30%, and students have to bear the increased amount on hostel and mess fees," they claimed adding that a few months later, in June, they were told that hostel and food would not be subsidised at all.
"So, now we should get a house rent allowance. It's just like we are living as tenants," said a PhD student.
"The administration across all IITs are saying that during the Covid period they had not increased the fees, hence they are hiking now," said Arghya Das, general secretary of the Kolkata-based Democratic Research Scholars Organisation. Inflation is the second reason being cited.
In the Union Budget 2022, the outlay for IITs rose by Rs. 609 crore. Das, however, argued that the "revised allocation is much less". Also, the budget will cover development in all the new IITs. The fee-hikes are a signal of the government's withdrawal from education and its pushing institutions to "find their own way", he said.
Also Read | 'Legitimise superstitions': What Ayurveda courses teach and why there's demand for change
Paying researchers
Protesting scholars say that the government was supposed to increase fellowship every year but it is increasing the fees instead. "Considering the current fee structure, whatever they are receiving as honorariums, the institutes and the government are taking back," said an IIT Bombay researcher.
The fee-hike has also generated debate on whether researchers should be charged fees at all, considering they work on knowledge generation.
"PhD scholars are working on research, why are they charged such high fees?" asked another.
A second-year PhD student from IIT Delhi argued, "You cannot take fees from the scholars on the pretext that you are paying them the fellowship. You are creating a human resource which is working towards the betterment of society."
"The system is moving towards asking the PhD scholars to first receive the money for work and later pay it as fees. It's bogus logic," added a third-year research scholar at IIT Bombay. "The fee component has to be coming from the government because we are the knowledge producers. And fees have to be minimum in public-funded institutions like IITs."
IIT Bombay reduced the semester mess advance (SMA) by Rs. 1,800 for PG and Rs. 1,500 for UG students. According to IIT Bombay Students Against Fee Hike, the group which is leading the protest, said, "This reduction is merely a correction of the wrongful and unnecessary double collection decision." In another concession, the institute included four members from the elected student body as permanent invitees to the fee committee.
On August 12, according to a release from IIT Bombay Students Against Fee Hike, the hunger strike, which started from August 6, was suspended on the grounds of partial roll back of fee hike and assurance from officials of IIT Bombay administration that they would consider students demands in the upcoming days. However, on August 19, after the Board of Governors meeting, an email was sent to all the students regarding the fees. The email said, "Based on the approval of the competent authority, the fees for UG/PG/PhD (on-roll/new entrants) have been revised and will be implemented soon." It also informed students that excess academic fees paid by students for the semester will be reimbursed sometime in "due course of time".
Also Read | Centre plans to roll out 'National Credit Framework' from Class 5 to PhD
'Othering' students
The fee-hike will be especially rough on students from SC and ST communities for whom the fees and campus environment were already a burden. Though teachers are supporting some students by partly paying their fees, it's not a long-term solution, said a second-year Adivasi PhD scholar at IIT Mandi.
Another tribal student, pursuing a master's at IIT Guwahati, was planning to leave the institute recently but received some funds from a non-governmental organisation. "I was not able to pay the high fees and was planning to leave but now an NGO is helping me with the fees. When I approached my department professors and the head of the department, no one supported me. Our semester fee has been increased by 25%," they said.
A student present at IIT Bombay's open house said that at least five Dalit and Adivasi participants had told him that they are always overwhelmed at the institute. "We are constantly made to feel that we don't deserve to be here and the fees issue has made things worse for us to survive on the campus," one said at the open house.
Also Read | The New BSc: How universities are redefining the basic science degree
"Students who have economic difficulties…will be provided with a way to request and get a deferral of fees," said IIT Bombay in its statement. "IIT will work on scholarships for Masters …students with financial difficulties, along the lines of scholarships for UG students."
---
Follow us for the latest education news on colleges and universities, admission, courses, exams, schools, research, NEP and education policies and more..
To get in touch, write to us at news@careers360.com.
Know More About
NIRF Rank
3
Rating
4.7/5
Download Brochure