Hostels 'unfit', JNV Faizabad halves Class 6 intake, packs 150 students in hall
Hostels 'unfit', JNV Faizabad halves Class 6 intake, packs 150 students in hall
JNV Faizabad, Ayodhya: The Navodaya Vidyalaya's crumbling infrastructure has reduced quality, educational opportunities of marginalised students.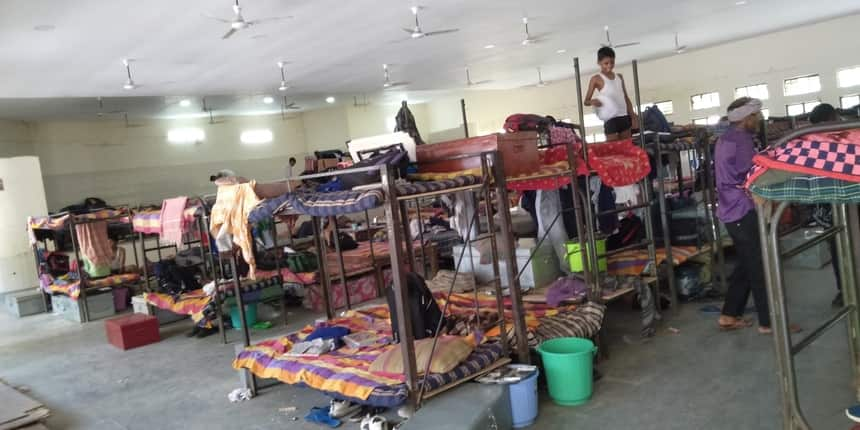 Sanjay
|
Aug 24, 2022 - 11:18 a.m. IST
AYODHYA: Around 150 students of Jawahar Navodaya Vidyalaya (JNV) Ayodhya, Uttar Pradesh, are staying inside a hall after two junior boys' hostels of the school were declared unfit for habitation in 2019.
Not meant for use as student accommodation, the daily lives and education of Classes 7, 8 and 9 have been hopelessly disrupted by the constant noise. The shortage of student residences has also led to the school, affiliated to the Central Board of Secondary Education (CBSE), halving its intake in Class 6 to 40 students in 2022-23.
The JNVs are residential schools run by the central government that provide free education to children from rural areas from Classes 6 to 12. The dismal state of JNV Faizabad also known as JNV Ayodhya has reduced quality and educational opportunities for marginalised students from the district. The new batch of Class 6 students is yet to come to school.
Rohit Jaiswal, an alumnus of JNV Faizabad has also launched an online petition addressed to the education minister Dharmendra Pradhan and Navodaya Vidyalaya Samiti (NVS), the autonomous organisation under education ministry which runs the Navodaya Vidyalayas. Pradhan is also chairman of NVS. In his petition, Jaiswal said that the accommodation crisis at JNV Ayodhya has taken a frightening form and the institute has been "orphaned." "The accommodation crisis has forced many students to stay out of campus," he alleged.
Krishna Kumar Mishra, principal, said that the process to solve the accomodation problem has started and results will soon be visible to all. He also said that the 50 percent reduction in students' intake is for this year only.
JNV: 'Studies affected'
In 2019, two of the school's junior boys' hostels were declared unfit and unsafe by Harcourt Butler Technical University (HBTU), Kanpur and the civil engineering department of Dr Ram Manohar Lohia Avadh University. Over two-and-a-half years later, these hostels are yet to be demolished and new ones built at JNV Ayodhya, set at Dabhasemar, around 8 km from the district headquarters on the Faizabad-Sultanpur highway.
Also Read | What is a course credit system and how are credits earned, transferred? A beginner's guide
"We returned to campus on July 21. Class 6 students are yet to come here. Our studies have been affected due to constant noise in the hall where we are living currently. They have accommodated too many students in one hall," a Class 8 student told Careers360. He completed Classes 6 and 7 at home as schools were closed due to Covid-19 pandemic. "School administration has not informed us when they will relocate us to our hostels," he added.
The co-educational school has 470 students – 400 boys and 170 girls. But accommodation is available for only 335 – 149 boys and 186 girls. Now, 151 double-tier bunk-beds for boys will be made through construction agencies already working in the school and 16 beds for girls will be removed, according to a document of NVS which is headquartered in Noida, Uttar Pradesh.
"I returned to campus on November 11, 2021 when I was in Class 8. Earlier, students of Classes 8 to 12 were living in the hall. Now students of Classes 7, 8 and 9 are in the hall. Classes 10, 11 and 12 are in senior boys' hostels. We are hoping we will be shifted to our hostel soon," said a Class 9 student.
Also Read | 'We are living as tenants': Fee hike at IITs impact students
The senior boys' hostels are also dilapidated. "During the rains, balconies get waterlogged. Heavy rainfall also leads the roofs to leak sometimes," said a Class 12 student.
'Students drop out'
JNV Faizabad sits on 17.22 acres. According to its alumni association, the school was built in 1986-87 by incorporating three buildings for hostels which were built in 1950-60s for some other purpose. Now, these buildings are too old and unsafe.
In a letter to the NVS chairman and education minister, Arvind Kumar, a member of JNV Faizabad alumni association, alleged that the accommodation crisis has forced some students to drop out from school. However, principal Mishra has countered the allegations.
The letter dated August 2, 2022 requested the minister to "urgently sanction funds for building of a at least 400-seater hostel in the school premise of JNV, Ayodhya, Uttar Pradesh."
"It would be appreciable if construction of a single multi-story hostel building would be approved, equipped with modern facilities considering future needs," says the letter.
Also Read | UP Schools: Basic technology labs are bringing dropouts, child labourers back to class

Jaiswal, who drafted the online petition, did so on behalf of the alumni association.
"The construction work of new hostels is yet to be started. Due to lack of accommodation, the number of new admissions have dropped to 40. In the next academic session, they will stop taking new admissions saying that there is no hostel to accomodate students," he said. "Buildings of senior boys hostels are also in bad shape and risk the safety of students residing there. Now the students are back in the campus and residing in a hall which will affect their studies."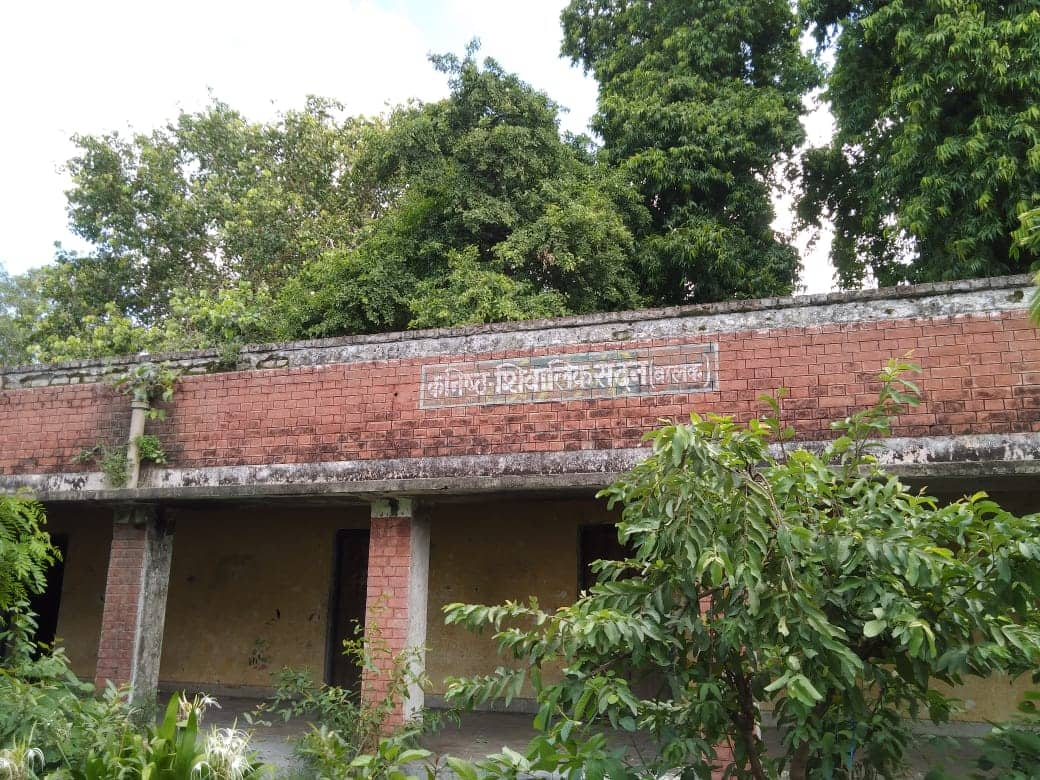 Junior boys hostel of JNV Faizabad which has been declared unfit.
Jaiswal said that the alumni association has written to Lok Sabha MP from Faizabad, Lallu Singh, NVS and Pradhan. "The education ministry acknowledged our letter but did not provide any details on when the problems will be resolved. Singh said he will apprise the central government about the accommodation issue," he said.
'Work in Progress'
Students are admitted in Class 6 through a national test, Jawahar Navodaya Vidyalaya Selection Test (JNVST), conducted by CBSE. There is also lateral entry in Classes 9 and 11 against vacant seats, if any.
"Fostering in [students] a positive attitude towards community living" through hostels is among the objectives of NVS. JNV Faizabad is under the jurisdiction of NVS Lucknow, one of eight regional offices.
Also Read | Over 15,000 teaching posts vacant in KV Sangathan, NVS: Education Ministry
At least 75% of the seats in a district are filled by candidates selected from rural areas. A total of 2,98,401 students, including 42,804 in Lucknow region, were on the rolls of the 649 Navodaya Vidyalayas at the end of academic session 2021-22.
"The reduction in intake due to this hostel crisis has reduced educational opportunities for marginalised students of Ayodhya district. We strongly disapprove and also would request for reversal immediately," said Jaiswal.
On August 17, NVS wrote to all regional offices pressing for prioritisation of maintenance works. "Even after completion of comprehensive special M and R [maintenance and refurbishment], JNVs continue to experience…problems pertaining to safety of building, leakage, seepage etc. which adversely affect smooth function of schools and sometimes even raise concern of safety and security of students/staff of JNVs," the letter stated.
On August 18, NVS again wrote to regional offices regarding shortage of accommodation. It said that it received and compiled data from all regions to finalise the necessary action to be initiated. "Necessary immediate instructions will be issued by regional offices to the principals of concerned JNVs to take necessary action on priority in order to mitigate the problem of shortage of accommodation and complete the work in time bound manner and submit completion report to NVS headquarters by September 30, 2022," the letter reads. According to the letter, TCIL, a subsidiary of Tata Steel Ltd, has made 65 percent physical progress in work in JNV Faizabad.
Also Read | Gurugram schools deny admission without transfer certificates; parents harassed
Mishra, principal of JNV Faizabad said TCIL will start the repair work on a double-storey building on campus and students will be moved there.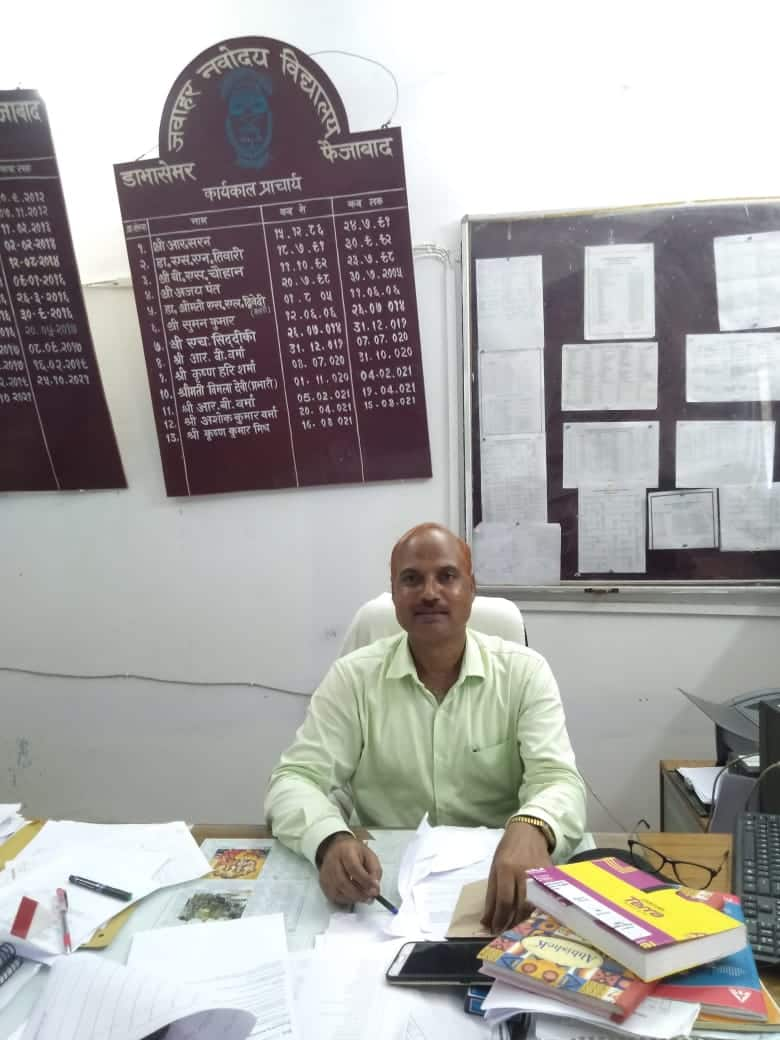 Krishna Kumar Mishra, principal of JNV Faizabad
"TCIL is engaged in repair work in different buildings of the school. We have a double-storey building and repair work will start there from September 1. We have received the letter from regional office Lucknow that it will be completed by June 2023," he said. "Now, the work on hostel accommodation has started and we will get 40 beds within a week. We have a 40-beds dormitory in good condition and we will convert it into two-tier accomodation to shift students there."
The reduction in intake is for this year only. "We will admit 80 students next year," he said.
(All images by Sanjay)
---
Follow us for the latest education news on colleges and universities, admission, courses, exams, schools, research, NEP and education policies and more..
To get in touch, write to us at news@careers360.com.