NEET 2021, JEE Main: Preparing online, mailed tests, flagging interest
NEET 2021, JEE Main: Preparing online, mailed tests, flagging interest
NEET, JEE Main 2021: The COVID-19 pandemic has disrupted the routines and processes lakhs of students count on as they prepare.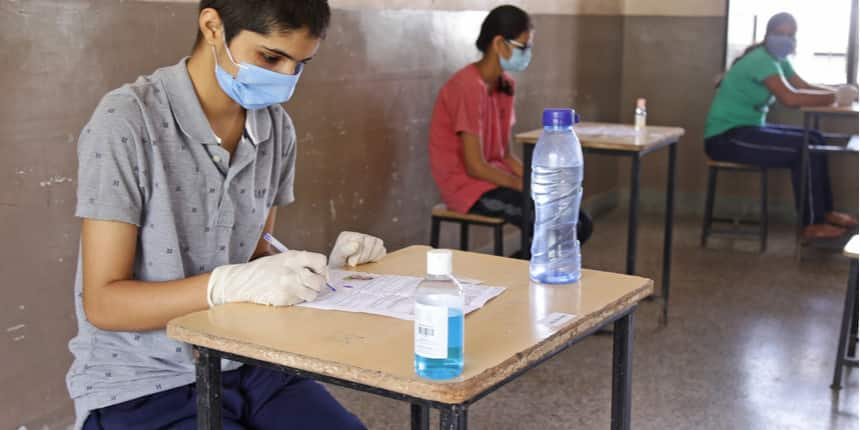 NEW DELHI: Preparation for the intensely competitive entrance exams for engineering and medicine -- JEE Main and NEET -- requires discipline, routine and focus. The COVID-19 pandemic and the lockdowns have wreaked havoc on all, as M Umashankar has found.
"Students have lost interest because of the prolonged wait and especially because of the nuisance created during the second wave of COVID-19", says M Umasankar, national IIT coordinator for Sri Chaitanya, a coaching firm that prepares students for the Joint Entrance Examination (Main) for admission to engineering programmes (BTech, BE), and JEE Advanced for admission to the premier Indian Institutes of Technology (IIT). Sri Chaitanya is headquartered in Hyderabad, Telangana.
"If we look at aspirants enrolled for JEE Main and Advanced, 90 percent are just wasting their time", he said. For those appearing for the National Eligibility cum Entrance Test (NEET UG 2021) for admission to MBBS and allied programmes, the number affected by the situation is smaller as this exam is held just once in a year. "They are not putting in serious efforts. It is because of the delay in the announcement of the exams", said Umasankar.
The experience varies across coaching centres, of course. Tutors at FIITJEE, which coaches candidates for JEE Main and JEE Advanced, say that dedicated students keen on studying engineering are still preparing sincerely but anxiously because new dates for these mega entrance tests have not been announced yet.
Conducted by the National Testing Agency (NTA), JEE Main 2021 was set to be held in four sessions. The first two were held in February and March. But the April and May sessions were postponed due to the sharp increase in COVID-19 cases during the second wave of the pandemic. No new JEE Main exam dates have yet been announced. The NEET 2021 exam date is officially still August 1 but there are several reports that the Union government is considering postponement. Plus, despite announcing on the NEET official website - https://ntaneet.nic.in/ - that the NTA NEET 2021 registration would begin soon, neither the NEET 2021 application form nor the date by which it would be release has followed.
JEE Main 2021: Coaching online
Unlike last year, when the announcement of lockdown was sudden and left thousands of students preparing in various cities stranded, coaching institutes were better prepared this year. FIITJEE has been conducting classes through Zoom, a video-conferencing application.
"Our online classes are as good as offline ones because we were conducting live online classes in short batches also. We don't have a large number of students in a batch," said Ramesh Batlish, expert, FIITJEE. The size of each batch in a session has been kept small to allow for maximum attention in an online class. Every student enrolled gets a tab.
Initially, students faced problems with internet connectivity. While that has improved over the months, students still facing problems can connect via the messaging app, WhatsApp. "Recorded videos of online classes conducted are WhatsApped to the students," said Batlish.
Meanwhile, the Class 12 board exams, that generally impose discipline and routine, have also been cancelled. Students' marks will now be based on various combinations of marks obtained in Classes 10, 11 and 12, depending on the board.
Despite these disruptions, Batlish said their students are "motivated" and should the exams be announced for Sunday, they would be prepared. The JEE Main official website, however, has "to be decided" in all columns for the exam.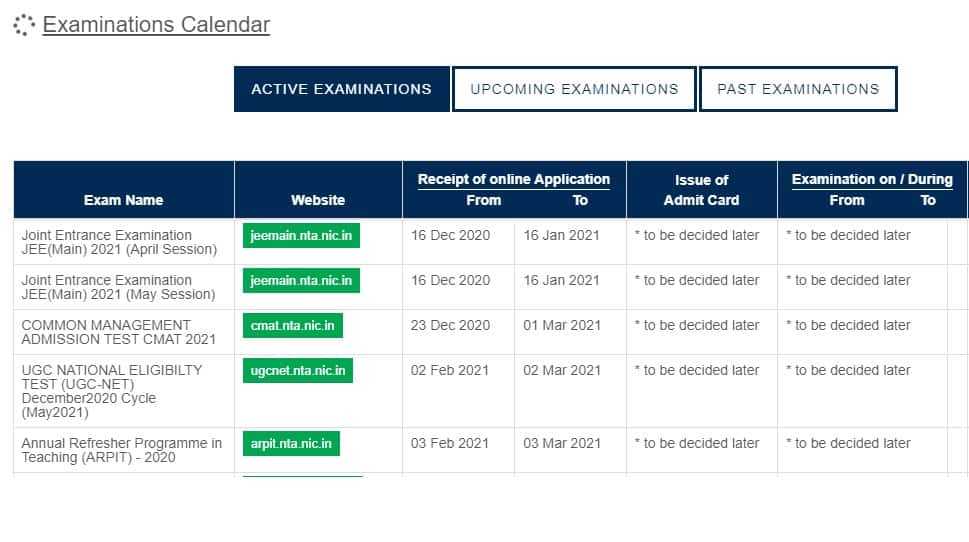 NTA official website has no new dates for JEE Main 2021 or NEET UG 2021
NEET UG 2021: Pen and paper
The situation with NEET is somewhat different -- despite demands for more attempts, NEET UG will be held just once in 2021.
Aakash Educational Services which coaches candidates for this test too shifted to online mode after the restrictions on movement and gathering continued. However, NEET itself is a pen-and-paper test, not a computer-based one like JEE Main.
Since test-prep services attempt to simulate the conditions of the exams as closely as they can, Aakash has been mailing hard copies of practice tests to the residential addresses of enrolled students to keep them updated and motivated. However, not all students enrolled with Aakash are on the maps of courier services.
"Real simulation will not be there with online mode. At least they are getting a good amount of practice and analytical reports", said Anurag Tiwari,national academic director for Aakash. "We are still offering classes online but will switch as soon as things normalize and when we get the go-ahead from the government."
Aakash conducts online classes on Microsoft Teams and students writing tests online as well.
Distress calls and motivation
Fielding anxious questions from parents and boosting the flagging interest and spirits of students have been a bigger part of the coaching industry's job.
"We are getting distress calls from parents and students regularly", said Tiwari. "They cannot force the students to study because of the uncertainty."
Batlish says FIITJEE was prepared for a situation like this as they had started offering online classes from 2018 when computer-based tests were introduced. He says serious students are prepared and ready for the exam even if the dates are announced at short notice.
Write to us at news@careers360.com.
Know More About

Download Exam Brochure