'Tech, analytics occupy one-third of management studies': NMIMS dean
NMIMS Mumbai dean speaks about keeping the management curriculum relevant and the increasing importance of tech and analytics courses in MBA.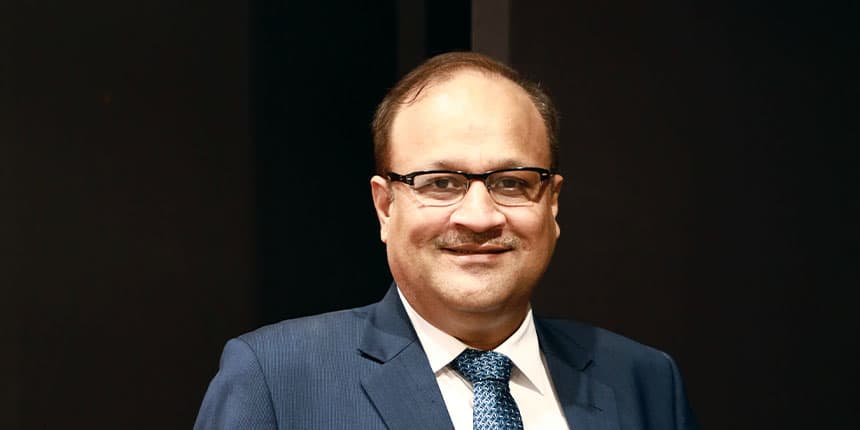 NEW DELHI: The Narsee Monjee Institute of Management Studies (NMIMS), Mumbai is planning to "deepen international collaborations" with US and UK-based universities while maintaining quality education at home. Taking charge as dean, School of Business Management (SBM) last year, Prashant Mishra's been trying to keep the business management curriculum relevant to meet industry requirements. He spoke to Careers360 about policy decisions, rankings, updating course content and how it affects management studies.
Q. We are witnessing rapid changes in businesses around the world with new, unprecedented problems. How must the business management curriculum evolve to keep pace?
A. In the last five-10 years, most significant changes have been driven by emerging technologies such as IoT, AI and machine learning etc. While the analytical mindset was always a critical component of the management curriculum, technology-driven analytics and business transformation models, and digital-driven process transformations are now progressively becoming an integral part of the curriculum.
Earlier, the tech and analytics-based courses were probably 15-20% of the total content. Today, they progressively occupy one-third of the space in management studies. Big data, machine learning, artificial intelligence and their applications for business, digital tools – these trends have an impact on not only business models but also interpersonal, communication and leadership skills. Today you are dealing with employees who are much more digitally evolved compared to earlier generations. The notion of work itself is changing. There are start-ups operating out of shared workspaces. Different kinds of models require different kinds of governance and reward systems. These trends require that the curriculum constantly evolves.
We have a three-stage process for updating the curriculum. First, teachers have been mandated to review and update their course content by at least 15-20% percent every year depending on developments in the domain, especially if these are applied in nature. This is for every academic area, like marketing or finance. Each area's board of studies – comprising senior industry leaders, external academic experts and our own professors – meets twice a year to review the content.
Secondly, we conduct a recruiters' survey to get a general idea about the skills, competencies that are critical to them and we check if our curriculum is aligned with those trends. After that, based on the need, every two to three years, we do a comprehensive curriculum review (CCR). It looks at the complete curriculum in an integrated fashion including all aspects and the interrelationships between them in a larger structure.
Also Read| How 'professors of practice' helped shape management education
Q What dual degree programmes does NMIMS offer in management? What is the current status?
A. For MBA we do not have a dual degree programme right now. Till last year, we were running a programme with Purdue University, Indiana, USA. Our MBA in decision science and analytics students studied in Purdue for a year and obtained their MS business analytics degree as well. That programme is currently undergoing a revision. We want to run a programme that is not only sustainable but also beneficial for students and so, some academic design-related issues like credit equivalence have to be re-worked.
The academic structure varies so much from country to country. The US pricing model is different from what we follow. Our credit requirements are always on the higher side which does not really match with US credit requirements for a degree. They [US] also have one-year master's degrees while we do not have it. With new enabling policies under NEP [National Education Policy 2020] like Academic Bank of Credits and feedback that we have received, we are trying to work out a better programme.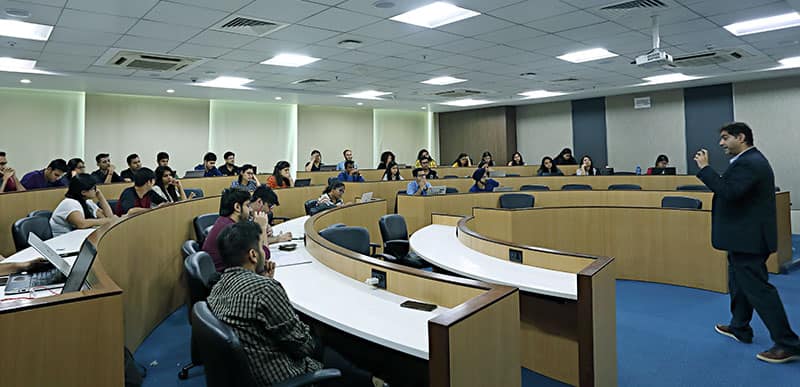 NMIMS bagged the 25th rank in NIRF MBA 2022 ranking (Photo: SBM, NMIMS website)
Q. NMIMS has dropped from the 22nd to 25th place in the NIRF ranking. Why did this happen and what are the plans to improve?
A. If you look at the NIRF components that are objective and where the institute could have taken some tangible action, we have improved significantly in the last three years. If you look at teaching, learning, infrastructure and graduate outcomes, we are almost in the top league. The perception component –– is where we have some improvement to make.
When it comes to NIRF, it has been a challenge to fully objectively understand how perception measurement is done. In my view, if we have a clear idea of how it is done, then one can actually figure out what actions must be taken to improve scores on that parameter. This is important because one of the reasons for institutional rankings is to help them know their relative standing and based on their strategic vision, take steps to improve quality.
Q. You have also served as dean for new initiatives and external relations at Indian Institute of Management (IIM) Calcutta. What qualities of IIM Calcutta can be implemented across B-schools in India?
A. While I believe that no two institutions can be compared, we have to learn from each other. In my experience, IIMs have a desire to push the envelope continuously on teaching and learning excellence. Also, the adaptation of newer trends in curriculum is fast-paced.
Secondly, in top schools, faculty bring their research mindset and insights into their teaching which help maintain relevance and impact on learning experience. Thirdly, every management institution wants to achieve the same reputation for employability for their students that the top B-Schools have achieved.
Also Read| IIM Calcutta's northeast entrepreneurship programme is focussing on students
Q. Does NMIMS have new projects in the pipeline? For instance, international collaborations, new courses or research.
A. In order to deepen our international collaborations, faculty and student experience, we have adopted a two-fold approach. Firstly, we are reaching out to more and more reputed universities abroad to explore potential for collaborations across our activities. Right now, we are at an advanced stage of talks with two universities–one private and a state university– in the US.
Secondly, we are also exploring possibilities with UK-based universities for collaborations in research. We are also trying to institute an initiative in collaboration with Virginia Tech University with whom our engineering school already has a strong partnership. At the university level, we are trying to institute a faculty mentorship development programme leading to higher order research output. Colleagues from US universities will mentor and facilitate our faculty in their research.
Q. A parliamentary report has suggested the education ministry does away with the 'deemed to be university' status. Does this tag affect international collaborations for an institution like NMIMS?
A. Although I am not an expert on this issue, in my opinion, this is a classification issue. In India, we have central, state, and also deemed to be universities. Then there are institutions of eminence and institutes of national importance; all of these nomenclatures are specific to the Indian academic institution milieu. Sometimes there are difficulties in understanding the nuanced differences between these institutions for people unfamiliar with the details. Whether this can be a simpler structure has been a long-standing question. On the execution front, NMIMS University has not faced any significant issue in forging partnerships internationally. At the end of the day, regulations permit deemed universities to design curriculum, offering degrees and there is graded autonomy.
In order to deepen our international collaborations, faculty and student experience, we have adopted a two-fold approach. Firstly, we are reaching out to more and more reputed universities abroad for exploring potential for collaborations across our activities.
---
Follow us for the latest education news on colleges and universities, admission, courses, exams, schools, research, NEP and education policies and more..
To get in touch, write to us at news@careers360.com.
Know More About
Rating
5.0/5
Download Brochure