14 states provide eggs as part of mid-day meal scheme: Education ministry
14 states provide eggs as part of mid-day meal scheme: Education ministry
The introduction of eggs in mid-day meal schemes has been opposed by religious and caste groups that push for vegetarian meals in several states.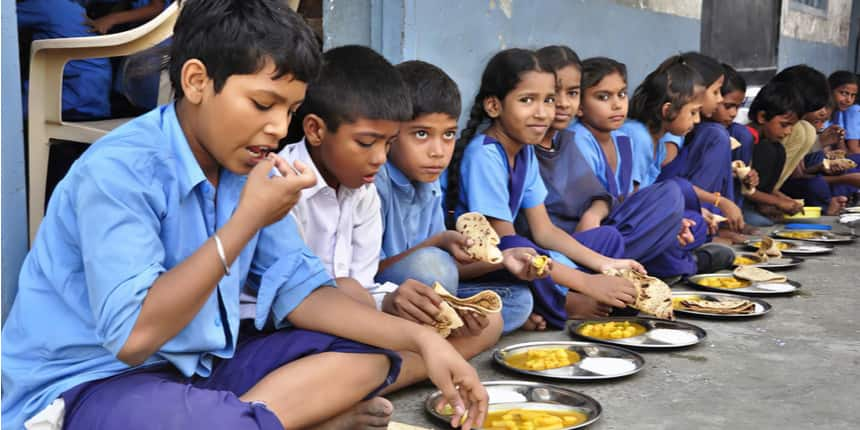 Sanjay
|
Feb 6, 2023 - 5:34 p.m. IST
NEW DELHI: Fourteen states and Union Territories (UTs) are providing eggs to school students from their own resources under the Pradhan Mantri Poshan Shakti Nirman (PM POSHAN) scheme, according to data shared by the education ministry with Lok Sabha on Monday, during the ongoing budget session of Parliament on Monday. Of the 14 states and UTs, six states are providing eggs as part of mid-day meals once in a week; four, twice a week; and two, thrice a week, Andhra Pradesh provides eggs in mid-day meals five days a week and Tamil Nadu, daily.
The PM POSHAN, earlier known as mid-day meal scheme (MDM) is a centrally-sponsored scheme, and covers about 12.21 crore children studying in Bal Vatika and Classes 1 to 8 in 10.84 lakh government and government-aided schools. Under the scheme, the one-time hot cooked meal should be of 450 calories and 12 grams of protein for primary classes (1 to 5) students and the meals should have energy of 700 calories and 20 grams for upper primary (6 to 8) classes students.
The overall responsibility for providing mid-day meals lies with the state governments and UT administrations who also bear 40% of the cost. "The States and UTs fix their menu according to their local needs, in order to meet the prescribed nutritional content. Some States and UTs provide eggs as additional items with their own resources," said education minister Dharmendra Pradhan in a written reply in response to questions by Nationalist Congress Party (NCP) MPs Amol Ramsing Kolhe and Supriya Sule.
Additional items in mid-day meals
| | | |
| --- | --- | --- |
| States/UTs | Name of food item | Days per week |
| Andhra Pradesh | Egg | 5 |
| Bihar | Egg | 1 |
| Jharkhand | Egg/seasonal fruit | 2 |
| Kerala | Boiled egg/banana | 1 |
| | | |
| Mizoram | Vegetable, fruits, eggs, milk | 1 |
| Odisha | Egg | 2 |
| Tamil Nadu | Egg/banana | Daily |
| Telangana | Egg | 3 |
| Uttarakhand | Egg / fruits /milk / gud papdi /ramdana-ke-ladu | 1 |
| West Bengal | Egg, cheese, mushroom | 1 |
| A&N Islands | egg | 3 |
| Ladakh | Egg /fruits /milk / gud papdi / ramdana-ke-ladu | 1 |
| Lakshadweep | Egg, fish, chicken, apple, mango, banana, orange, watermelon | 2 |
| Puducherry | Egg | 2 |

According to the National Family Health Survey (NFHS)-5 data (2019-21), about 27% children below five years of age are stunted and 30% underweight. More than 65% of children between six to 59 months are anemic.
Also Read | Economist urges Jharkhand minister to make egg part of midday meals every day
Noting that "Children are unable to learn optimally when they are undernourished or unwell," National Education Policy (NEP) 2020 says morning hours may be leveraged by "providing a simple but energizing breakfast in addition to midday meals." In 1982, Tamil Nadu was the first state to provide midday meals to school students and in November 2022, became the first and only state to provide breakfast to students in line with NEP 2020 recommendations.
Of the 47.97 lakh students in Karnataka government schools between Classes 1 and 8, 38.37 lakh students preferred eggs, 3.37 lakh chose bananas and 2.27 lakh preferred chikkis as of December 14, 2022, according to the data provided by the Department of Public Instruction in January 2023.
Between December 2021 and March 2022, the Karnataka government had conducted a pilot study as part of which eggs were given under the midday-meal scheme in seven districts. Despite the opposition from religious leaders , the state government went ahead with the pilot study and, on July 22, decided to extend the scheme across the state. However, Karnataka was not listed in the central government list of states providing eggs to school students. The Karnataka position paper on NEP 2020 has claimed that eggs and meat in midday meals in schools would cause "lifestyle disorders" and "hormonal imbalance."
PM POSHAN Budget
The crucial mid-day meal scheme was subsumed within PM POSHAN in 2021.
The central government had allocated Rs 10,233.75 crore for PM POSHAN in the financial year 2022-23, revising it to Rs 12,800 crore. However, the central government has released only Rs 6,789.06 crore to states and UTs so far for implementation of the scheme. This means that the central government has released just 53% of the RE with just two months (February and March) remaining for completion of FY 2022-23.
The government in the union budget 2023-24 has allocated Rs 11,600 crore for PM POSHAN, 13% higher than the budget estimates (BEs) but 9% lower than the revised estimates (REs) for FY 2022-23. The REs for the scheme in FY 2022-23 saw a 25% increase over BEs.
In response to questions regarding the budget allocated under the PM POSHAN scheme, minister of state (MoS) education Annpurna Devi said that budget allocated under the scheme for the year 2019-20 was Rs 9,912.21 crore which increased to Rs 12,900.00 crore for the year 2020-21.
Funds allocated and released by central government to states
| | | | | |
| --- | --- | --- | --- | --- |
| Year | 2019-20 | 2020-21 | 2021-22 | 2022-23 |
| Allocation (in Rs crore) | 9,912.21 | 12,900 | 10233.75 | 12,800 |
| Released Amount ( in Rs crore) | 9700.04 | 12874.01 | 10226.75 | 6,789.06* |
| Difference between allocated and released amount (in Rs crore) | 212.17 | 25.99 | -7 | 6,010.94 |
* till January 2023
In October 2022, the central government revised the material cost (earlier known as cooking cost) on the basis of the Consumer Price Index (CPI) by increasing 9.6% over and above the existing material cost in 2022. The revised material cost per day per child for Bal Vatika and Primary classes as well as Upper Primary classes are Rs. 5.45 and Rs. 8.17 as against the prior cost of Rs. 4.97 and Rs. 7.45 respectively. The material cost includes the cost of vegetables, pulses, oil, condiments and fuel.
Also Read | Goa government hikes cooking cost of school mid-day meals
"If inflation is considered, "PM POSHAN allocations in FY 2022-23 were 20% lower in real terms than the allocations made five years prior in FY 2017-18", said an analysis by the Delhi-based think-tank, Centre for Policy Research's Accountability Initiative.
Under the scheme, a honorarium of Rs 1000 per month for 10 months in a year, is provided to Cook-cum Helpers (CCHs) for preparing and serving hot cooked meals at schools.
---
Follow us for the latest education news on colleges and universities, admission, courses, exams, schools, research, NEP and education policies and more..
To get in touch, write to us at news@careers360.com.