Uttar Pradesh: Astronomy labs transform 105 Bulandshahr schools, foster 'community learning'
Uttar Pradesh: Astronomy labs transform 105 Bulandshahr schools, foster 'community learning'
Bulandshahr's 'district astronomy policy' encourages science education, innovation, peer-learning. New labs drew children to government schools.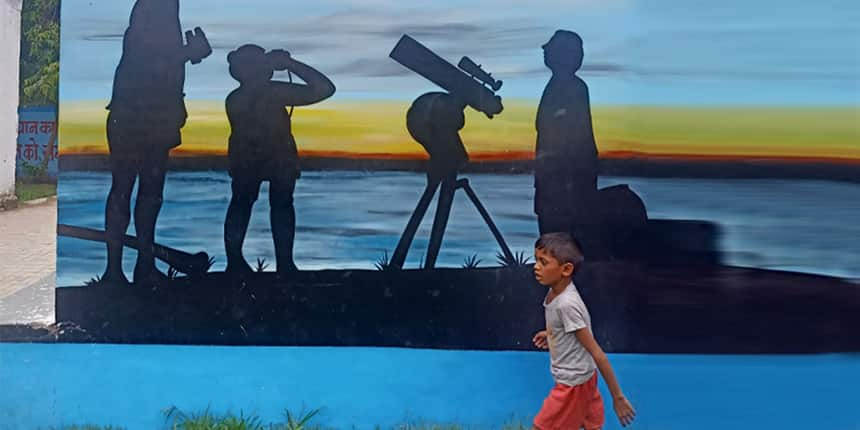 BULANDSHAHR: Ankit Bhati has decided on "research on the solar system and planets'' as his future career. Bhati is just 13 and has some way to go before astronomy research can be a part of his CV, but his interest has been kindled and nurtured by a new astronomy laboratory at the Composite School in Bulandshar's Barauli village where he is in Class 7.
Composite schools run from Class 1 to Class 8, combining primary and upper-primary schools. Science is taught as a separate subject from Class 4.
Bhati, who hadn't seen even a basic solar system model before, now has a telescope near him and has been going to the lab for six months. It has made him "want to become a scientist", he told Careers360.
Bulandshahr in western Uttar Pradesh has a hugely-ambitious "district astronomy policy". The district has used funds from UP government's Operation Kayakalp – a scheme floated to upgrade school infrastructure – to open astronomy labs in 105 of its government schools. This, say officials, has resulted in enrolment rising by as much as 10% in some Bulandshahr government schools, adding to the surge already caused by Covid-19 pandemic-related changes. Children abandoned private schools to join government ones with labs and even the odd urban resident enrolled in a village school, allowing for a new wave of community connect.
While teachers and students are elated to have them, they are also facing issues. The labs have come in some schools that are struggling to provide basic facilities such as electricity and drinking water. Plus at some, the initial burst of enthusiasm has waned in the absence of staff, more resources to keep interest alive and respond to children's curiosity.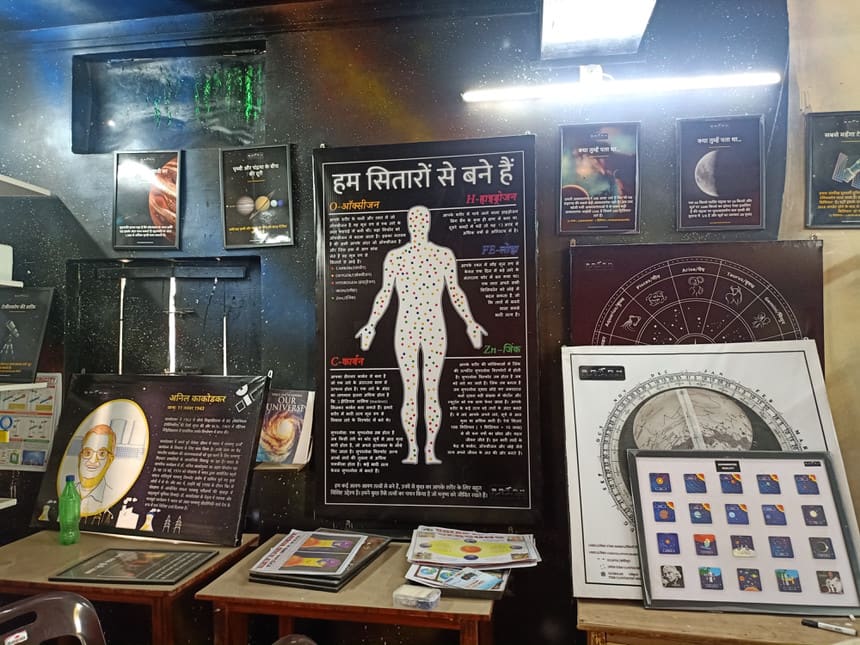 Astronomy lab at Balauri School, BulandshahrAlso Read | This Indian engineer became famous for his photographs of outer space
Bulandshahr: 'District Astronomy Policy'
"The astronomy labs, being established at the primary and upper primary schools, are aimed at stoking space curiosity at the community level. The aim is to inculcate scientific temper at a young age, supplement curriculum needs, and to serve as a vehicle of character building for the general public at large," says Bulandshahr's "District Astronomy Policy 2021.
"Our district astronomy policy aims to let people read literature and do science. Also, about education and science, we realised that these labs are not an end. These labs create an opportunity for teachers and the community to visualise that science is affordable and fun," explained Abhishek Pandey, chief development officer, Bulandshahr, who was the main force behind Bulandshahr's astronomy policy.
Initially, Pandey asked a gram panchayat to build the astronomy lab as a pilot project. Upon seeing the positive result, he called a meeting of all the gram panchayat pradhans and secretaries and asked them if they'd be willing to build in their own villages.
The composite school at Mukundgarhi village got the first astronomy lab in Bulandshahr in September 2021.
"Students and parents were unaware of astronomy as a concept. While there is a general reference about the solar system and planets, none of us had a deep understanding of these concepts. Once these labs were introduced, there has been an immense curiosity among students and parents. This inspired other gram pradhans," said principal Neelkamal Bhatti. The school has been spruced up. "Earlier, there were no colours used in the buildings, now along with the lab, the infrastructure of the school has changed," he said.
When it opened, people from Mukundgarhi and neighbouring areas would crowd at the school daily to see the lab and peer through its telescope; interest and peer-learning have somewhat flagged since. "I wish we could relive those moments of community learning again," he said.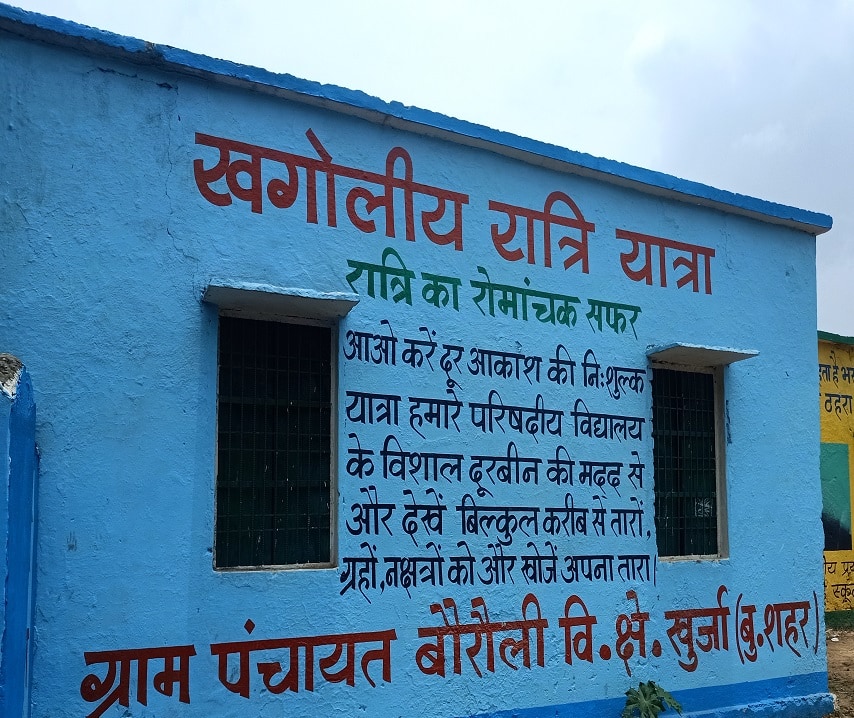 Astronomy: Bulandshahr schools also invite the neighbouring communities to the labsAlso Read | UP Board result 2022
UP School: Lab results
Still, the labs have already yielded tangible, often unexpected, results. For one, students are less fearful of learning English. "Earlier, children used to run away from reading or listening to English," said Bhatti. "After the lab was made, students became interested in terms related to science." While every lab has a teacher coordinator, all teachers use the lab.
The labs are also being used to explain lenses, structure of a human through a skeleton, and physics education, of course.
Mithlesh, whose 12-year-old daughter Rashi, studies in Barauli's composite school, said that exposure to the lab has made her daughter more curious about science. "After coming to the lab, I got to know about stars and the gases they consist of and how our body is made up of several elements," said Rashi.
"We are trying to create a base of concepts in students through practical ways. This allows concepts to get imprinted in their memory," said Mohit Kumur Nirvan, a teacher at the Barauli school. Kumar from Barauli said,
It has also allowed students to get creative, leading to innovations across Bulandshahr schools. "Students have built models of rainwater harvesting, windmills and others through the support of their teachers," said Nirvan.
Bhatti added: "After these students go to higher secondary schools in other areas which don't have labs, they disseminate their learnings and innovations from the lab to other schools. This is a proud moment for our school."
Also Read | How ISRO's first satellite was built in asbestos sheds near Bengaluru
However, every 15 days or so, Open Science Day is conducted wherein several students and teachers of schools who don't have labs in their school premises visit the schools nearby which have the labs, to share their learnings and innovations.
Astronomy labs: The challenges
The attention the labs brought also led to a rise in enrollment. "In this academic session, we have witnessed a 10 percent increase in enrollment," said Nirvan of the Barauli school. The Parvana Village Composite School saw a similar increase.
Not only that, these village schools have even drawn away students from neighbouring towns like Sikandrabad, Abida Nagar, and others. "Around seven to eight students from the nearby urban areas have recently got admitted this year after the labs were built," said Nirvan. Mukundgarhi composite school had nine students joining.
The rise in enrolment has immediately led to space shortage. "The lab overall is a great initiative but a class of 60 students cannot fit in a small room which can only take in 25-30," said Shivani Verma, assistant teacher and lab coordinator, at Parvana village's shcool. The highly erratic power supply doesn't help.
"There are some issues because of the surge in admissions in government schools, and this has resulted in lack of space," admitted Pandey. "While we have sent a proposal to the government, we have been allotted extra classrooms and new buildings. There are issues with facilities however. Slowly we will take care of this."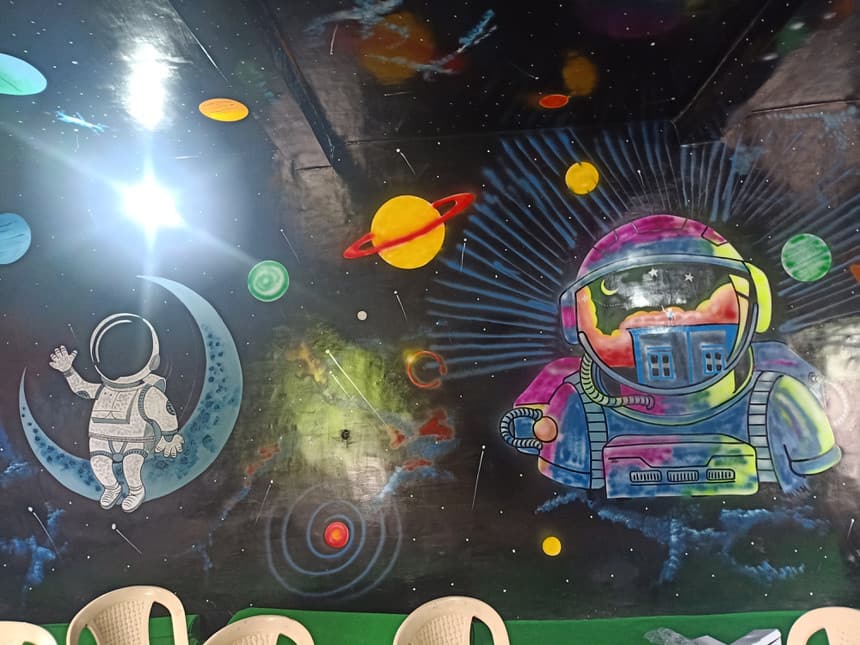 A new astronomy lab set-up at SMJEC Inter College, Khurja, BulandshahrAlso Read | ISRO's Translator: How CSTT builds vernacular glossaries of engineering, scientific terms
The "facilities" running short currently include books. "Our students are studying without books," said a Barauli teacher. Senior students are passing on their books to juniors until the fresh lot arrives – they're expected by August. "But this is not a long-term solution," says another teacher from the village, with a third adding, "This is a constant issue for the last few years now".
Even the labs are presenting challenges. School staff were not trained to handle equipment like telescopes and microscopes. "We were given basic training of the lab but not of the heavy equipment," said Mohit Kumar Nirvan, a teacher at Barauli's composite school.
"Teachers have been given basic training of equipment and models of the labs and were asked to use their creativity to utilise the lab for the larger benefit of the students and community," said a coordinator helping the government set up these labs. They asked not to be named.
Also, teachers are already burdened with closing gaps in learning left by the Covid-19 pandemic. "While the government is making efforts through this policy to help students to make up for the lost time, it all boils down to teachers taking extra classes, and making an extra effort," said Kumar.
Science education, peer learning
Pandey intends to now focus on ensuring science education through peer-learning via the 105 labs. "We were clear that we wanted to build one lab in a cluster to ensure peer-learning between students and teachers amongst four to five gram panchayats. If there are labs in every village, that would kill the prospects of community learning," he explained.
"The thrill of learning is not a temporary phenomenon. The excitement about the lab will never die. Most of the students through the labs have built models for hydraulic pumps, prototypes of a mixer grinder, and several others. These labs were established with a sense that they will stimulate and catalyse the switch from rote-learning to experience and practical-based learning, and ultimately it's the responsibility of the teacher in the lab to think of new ways to take the lab out to the people," said Pandey.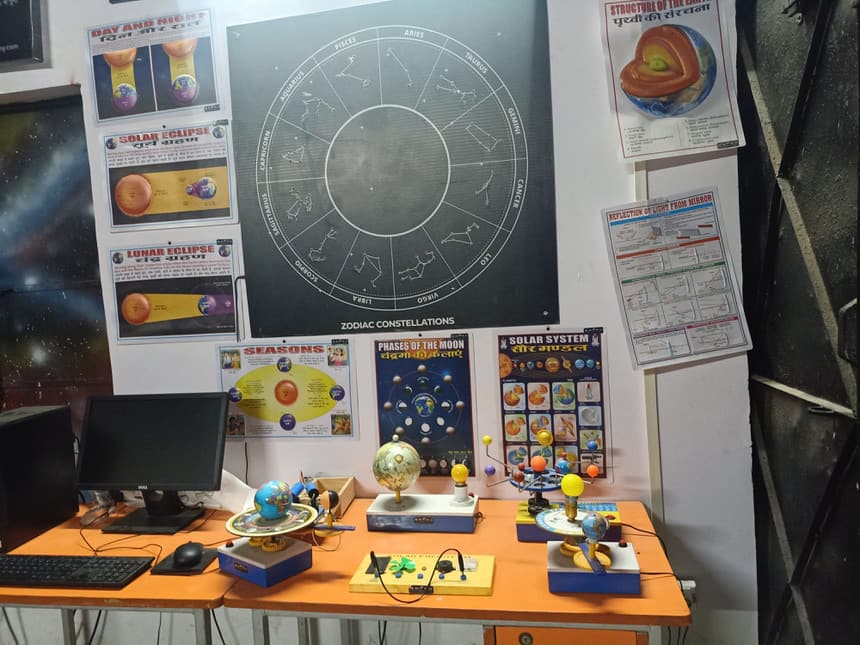 Astronomy lab at Mukundgarhi primary school, BulandshahrAlso Read | MTech, BTech students to launch 75 nano satellites into the Low Earth Orbit
His team is trying to sync the astronomy lab policy with central government think-tank NITI Aayog's Atal Innovation Mission and Atal Tinkering Labs (ATL). "We are probing the government to fund a school directly to build a lab which enables a community around it, wherein these astronomy labs can work as undergraduate ATL labs." But he finds the process "rigid". So, to ensure the work doesn't stop at the state level, Pandey has taken his proposal to the state.
"A lab in itself is just infrastructure with some gadgets and working models," he said. "It's the community that develops around the labs and it's the curiosity that the lab evokes throughout the state and district. We aspire to keep this afloat."
All images by Sheena Sachdeva
---
Follow us for the latest education news on colleges and universities, admission, courses, exams, schools, research, NEP and education policies and more..
To get in touch, write to us at news@careers360.com.
More From Sheena Sachdeva