UP Election 2022: State has left its rural government schools unprepared for rise in enrolment
UP Election 2022: State has left its rural government schools unprepared for rise in enrolment
Uttar Pradesh: Public school enrolment has risen but the Yogi Adityanath government has left schools unprepared – there's shortage of both resources and teachers.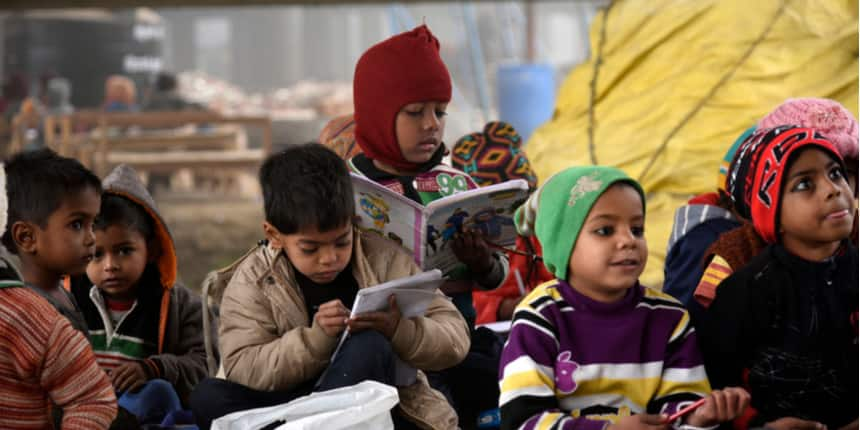 NEW DELHI: The COVID-19 pandemic reversed a major trend in education that had been gathering momentum for years – it caused enrolment in government schools to rise again, stalling the exodus of children to fee-charging private schools.
4 min read
Mar 05, 2022
7 min read
Mar 05, 2022
According to the Annual Status of Education Report (ASER 2021), Uttar Pradesh saw a 13.2 percentage points increase in enrolment in government schools since 2018 for children aged six to 14 years – the corresponding levels are Classes 1 to 8. This was the sharpest increase of all the states with Kerala, at second, registering a growth of 11.9 points.
5 min read
Mar 05, 2022
"This happened as several parents weren't able to afford the private school fees with national and statewide lockdowns leading to reduced or loss of income," said Haryali Srivastava, principal of Primary School Gheja in Noida, Uttar Pradesh.
Sanjeev Sinha, convenor, RTE Forum, Uttar Pradesh said: "Other reasons behind increased enrollments [in individual schools] is that several primary and junior schools in the state have been merged into composite schools. Also during Covid, several low-cost private schools have shut shop in rural areas of UP whose children have shifted to government schools."
However, despite election-time promises to do better, years of neglect have left government schools unprepared for the increased numbers. Teachers and activists, especially in rural areas, said they are facing a shortage of infrastructure – furniture, electricity, computers, internet service – as well as teaching staff, many of whom are constantly engaged in administrative and other, non-academic work. Finally, they complained that students transferring from rural private schools are further behind their government school counterparts in learning and there is no plan in place to close the gap. Conditions in public schools in urban areas like Lucknow and Noida, however, are better.
Congress leader Priyanka Gandhi has targeted the UP government over education and employment. The Adityanath-led BJP government in the state had also introduced a host of measures, including Operation Kayakalp in 2018, to improve school infrastructure and building smart classrooms, starting a free coaching scheme, Abhyudaya, and ahead of UP election 2022, Adityanath distributed smartphones and tablets among students. UP will vote in seven phases, starting from February 10. The last polling day in the state is March 7.
Also Read| Union Budget 2022: Need to raise budget for girls' education, says women's group
Infrastructure, retention
The Operation Kayakalp scheme requires every gram panchayat to prepare a Gram Panchayat Development Plan and the principal of the local school is also a part of this team. "It is more of an inter-departmental coordination which has to be done at the school level," said SK Tiwari, unit in-charge of the scheme. "Overall 77% out of 1,34,000 schools have been improved under the Kayakalp Scheme. And 1,33,000 schools have been provided basic infrastructure facilities." Now, 80% of the schools have running water, 99% of schools have hand pumps and 85% of the schools have different hand washing systems as per their heights, he said.
Another official from UP's department of education said that the state government's School Chalo scheme identified 4.85 lakh out-of-school children and of them, 2.47 lakh in the seven-14 age-group were sent for special training. "This has happened in the past years," he said.
However, activists and even teachers have a different view. Sinha said that while Operation Kayakalp did improve infrastructure in some school, "the investments have mainly gone into beautification of buildings, refurbishing available infrastructure". "The basic necessities of children, including computers, electricity, internet connectivity, proper services for online education, tables and chairs, are still lacking," he said.
For example, the junior building of Basic Vidyalaya, Thari village, Lucknow district, grew too dilapidated to be used. "Now we just have two rooms. Some students sit in one room and the rest in the field," said principal Naseem Aara. .
Shikha Singh added that for all the seven years she has been principal of Junior Patauna School, Mall block, Lucknow district, her school's rooms have been in poor condition. "Despite several applications, no one has ever come to improve the infrastructure. We teach students in dilapidated rooms where the roof might fall any day. The schools that are in urban areas have everything in place," she said.
Also Read| Union Budget 2022: Fund offline classes, not edtech, for school children, say activists
UP: Urban schools, NGO partnerships
Whether a UP school can handle the increase in students also depends on where it is situated, the medium of instruction. In urban centres like Noida, the condition of government schools has improved significantly, often due to the school leadership's own initiative and through help from private sources.
Srivastava saw the roll-strength at her school rise by 100-150 during the pandemic years – the last two. She believes that English-medium instruction and improved infrastructure have helped draw children away from local private schools.
"We have kept a constant focus on infrastructure. With our constant effort, and after writing constant pleas to the UP government, our school's infrastructure has improved much more than other government schools in the vicinity. Due to this several private students and families came to our school considering all the factors similar to a private school, like infrastructure, a good number of teachers," she said.
However, this has been enabled not through the appointment of new teachers and improved supply of resources but through partnerships with private companies that have "adopted" government schools. An NGO is also providing temporary teachers. "Teachers come from Katha Foundation which helps in taking extra classes or teaching through storytelling or extracurricular activities," said Srivastava.
Also Read| Union Budget 2022: Need to raise budget for girls' education, says women's group
Uttar Pradesh Rural: Staff shortage
The situation is radically different in rural schools where overburdened teachers are grappling with the fresh influx of students. At Basic Vidyalaya of Thari village, whose primary and junior schools were merged into a composite school, the roll-strength rose by 50 students in the last two years. "But, in a school of 120 students, we have only three to four teachers," said Aara. "A basic school of Class 1 to 8, must have a minimum of eight teachers. All teachers have an immense burden due to the shortage of teachers. Education is just happening 'Kaam chalao'( just for the sake of it). This is due to the lack of teachers. Available teachers are overburdened with administrative work. We are often perplexed about which subject to teach and also feel guilty for not being able to teach properly." The rationale for merging schools is that it ostensibly enables the composite to be better resourced. However, in UP the shortage continues.
Transfers from private schools have been in the similar range – around 50 students – at several schools Careers360 spoke to. "None of the government schools in rural areas have complete staff. One teacher has to teach multiple subjects in each class, with a student-to-teacher ratio of 63:1," said Singh of Junior Patauna School. "In a school of 138 children we have just three teachers overall," adds Singh.
The Department of Education (DoE) has provided resources for sports, the library, etc. "But if teachers and other staff members aren't there to look after these things and other operational work of the school, what will we do with this?" asked Aara. "Despite sending several applications to the DM to transfer some teachers from a nearby school which has more staff to our school, there has been no help from anywhere."
Several factors impact recruitment in these rural government schools and a major one is distance. "Because our school lies at a distance from Lucknow city, teachers are not willing to come here."
Also Read| Union Budget 2022: Centre released only 38% of SSA budget till October
Low attendance, struggling students
During the pandemic, just to save a year, parents enrolled their children in rural government schools. Aara said, "Several parents, unable to pay fees, enrolled their children in rural schools. Attendance of these students is quite low. However, we consistently make phone calls to ensure they do not lag in terms of studies in their respective classes."
Schools like Primary School Tiwari Khera, also in Mall block, didn't face staff-shortage but struggled to teach the new students. "Around 20-30 students have been admitted from private schools to our school since the pandemic hit but they are very poor in basic reading and writing," said principal Meena Verma.
The disruption to education and long periods of school closure haven't helped. Verma added: "In the pre-pandemic times, a teacher usually taught twice or thrice to make children understand a concept. However, during the pandemic, we have been trying several times but children do not want to understand. Being a teacher for 15 years, I am tired of this. In a class of 25-30 students, only two to four students understand or are willing to study, rest don't want to study at all. Children have lost interest in studies during Covid. There is a difference between classroom teaching and learning and online education. "
Singh agreed. "Out of 50 students only 10 students know reading and writing and the rest are quite poor in these skills," she said. "In rural areas, private schools don't offer good quality education and hence, students coming from them are worse than our students. Students who have been admitted in Class 6 or 7 don't know how to read or write, and also don't know the basic tables in maths."
Also Read| Punjab Election 2022: Higher education hobbled by funds crunch, vacancies, privatization
Sinha said that the tablets the government distributed did not reach children in remote, rural areas who probably needed them most. "Only 7%-9% of the children in the state were able to access online education since the pandemic hit," he said. "Further, girls have a much lower rate of participation as they are not given access to these smartphones."
---
Follow us for the latest education news on colleges and universities, admission, courses, exams, schools, research, NEP and education policies and more..
To get in touch, write to us at news@careers360.com.
More From Sheena Sachdeva