'Smooth administration': Many hopes pinned on Odisha's VD College, now upgraded to a university
Once VD College is upgraded, it will be the first state-run, affiliating university in South Odisha, one of the most backward regions in the country.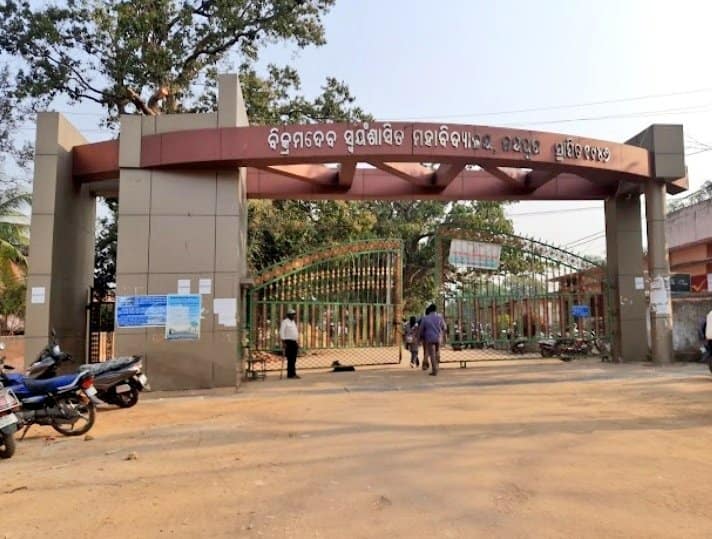 Sanjay
|
Mar 24, 2023 - 10:44 a.m. IST
NEW DELHI: Patita Panigrahi has never been to the university himself but while his elder brother was studying commerce, he had to go multiple times to get a provisional marksheet. "It took him at least five times of traveling and a month to get the document. It takes a minimum two-days to go there and come back here, to Jeypore," said Panigrahi, first-year student of political science at Vikram Deb (Autonomous) College in Jeypore, Koraput district, and affiliated to Odisha's Berhampur University, over 350 km away.
Recommended :
Get important details about Vikram Deb Autonomous College, Koraput.
Download Brochure
On February 2, 2023, Odisha chief minister Naveen Patnaik announced that from 2023-24, VD College will itself become a university – the first state-run, affiliating university of South Odisha. The change – the college's faculty, alumni and students hope – will improve student enrollment, administrative functioning and academic activities.
"As of now, our college is unable to change exam dates and other schedules set by the university even though several times it happens that local situations like floods do not leave any room for holding exams and other events. Now, we have our own university and we will make decisions based on our situations," said Panigrahi. Having a university close to home will encourage more youths from the district to pursue higher education, said students.
VK Pandian, private secretary to the CM and secretary to CM-Transformational Initiatives (5T), said that upgrading VD College to university status will "immensely help students" of four districts – Koraput, Rayagada, Malkangiri and Nabarangpur. "This university will spread the wings of quality education in Southern Odisha," Pandian said in an Instagram post.
A state-run, affiliating university was a long-pending demand of the region. Koraput is on NITI Aayog's list of aspirational districts, the most backward districts in the country. VD College will start functioning as a university from 2023-24. Gopal Halder, principal of the college said this will reduce the workload of Berhampur University and students will experience a "smooth functioning of administration".

Also Read | Odisha CM announces establishment of health university to improve medical education
Koraput's first college
Established a month before India's Independence, on July 1, 1947, VD College is considered among the "best and most sought after colleges in south Odisha". It got University Grants Commission (UGC) recognition in 1954 and became autonomous in July 2004.
VD College is the first college of undivided Koraput. In 1992, Koraput was divided into four districts– Koraput, Rayagada, Malkangiri and Nobarangpur. For "quality higher education" students from these districts and Kalahandi are solely dependent on Vikram Deb Autonomous College, said Uttam Kumar Panigrahi, guest faculty in political science at VD college.
According to public representatives from ruling Biju Janata Dal (BJD) and opposition Congress, Bharatiya Janata Party (BJP), there was a demand for a state-run, affiliating university as there was none in the region. The closest, Berhampur University, was the only one within more than 500 km radius. While VD University will be the first state institution in the region, Koraput has Central University of Odisha, a non-affiliating institution.
Taraprasad Bahinipati, the Congress MLA from Jeypore constituency said in a social media post that it was a "long-standing demand and dream" of the people of his region. He termed the development as a "tremendous achievement" and an "exciting milestone" in the history of Koraput district. "We are sure the new university will bring great opportunities and possibilities to our region," he wrote.
BJP Odisha unit's vice president Bhrugu Baxipatra is an alumnus of VD College. "This move will definitely benefit the young students in our tribal-dominated areas and people won't be dependent on Berhampur University any more," he said.
Better academics, administration
Halder explained that with VD Autonomous College getting upgraded, South Odisha students will have better access to a university.
"For [even] small administrative work, students of other districts had to travel 400 to 600 km and now, they will get all administrative support and services like registration, marks correction, migration certificates etc, here only," he said. "Berhampur University was established in 1967 and it had 40 colleges and now it has nearly 200 colleges across seven districts. So, the number of universities must also increase after more than 50 years to split the workload [and] for smooth functioning of administration."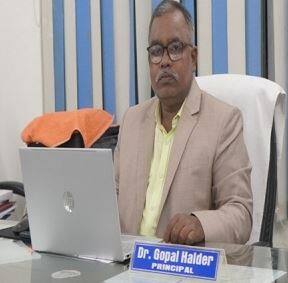 Gopal Halder, Vikram Deb College Principal (Image: VD College website)
He is also expecting increased funding from UGC and other agencies, better lab equipment and more staff.
"The quality of education will improve over time. Earlier, students had to move from their own districts to Berhampur University or Utkal University, Bhubaneswar to study postgraduate courses. Giving VD College university status will be cost-effective to such students and they will be motivated to continue their studies. University administration will come up with new courses in science and other areas of study," he added.
Also Read | As Odisha looks to improve legal education, 'confusion and concern' reign among law colleges
Students said that having a university close by will motivate them to continue further studies.
Itishree Maharana, a final-year undergraduate (UG) student said: "Students like me will continue to study here with more facilities and better academic environment. The proximity of university will further motivate girl students like me to go for higher education. Earlier, many students discontinued due to lack of a good university near their homes."
Shiv Sundar Nayak, a second-year political science student said the prestige and reputation of VD college will improve after becoming a university.
"I am very keen to continue my further studies in this institution …. I am hoping that we will have better academic learning with more faculty," he said.
The alumni association is similarly optimistic about VD College's future and promises continued support. "The number of colleges in undivided Koraput districts is increasing and now with a university here, students will be motivated to continue further studies," said Sudhakar Patnaik, vice-president of VD College's alumni association.
According to the All India Survey on Higher Education (AISHE) 2020-2021, Odisha's gross enrolment ratio (GER) is 20.7, against the national average of 27.3, in 2020-21. Odisha's GER, which is the total enrolment in higher education in the age group of 18 to 23, was 20.2 in 2016-17. It went up to 22.1 in 2017-18 and 2018-19 but decreased to 21.7 in 2019-20.
Challenges ahead
According to VD College's website, it has 16 teachers against the sanctioned strength of 55.
Uttam Kumar Panigrahi said that more than 75 guest faculties are maintaining the academic activities of the college. "There are hardly 20 permanent faculty…. We do all the work that a permanent teacher does but we are getting just Rs 25,000 per month salary while they are getting more than Rs 1 lakh. So, with more enrollment in UG, PG and research courses, there is a need for better infrastructure and more permanent and guest faculty," he said.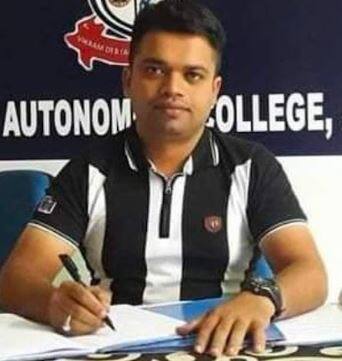 Uttam Kumar Panigrahi, guest faculty in political science at VD college. (Image: Special Arrangement)
For the 2022-23 academic session, VD College is following Berhampur University's guidelines. "In the discussions and meetings at college level, we were informed that our principal will become VC of VD University from next session onwards. The infrastructure will also be improved with administration of the university moving to a nearby building of the state government. We are being told by officials that we will see a boost in enrollment of students in PG and research programmes while implementing the National Education Policy (NEP) 2020 guidelines of four-year Undergraduate programmes," Panigrahi explained.
Also Read | 'Eroding autonomy': What the fight over Odisha's university recruitment policy is about

Vishweshvar Chandrachud Dev, the great-grandson of Maharaja Vikram Dev Varma Bahadur, the founder of 'Jeypore College' as VD College was known before 1955, said that the maharaja had laid the foundations of the college to promote education amongst his tribal subjects who were unable to travel to cities.
"Now that it has been upgraded into a university, we have more expectations from this institution. It is a great challenge for the government as well, which will need to expand the campus and overall infrastructure of this new university. More tutors, courses, laboratories, and libraries are already on the wish-list of the students. If the government invests smartly and avoids corruption, then it will be one of the best universities of the state," he added.
BJP's Baxipatra said that there is a need to develop the infrastructure and facilities in VD University now. He has requested the state government to ensure the development in coordination with the central government.
---
Follow us for the latest education news on colleges and universities, admission, courses, exams, schools, research, NEP and education policies and more..
To get in touch, write to us at news@careers360.com.
Know More About
Rating
3.8/5
Download Brochure