'New problem for the poor': Aadhaar card for children makes UP school admission a hassle
'New problem for the poor': Aadhaar card for children makes UP school admission a hassle
UP School Admission: 6-14 year-olds must have Aadhaar to access books, uniform. A measure to counter benefit theft, it is a hurdle for poor parents.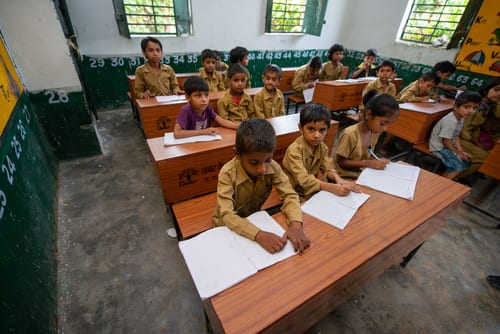 Sanjay
|
Jul 11, 2022 - 6:32 p.m. IST
SULTANPUR, AMETHI: On Thursday, July 7, Prakash Gautam was once again at the Block Resource Centre (BRC) at Lambhua in Uttar Pradesh's Sultanpur district. This was his third visit.
Asked by the government primary school in his village, Dulhapur, he had been going to the BRC to get his two children, Saloni and Shivani, enrolled for Aadhaar cards, the 12-digit biometric-based identification number and card. As per UP government's directions, a teacher must be present to facilitate the process for children whose applications were validated by schools. But once again, no teacher had showed up at the BRC and at noon, a defeated Gautam cycled away with his daughters.
"I am an illiterate man," Gautam had told Careers360 while waiting. "No one from my family got a chance to study in school. I want to send my girls to school to enable them to read and write. These girls are the first ones in my entire family getting a chance to study in schools."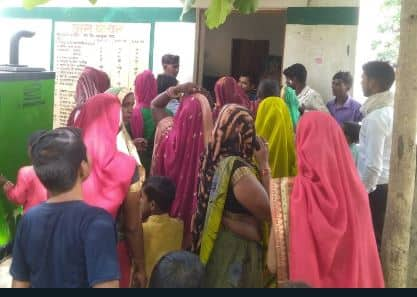 UP School News: Parents waiting for teachers at Lambhua BRC for Aadhaar card enrolmentHundreds of parents are visiting BRCs with their children in different districts of Uttar Pradesh because Aadhaar enrolment is compulsory for UP school admission in Classes 1 to 8 - age six to 14 years – to access benefits under the Right to Education (RTE) Act 2009 which now come as direct benefit transfers (DBTs) from the state. This money amounting to Rs 1200 is meant to cover the cost of school supplies such as uniforms and textbooks.
Also Read | Children as young as 12 in UP's Sultanpur addicted to tobacco products

Compulsory Aadhaar enrolment has added an extra hurdle in admission of children to a school system already disrupted by two years of Covid-19. Many of these children are first-generation learners, taking admission in government schools at a time when the government is running 'School Chalo Abhiyan.'
"Teachers in the schools are saying that for UP school admissions, I have to submit the photocopies of my children's Aadhaar cards along with mine and my wife's," said an exasperated Gautam. "Teachers are asking BRCs to enroll children and at BRCs, officials are saying that they won't accept the Aadhaar enrollment forms until the school teacher comes here." This is also a critical period for farmers and Gautam had to leave his paddy-sowing for three days in a row.
The Uttar Pradesh government has made Aadhaar compulsory as a measure to counter benefit theft through fake enrolments, said officials. However, this is in violation of the Supreme Court's September 2018 ruling which says Aadhaar is not compulsory for school admissions. The SC had said no child could be denied benefits of any scheme for not having an Aadhaar number. Technically, UP schools are granting admission to children without Aadhar but not uploading their data on government websites.
Aadhaar card for children
On June 8, UP government asked all district magistrates (DMs) to organise Aadhaar enrollment of students and verification on Prerna portal for DBTs. "Aadhaar enrollment of students studying in government schools is very important and it is included in the work list of 100 days of Yogi government. Hence, complete it by June 25, 2022," the UP government letter says.
"The biggest benefit of uploading children's Aadhaar cards is that it will help the government in identifying fake admissions of the students who take admission in government schools for money but study in private schools," said Sudhir Kumar Singh, BEO, Lambhua.
Also Read | Uttar Pradesh developing framework to rank education institutions
The first deadline's long gone and on July 6, district education officers (DEOs) were directed to get all students enrolled for Aadhar card by July 10. But the pace has been slow. Till June 6, 2022, 88.08% students of government schools were enrolled; by July 5, it rose to 89.65%.
In a press conference on July 10, Uttar Pradesh basic education minister Sandeep Singh said, "To ensure transparency, registration of all the children enrolled in the schools was done on the Prerna portal and subsequently their Aadhaar authentication is being done."
Principals said school teachers have been helping parents by filling and validating Aadhaar enrollment forms. Each school has appointed a teacher to assist the parents at the BRC. However, in many cases, parents are returning home without making any progress as teachers don't show up.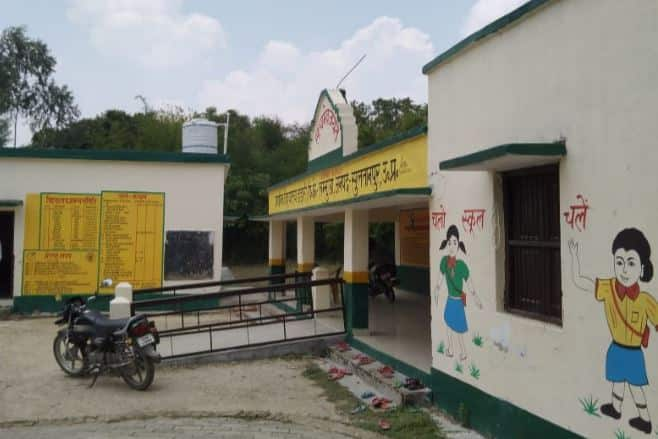 UP School Admission: Darari Primary School in Lambhua, Sultanpur"We are asking for photocopies of children's Aadhaar cards along with parents' Aadhaar cards so that the government can send the money for purchasing uniforms, socks, shoes, school bags and sweaters for students directly into the bank accounts of parents of the children," said Ram Jatan Yadav, principal of Darari Primary School in Lambhua, Sultanpur. The school has registered 11 new admissions.
Aadhaar Card: Missing teachers, lost wages
Hundreds of parents, clutching Aadhaar card application forms, gathered at Bhadaiyan BRC in Sultanpur on Thursday. They waited for teachers from their children's schools to arrive but even at 12 pm, teachers from several were yet to show up.
"I have been calling the principal of Dhana Ka Pura Primary School but his phone is off. He had promised to come here today but he did not show," said Sitai Kumar of Dhana Ka Pura, at the BRC for the fourth time to get her son, Saurabh, enrolled in Class 1. On every visit, she loses part of her income. "I am a daily-wage labourer and losing my earnings as I am coming here. If they have parents' Aadhaar cards and bank details for sending money, why are they asking for children's Aadhaar card?"
Also Read | Space short, MBBS students of UP medical college allege they took turns to go to campus

Principals of a few schools did turn up and fill the enrollment forms of their students at Bhadaiyan BRC. However, they were angry with parents who had not come on designated days."BRC officials have designated different days for different schools in a block. Today was our school's turn and many parents along with their children are here. However, few did not come up as they are busy in paddy sowing. Now, they will visit here on another day and demand that I come here again. Government should hold the Aadhaar enrollment process of children in school campuses," said the principal of a UP government primary school in Sultanpur asking not to be named.
Also Read | UPMSP: UP Board announces admission last date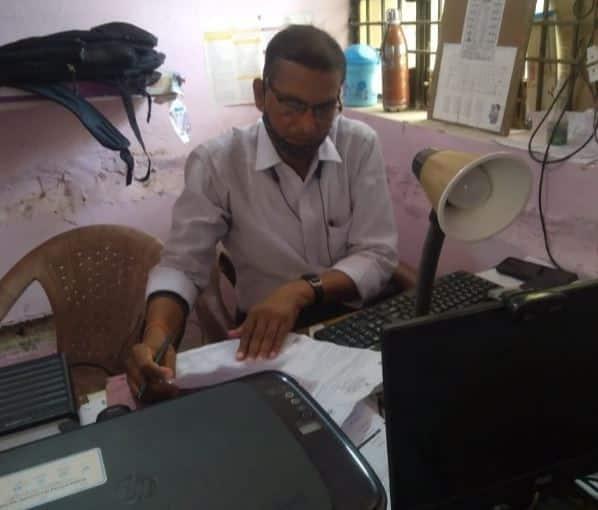 Aadhaar card kit operator, Mahendra Verma, at Bhadaiyan BRCMany parents alleged they were forced to return because Aadhaar kit operators were "slow" in uploading details and their turn did not come. "We receive school-verified Aadhaar enrollment forms of students containing stamps of school name with address. We do enrollment from 9 am to 5 pm and usually we enroll 15-20 students in a day. It is difficult to get thumb prints and other details of children as they do not respond due to fear of electronic machines," said Mahendra Verma, Aadhaar card kit operator at Bhadaiyan BRC.
Aadhaar UIDAI: A 'futile' exercise
The situation was much the same at Sultanpur's Lambhua and Amethi's Sangrampur BRCs.
"They keep adding new problems for the poor like us every year. I have come here by bus, standing all the way from my village with my child Shubham. It is 12 [pm] and I am still waiting for my turn," said Rinka Devi from village Murli, at Sangrampur BRC.
Similarly at Lambhua BRC, parents from various villages of the block waited for teachers. They struggled to see the point of getting children as young as six enrolled and described it as "futile" because they had already submitted their Aadhaar card and bank details for the DBT.
Also Read | Andhra Pradesh: 39,000 teacher vacancies in elementary school
"I don't know why they are forcing us to come here and get our children enrolled for Aadhaar. I have already submitted a photocopy of my Aadhaar card , husband's Aadhaar card along with bank details. I have wasted around Rs 100 to come here and I don't know whether I will be able to get an Aadhaar acknowledgement slip of my child Riya by today or I have to come again," said Sushma Soni from Pyarepur village, Lambhua.
Aadhaar Card: UP school admission 2022-23
While block education officers' (BEO) notices at BRCs state that children ages 6-14 years are eligible for Aadhaar card enrollment, even younger children are turning up.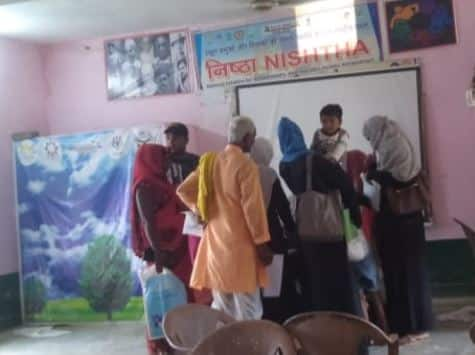 Parents waiting as a teacher fills Aadhaar enrollment application of students at Bhadaiyan BRC"In villages, normally a child gets admission in Class 1 at the age of five. Enrolling them for Aadhaar is a tough job. Parents claim their child is six years old in Aadhar application forms when he/she is less than that. We fill every detail and when we try to upload fingerprints and other details, the system does not respond and we have to send them back without enrollment." said Verma.
Yashashivta Rai, principal of primary school Abhiya Kalan in Sultanpur said children over six are being admitted, whether they have Aadhaar or not. "If they don't have one, we are helping them in getting one. We are not denying admission to any children," she said. Her school had made 30 fresh admissions by July 7. In the latest UP budget 2022, the UP government has committed to enrolling two crore children in its government schools.
Aadhaar process takes time
Teachers expect the admission process to continue all through July.
"We have admitted 26 new students and eight of them do not have their Aadhaar cards," said Brijesh Yadav, a teacher at Primary School Hajipur in Mau district. "We will visit Ranipur BRC with these children on July 22 for the Aadhaar enrollment process."
Similarly, Abhilash Mishra, a teacher at Amiliha Pal Primary School in Hathgaon block of Pratapgarh district, said his school had to help parents of 22 children – out of the total 35 new admissions – through Aaddhar enrollment at Hathgaon BRC. They had been assigned July 11. "The process will continue till admission. Parents are a little worried about the process but we are helping them," he said.
Also Read | RTE Admission 2022 Uttar Pradesh: UP records highest admissions
According to an official document of the UP government, 89.65 percent of over 1.84 crore students registered in state government schools have Aadhar cards. Enrollment among students is highest in Gorakhpur – 99.93 percent – students, owning their Aadhar cards and lowest in Mainpuri with 75.72 percent.
---
Follow us for the latest education news on colleges and universities, admission, courses, exams, schools, research, NEP and education policies and more..
To get in touch, write to us at news@careers360.com.