Indian visa cancelled, 400 Afghan students seek help from Hamid Karzai
The Afghan students of Indian institutions have formed a group and will appeal to former President of Afghanistan Hamid Karzai for help.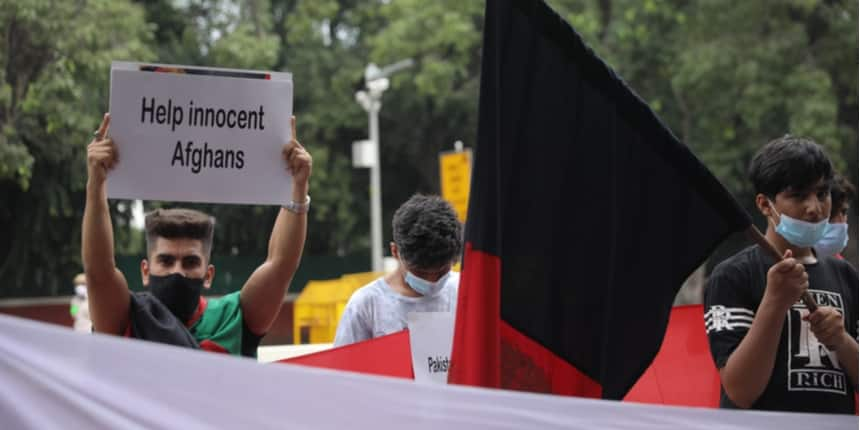 NEW DELHI: Mohammad Fahim had it all planned out. He would cross the Afghanistan border and board a flight from Uzbekistan to India. Then, soon after Kabul fell, he learned that his visa to India, valid till 2022, had been "cancelled with immediate effect". Now his hopes, and that of about 400 other Afghan students enrolled in Indian universities, are pinned on the former President of Afghanistan Hamid Karzai. The students believe Karzai, president from 2004 to 2014, shared cordial relations with India and could persuade the Indian government on their behalf.
Fahim, a BBA finance and accounting student at Sharda University, Greater Noida, received an email from the Government of India on August 25 to re-apply for an e-visa to be able to visit the country. The abrupt cancellation of his existing visa torpedoed his plans of returning to India. "I had a flight booked on the very day when the Taliban took over my country. My university is also starting physical classes from September 15 and soon the winter examinations will be conducted in physical mode.," Fahim told Careers360 over the phone from Kabul. "I am a hardworking student; all my hard work of two years will go to waste if this visa situation is not resolved."
Zakarullah Dharmani, an MBA student of a public university in Kerala said around 400 students facing similar issues have formed a "temporary association" to raise their concerns collectively. Enrolled in Indian institutions and possessing visas were told their visas stood cancelled "in view of the recent developments in Afghanistan and streamlining of the visa process by introduction of e-emergency X-misc visa for Afghan nationals desirous of travelling to India". Except the streamlining hasn't worked — the students applied for the emergency visa but are yet to hear from the government. They had returned to their country for semester breaks and to rejoin families unsettled by political turmoil.
Afghanistan: COVID-19 and online classes
With the second wave of COVID-19 ebbing, universities have either reopened campuses or are planning to soon In addition to the threat of violence hanging, these students are also dealing with constraints like the lack of electricity and internet connectivity.
Mohamad Shafiq Shayan was to receive his visa the day before Kabul fell. Taliban fighters took the first provincial capital on August 6 and by August 15, they were at Kabul. Poor internet connectivity had compelled Shayan, an LLM student at South Asian University (SAU) Delhi to move from Ghazni province to Kabul when the government toppled. "I got the passport along with the visa on August 18 although the determined date was August 15. The delay occurred due to India's Independence day and the Taliban takeover," he said.
Also Read: 'For the Taliban, I'm the enemy': Afghan students of Indian universities worry about future
Although SAU has not announced the start of physical classes, Shayan is desperate to return. "We have already done two terms of our studies online. Afghanistan does not have a standard telecommunication service, the rate of internet packages is very high and it lacks the speed we need," Shayan explained. "With the recent upheavals here, students no longer have the mental and physical capacity to continue their studies online. We had expected the Indian government would help instead of canceling our visas. Regardless of the future of India's cultural and consular relations with Afghanistan, we at least expect the Indian Government to fulfill its obligations to the currently enrolled students."
Waheedullah Stanikzai, who lives in Logar province of Afghanistan, says it is difficult to study in an atmosphere marred with violence and constant power cuts.
Also Read: NIRF Ranking 2021: Can't compare IITs, IISc with BHU, says BHU director
College reopening and Afghan student
Stanikzai's visa, on which he was studying MSc at a university in Baroda, Gujarat, was still valid for seven months when it was cancelled and there is no word on the emergency one. "Usually we receive a confirmation mail after applying for a visa within 72 hours but now it has been more than 10 days," he said. "My exam started yesterday in offline mode but I am stuck in Afghanistan" The university, however, has allowed him to write the exam when he returns.
Other universities said they have done what they could and written to the MEA. "The university told us that they have done all things from their side. Now it is the MEA that has the authority to deal with this issue," said Shayan. Qasim Yar Gharany, a second-year MA student at Lucknow University, received a similar reply. "I was told that the university will not be able to help in this situation," he said. "My university has started conducting physical classes and attendance is necessary."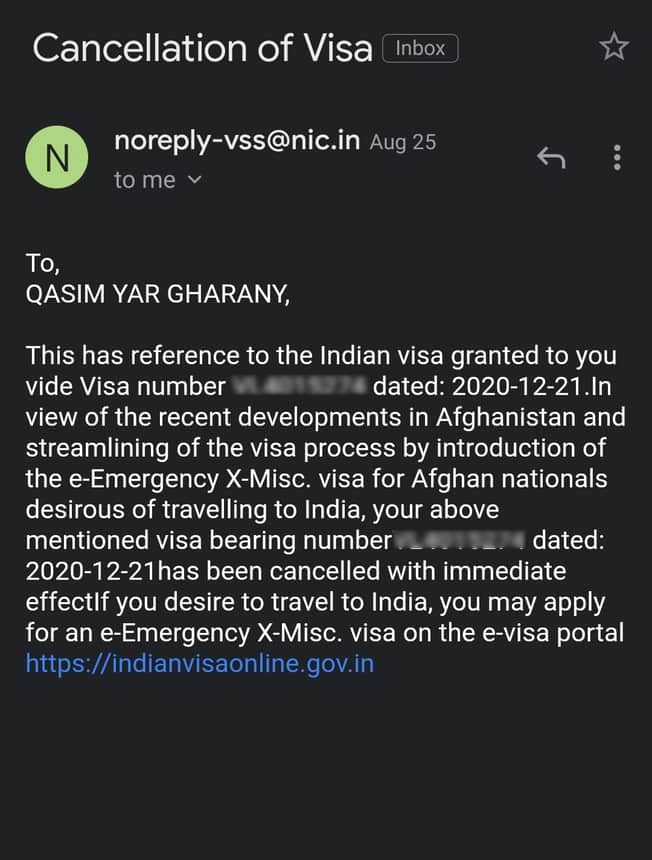 Students stuck in Afghanistan received an email from the Government of India that their valid visa has been cancelled.
Institutions like the Indian Institute of Technology (IIT) Delhi, IIT Bombay, Aligarh Muslim University, and Delhi University, are making efforts to help out their students from Afghanistan who are currently stuck there following the capture of power by the Taliban.
Also Read: For this Afghan student, all hopes pinned on an ICCR scholarship
Hamid Karzai, S Jaishankar, Afghan students
To be able to raise their concerns and compel action from the Indian Government, students in Afghanistan have formed a "temporary association". The student representatives are planning to meet Hamid Karzai, the former President of Afghanistan who had studied in India and held cordial relations with its government.
"There are around 400 students across Afghanistan who are facing this issue. We are surprised that the Indian Government would do such a thing when we are in need of desperate help. In order to raise our concerns, some of the students had met with the secretary of Mr Karzai and we are patiently awaiting for some response from his secretariat," said Zakrullah Dharmani, an MBA student, studying in a public university in Kerala.
Kabul's fall led to an exodus of many high-profile officials including President Ashraf Ghani. However, Karzai remained.
"I know that the national security issues of the countries are very important to them. With such changes, of course, high restrictions on the movement of foreign nationals will be imposed. But the Indian government needs to know that students are civilians and separate from their government and politics, and have nothing in common with them. In addition, students have the right to get what the government has already promised," said Shayan.
Speaking at a high-level United Nations (UN) meeting held on Tuesday, the minister of external affairs, S Jaishankar called for the resumption of international flights so that rescue operations can be started. "As an immediate neighbour, India is monitoring developments with understandable concern...Those who wish to travel into and out of Afghanistan should be granted facilities without obstruction. The normalisation of regular commercial operation will not only assist in this regard but then become the basis for the regular flow of relief material," he said.
UPDATE: This copy has been updated to add details of the UN meeting and MEA's remarks.
Write to us at news@careers360.com
Know More About
Rating
4.5/5
Download Brochure