Budgeting for higher education and why outlays fall short
Budgeting for higher education and why outlays fall short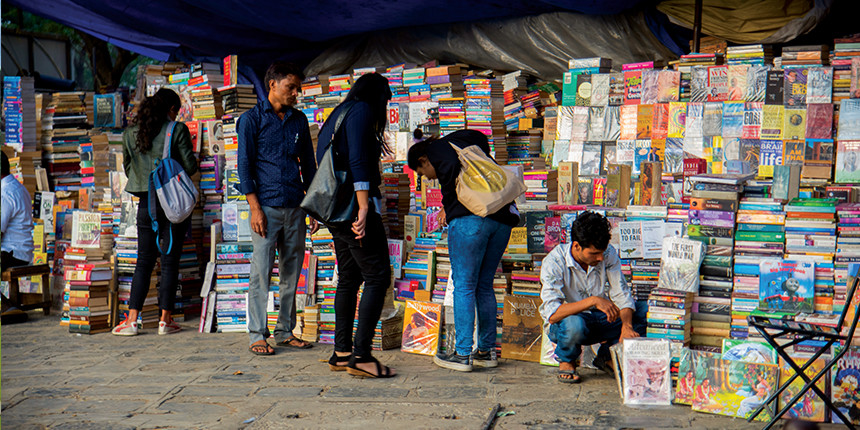 By Nikita
In the 2020-21 Union Budget, the Ministry of Human Resource Development was allocated Rs. 99,300 crore – a small increase over 2019-20's allocation of Rs. 94,853.64 crore.
India has over 280 million students in schools and higher education. Nirmala Sitharaman, the finance minister, said that by 2030, India is "set to have the largest working-age population in the world". Then, getting this section ready to join the work-force must be priority and the allocations to the sector must reflect that urgency.
Careers360 studied the higher education budgets over the past six years and correlated them with enrolment figures to understand where we stand.
Increased allocations
The Department of Higher Education, one of the two departments under MHRD, allocates funds under three main heads – central sector schemes and projects, other central sector expenditure and transfers to states/UTs. The first covers projects that are fully funded by the Centre; the second covers all regulatory bodies and centrally-run institutions; the third covers centrally-sponsored schemes that are jointly funded by the states and Centre and would include schemes to support state institutions.
Except for a dip in 2018-19, budgets under 'other central sector expenditure' and 'transfers to states/UTs' have risen over the last five years. The first has seen a net increase of over Rs. 14,000 crore, or 55.1%. The transfers to states has risen by over Rs. 8,000 crore, or 42.5%, since 2015-16.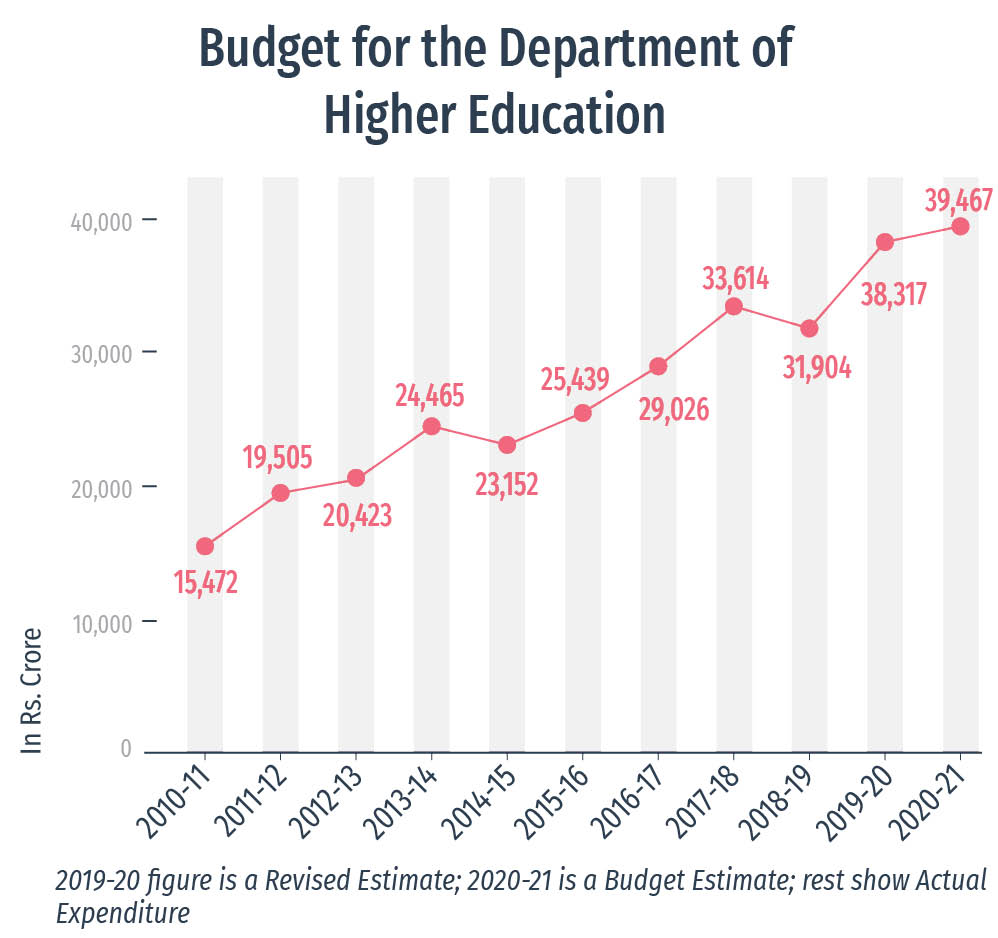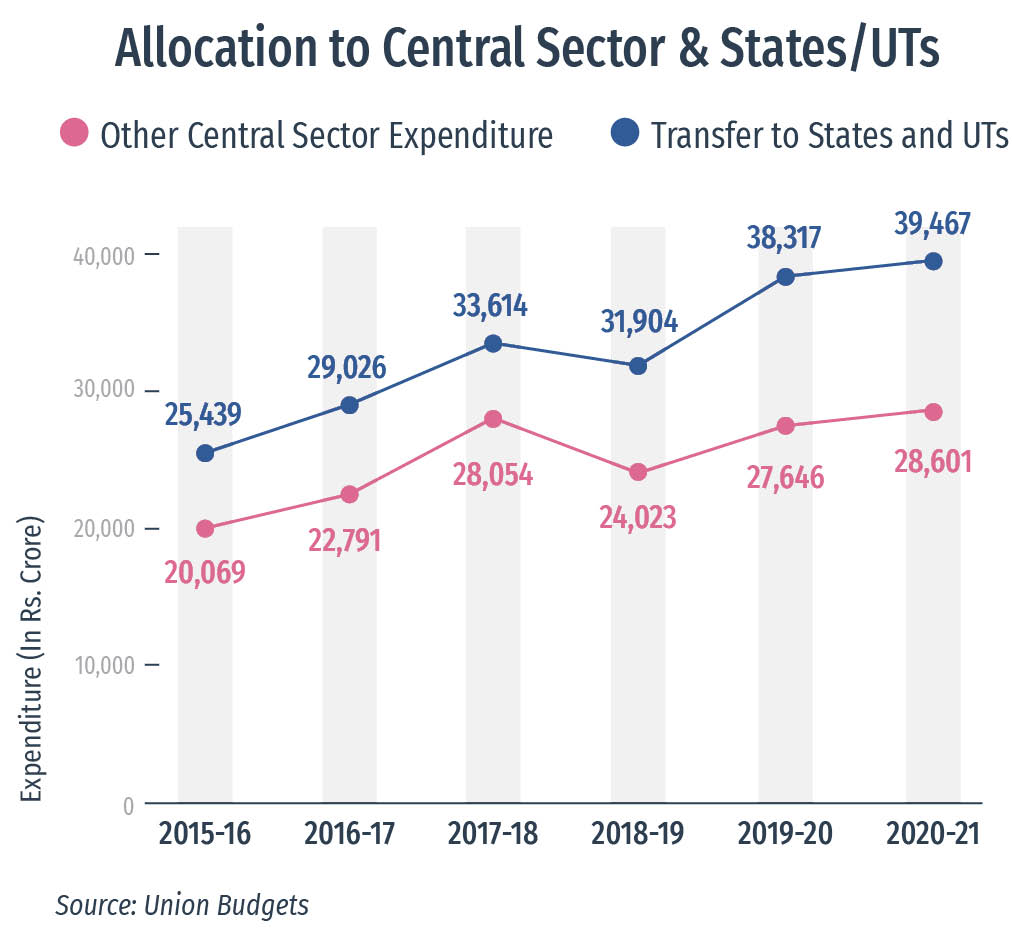 The challenge
As per the 2018-19 All India Survey on Higher Education (AISHE) report, the number of students enrolled in higher education is estimated to be around 37.4 million with males constituting 19.2 million and females 18.2 million. This accounts for 48.6 percent of female enrolment against the total, a percentage point increase from the previous year.
Nearly 80 percent of the total enrolment in higher education is at the undergraduate level. With enrolment being highest in the Arts stream (35.9 percent), the representation of women in it is a little over 50 percent. At the undergraduate level, there are over two million students enrolled in state universities, including state public, state open and state private universities.
The National Gross Enrolment Ratio (GER) in higher education calculated for the age group 18 to 23 years stands at a sorry 26.3 percent. This means just about a quarter of the total population of youths in that age bracket is enrolled in any form of higher education. The GER for males is 26.3 percent and for females, it is 26.4 percent. For marginalised communities, it is lower still – 23 percent for Scheduled Castes and 17.2 percent for Scheduled Tribes – states the 2018-19 report.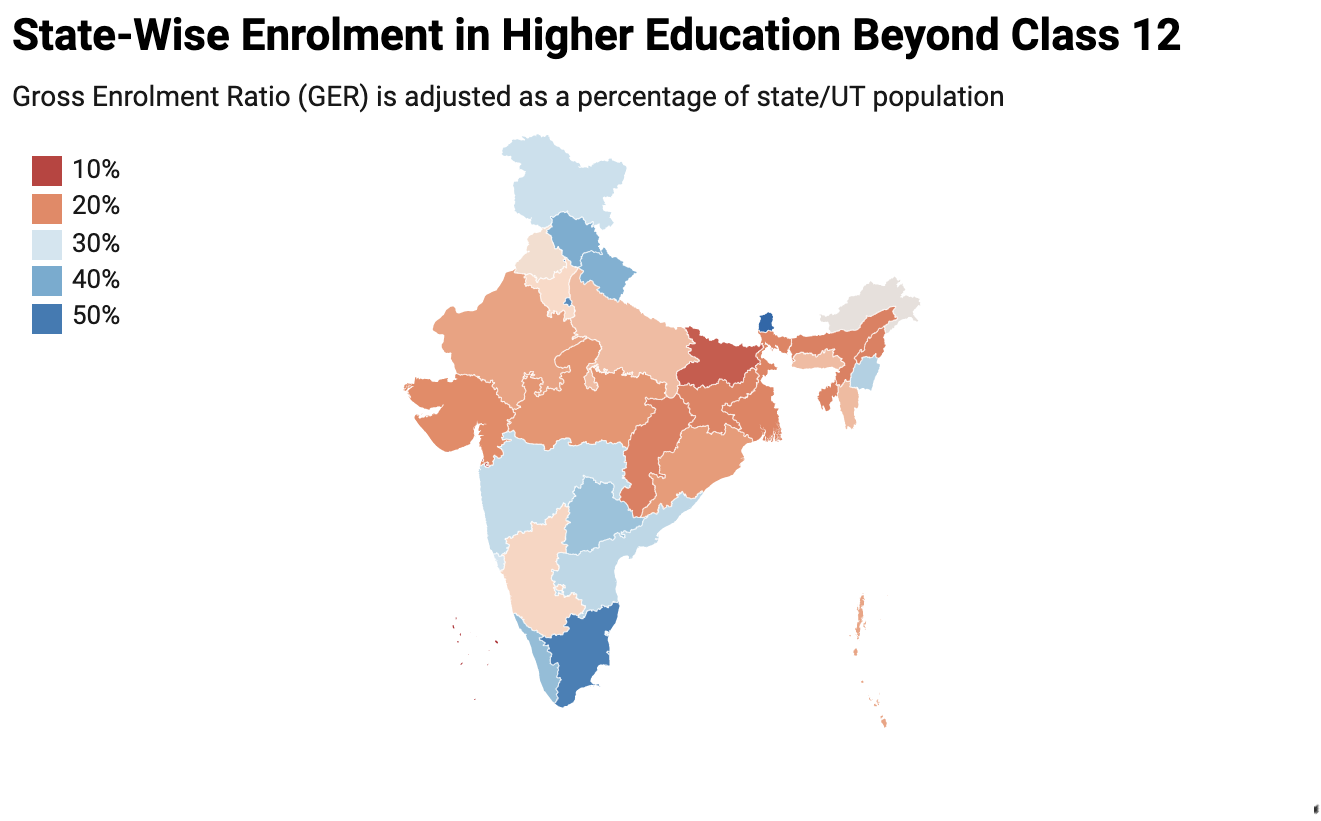 Of the total enrolment, Scheduled Caste students constitute 14.9 percent and Scheduled Tribes students 5.5 percent. The representation of Dalit and Adivasi groups in higher education is far lower than the communities' representation in the general population, suggesting that the problems of access and inclusion remain. The situation is the same with Other Backward Classes that form 36.3 percent of the student population in higher education; Muslims form
5.2 percent; and other minority communities together form 2.3 percent.
For 12 years to 2018-19, the country's expenditure on higher education from its total budget has remained stunted around an average of 1.47 percent according to a United Nations report. One indicator of how underfunding impacts quality is the shortage of teachers in a large number of states.
States like Bihar, Jharkhand, Delhi and Uttar Pradesh have a high pupil-teacher ratio in higher education as per 2018-19 data. Telangana, Goa, Karnataka, Kerala and Mizoram are better off.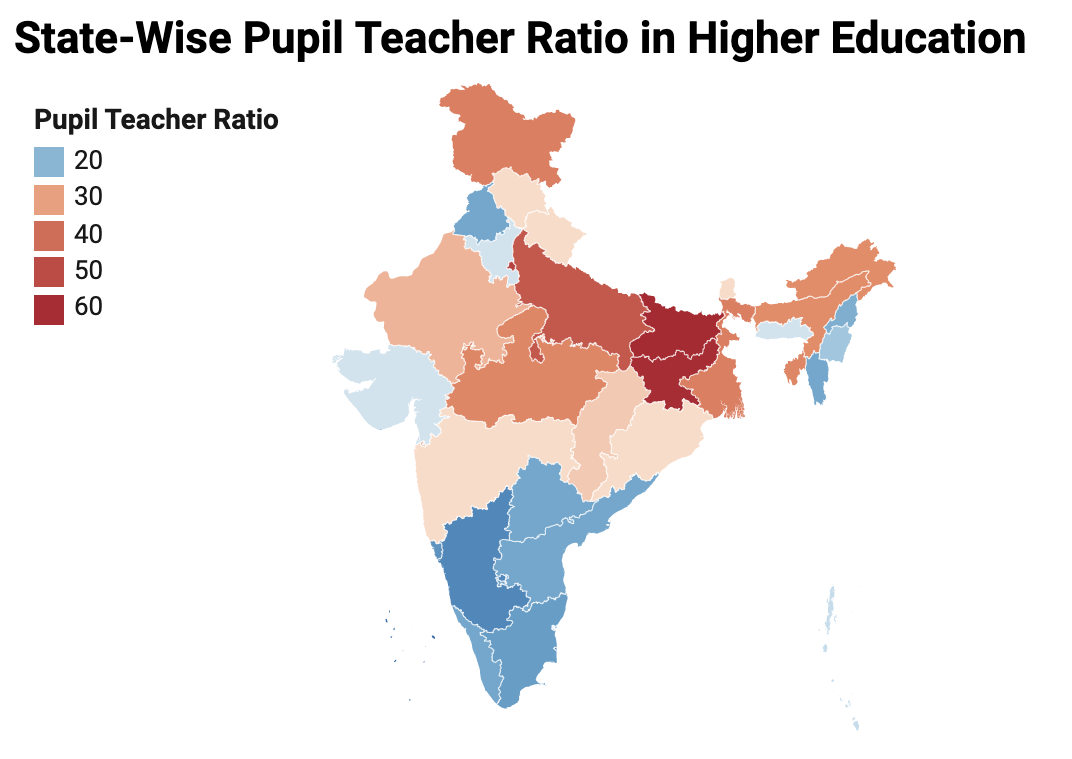 Lopsided attention
So far, public funding of higher education has been lopsided with a limited number of institutions and programmes, impacting just a fraction of the student population, being favoured. The following chart shows how the department has funded the Indian Institutes of Technology, University Grants Commission, Indian Institutes of Management and other flagship institutions and schemes over the past few years.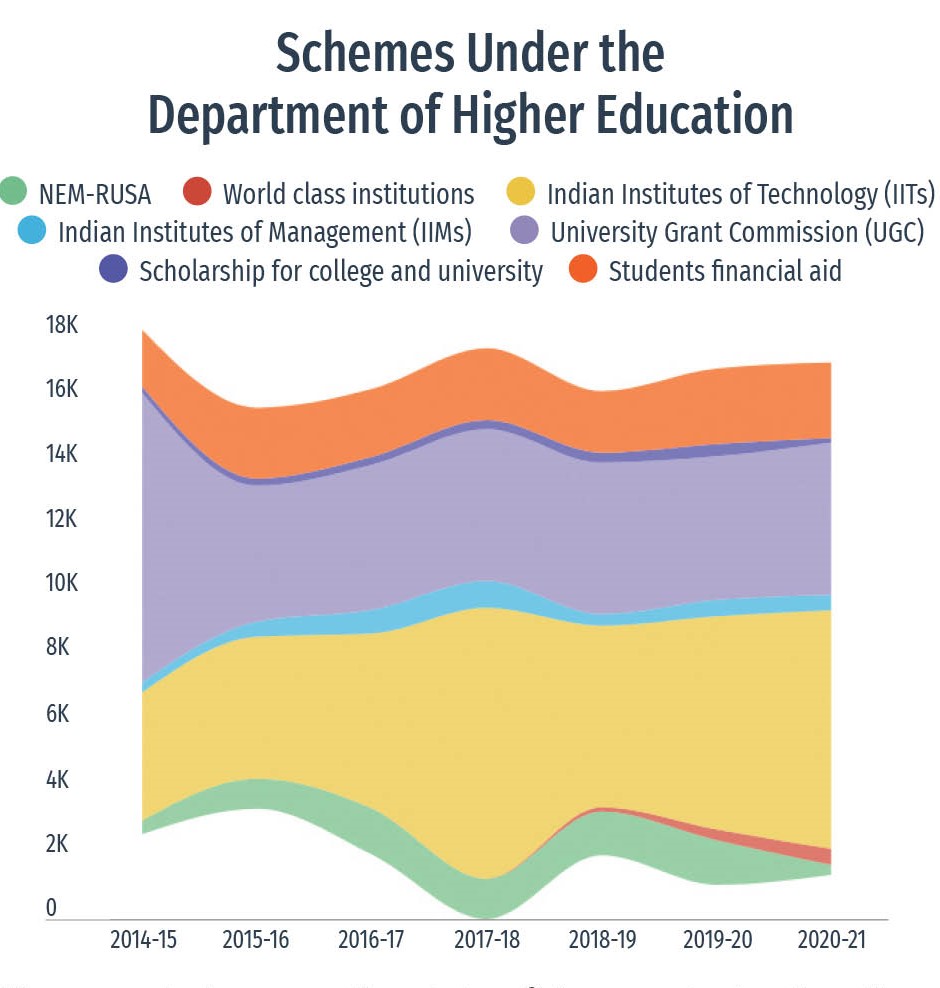 However, to improve the state of the country's education, overall financing of public higher education needs equal emphasis. In the budget for 2020-21, some schemes and institutions saw a significant drop in allocations from the 2019-20 Revised Estimates (RE). The holistic scheme of Rashtriya Uchhatar Shiksha Abhiyan (RUSA) aimed at raising quality and promoting equity in state institutions has seen a 78 percent dip. On the other hand, budget allocations to create a few 'World Class Institutions' has been given Rs. 400 crore, a 23 percent increase.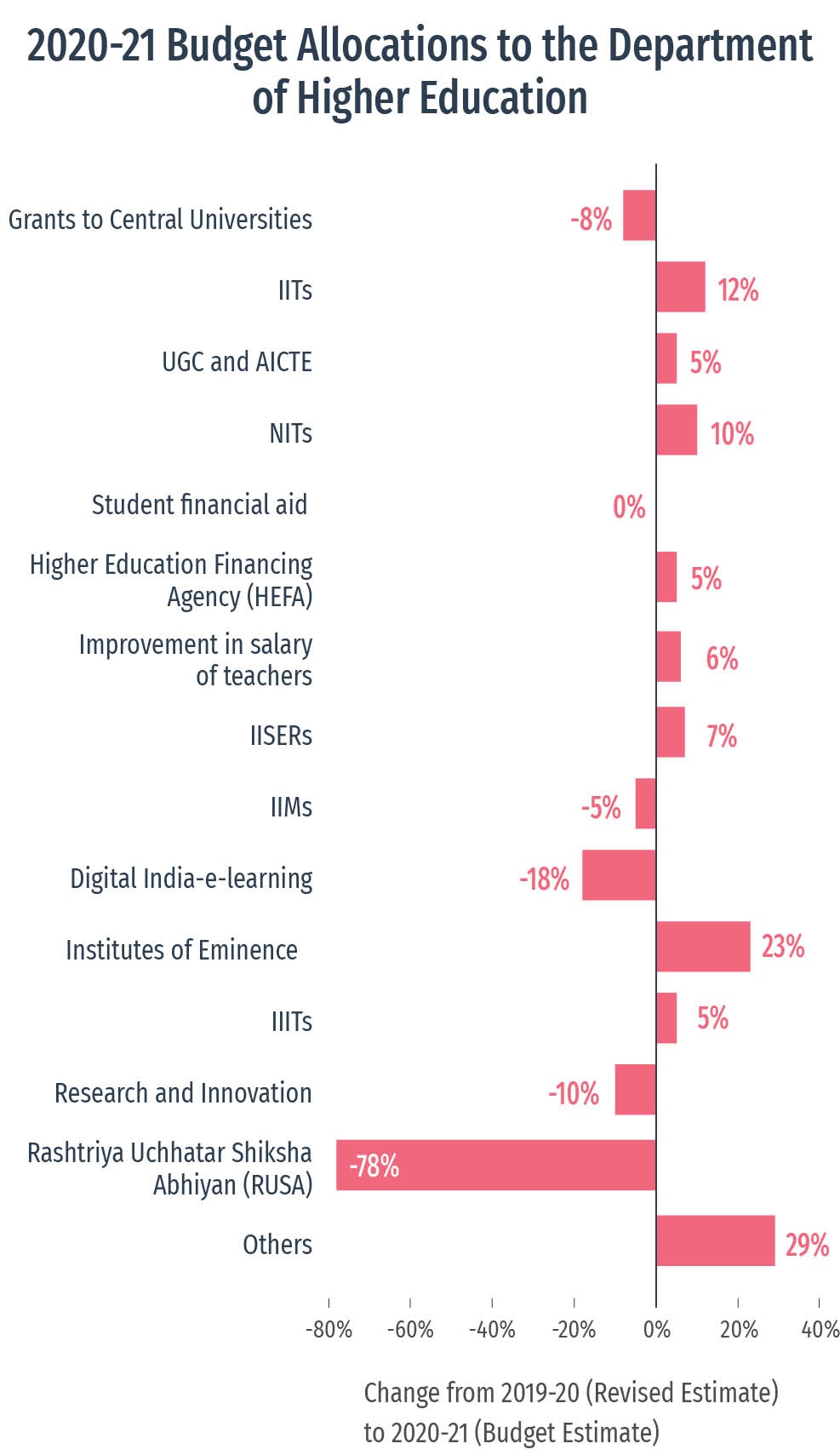 This will perhaps not be sufficient to achieve either quality or equity in the majority of institutions, attended by lakhs of students. A May 2019 Times Higher Education survey stated that only around one-third of students are women in India's top universities. The same year, the world university rankings showed that among twenty countries to have more than ten universities in the ranking this was the lowest ratio.
Nikita is an independent journalist
Write to us at news@careers360.com.
Stay updated with latest Education News
More From Team Careers360