Interview: 'Keep broadening the horizon,' says IIT Kanpur director
IIT Kanpur is getting a new medical college, already has a new department of space science and astronomy, two new research centres and many plans.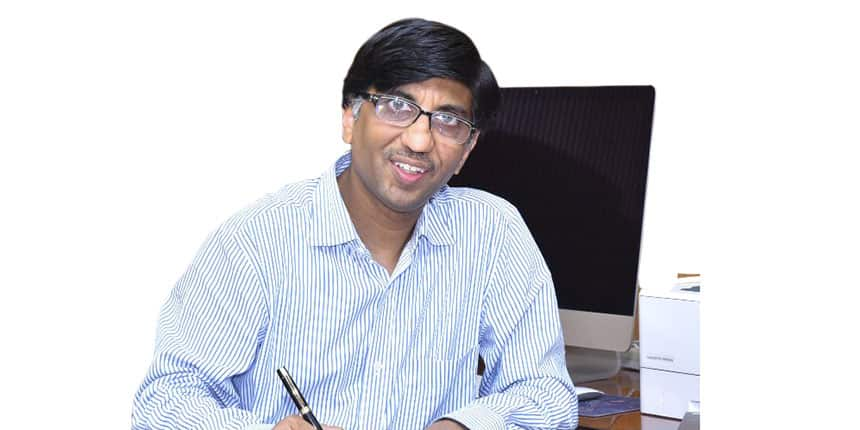 NEW DELHI: Recently, Indian Institute of Technology (IIT) Kanpur received its highest endowment of Rs. 100 crore from its alumnus Rakesh Gangwal, co-founder of India's IndiGo Airlines, for setting up a School of Medical Sciences. IIT-K's director Abhay Karandikar spoke to Careers360 about the new medical college, the new departments in the works for design and space science, and engineering education in general. Edited excerpts.
Q. How far has IIT Kanpur's School of Medical Sciences progressed?
A. The School of Medical Sciences and Technology is a collective dream we nurtured to bring a significant change in the medical education and infrastructure in India. The idea has been blooming by the day with rigorous planning and discussions and with generous support and contribution from our global alumni network. The recent contribution of Rs. 100 crore from our alumnus Rakesh Gangwal is one of the highest individual contributions we have got and now the school is going to be named the Gangwal School of Medical Sciences and Technology.
It will be housed within the campus of IIT Kanpur. The school will be headed by a senior faculty and will be integrated with the research and development and entrepreneurial ecosystem of the institute. The idea is to nurture cross-disciplinary learning for medical practitioners by bridging the gap between medical and technology disciplines. We aim to offer immersive learning for our science and engineering students for research in medical technology (MedTech) domains.
The school will be completed in two phases. Phase I will include setting up a 450-bed Yadupati Singhania Super-Specialty Hospital, a 50-bed cancer care hospital, academic block, residences or hostel, and service block with a total built-up area of approximately 8.1 lakh sq ft.
We will launch nine Centres of Excellence (CoEs) focused on research and development in MedTech and medical research and each of the CoEs will have about 10-15 faculty members from diverse departments of the institute working on mission-mode projects. We will also hire clinical faculty to augment expertise and start new areas of research. This phase is tentatively planned to be completed over the next three to five years. Phase II of the project will see the hospital capacity grow to 1,000 beds, expansion of clinical departments or centres, research areas, the inclusion of paramedical disciplines, alternative medicine, hospital management, sports medicine, and public health programs. Phase II is planned to be completed over seven to 10 years.
Also Read | IIT Placements: Are non-tech students in IITs getting a level-playing field?
Q. What are your views on the recent shift in the engineering education of India in regards to the implementation of the National Education Policy?
A. There are shifts in every sphere of education. With the fast-changing world and with NEP 2020 coming into place, engineering education is also changing. The shifts in engineering education relate more with the rapid technological advancements happening in the world.
Today, it's not about a few departments working in their own space and in innovations in their respective fields. Today, it's about a multi-disciplinary approach to research and innovation and the horizon of this is ever-expanding.
With developments in the field of artificial intelligence and machine learning, broadband connectivity, drone technologies, cyber security and so on, the engineering education or technological education spectrum is changing. The gap between disciplines is getting narrower and the curricula are also going through improvisations to accommodate timely requirements. We have made significant changes in our curricula in our undergraduate and postgraduate academic reforms and in diversifying our departments and other academic resources so that a holistic eco-system can be maintained through research and learning.
Also Read |'Seriously considering' campus abroad : IIT Delhi director
Q. Last year, IIT-K launched two centres of research and learning. How are you utilising these centres for the overall learning of the students?
A. Setting up new departments and launching new courses are part of our curriculum review processes. Last year, as part of the Undergraduate Academic Review Committee Report 2020-21, we brought transformative reforms to our curriculum in line with the National Education Policy (2020).
Under the revamp, we introduced the Honours degree option and new interdepartmental degree programs and also extended the scope of learning to include Social-Sciences, Communication, Humanities, Economics, Management, and Environment (SCHEME). We already have the provision of a double major, minor, dual degree with masters, and eMasters programmes for various courses.
In terms of setting up new departments, our aim is always to keep broadening the horizon of learning so that it can contribute to making the leaders of tomorrow.
In the last two years, we established four new departments making the total tally of departments 20. At the start of this year itself, we approved the Department of Design and the Department of Space Science and Astronomy. While the former will cater to the evolving industry requirements, the latter is a first-of-its-kind attempt to bring engineers, astronomers, astrophysicists, and planetary scientists together to enrich the research and development in the broader area of space science and astronomy.
Before these two departments, we launched the Department of Sustainable Energy Engineering to become a vital contributor to making India atmanirbhar in clean energy and the Department of Cognitive Science as a foray into an interdisciplinary study of the mind. We aim to bring flexibility in learning through new courses and departments and at the same time diversify the scope of learning.
Also Read| Reforming MTech: IITs, other engineering colleges are launching PG degrees in new fields
Q. What are your thoughts on the shift in higher education in India?
A. Higher education in India is going through changes. As mentioned earlier, we ourselves have adopted several necessary steps in our institute's academic system. A recent example is UGC's provision to allow students to pursue two full-time degrees simultaneously. It would be a boon to many.
In today's time, learning is not confined to a physical classroom, there are multiple alternate avenues.
In such a changing scenario, I believe the government's introduction of the Digital University is a reformative step. Built on a networked hub-spoke model, Digital University will give higher educational institutes a scope to offer online courses without any limits on seats and any differentiation between the online and the conventional degrees. In my opinion, it is a welcoming step for higher education in India.
Also Read| IIT Patna CSE team working on curbing hate speech online. First stop: Twitter
Q. What are your plans for enhancing IIT-Kanpur's role in the overall upliftment of engineering education in the future?
A. Every institute abides by a vision and inculcates certain core values. There are many projects and many dreams that are yet to bloom as IIT Kanpur plans the future roadmap.
The Gangwal School of Medical Sciences and Technology is one such project that will go through phase-wise development. We recently inaugurated the Diamond Jubilee Academic Complex, which is one of the many projects that are still in the pipeline. So, with such small yet firm steps, we plan to turn our futuristic ideas and plans into reality in times to come. We would also strive to contribute to making India self-reliant on all fronts possible from our end.
Also Read|NIT Silchar's PhD programme brings doctors, computer science engineers together
Also, to meet the dynamic industry requirements across sectors, I believe multi-stakeholder collaboration is a key step. We have been in agreement with various stakeholders – the Indian Army, Indian Air Force, Prasar Bharti, different companies and so on.
---
Follow us for the latest education news on colleges and universities, admission, courses, exams, schools, research, NEP and education policies and more..
To get in touch, write to us at news@careers360.com.
Know More About
NIRF Rank
16
Rating
4.6/5
Download Brochure