Madhya Pradesh medical colleges will teach 3 MBBS subjects in Hindi from 2022
Madhya Pradesh medical colleges will teach 3 MBBS subjects in Hindi from 2022
All 13 MP government medical colleges will teach anatomy, physiology, bio-chemistry in Hindi. Amit Shah will release the books on October 16.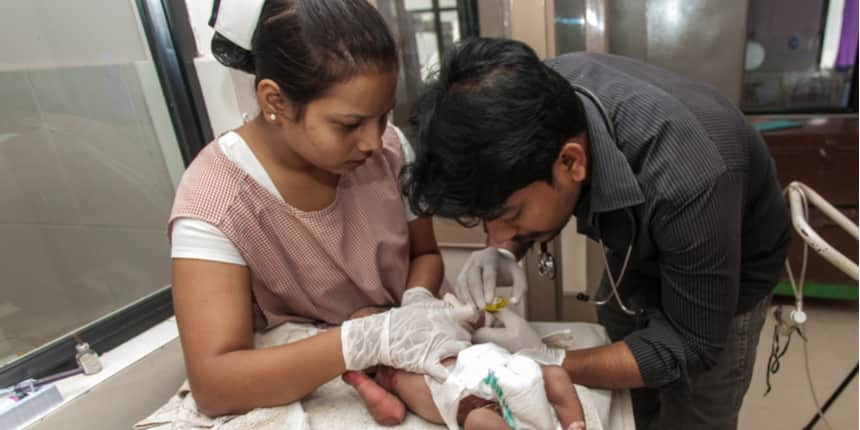 Sanjay
|
Oct 13, 2022 - 11:58 a.m. IST
NEW DELHI: Madhya Pradesh government's pilot project of teaching undergraduate medicine in Hindi will begin from this academic session 2022-23. Three MBBS subjects – anatomy, physiology and bio-chemistry – will be taught in Hindi to first-year MBBS students in all 13 government medical colleges of the state. The project will also be implemented in MBBS second year in the next academic session, according to the state government's statement.
Dr Satykant Trivedi, Bhopal-based psychiatrist and member of the Chikitsa Hindi Prakoshth - the panel which has prepared the books for the project, told Careers360, "All three books – anatomy, physiology and bio-chemistry – in Hindi for the first year contain 3,410 pages combined. It is not the translation of the books but it is a transformation. We have written the books in Devanagari script and not complicated the things for students by translating terminologies of course. It is a revolutionary step and being done for the first time in India."
Union home and cooperatives minister Amit Shah will release the MBBS first year books in Hindi in Bhopal on October 16.
The announcement by Madhya Pradesh government has come at a time when MK Stalin and Pinarayi Vijayan, chief ministers of southern states Tamil Nadu and Kerala respectively, have opposed the recommendation of Shah-led parliamentary panel to make Hindi and local languages the medium of instruction in all technical and non-technical higher educational institutions.
Ahead of the launch of the project, an exhibition on various innovations including MBBS in Hindi, knowledge sharing mission, medical student insurance scheme, inclusion of value based medical education in MBBS foundation course, by Madhya Pradesh medical education department will be held on October15.
Madhya Pradesh medical education minister Vishwas Kailash Sarang said that it is a matter of happiness that the Hindi syllabus of MBBS has been prepared within the prescribed time-limit.
Will MBBS in Hindi work?
A section of academics and doctors have welcomed the move to have medical books in Hindi for better learning but are worried about its implementation and outcome.
Dr Shankul Dwivedi, member of standing committee of Indian Medical Association (IMA) junior doctors' network said: "The initiative to conduct MBBS studies in regional languages is a welcome step but it raises concerns over mapping the education in accordance with national and international acceptable standards. It will help students to become more patient-friendly as graduate doctors would know the medical terms in regional languages. However it will be difficult to say how these students would match the skills of literature reading and presentation at different platforms, compared to students doing MBBS courses in English. Other than the Hindi textbooks designed for this initiative, most medical literature available is in English and hence will pose a difficulty in comprehension and knowledge incorporation." Dwivedi works as a doctor in MP government hospital.
Ramanand Nand, former adviser to the ministry of education and co-founder of the Delhi-based Centre for Policy Research and Governance, said: "It will help students with rural backgrounds to access medical education in their mother tongue. Having MBBS in Hindi-medium does not imply change in the medium of terminology. They are only the medium of instruction. States like Maharashtra and Karnataka are already doing pilots in some of the colleges in Marathi and Kannada respectively. It is needed to expand in other state languages like Telugu, Malayalam, Tamil, Bengali, Assamese etc"
"However, proper planning and its effective implementation is to be done carefully to make this step a success. We should avoid over enthusiasm otherwise it could backfire in absence of infrastructure and facilities," he added.
Also Read | MP NEET UG counselling 2022 registration begins at dme.mponline.gov.in; apply by October 20
Dr Satendra Singh, a professor at the University College of Medical Sciences and Guru Tegh Bahadur Hospital, Delhi said the thoughts behind this initiative are good but execution is wrong.
"Colleges in Gujarat and southern states use local regional languages to make students learn medical concepts. The purpose of this good move is to enable students to learn things in their own language. However, the research work and publication in international journals are not in Hindi or local languages. Students who will study MBBS in Hindi are likely to face the problems of getting their journals published and will result in low-visibility of Indians in international medical journals. The students who will complete MBBS in Hindi from Madhya Pradesh will face problems in their postgraduate studies in other states. We often ask our students if they want to understand things in Hindi or English and we teach in Hindi if the majority of students want."
MBBS students from Hindi-medium
Vinod Kushwaha, MBBS final-year student at People's Medical College, Bhopal, had studied in a Hindi-medium school "In my first and second year, I faced language barrier problems in my MBBS classes. I could not understand things properly when teachers taught English only. Many students in my class who completed their schooling in Hindi medium could not clear the first-year exams," he explained. "I think it would have helped me if the teachers had used Hindi as a medium of communication in our classes. I do hope the current government initiative will help students in learning things more effectively."
Similarly, Rakhi Pandey, a third-year student of Government Medical College, Datia, was from a Hindi-medium school as well. "You are bound to face problems when you study in Hindi till Class 12. We failed to retain all things taught in the class as teachers taught us in English only. We also failed to write our answers properly in exams even when we knew the answers," she said.
Also Read | MP NEET PG Counselling 2022: 42.5% general seats in private medical colleges at same fees as govt
But students also know that to progress further, they will need to study English.
Suryansh Tripathi, MBBS First Year Student at Sri Aurobindo Institute of Medical Sciences (SAIMS), Indore said though the students will benefit from Hindi books but they have to adapt in English for further studies.
"I think it's a good initiative of the government and students from Hindi medium will get its benefit," said Suryansh Tripathi, in first year of MBBS at SAIMS Indore who graduated from an English-medium school. "However, I feel that students should be given extra classes in English so that they can improve. In the end they have to adopt English for future medical education and research."
'Will set medical education back'
The 14-members committee Chikitsa Hindi Prakoshth was set up on February 7, 2022 under the guidance of the directorate of medical education, Madhya Pradesh to prepare medical course books in Hindi. The committee is also planning to publish medical journals in Hindi.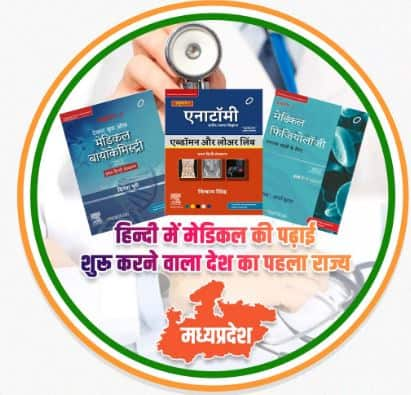 Madhya Pradesh will become the first to start MBBS course in Hindi.Trivedi said: "Prime Minister Narendra Modi wants to promote Indian languages. Productivity of students improves when they learn things in their own language. We are neither competing with any language, nor have ill things to say against any language. We want students to not be punished for language barriers."
Explaining the implementation of the project, he said that the students will have the freedom to write the answers in English or Hindi in their examinations.
"It will not be compulsory for students to write answers and give viva in Hindi. Teachers will conduct classes in bilingual mode and it will help students in learning things effectively. Students studying MBBS in Hindi and English will sit in the same class and they will have flexibility to write papers in their own language," he added.
Also Read | NMC issues guidelines for MBBS 2022-23; session begins November 15
However, there is criticism as well. Dr Rohan Krishnan, national president of the doctors' association, Federation of All India Medical Association (FAIMA) said Madhya Pradesh government's move will "set medical education back by 50 years".
"For anything to become of repute, it has to be in a language that is accepted globally. Medical students should learn things in line with international guidelines of the World Health Organisation (WHO) and other bodies. MBBS can't be done in Hindi. Those who want to gain some political mileage out of this have made it a laughable issue. Countries which taught medical courses in native language witnessed the deterioration of the quality of doctors. Be it China, Russia or Ukraine. Their doctors don't get jobs anywhere else except in their own countries as they are not familiar with international guidelines. It is a very backward step and we will oppose this in our capacity."
Trivedi responded saying: "Understanding things is more important than language. We are not restricting students from studying in English. We are aiming for a better learning environment and helping students in getting command of their subjects. I appeal to everyone to wait for the implementation of the project and see the results before opposing this."
---
Follow us for the latest education news on colleges and universities, admission, courses, exams, schools, research, NEP and education policies and more..
To get in touch, write to us at news@careers360.com.