How private universities cast a global net to build faculties
Private Universities focussed on creating world-class academic, research environments actively recruit teachers from abroad.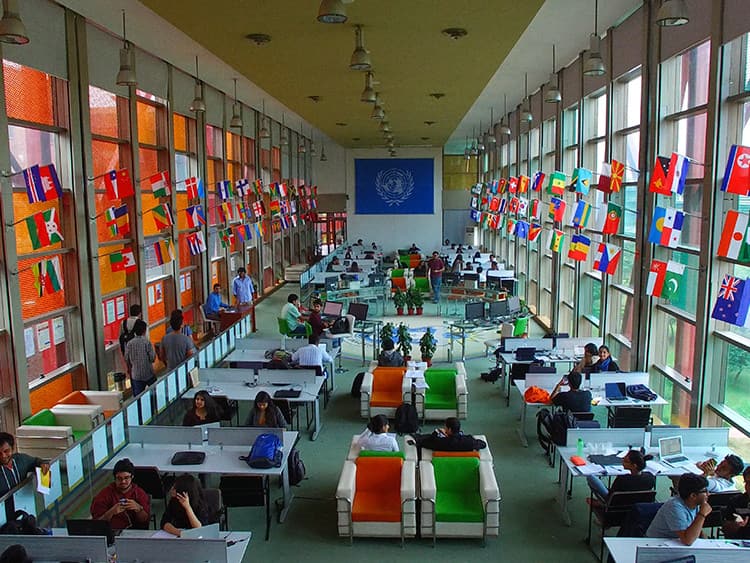 NEW DELHI: FLAME University is looking for academics and scholars from around the world, not necessarily to teach but to stay on campus and work on their research. The private university in Pune, Maharashtra is looking to become a "sabbatical hub".
"We will support them and explore channels for our faculty to collaborate with them for joint research opportunities. We are hopeful this initiative will help us to connect and engage with a larger pool of international faculty whom we could engage with for teaching and research associations. This will also help our students get a real, global learning experience," said Dishan Kamdar, FLAME University vice-chancellor.
Much freer than public institutions in matters of recruitment and salaries, private universities consciously cultivate an international environment and recruit large numbers of foreigners as well.
Private universities including Ashoka, FLAME, OP Jindal, Shoolini and even newer ones such as Plaksha, Rishihood have significant numbers of foreigners teaching with several of them in senior positions.
"We believe there is quite a large number of young international faculty who want to come and work in India on some interesting topics," said Atul Khosla, founder and vice-chancellor, Shoolini University.
Also Read | How sports universities are changing the game in 'physical education'
International campus recruitment
With an eye to creating Ivy-League-type institutions – top private universities in the US – Indian private institutions are recruiting from universities in the US, Ireland, Taiwan, Iran, and many more. The strong focus is also prompted by the fact that international university ranking systems such as the Quacquarelli Symonds (QS) and Times Higher Education (THE) rankings privilege an "international" campus for both students and staff.
"At FLAME, in keeping with our goal to be a truly global liberal arts institution, we constantly identify potential faculty members internationally through our faculty, partner institution networks, alumni, referral and advertising on leading recruitment sites," said Kamdar.
Officials scout internationally, even travelling to meet and recruit candidates from foreign institutions. "We travelled across the US recently and met several people in person across international universities who are willing to contribute with relevant experience and exposure. People want to contribute to the Indian story," said Shobit Mathur, vice-chancellor of a newly-opened Rishihood University in Sonipat, Haryana, which started operations in 2020. "Also, Rishihood is a social impact university and we offer several community-driven projects which are unique in comparison to other private universities."
OP Jindal, too, visits the international campuses and their placement drives.
Also Read| From BTech in climate change to BA in tribal management, here's a list of 30 new courses
International exposure
At the point of recruitment, these universities privilege exposure to foreign universities. "When you look at our faculties profile, 60 percent of faculties have at least one international university qualification. Hence, we look for candidates studying in an international university and willing to come back to India to teach students of India," said Jitu Mishra, chief administration officer and senior director, human resources, OP Jindal Global University.
While the minimum eligibility is usually a PhD, this may vary for some courses and subjects. Kamdar said: "Across all disciplines, the potential faculties are required to hold a PhD at the time of the offer, or be in the final year of PhD. Candidates also apply before but the joining is contingent on successful completion of the doctoral degree. Further, in certain practice-oriented fields such as art, design and others, we hire specialists who are non-PhDs but professionals with extensive practice experience."
Similarly, at Ashoka University, for its undergraduate programme, most teaching staff are drawn from academia. But for courses like entrepreneurship, performing arts, media studies, and others, there are artists and people from the industry with relevant experience.
"These are teachers specific to such areas. The predominant part of the faculty is from academia but there are a few who might be from industry or corporation who can teach their skill set," said Malabika Sarkar, vice-chancellor, Ashoka University, Sonipat, Haryana.
Also Read | How BTechs in tier-2 towns landed IT jobs with crore-plus salaries
Private Universities: Selection panel
Most of these private universities either have a selection panel or VCs themselves meet the shortlisted candidates in person.
Kamdar said after receiving the list of potential candidates and shortlisting deserving candidates, the university invites them for an online faculty recruitment seminar that is evaluated by external subject experts, heads of department or deans of school, and the leadership team. "Offers are made based on job talk performance, past academic and publishing record, teaching experience, and overall fit with the current programmes at FLAME," he added.
OP Jindal Global follows a similar process. "For all candidates, both national and international, profiles undergo the process of faculty recruitment panel and based on their discretion and the qualifications, candidates are recommended and after the interview round, panel accordingly hire the teachers," said Mishra.
At Plaksha University, an international committee selects the candidates. "The chair of this selection committee sitting in the US, goes through all the applications and makes the first contact with the candidates. Later, the first screening is with a couple of faculty members, and once a potential candidate is selected, the faculty member is invited to give a research talk at the university, attended by faculties and students. Later, the potential candidate also has a one-on-one with the faculty members who have experience in the specific area. Then we accumulate the feedback from these interactions and these are overlooked by a committee and then we choose the candidate," said Rudra Pratap, Plaksha's founding VC.
Also Read| How sports universities are changing the game in 'physical education'
Private University: Academic freedom, cultural fit
These universities also look for candidates who will sync well with their vision and culture. Faculties, in turn, seek academic freedom and independence. "People look for flexibility and community-driven projects. That's an intangible pull. Hence, the nature of the university also matters," said Mathur. "We also academic freedom have a young team with founders in their 30s and faculty look for people who are risk-taking and young."
Plaksha University's selection gauges the cultural fit of the candidate as well. "It is of utmost importance that the candidate's ideas align with Plaksha's vision and is willing to do more than a fair share to pull along our direction," said the VC.
Also Read | Krea University is preparing a generation for the future, says founder
Level playing field
The universities insist that once recruited, all teachers, whether recruited from within India or abroad, are treated equally. "People are levelled from the interview process and there everyone is equally treated," Rudra Pratap said.
"Creating a knowledge-driven, rich environment is our utmost priority and generating a high-quality research output from the university, which allows us and our faculty members to be acknowledged among the top league of knowledge-creating and disseminating institutions, is our motto," said Mathur. "While some universities want big and renowned names, we want people with better talent."
Over the 230 teachers at Shoolini, 22 are foreigners. "We would like to take our international faculty to 20 percent. We want new innovative minds from different parts of the world to come and teach our children here. It is a way of increasing diversity and making sure that students have global exposure," said Khosla.
Also Read | Kerala University ran 9 departments without a single professor: CAG report
Sarkar said that for Ashoka, the focus is not on international faculty but the best available teacher. "There is no separate policy for foreign or Indian faculty, our focus is primarily on finding the best one available, and therefore there is a mix of Indian as well as international teachers," she said. "We also have departments where there isn't a single foreign faculty because the available talent is in India. A large number of Indian faculty have also joined us from international stalwarts like Massachusetts Institute of Technology (MIT), Cambridge, US and Cambridge University, England. Hence, the focus is on the teaching and research quality in recruitment criteria and not nationality."
---
Follow us for the latest education news on colleges and universities, admission, courses, exams, schools, research, NEP and education policies and more..
To get in touch, write to us at news@careers360.com.
More From Sheena Sachdeva