The Week In Education: More schools close, #CancelBoardExams2021 trends
The Week In Education: More schools close, #CancelBoardExams2021 trends
#Cancelboardexams2021 campaign online, schools closed in Haryana, Delhi, Rajasthan, Odisha.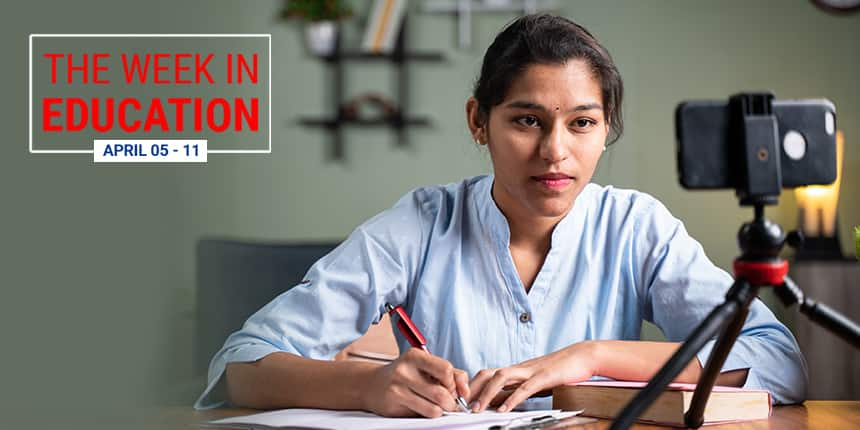 NEW DELHI: Still more states closed schools in response to the second wave of COVID-19 infections and states like Maharashtra announced that it will promote even students in senior classes of state board schools without exams. The prime minister, Narendra Modi's annual interaction with students writing board exams, Pariksha Pe Charcha 2021, was somewhat overshadowed by the demand for the cancellation of board exams online and "#cancelboardexams2021" trended. They were supported by Congress leaders Priyanka Gandhi and Rahul Gandhi and left-leaning students' group, All India Students' Association. Aaditya Thackeray, president of Shiv Sena's youth wing, Yuva Sena, said that the South Mumbai MP Arvind Sawant has sought "national consensus and central guidance" on Class 10 and Class 12 board exams from the education minister, Ramesh Pokhriyal 'Nishank'.
The education ministry launched SARTHAQ, a document intended to guide the implementation of the National Education Policy 2020 with lists of tasks, deadlines and outcomes. The Bihar Board 10th result was declared and the Uttar Pradesh (UP) Board, Uttar Pradesh Madhyamik Shiksha Parishad (UPMSP) rescheduled its board exams.
These were the most significant developments in education over the week.
COVID-19: Schools shutdown news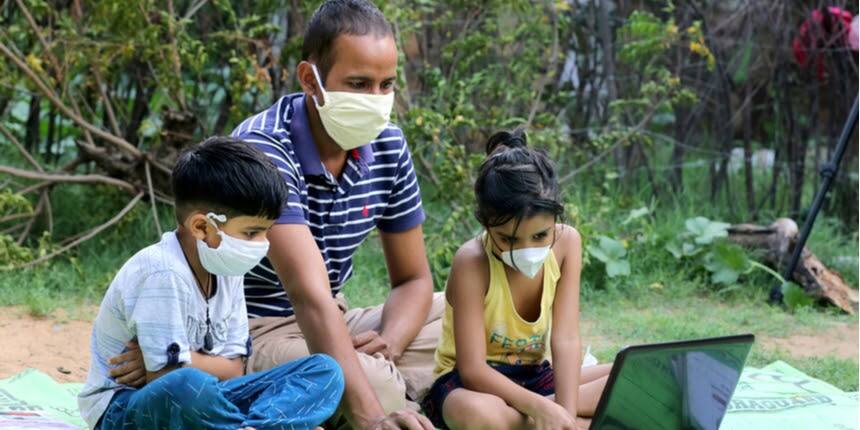 School closed in Haryana 2021 : Schools have been shut across states and exams postponed (Source: Shutterstock)
COVID-19 In 2021: Where schools are closed
#महत्वपूर्ण_सूचना

छत्तीसगढ माध्यमिक शिक्षा मण्डल रायपुर द्वारा राज्य में कोरोना के बढ़ते संक्रमण तथा कई जिलों में लॉकडाउन की स्थिति को ध्यान में रखते हुए कक्षा 10वीं की दिनांक 15 अप्रैल 2021 से प्रारंभ होने वाली बोर्ड परीक्षा स्थगित कर दी गई है।

— CMO Chhattisgarh (@ChhattisgarhCMO) April 9, 2021
Lucknow, Uttar Pradesh: The Lucknow administration also ordered the closure of all educational institutes, barring those imparting medical education. All government and non-government schools, colleges, coaching institutes and other educational institutes, barring medical, nursing and para-medical ones will remain closed till April 15.

TS Inter practical exam 2021 postponed: The rising COVID-19 cases also led to the postponement of the TS Inter practical exams 2021. The practical exams were scheduled to be conducted between April 7 and 20, 2021. The exams will now be held after the theory exams, which are scheduled to be conducted from May 1 to 20, 2021.
Over one lakh Class 10 and 12 students signed online petitions urging the Centre to either cancel board exams scheduled to be held in May or conduct them in online mode. To raise the issue, #cancelboardexams2021 was trending on Twitter for two days with over seven lakh tweets. However, both the Central Board of Secondary Education (CBSE) and Council for the Indian School Certificate Examinations (CISCE) have said that adequate safety arrangements are being made for students and all COVID-19 guidelines will be followed during the exams. On Friday, Congress leader Priyanka Gandhi joined the chorus saying it is "irresponsible" of boards like CBSE to hold exams during the pandemic. By Sunday, Rahul Gandhi had also weighted in.
In the light of the devastating Corona second wave, conducting #CBSE exams must be reconsidered. All stakeholders must be consulted before making sweeping decisions.

On how many counts does GOI intend to play with the future of India's youth?

— Rahul Gandhi (@RahulGandhi) April 11, 2021
Thackeray wrote on twitter: "Yesterday, South Mumbai Arvind Sawant ji has written to Union Minister HRD (sic) for national consensus and central guidance on 10th/12th exams instead of various states taking different decisions that will affect student lives & careers for CBSE, ICSE, IB, GCSE & state boards." Yuva Sena was one of the groups that had opposed university exams in 2020.
Yesterday, South Mumbai Arvind Sawant ji has written to Union Min, HRD for national consensus and central guidance on 10th/12th exams instead of various states taking different decisions that will affect student lives & careers for CBSE, ICSE, IB, GCSE & state boards. https://t.co/49xheN95pu

— Aaditya Thackeray (@AUThackeray) April 11, 2021
Several schools have requested the Tamil Nadu Government to postpone the Class 12 board exams amid the spike in coronavirus cases in the state. Tamil Nadu Class 12 exams will be conducted from May 3 to 21, 2021.
UP Board dates revised, BSEB Class 10 results declared
The Bihar School Examination Board (BSEB), Patna declared the Bihar Board Class 10 result 2021 on April 5. In the BSEB Class 10 exam, a total of 12,93,054 students passed this year and the overall pass percentage stood at 78.17%. Meanwhile, dates for UP Board exam 2021 were revised for Class 10 and 12. UP Board exams will now be conducted from May 8 to May 28, 2021.
The second wave of COVID-19 has prompted Aligarh Muslim University (AMU) and the Jamia Millia Islamia (JMI) University to direct students to stay home and continue their academic work online. AMU also postponed the AMU Engineering Entrance Examination (AMUEEE) and other entrance exams which were scheduled to be held in June. The revised schedule is yet to be announced.
The Jawaharlal Nehru University (JNU) issued new guidelines in compliance with the Delhi Government's order for night curfew in the national capital. The university has imposed restriction on movement in and out of the campus during the curfew timing of 10 pm to 5 am. However the rules have been relaxed for persons who are engaged for emergency services, medical emergency and supply of goods during the curfew period on production of valid I-card.
A student of the Manipur University tested COVID-positive days after he appeared for an exam at the campus. On April 6, the student had appeared for the BVoc fifth semester examination at room number 437 of the New Social Sciences Block on campus.
Indian Institute of Technology (IIT) Jodhpur allowed students with limited access to the internet to come back to its campus following strict COVID-19 protocols. IIT Jodhpur had earlier allowed post-graduate and PhD students to return to the campus for carrying out their thesis and project work.
Leading educational institutions in Uttarakhand are grappling with the second wave of coronavirus with 56 cases detected at the Central Academy for State Forest Service, the Doon School and IIT-Roorkee. The total number of students hit by coronavirus at the IIT-Roorkee rose to 89 and three buildings were declared containment zones. The Central Academy for State Forest Service (CASFS) reported 14 cases and The Doon School reported one.
Just one day before their start, Shivaji University, Kolhapur postponed examinations for all courses scheduled to commence from April 6. The exams were canceled for all undergraduate and postgraduate courses of the university and affiliated colleges.
Education: Policy, new courses, PM Modi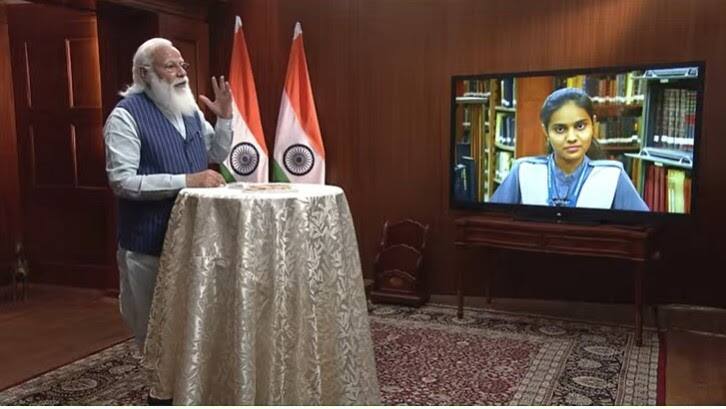 Prime Minister Narendra Modi interacted with students about board exams as #cancelboardexams2021 trended on social media
The Union education minister Ramesh Pokhriyal 'Nishank' this week held a high-level meeting on the implementation of National Education Policy (NEP) 2020. Following the meeting, Pokhriyal launched the NEP implementation plan for schools, 'Students' and Teachers' Holistic Advancement through Quality Education' or SARTHAQ. The document links the NEP 2020 recommendations with 297 'tasks', timelines and 304 'outputs' of these tasks.
Prime Minister Narendra Modi this week held interaction with students and teachers on board examination and handling stress. This was the first virtual edition of the annual Pariksha Pe Charcha. Speaking on exam stress, Modi said, "You don't fear the exam but the atmosphere created around exams."
The Indian Institute of Technology (IIT) Delhi has launched a new interdisciplinary postgraduate program, MTech in cybersecurity. The programme will allow applicants to register as full-time or part-time candidates. The last date for submission for the online application is April 24, 2021.
The Centre has released around Rs 4,000 crore for the Post Matric Scholarship Scheme for Scheduled Castes. The government had completely revamped the Post Matric Scholarship Scheme for Scheduled Castes to provide universal access to the youth of the community for higher education. The funding pattern under the scheme has been changed from the committed liability formula to a fixed sharing pattern of 60:40 between the Centre and states (90:10 for northeastern states).
The Central Board of Secondary Education (CBSE) this week signed a memorandum of understanding with the technical education regulatory, All India Council for Technical Education (AICTE) to train and enhance the skills of teachers and students of the CBSE affiliated schools. As part of the programme, the CBSE and the AICTE will launch programmes for the training of CBSE school teachers on AICTE Training and Learning Academy (ATAL), National Education Alliance for Technology (NEAT), among other initiatives.
Special stories
Write to us at news@careers360.com.
More From Team Careers360