State Elections 2022: How UP, Punjab, Uttarakhand, Manipur, Goa have fared in education
State Elections 2022: How UP, Punjab, Uttarakhand, Manipur, Goa have fared in education
Uttar Pradesh, Uttarakhand, Punjab, Goa and Manipur have all struggled to keep students in school, enrol students in higher education.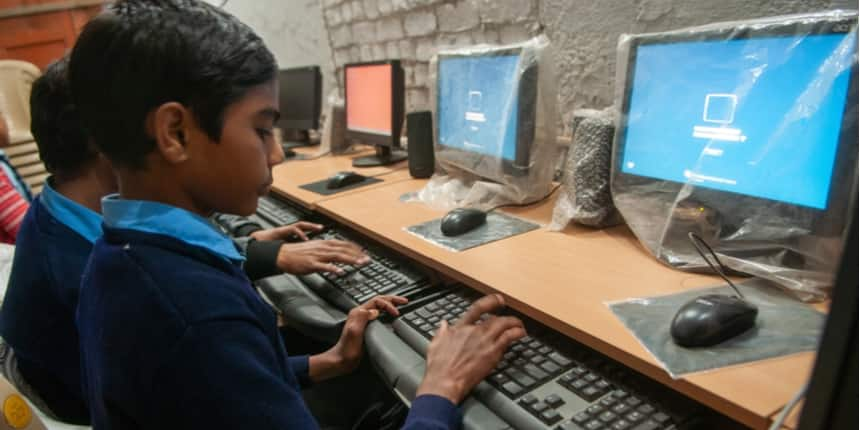 NEW DELHI: All five states where assembly elections are scheduled from February struggle to keep children in school at the secondary level, Class 9 and beyond. The five states are Uttar Pradesh, Punjab, Manipur, Uttarakhand, and Goa.
14 min read
Mar 05, 2022
11 min read
Mar 05, 2022
The dropout rates are significantly higher for historically marginalised communities, the Scheduled Castes (SC), Scheduled Tribes (ST) and Other Backward Classes (OBC) suggesting the states also find providing an equitable system of education challenging. In higher education, enrolment of these communities is lower wherever they are present in large numbers in population.
Also Read| Punjab Election 2022: Higher education hobbled by funds crunch, vacancies, privatization
Basic infrastructure – electricity, toilets, computers – are still missing from a large number of schools, especially in rural areas. Since the Right to Education Act 2009 was enacted, providing good quality public education at the primary level is state responsibility.
Based on data maintained by the ministry of education – Unified District Information System for Education (UDISE) and All India Survey of Higher Education (AISHE) – the following charts show how each of the election states has performed on crucial educational parameters over the past few years. The latest data available for both school and higher education is for 2019-20.
The UP election 2022 and will be held in seven phases and the first UP election date is February 10. Punjab election 2022 date is February 14; Uttarakhand and Goa will also vote on the same day. Manipur election 2022 will be held in two phases, the first is on February 27. The chief election commissioner of India (CEC) and the election commissioners announced the polling schedule on January 8.
School dropout rate
School dropout rate is measured by the percentage of students who failed to complete a certain class or level.
Overall school dropout rates in each of the election states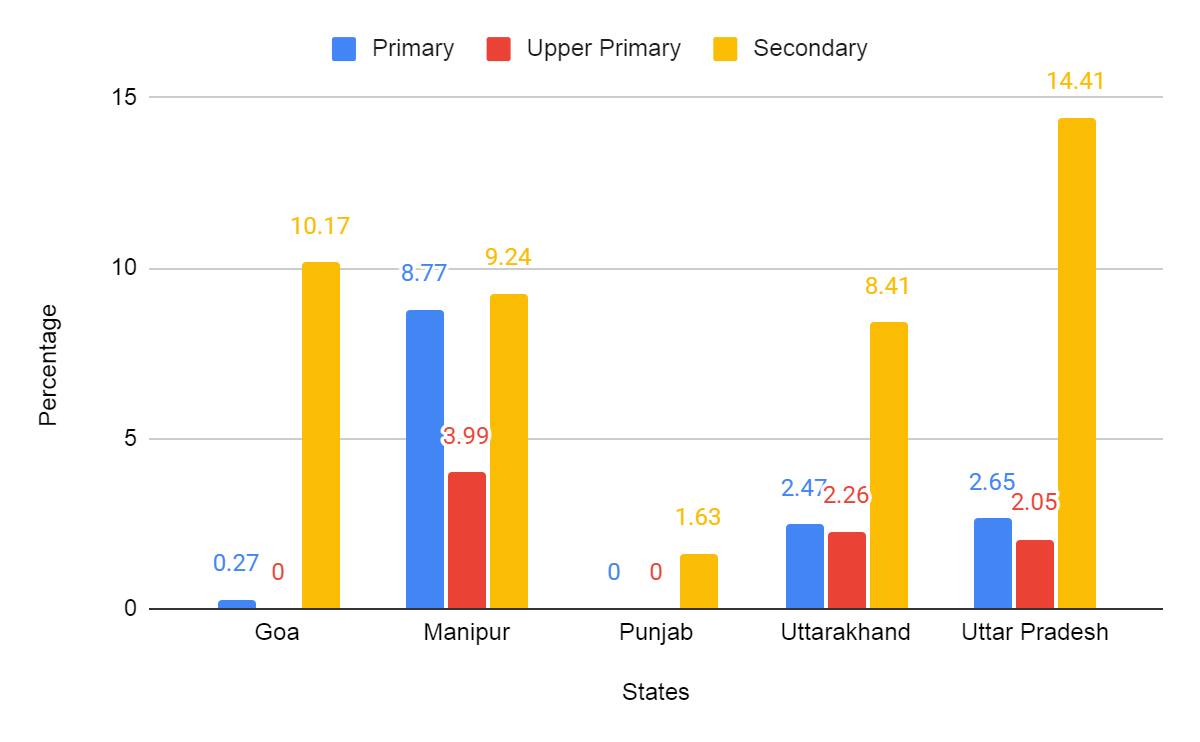 Although Punjab and Goa have low dropout rates at the primary level, other states, especially Manipur, are showing a considerably high dropout rate. The dropout rates are relatively low for all states at the upper primary level although Manipur, again, is the exception. Primary and upper primary education in government schools is free throughout the country since the Right to Education Act 2009.
Except for Punjab, all other election states showed high dropout rates at the secondary level.
School Dropout Rate: SC, ST, OBC
For Manipur, there is a high dropout rate among tribal girls (Scheduled Tribes) with a drop out rate of 13.89 percent. This is also true for boys of the ST category in Manipur with a drop out rate of 5.2 percent
Uttarakhand has a high dropout rate for both boys and girls from OBC communities, with a dropout rate of 6.06 percent and 4.46 percent respectively.
Primary school dropout rates among SC, ST, OBCs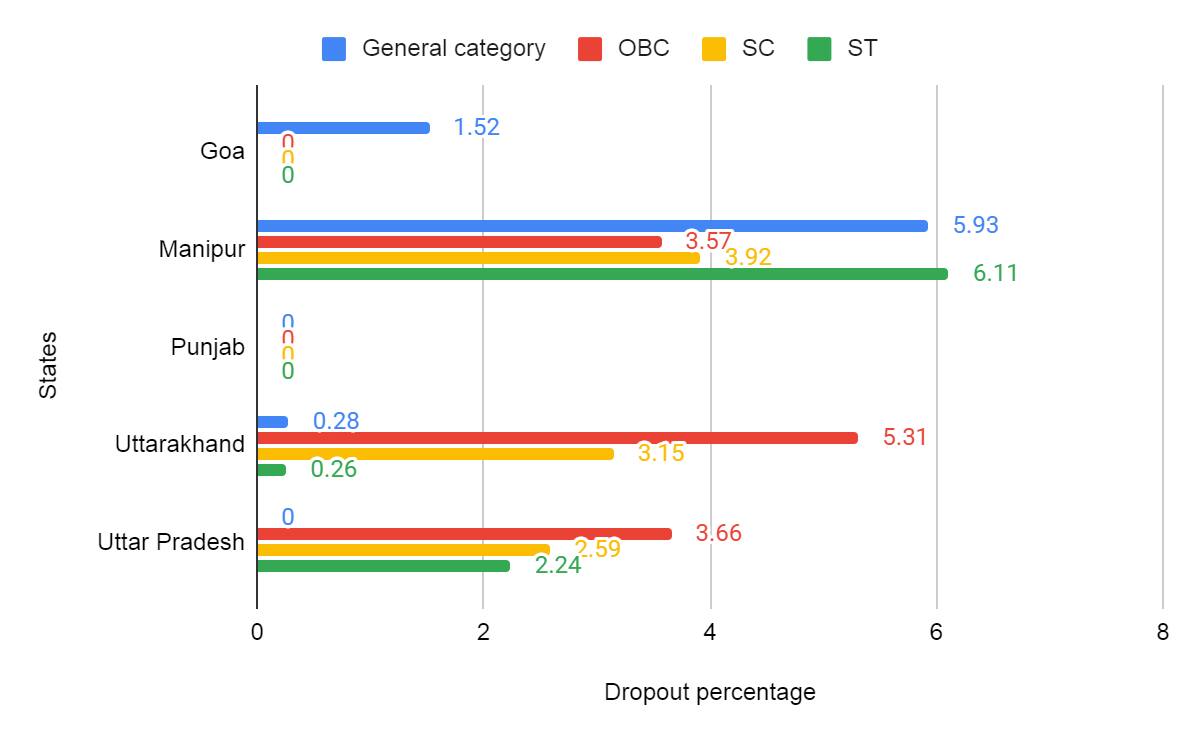 At the secondary level, dropout rates are staggeringly high for all states, especially for ST and SC students in Uttar Pradesh and OBC students in Manipur. In Uttar Pradesh, both ST girls and boys are showing dropout rates higher than 20 percent at the secondary level. In Manipur, OBC students are the most vulnerable with a dropout rate of 18.79 percent for girls and 16.82 percent for boys.
Secondary school dropout rates among SC, ST, OBCs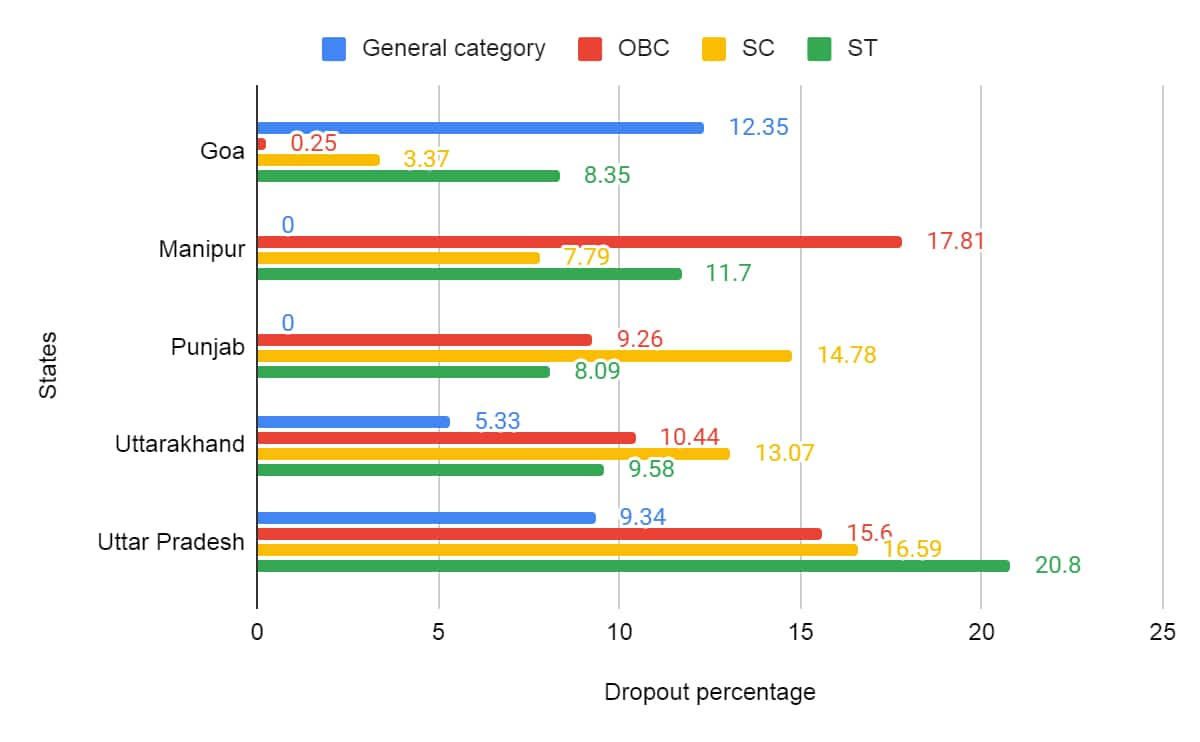 School infrastructure
The Right to Education Act requires public and private schools to fulfill minimum infrastructure requirement to be recognised. But all five election states still have large numbers of schools lacking one or more basic facilities such as electricity, toilets, drinking water and computers.
Electricity: Over 20% Uttar Pradesh schools are without power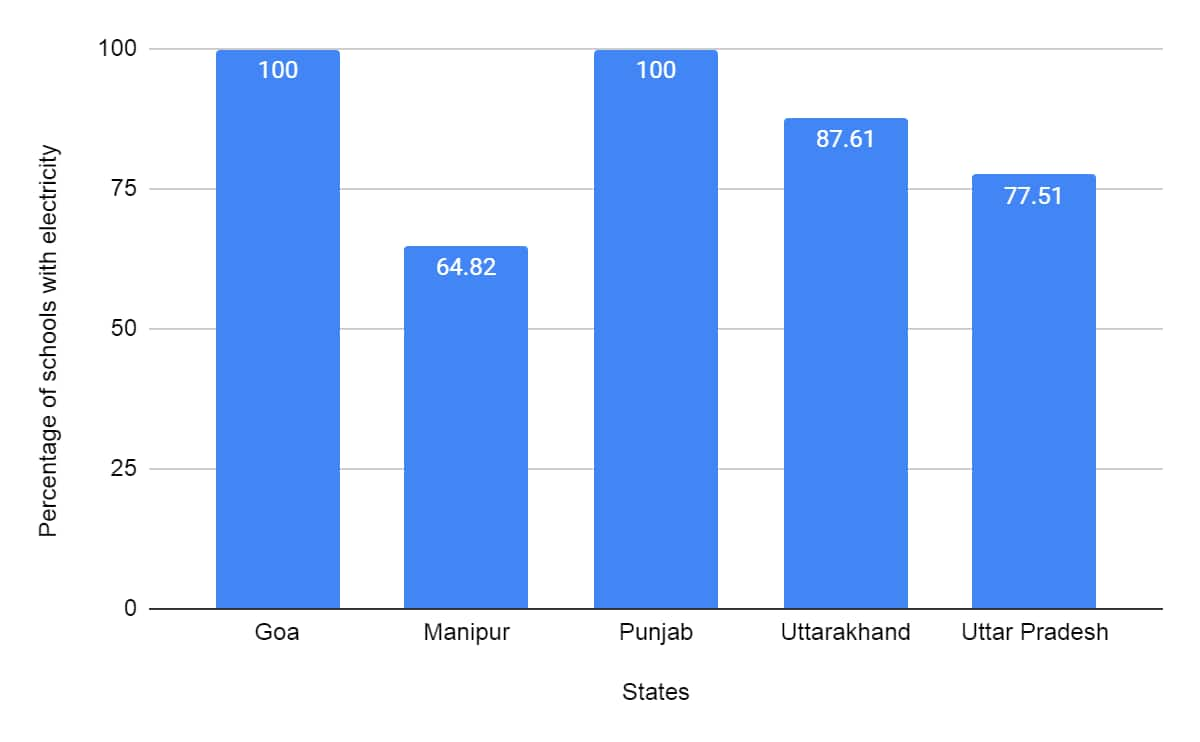 Punjab and the smaller state of Goa have performed well in terms of providing electricity to schools. Among the other three states, Manipur is the worst performer with only 61.85 percent schools with electricity in the rural areas. All three states perform better on this parameter in the urban areas than the rural ones.
Toilets: Only 78% Manipur schools have toilets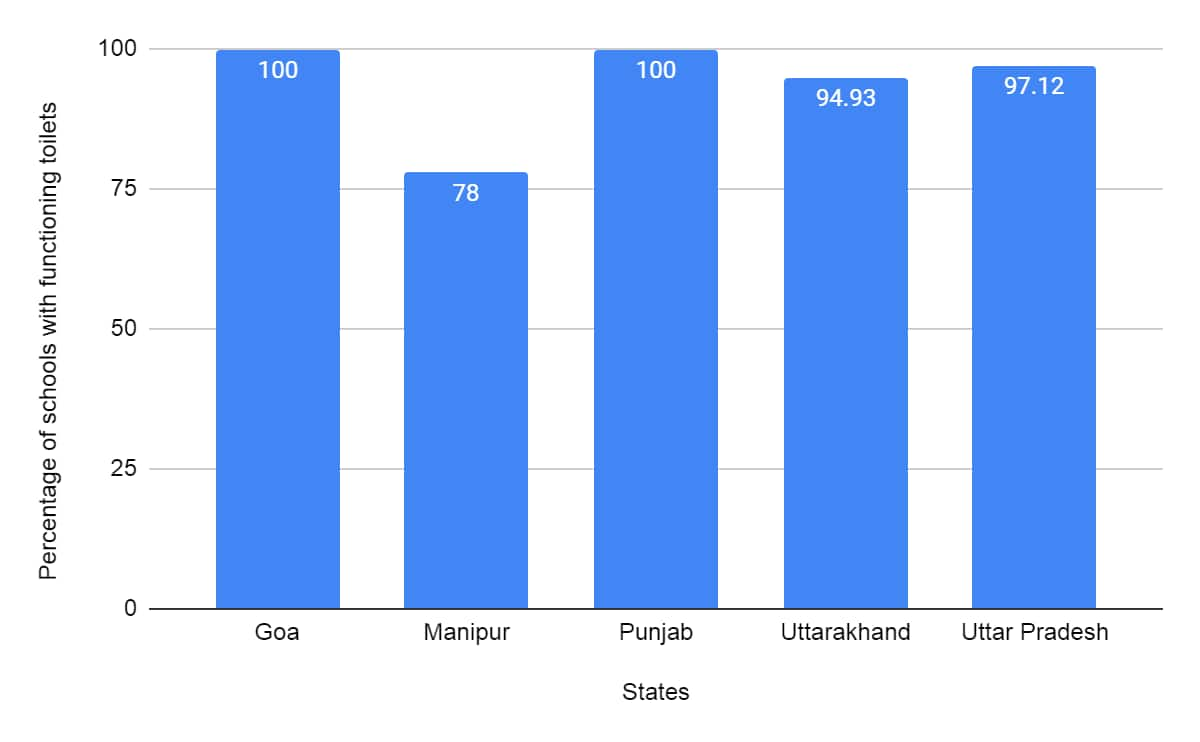 Except for Manipur, all other states claim to have provided toilets to over 90 percent of their schools. Although the overall percentage is high, due to its sheer scale, Uttar Pradesh still has more than 7,000 schools without a functioning toilet.
Drinking Water: 100% Punjab, Goa schools have it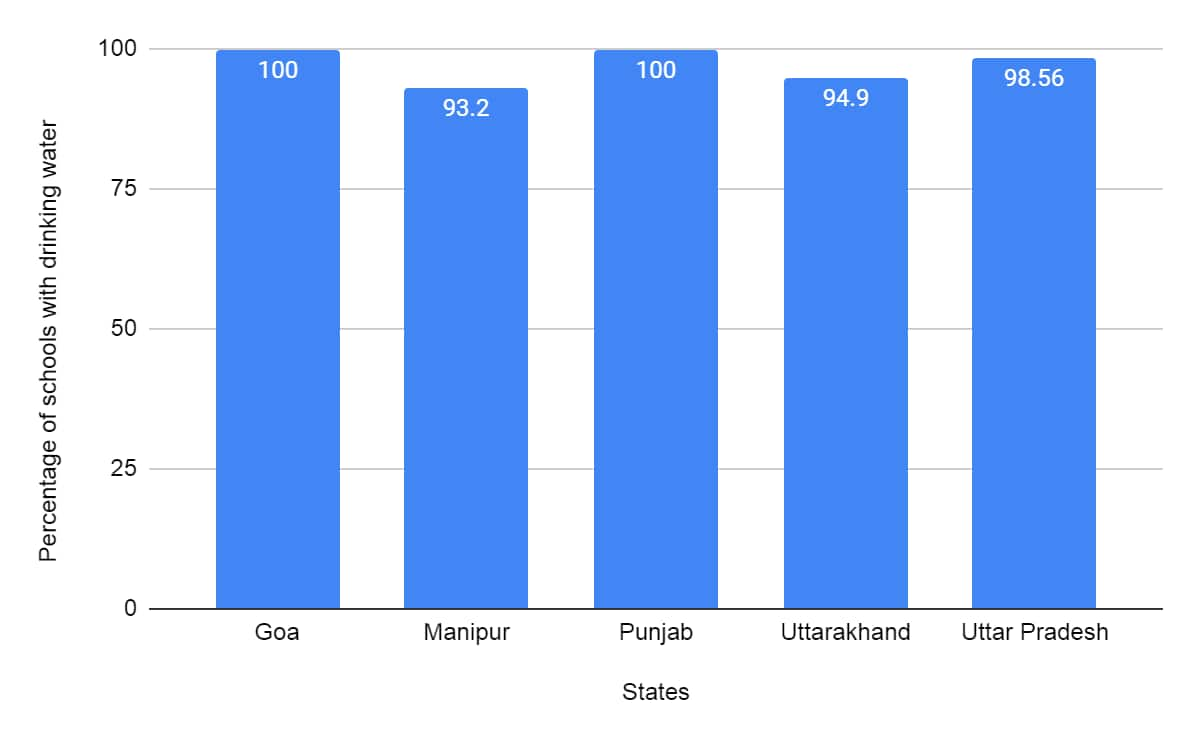 All states have performed well in terms of ensuring access to clean drinking water in schools. Again, this is more true for the urban areas than rural areas as all five states have 99 percent to hundred percent coverage in the urban areas.
Computer: Less than 20% Uttar Pradesh schools have one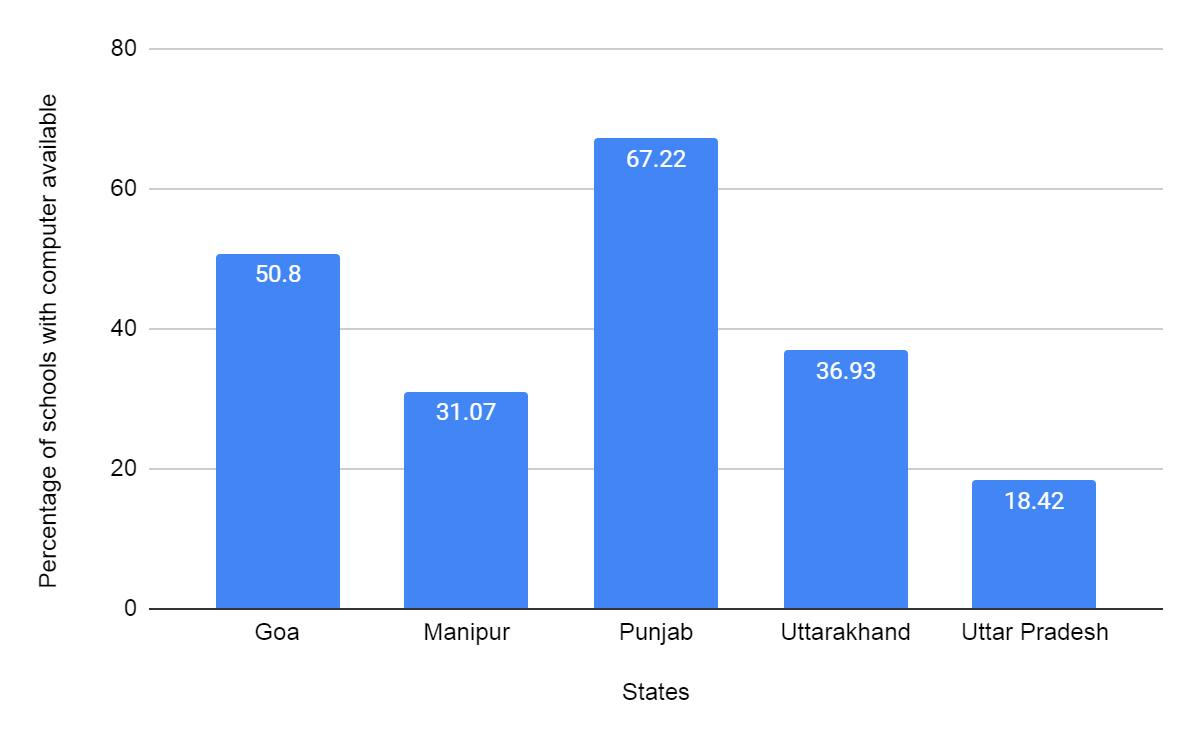 Uttar Pradesh is the worst performer in providing computers to schools. In rural areas, only 15 percent of schools in Uttar Pradesh have computers. This statistic is even more alarming considering the COVID-19 pandemic's forcing classes to be conducted online. However, the efforts of state governments to provide digital devices since the pandemic is not included in the data.
In rural areas, all states except Punjab have less than 50 percent of schools with a working computer.
Internet: Less than 20% schools in Manipur, Uttar Pradesh, Uttarakhand have it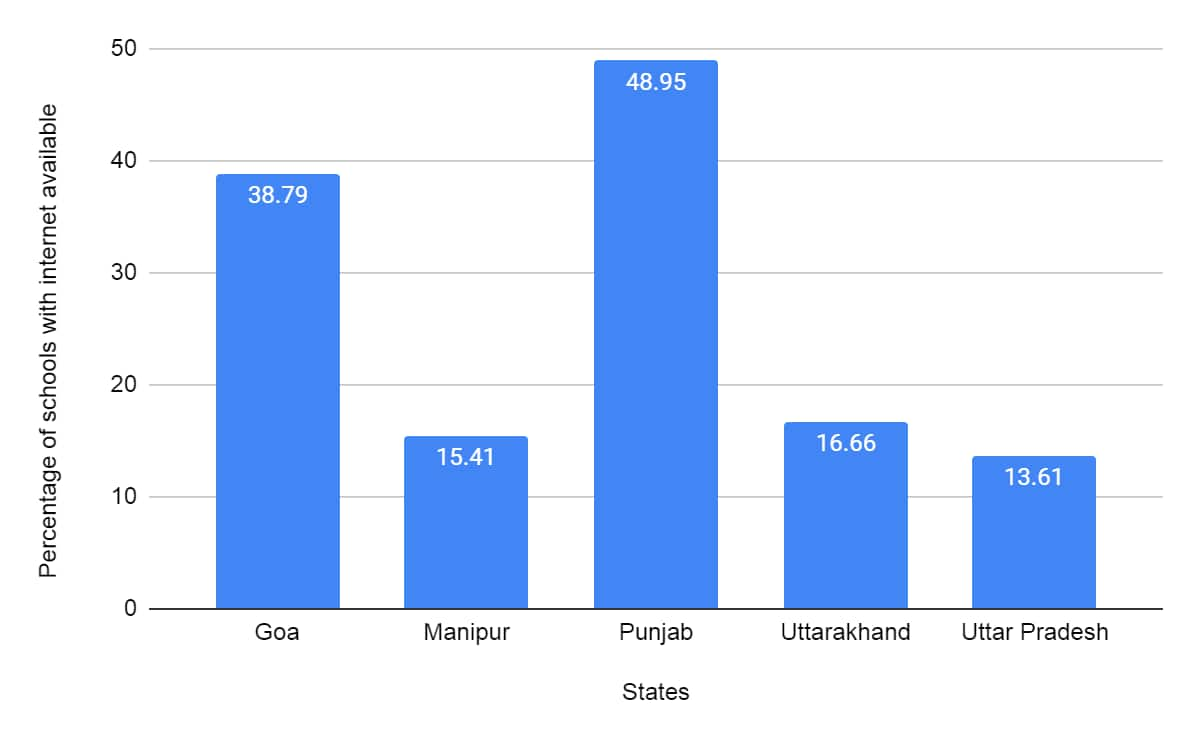 No state has over 50 percent of its schools connected to the internet. Punjab's 48.95 percent is the highest. In rural Uttar Pradesh and Manipur, only 11.3 percent and 12.7 percent schools have internet access, respectively.
Pupil-Teacher Ratio in schools
Pupil-teacher ratio is used to estimate the number of students per teacher. According to the Right to Education Act, the pupil-teacher ratio for primary schools should be less than 30:1, that is thirty students for each teacher.
Pupil-teacher ratio in election states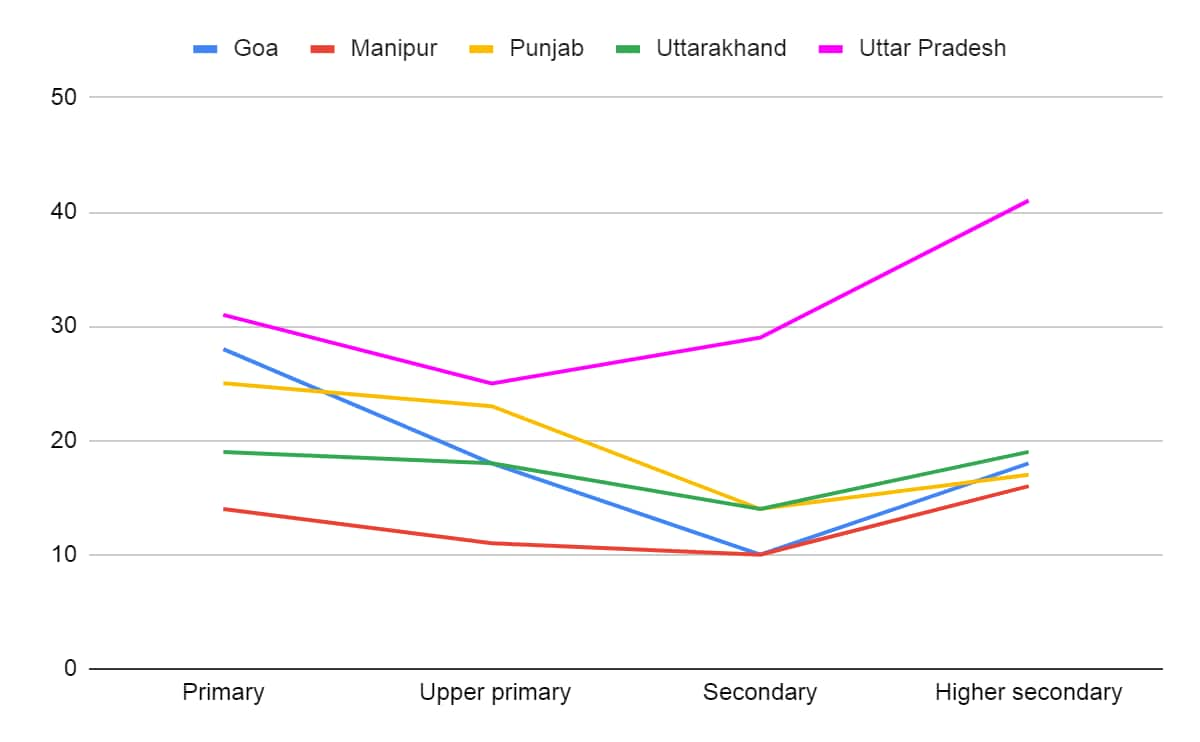 Only Uttar Pradesh has failed to achieve this in the primary section among the five states. The state also performs worse in the higher classes with a pupil-teacher ratio of more than 40 at the higher secondary level, Classes 11 and 12.
Higher Education: Number of colleges
All states have performed similarly with regard to providing at least 30 colleges per lakh population.
Number of colleges per 1 lakh population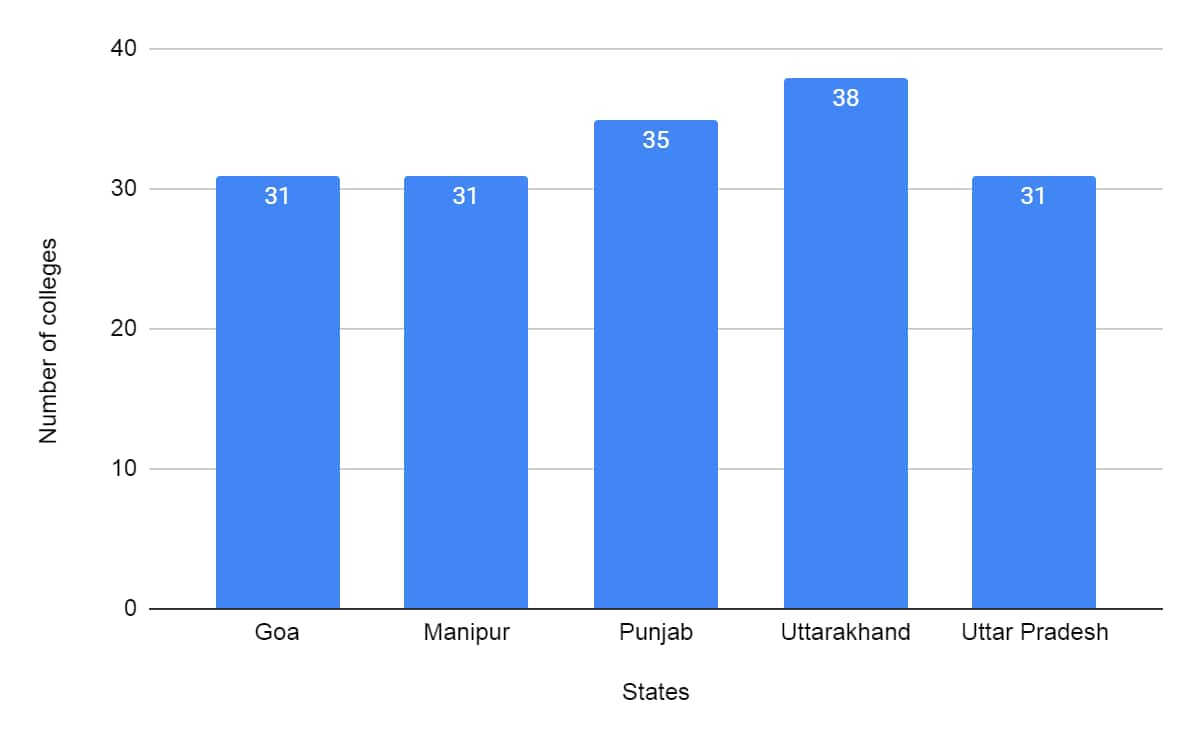 Pupil-teacher Ratio
The pupil-teacher ratio is high for the states of Uttarakhand and Uttar Pradesh indicating the need for more teachers in the higher education institutions. Goa's, meanwhile, is below 20. However, in this case, the data covers both conventional and distance education.
Higher education pupil-teacher ratio in five states
Gross enrolment ratio
The gross enrolment ratio (GER) is the percentage of students studying in the higher educational institutions out of the eligible population of college-going age. The all-India average is 27.1 percent. For SC students, the national average is 23.4 percent and for SC students it is 18 percent.
Overall gross enrolment ratio by gender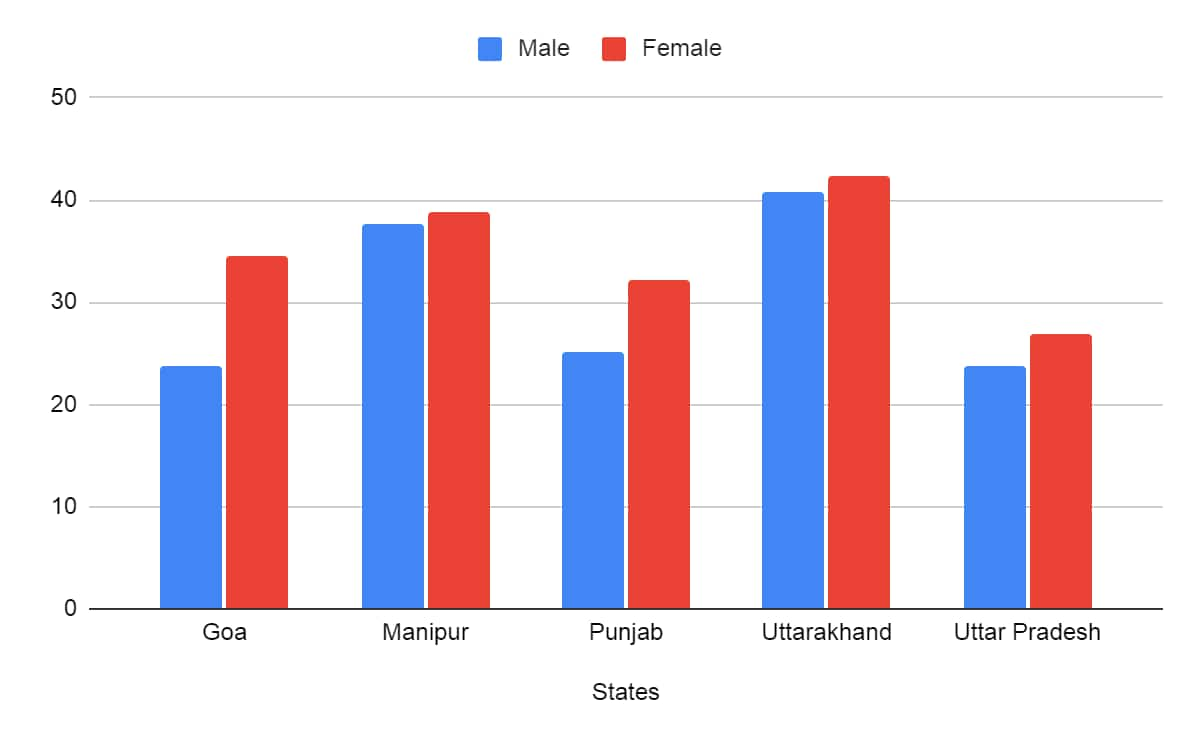 In all five states, the gross enrolment ratios of women are higher than that of men in higher education. Uttarakhand and Manipur perform slightly better than other states.
Gross Enrolment Ratio 2019-20: 5 states by category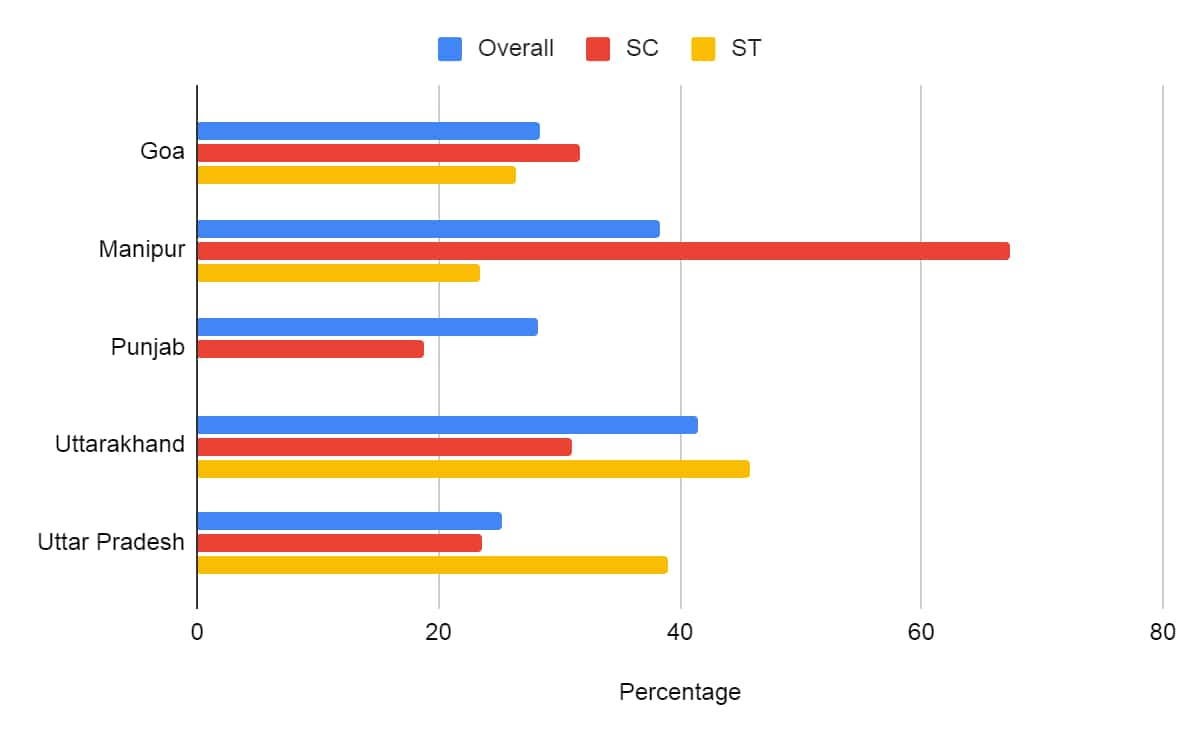 The enrolment figures for SC students are very high for Manipur. In Uttarakhand and Uttar Pradesh, ST students have a high enrolment ratio.
GER: SC, ST, overall
Gross enrolment ratio for Goa is showing an increase in enrolment in the past few years for
students of SC and ST categories, although the overall ratio has largely remained the same. The "overall" GER is the GER for all categories taken together, including SC, ST, OBC and general.
Goa: GER by category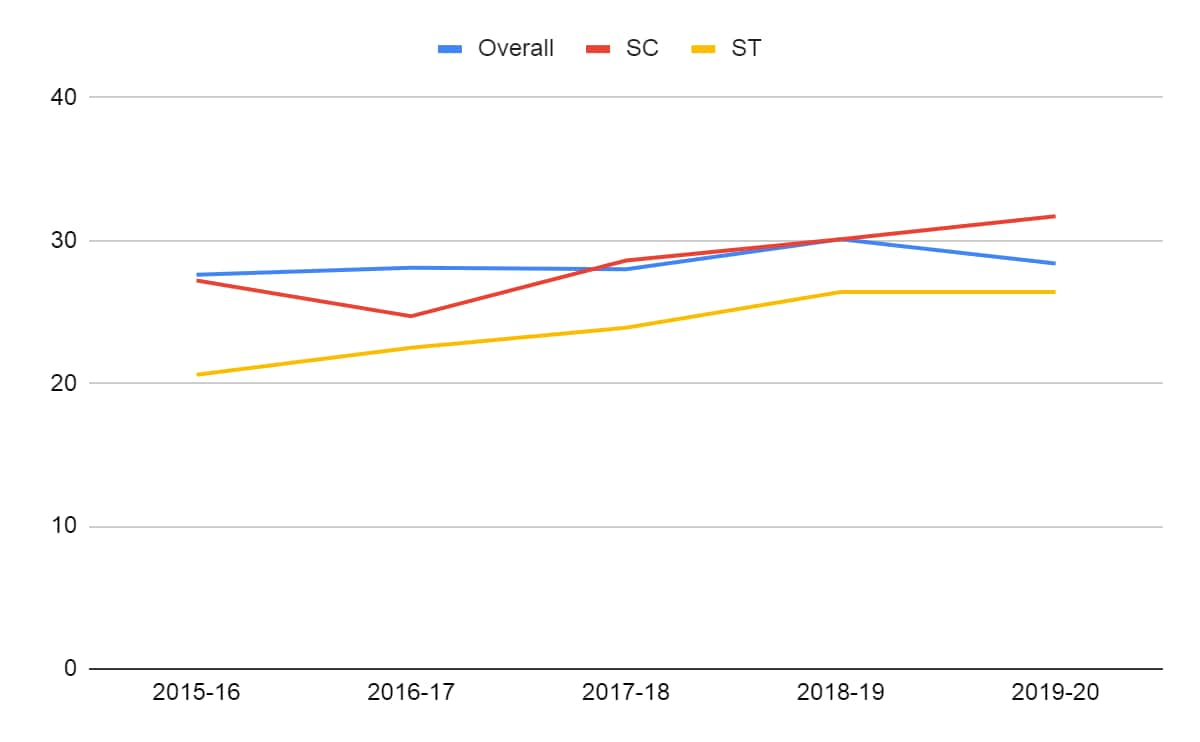 According to the data, the enrolment figures of ST students in Manipur, which has an ST population of nearly 35 percent, according to Census 2011, is really poor and has shown no signs of improvement in the past few years.
Manipur: GER by category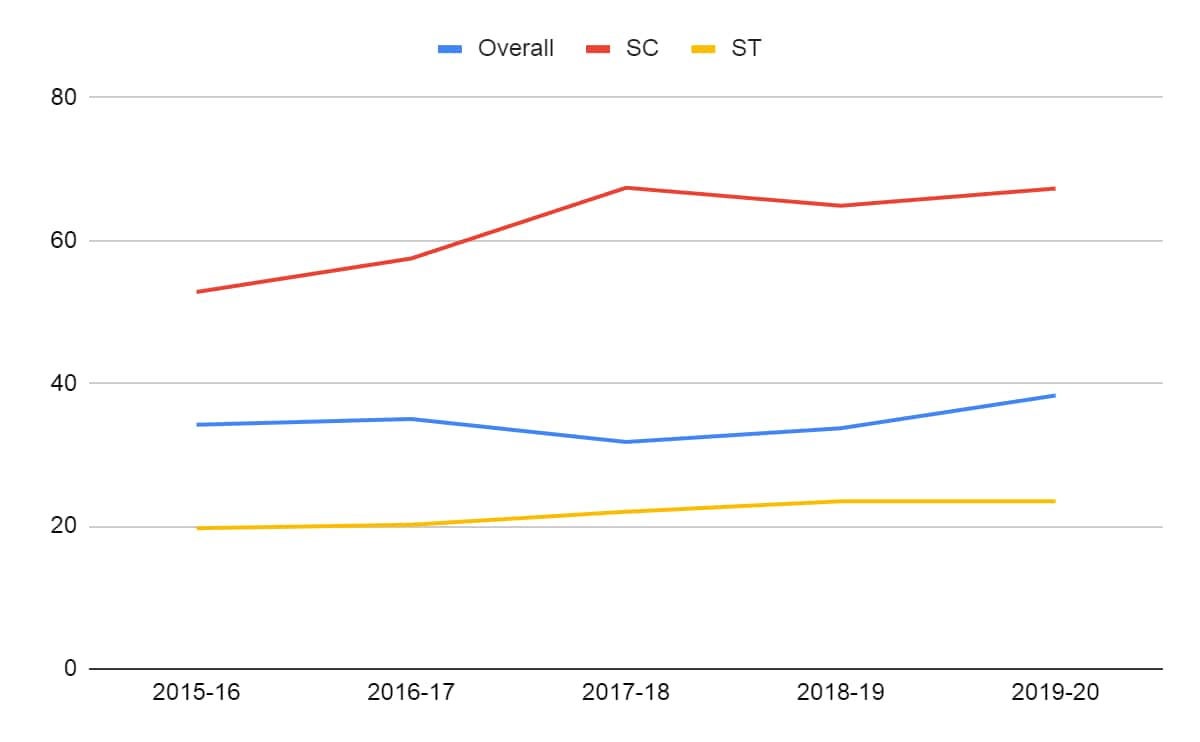 While the enrolment ratio is positive there seems to be a stark difference in the enrolment ratio between SC students and ST students. The overall enrolment ratio for the state has largely remained stable.
In Punjab, the percentage of SC students enrolled in higher educational institutions is very low. The overall percentage is also relatively low, compared to the other states, and both have dropped since 2017-18. There are no notified Scheduled Tribes in Punjab.
Punjab: GER by category
In Uttarakhand, there is a high enrolment ratio for ST students as close to 50 percent of the eligible population is studying in higher educational institutions. However, only 2.89 percent of the state's population are ST, according to Census 2011. The enrolment ratio for SC students is poor for Uttarakhand which has an SC population of 18.76 percent. The yearly GERs have risen steadily for all categories except for STs for whom there was a drop from 2018-19 to 2019-20.
Uttarakhand: GER by category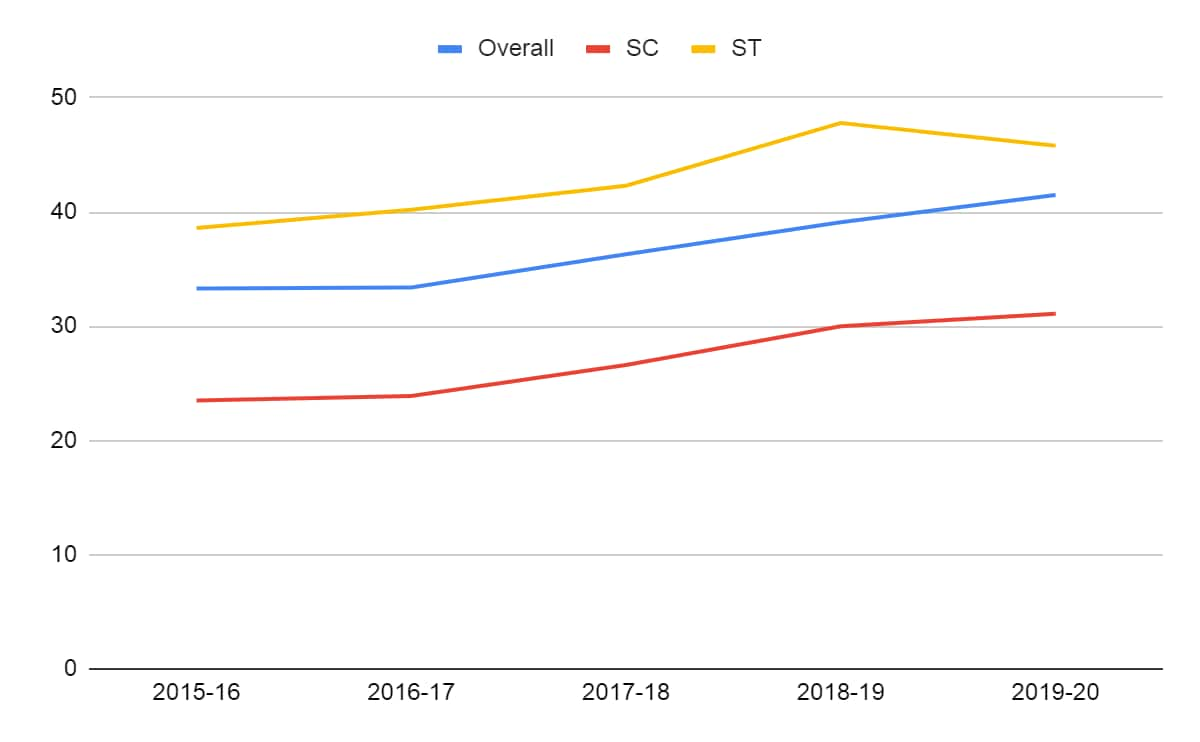 In Uttar Pradesh as well, GET for ST is over 40 percent, well above the overall. The lowest GER is for Dalits.
Uttar Pradesh: GER by category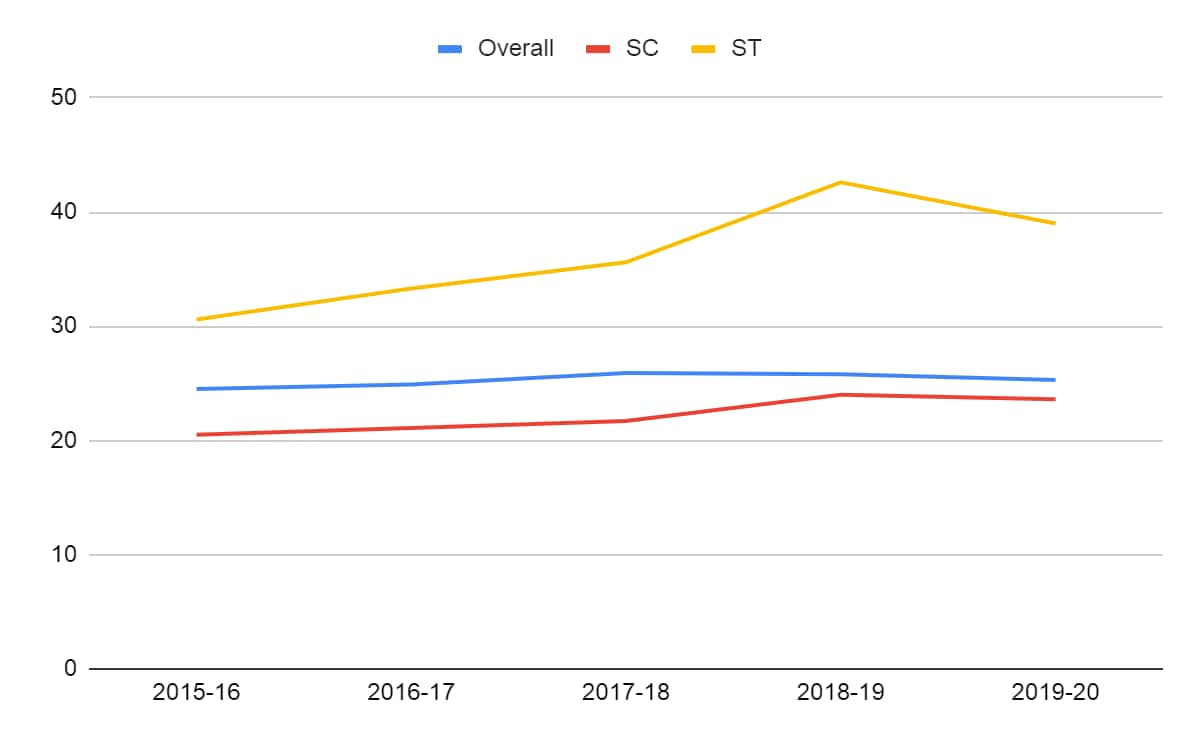 Gender parity
The gender parity index is the ratio of men to women in higher educational institutions. A gender parity index of less than one means that there are more men studying in the institutions than women. A gender parity index of more than one means that there are more women.
Gender Parity Index In Higher Education: 5 years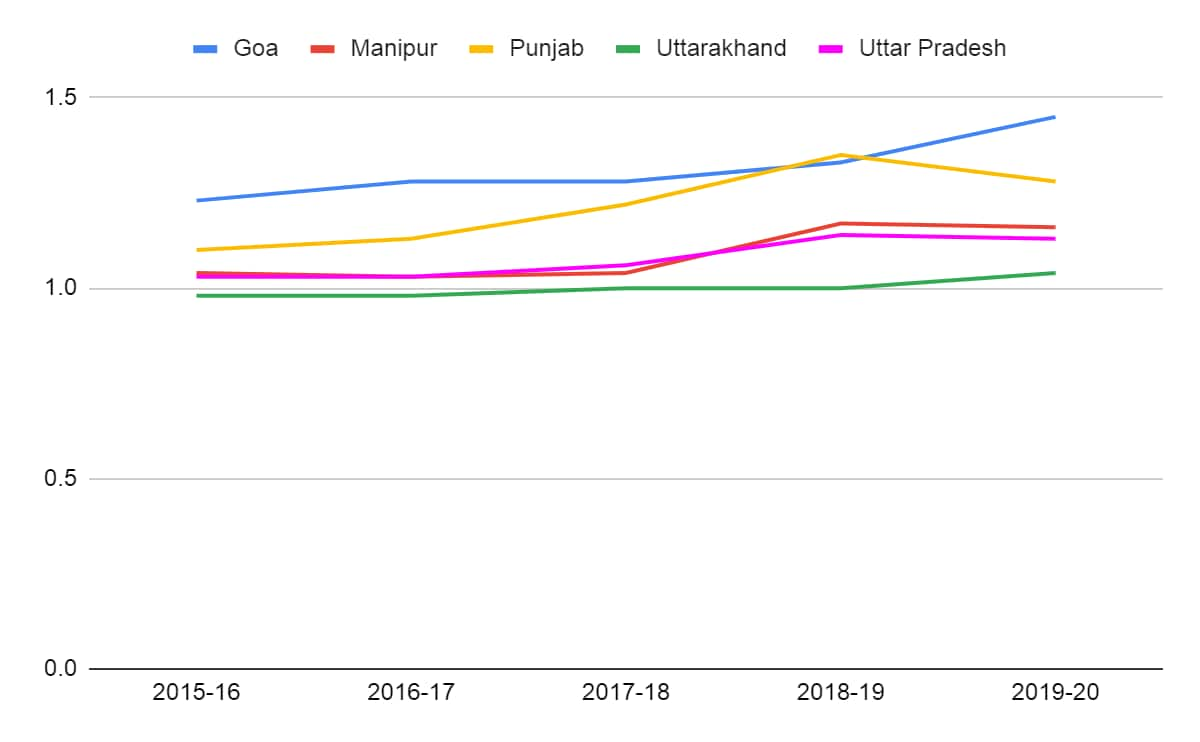 All five states are performing well in this index. Also, the trend suggests that more women are studying in higher educational institutions than men over 2015-2020.
---
Follow us for the latest education news on colleges and universities, admission, courses, exams, schools, research, NEP and education policies and more..
To get in touch, write to us at news@careers360.com.